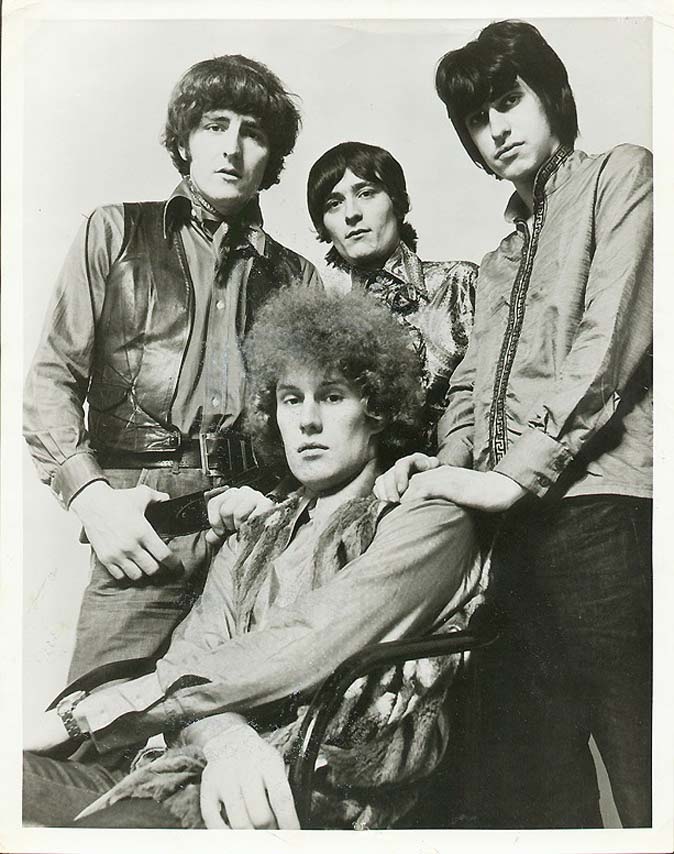 Picture Courtesy of Lionel Webb (Wooden Bridge Hotel)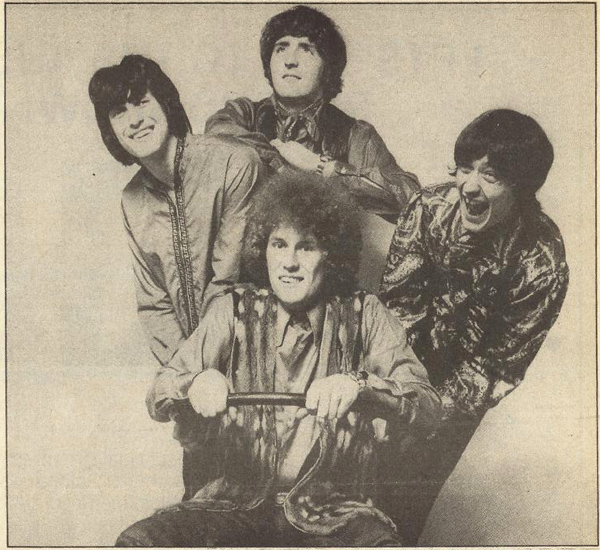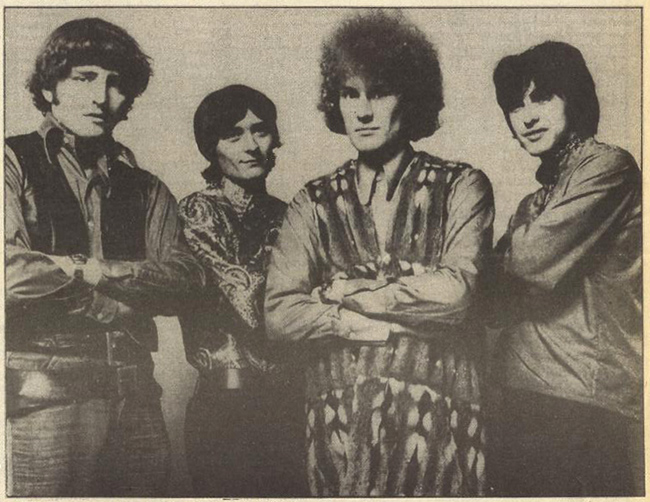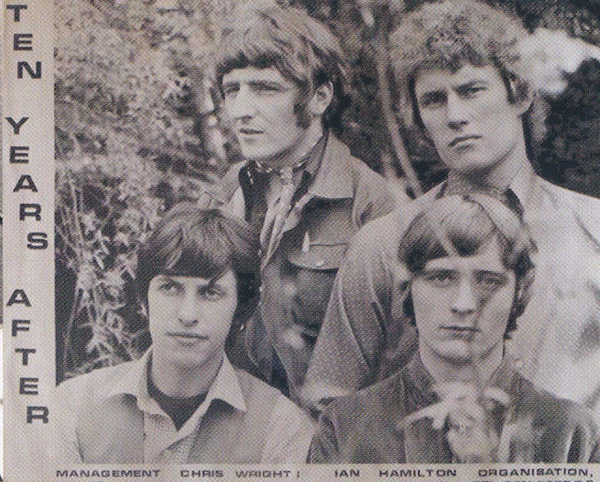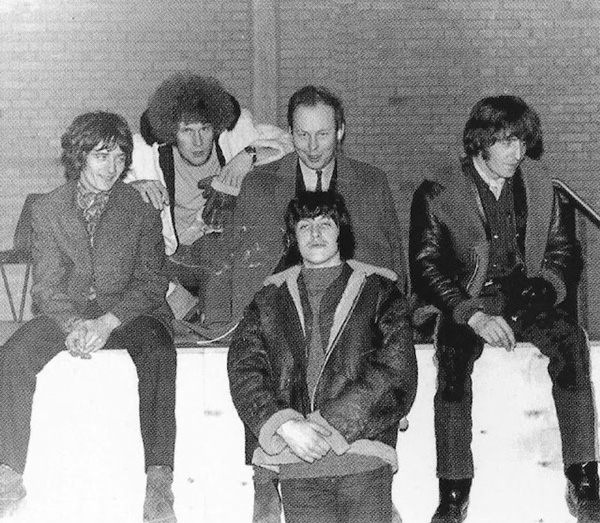 Ten Years After with Chris Wright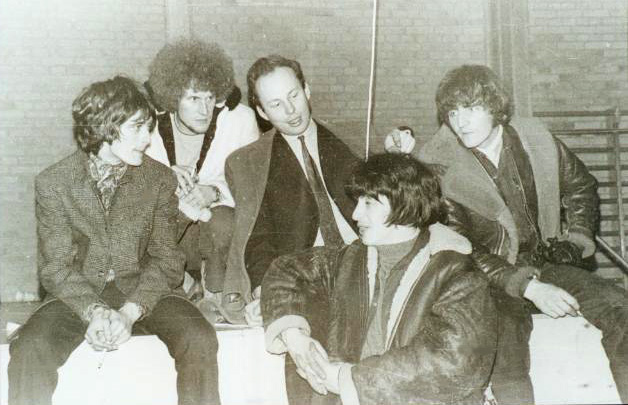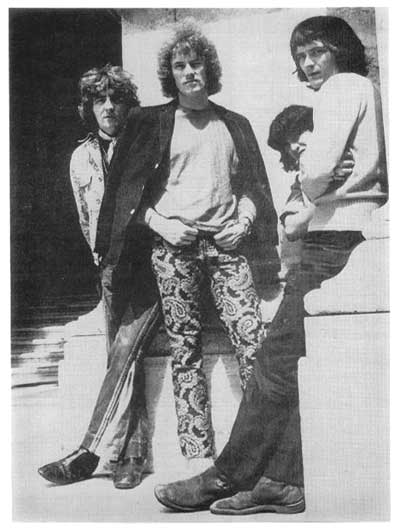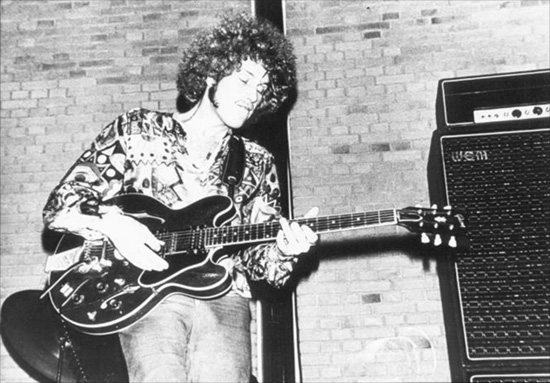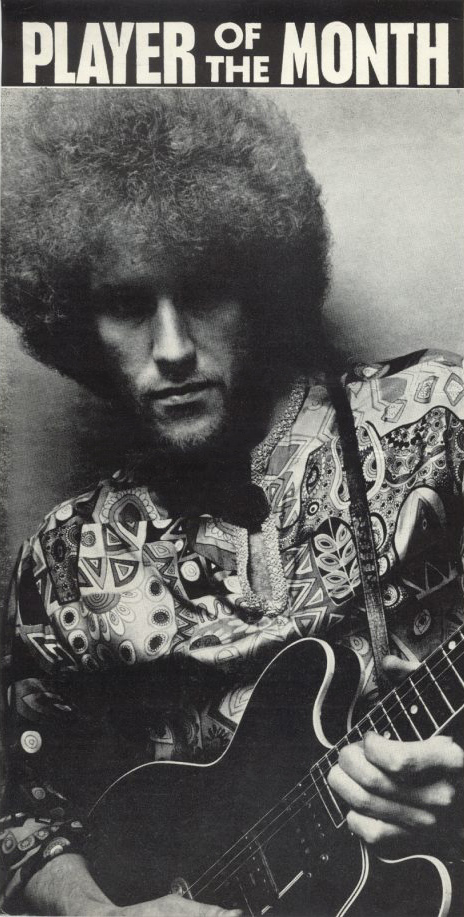 1967 - Player Of The Month - ALVIN LEE
ALVIN LEE – 1967 – Pre TYA Contract
He was persuaded to take up clarinet by his musically-inclined family.
But, after listening to a few of his parents ´Big Bill Broonzy records,Alvin moved on to the guitar. His first was a Spanish model, but he swapped it for an electric Guyatone when he was 13. He formed his first group then, the rock `n´ roll inclined Jailbreakers, after inspiration from his favourite guitarist Scotty Moore.
About his early playing, he says: "I learnt basically from a friend of the family. He taught me the major chords. But I didn't take playing too seriously until I was 16. I had a Grimshaw then, and became more involved with music, both classical and jazz, although I also liked Chet Atkins. I turned professional as soon as I left school, and went through various scenes. You know, Chuck Berry, folk. That sort of thing. As far as money goes, I was getting by."
The "getting by" stage ended when he formed Ten Years After, although he had done session work before then. This group, currently drawing record crowds to the Marquee, was his big break as far as becoming a name guitarist goes. Many consider him the best in Britain, and in the "B.I." poll he finished a creditable 7th, a position which will no doubt be improved upon next year. He rates every guitarist in the jazz class, particularly George Benson, and Wes Montgomery. And he still likes Big Bill Broonzy, one of his first idols. In Britain, he admires the big league of Clapton, Hendrix and Green, but has a special word of praise for Thunderbird Albert Lee. And not just because he's a namesake of Alvin's.
His group is mainly involved with the blues, but he says that his musical taste are wide. "I can listen to most types of music if it's good, but I do prefer blues and jazz. The one thing I do dislike in this business is the "knocking". I just can't see any point in it, and if you do knock other artists it can only make you unpopular."
Alvin has little to say about guitars, as he's very happy with his current model, a Gibson 335, which has a specially fitted Stratocaster pick-up. He's been using it for three years, and it's over ten years old. "I can't see myself changing it in the near future, not even foe a Les Paul. It's just that I've got used to it, and it has a good sound. Anyway, what's the point of changing a guitar you're happy with?"
For Alvin Lee, the coming year looks good, and one that can only enhance his fast-growing reputation.
Ten Years After Tour Schedule For 1967 - Note: The listings start six months into the year.

June 20, 1967 – Marquee Club, London England – Supporting The Savoy Brown Band along with John Lee Hooker

June 29, 1967 – Flamingo Darlington, England with "Cock-A-Hoop"

June 30, 1967 – Quay Club, Newcastle, England

July 1, 1967 – St. Helens Grammar School, England

July 2, 1967 – Jazz Club – Peterlee, England

July 4, 1967 – Play At Didsbury College, Manchester, England

July 5, 1967 – At the University of Reading, England

July 6, 1967 – At The University of Southampton, England

July 10, 1967 - Marquee Club, London, England

July 22, 1967 - Marquee Club London, England

August 12, 1967 – Play "The Ballroom Meadow" in Windsor, England – Ten Years After perform before an audience of 20,000 at the 7th National Jazz Festival. The band receives a standing ovation!

August 18, 1967 – Marquee Club London, England

August 28, 1967 – Marquee Club London, England

September 4, 1967 – Marquee Club London, England

September 22, 1967 – Marquee Club London, England

October 6, 1967 – Marquee Club London, England

October – Ten Years After are filmed for a BBC Television Documentary dealing with teenagers and titled "The Butterflies"

October 16, 1967 – Play at The Blue Horizon in London, England

October 20 1967 - Marquee Club London, England

October 27, 1967 – Ten Years After release their debut - self titled record album

November 3, 1967 – Marquee Club London, England

November 8, 1967 – At "Blaises" in London, England

November 10, 1967 – Marquee Club London, England

November 11, 1967 – Ten Years After play at the University of Brighton, England. They open the show for The Jimi Hendrix Experience

November 12, 1967 – Saville Theater in London, England

November 17, 1967 – The Marquee Club London, England

December 1, 1967 – Manor House – London, England

December 8, 1967 – Marquee Club – London, England

December 22, 1967 – Marquee Club – London, England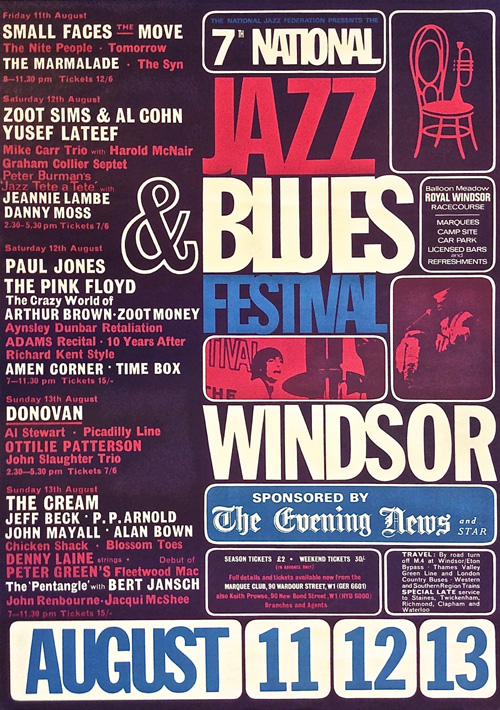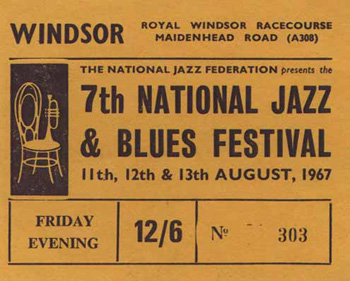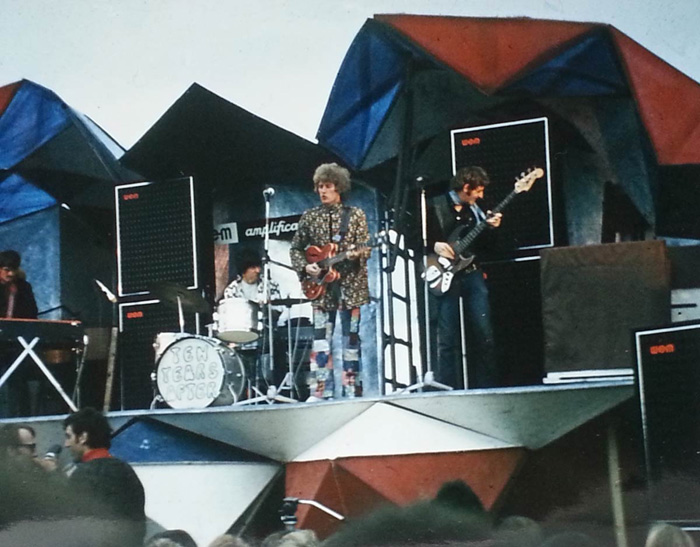 Ten Years After at the 7th National Jazz And Blues Festival, Windsor
Photo by Klaus Numann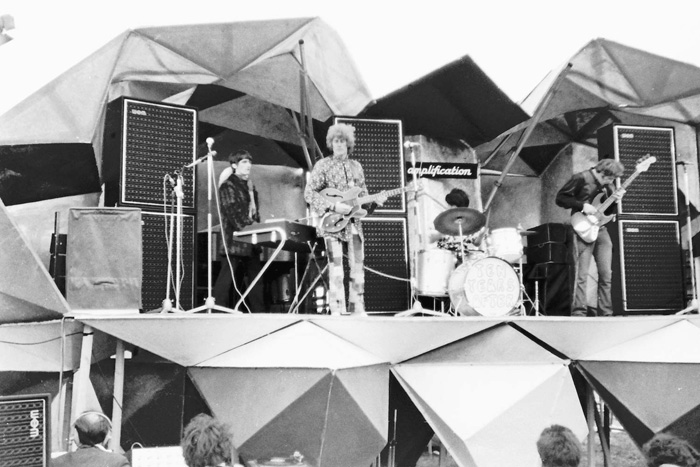 Photo by Walter Mauritz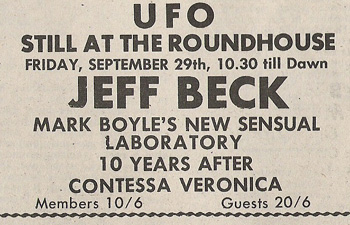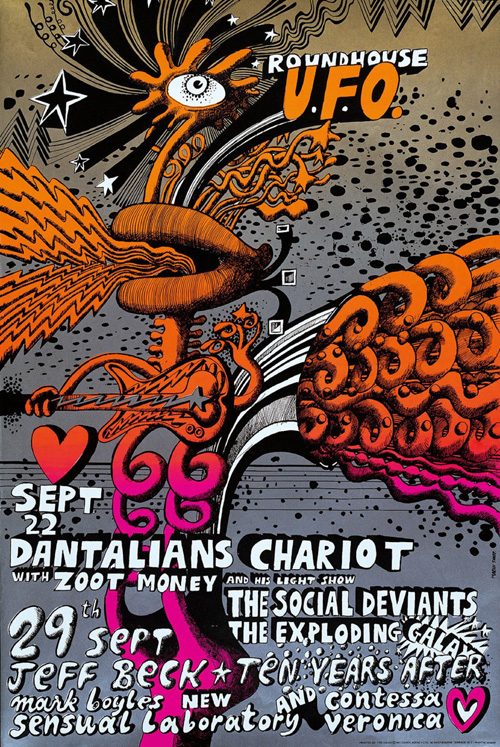 1967 September - Roundhouse, London
Designed by Martin Sharp
Release of Ten Years After's first album: October 27th 1967

"Ten Years After"

"We put the first album out, which did O.K., and then we heard of a place called America, which we had never even thought about". (within the next eight months) "So we got an American Tour together and the whole thing went zoom!!!" They did a seven week U.S. Tour, which was also the start of seven years on the road, with very few breaks in between.

Alvin Lee, is widely considered as being in the elite hierarchy of legendary guitar players. He is a true innovator that took rock guitar playing to new levels of excitement.
Ten Years After – Debut Album 1967

This is the hot debut album by an English blues group who perhaps never quite reached the top of the mountain at the time, but for my money, they still count among the classics today.

Singer and guitarist Alvin Lee along with Leo Lyons, Chick Churchill and Ric Lee, give a warm, intense and very personal touch to much of the standard material on this LP, which certainly has that lively edge, you sometimes can hear in original performances. My personal favourites are their dynamic treatment of Sonny Boy Williamson's "Help Me" and the hectic starter, "I Want To Know." Alvin shows his ability to blend bluesy guitar riffs with smoking jazz phrasing on this album. While Chick Churchill adds much of the uniqueness to the easily detectible Ten Years After sound. This record was their best, because of a beautiful freshness in sound and attitude which has never faded.

Ten Years After – 1967 - Self Titled Album – Produced By Mike Vernon

Co-Produced by Gus Dudgeon:

Gus just finished producing Zoot Money's "Big Roll Band" called, Zoot Live At Klooks - Kleek, recorded on May 31, 1966 for EMI. His next opportunity soon followed, when he was asked to co – produce Ten Years After's eponymous debut album with Mike Vernon. This 1967 Decca release included the song, "Losing The Dogs" which Gus co-wrote with guitarist Alvin Lee. After this effort, Gus was well on the road to establishing himself as an independent producer. During this time he started working with the Bonzo – Dog – Doo – Dah – Band, which was an avant-garde musical comedy group.

Mike Vernon spoke about the challenges he had while recording Ten Years After's first album. "The plan was to make that record as live sounding as possible, but back in those days it was not that easy to do, because there were so many restrictions in place that had to be followed to the letter. "Everything was always, "Well, you must do it this way, you must do it that way, you must always have the microphone only so far away from the actual cone of the amplifier, and the amplifier must only be turned up to three or four, in order to get the optimum sound reproduction!" We did not realize how big of a challenge this was going to be, thank God we had a young engineer who became a very famous producer, Gus Dudgeon.

Gus was always ready for a good challenge and up for any occasion that was called for. In 1969 Gus worked with David Bowie, and they released a single called "A Space Oddity."

Keith Christmas did an excellent job playing acoustic guitar on that song. Later on, Keith opened the show for Ten Years After on one of their many tours.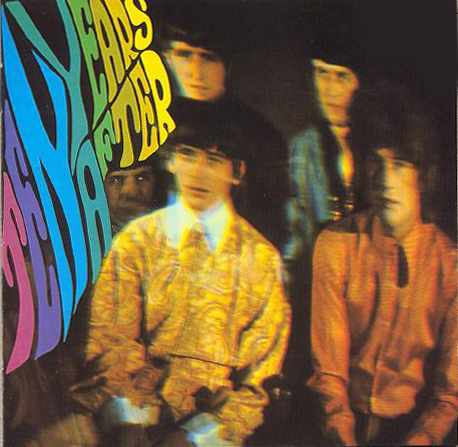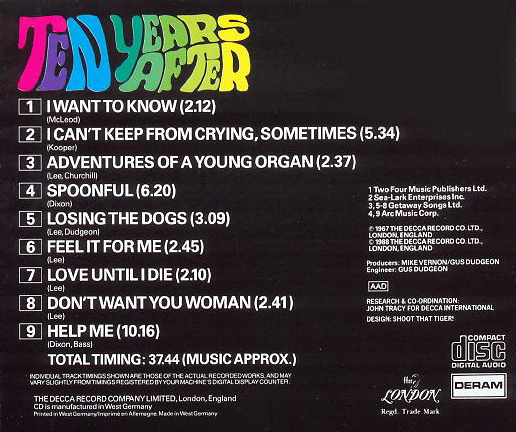 Enter Ten Years After::
Traditional, Moody and Emotional……Says It All:
TEN YEARS AFTER – Released October 27, 1967 (as Deram SML – 1015)
Their self titled first album – What's missing is exactly what makes this album so perfect.
Producers: Mike Vernon / Gus Dudgeon
Engineer: Gus Dudgeon – who later went on to become the producer of David Bowie's
"Space Oddity" and a large portion of Elton John's hits.
Leo Lyons remembers: "That Gus Dudgeon had been in the engineer's chair at Decca studios when, ironically, we had failed an audition there some months prior to making this first album". Similarly, we had auditioned for BBC Radio about the same time, which was another route into the business. If you were on radio, the record companies and publishers would hear you and get interested. Just as with Decca, we failed our audition for the BBC in the same glorious fashion".
Not long afterwards however, at an all-nighter at the London Roundhouse, John Peel, a respected BBC Radio One DJ, saw us, around three in the morning, on a bill with the Jeff Beck Group. From this show, John, became a champion of the group and invited us to do sessions for his show, which we did and that increased our popularity enormously.
So much for auditions!
Mike Vernon: Our producer Mike Vernon, at that time a staff producer for Decca which is Deram's parent company, was also producing John Mayall and Fleetwood Mac. An avid blues fan, Mike persuaded Decca to sign us, following our unique performance at the seventh annual Windsor Jazz and Blues Festival where we had received a standing ovation for our performance.
Album Track Listing:
I Want To Know (McLeod)
I Can't Keep From Crying Sometimes (Al Kooper)
Adventures of a Young Organ (Churchill)
Spoonful (Willie Dixon)
Losing The Dogs Lee / Dudgeon)
Feel It For Me (Lee)
Love Until I Die (Lee)
Don't Want You Woman (Lee)
Help Me (Sonny Boy Williamson)
Re-mastered Bonus Tracks:
Portable People
The Sounds
Rock Your Mama
Spider In My Web
Hold Me Tight
Woodchoppers Ball
Two years before their performance at Woodstock 1969, the band released their debut self titled album. It was fresh, raw, passionate and left the listener feeling exhausted after the last track called "Help Me" was finished. What the album represented was the high energy of their live set at that time. All they had to do was go into the studio, get it down on tape.
Historic Note:
Music Producer Mike Vernon, formed the Blue Horizon Label. This in order to provide him with an outlet for his beloved blues music and now the entire catalogue is very collectable. In the beginning the records on this label were primarily sold by mail order, this was back in 1965-1966. In the spring of 1967 Fleetwood Mac were signed on to Blue Horizon Records, which in turn prompted a sensational distribution deal with the major record label CBS.
Ten Years After, were four unknown lads, from some still unheard of – dirty murky industrial town / city located in the Midlands of England – where soon after, Ozzy Osborne, "Black Sabbath" would also be formed. Jon Lord from Deep Purple and Stevie Winwood came from this same area of England.

According to Ric Lee: "Ten Years After", our first album for the Deram label, released on vinyl October 27, 1967, and was a collection of studio recordings of our live set.
THE REAL REVIEW:
I Want To Know 2:12

Right from the start this song is an outstanding toe-tapper, more of a jazzy swing number with a blues base and an intense rocking guitar riff, with plenty of tastefully played guitar solos included. There's also some great, but very muted piano work by Chick Churchill, although his organ interludes are short burst of sporadic fills that resemble Alan Price's work with the Animals. The bass sounds like simple plodding along, but in fact is essential to the overall feel and emotional texture of the song. The drums are as strong and as brash as the guitar work, but yet subtle, as they don't obstruct Alvin's nasally meek / high vocals.
Special Note Of Interest:
This song was written by Paul Jones, front man for the 1960's rock band "Manfred Mann" who's big hit at that time was "Do-Wha-Diddy-Diddy" (Dum-Diddy Do") and the famous "Mighty Quinn the Eskimo". Later on they also hit it big with "Blinded By The Light" as Manfred Mann's Earth Band did a cover of this song that was written by Bruce Springsteen and appeared on his "Greetings from Asbury Park" album. In 1977 Manfred Mann's Earth Band took this song right into the number one position.
Paul Jones is now the host of BBC 2 radio show. But back during the time his
"I Want To Know" song was written, he was going through a divorce, so he needed to disguise his real name for credit on this tune. Thus the Paul Jones pseudonym is McLeod.
According to Ric Lee: "We found "I Want To Know", together with "I Can't Keep From Crying", and the archetypal Willie Dixon number, "Spoonful", while searching various blues compilations for material to make up our live sets.
These tunes, together with a selection of other stuff, were first played in a bedroom at the Madason Hotel, Sussex Gardens in London, where we were living at the time, in a vain attempt to secure a record deal by auditioning for a small time A & R scout from Island Records. He wasn't impressed. As I recall though, our performance was quite remarkable, considering that the A & R guy and the four of us were cramped into a largish bedroom; the drum kit squeezed into a corner and the amps and speakers balanced on beds".
I Can't Keep From Crying, Sometimes 5:34 (Al Kooper – The founder of Blood Sweat and Tears)
According to Ric Lee: "I Can't Keep From Crying", has of course, since become a Ten Years After standard. This recording, made while the song was in its Ten Years After infancy, is much more mellow than subsequent recordings and Alvin's guitar influences, Wes Montgomery and George Benson shine through beautifully".
As powerful and potent as the first song was, to kick off this album, this song is just as strong in its execution. Quietly sinister, murderously hypnotic and as disturbing as getting a cold shower right in the middle of a hot one.
Alvin's voice is more suited to the quiet numbers as he is more able to control the sensitivity through his subtle vibrato, thus emphasizing the emotional sincerity of the number. A weepy blues song, pleading for his baby's return and missing her right down to his soul. From the break of day until the sun disappears for the last time from his sight, the sadness just grows deeper, more real, and the pain in his heart and soul never seems to end.
But, what makes this song so intense and heartfelt, is in the music itself.
The lyrics are poetry, and can stand alone. The music is there to support the lyrics but not intended to add anything directly to the message. The music reinforces the feeling of loss, and adds no comfort, respite or resolution to the song.
The bass and drums are the heartbeat – Chick's organ work and Alvin's fluid guitar intensity, represent the emotional tide that ebbs and flows between tears, loss, and the terrible unknown. Pacing the floor, thinking, regretting and praying down on your knees, tears are endless, loss is horrible – you can hear it and feel it.
Then, it's Chick's organ that brings the entire piece back together once again, Alvin's vocals are now resigned to the loss as he continues to plead and relate the sad story.
The song fades away uncontested. It began sad and ends the same.
Adventures Of A Young Organ 2:37
Even the title shows Chicks quick wit and humour – it reminds me of Dylan Thomas's book "Adventures in the Skin Trade.
Chick's chance to shine, a solo exercise, sounding like some Jimmy Smith, Jack McDuff and a little Monk thrown in just for good humour. Ric does a good job in a supportive role. Chick and Alvin are a cohesive little unit here, as everyone just jams right along effortlessly – which is the entire point – floating along, unrestrained. Just fun and joy.
According to Chick Churchill: "It began with me just "Nooding" the basic theme and then Alvin added some more ideas".
Spoonful (Willie Dixon)
Eric Clapton and "Cream" covered this song in 1966, one year before this Ten Years After album was released. It would be very easy to praise, and stick to the old mantra of "Clapton Is God" but we're here to praise "Caesar" as it were, so what about Alvin Lee's interpretation? How does Ten Years After respond to a cover version of this number?
In short: As if it were their own composition. Alvin's guitar work is so raw, and fluent. His vocals are smooth, yet strong and soulful. Ric's drums have an excellent echo-e sound to them, and that raw sound really makes it all come alive. One thing of note, the song is not too long to make it tedious.
Losing The Dogs 3:09
A bouncy chain gang song, with an upbeat tempo. A little fun ditty. A rather happy tune that relates a relatively sad story. Every time I hear this song it reminds me of Bob Dylan's "Maggie's Farm" I ain't gonna work on Maggie's farm no more. It's an amusing well done tune, infectious and guaranteed to lift your spirits and set you off running first thing in the morning. A shuffle, a driving beat – whistling meant to give it a down home feeling, very effective.
Gus plays tambourine and Chick plays a "Jangle" piano; which is an upright piano on which the hammers were adapted by sticking drawing pins into them, so that when they struck the strings, a brassy, jangling sound was emitted.
The Lyrics Say:
"Well you're working for the boss man all day long, the trouble with my life is that I lived it wrong. Got to loose the dogs to keep running on. When you wake up in the morning baby, I'll be gone – I'm gone. They're never going to get me on the (County Work) farm again, cause´ I ain't working like a dog – ain't working no where.
Don't know why I bother, boy, don't know why I care – the preachers been to see me, I'm going to the chair – see if I care – burn me up. No more work for me man, I don't care – I'm going to the chair.
One fan states the following:
"This album was their best ever due to the beautiful freshness in sound and attitude, which has never faded".
Another fan says:
"The production is just as muddy and dizzy as the album cover itself. All the better I say, as this really delivers the raw, honest, effect of a very young, happy, energetic and powerful band, just letting loose and getting their kicks. Unlike their later recordings that were much more produced and sometimes almost too polished.
Feel It For Me 2:45
A catchy song, that is really very short but makes use of every minute. Alvin's guitar work is excellent and so prominent as it drowns out everything else being played. Chick Churchill's talent and contribution on this number is totally wasted here. Ric Lee does an excellent job of providing the necessary tempo for Alvin to work off of. Meaning, Ric is to be given much credit for refraining from cutting loose here, and playing very economically…that is what is needed for the proper feel and intensity.
Ric Lee says: "Feel It For Me" is a rudimentary blues riff behind Alvin's lyrics as is "Love Until I Die", which is a variation on the "Crossroads" riff. Some very impressive harp blowing by Alvin, which is the focal point of this track.
Love Until I Die 2:10
This is the shortest song on the album, and that's a real cryin´ shame. As it has all the ingredients of a great song that you'd wish would never end.
The main riff is from Robert Johnson's "Crossroads Blues". Seems that Alvin is being overtly obvious about his attraction / infatuation with Eric Clapton's playing and his work with Cream. This will also be apparent in the next song as well.
Don't Want You Woman 2:41
This song takes it's driving and recognizable melody from the traditional blues. Eric Clapton uses the exact same chords on his version of "Hey Hey" on his unplugged version. The mood is relaxed, nonchalant, laid back, with a definite front porch, down home Mississippi / Louisiana feel to it – rocking chair /shot gun / guitar approach.
Ric Lee: "Don't Want You Woman", is a Big Bill Broonzy style tune written by Alvin on which he plays acoustic guitar, Leo plays an upright string bass and I play snare drum with brushes. Chick sat this one out on this album, although when we did the tune at the Marquee Club one evening in an "acoustic spot", he played good old "steam" acoustic piano".
Help Me (Baby)
I Can't Keep From Crying and Help Me are the essential "TEN-YEARS-AFTERISH" Anthems. Raunchy, Raw, Funny, Witty, Uncompromising and Damn Memorable. As rock and roll is meant to be – good booze, bad women – sex drugs and rock and roll, 1960's style.
From Ric Lee: "The final track from the original recordings is the Sonny Boy Williamson classic "Help Me Baby", which we always refer to as "Help Me", as per the title here.
John Gee says in his liner notes for the vinyl release in 1967, that the track was "recorded in one take in a studio plunged in atmospheric darkness". The atmospheric darkness bit is true, but not the one take part. We always recorded several takes of each song and then chose the best. After struggling to achieve something close to a live performance of this track, in the sterile confines of the studio, we finally cracked it and left to do some gigs over the weekend. Returning Monday, we listened to the various takes, but somewhere along the line, and due to the constant swapping of tape reels, a portion of what had been decided as the "master" was inadvertently erased. Frustrated and annoyed, we went back into the studio and "banged-off" another rendition. Whether the anger and frustration helped or whether it was because we'd been out playing live over the weekend, I don't know, but the performance "happened" and that's the take you hear on this album".
ROYAL SOUND STEREO – TEN YEARS AFTER 1967 – SML-1015
JOHN C. GEE – Manager of the Marquee Club – London England
Album's Original Liner Notes:
This album was described by one person I know as "Pretty Emotional". He had arrived in Studio 2 at Decca's Recording Studios in West Hampstead during a run through of the final edited tapes, and quite obviously, to judge from his expression, this remark was an understatement. But then you can't suddenly blurt out, "It's bloody marvellous" or can you?
I almost did, but then one usually tends to exaggerate and magnify in the emotional heat of the moment.
Now, upon reflection, I can say with complete honesty that this album really is "Bloody Marvellous". It is a notable achievement by a group of musicians who feel so strongly about their music that just about everything they play bears the stamp of authenticity and integrity.
The production of this LP was not only a lot of hard work – it was a labour of love also, and everyone concerned, Mike Vernon, the producer, Gus Dudgeon, the engineer, and of course, the Ten Years After, is to be congratulated on a distinguished first. And, if you'll pardon the pun, they should all receive some sort of "decca-ration" !
If this album is your introduction to the Ten Years After you will doubtless want to know the who, why, what and wherefore of the group. I only wish I could give you some background information about them, but the fact is every effort I've made to delve into their musical pasts has been a waste of time.
I have heard it rumoured that they met one night in a bus shelter in a North Wales town and having discovered that they each played a musical instrument, decided to form a group. Rumour becomes pure fantasy when one is then assured they were stranded in that same bus shelter for one whole month!
I first met them one afternoon at the Marquee Club in the late spring of this year. I was working away in my office when suddenly I heard the strains of Woody Herman's "Woodchoppers Ball". Seized with curiosity, I entered the Club and there on the stage were these four guys obviously having a wild (Woodchoppers ?) ball. To this day I've never discovered how they came to be there, and I've never bothered to ask. I know that I was wildly excited with their playing and gave them a date to play at the Marquee. Since then they have played several dates there and had audiences on their feet screaming for "encores".
At the 7th National Jazz and Blues Festival at Windsor this year they received a fantastic standing ovation from an estimated crowd of 20,000 people. It was the kind of reception that used to happen in those old Hollywood musical movies – a kind of dream – except at the Windsor Festival it was a dream come true.
I have got to know the group pretty well over these past months, but even so, the mystery about their past still persist. For example, the organist Chick has no other name! He just can't recall ever having been called anything else but Chick! Leo Lyons, who plays bass, did unveil himself to me in one unguarded moment when he mentioned that he had worked as a cowboy in several German "Western" – type movies. Ric Lee, the dark, handsome drummer, wears a ring through his right ear and, I suspect, has led a very Bohemian life !
Alvin Lee, the lead guitarist and singer (no relation to Ric Lee) I have discovered comes from Nottingham and nobody knows the troubles he has seen – and nobody seems to care !
About their music there is no mystery whatsoever. It is the kind of music that only an old-fashioned square wouldn't dig. It is simple and compelling. It is direct and full of guts. It is firmly entrenched in the Blues with a strong Jazz basis. It is all these things but it is the genuine feel about the music, above everything else, that distinguishes this group from other similar groups – and the feeling that communicates to every audience they play for.
Mike Vernon wanted to break away from the usual type of material that the Ten Years After perform on their club appearances, and accordingly five original numbers were dreamed up for this album.
I Want To Know – is a brisk opener with Alvin taking the vocal. A tremendous toe-tapping start.
I Can't Keep From Crying, Sometimes – has an underlying riff that is highly effective, and the whole thing has an Oriental tinge about it. Note Ric's urgent drum work on the finale.
Adventures Of A Young Organ – is an original, whimsical instrumental featuring Chick on organ and Alvin.
Spoonful – has a torrid Alvin guitar solo. Watch out for the coda which is really wild!
Losing The Dogs – another original, has an unusual lyric contributed by Alvin and Gus Dudgeon, the engineer, who also plays tambourine. Chick plays jangle piano, and it isn't strictly for the birds!
Feel It For Me – another original, opens Side Two, and Love Until I Die yet another original has some impressive and expressive "harp" blowing from Alvin, and an apologetic ending, I feel.
Don't Want You, Woman – is minus Chick but has Leo on string bass, and Ric on the wood blocks. Some delightful acoustic guitar from Alvin.
Help Me – is the old Sonny Boy Williamson favourite which breaks up more clubs than the Move ever did. Here it is recorded in one take in a studio plunged in atmospheric darkness. Nine minutes plus of the Blues which sends cold shivers up and down your spine. A truly great performance from the Ten Years After.
UP-DATE: The new re-mastered Ten Years After Album.
Mixed from the original four track master tape by Paschal and Mark Powell.
Done in November of 2001 at The Audio Archiving Company – London, England.
Also some tracks were re-mastered and compiled by Paschal Byrne in December of 2001.
The reissue production, tape research and artists liaison : Is Mark Powell representing the Decca Record Company LTD.
Project co-ordination : Andy Street at Universal Music.
Thanks also to Ric Lee for his valued assistance, photographs and memorabilia.
In Conclusion:
Of this their first album, the following needs to be said.
In June of 1968 Ten Years After began a seven week tour of the U.S.A. which was also the start of seven years on the road for the band, with very few breaks in between. All of this touring was due to the initial release of this album and from word of mouth from the fans who were now getting turned on to TYA and their unpretentious music and stage performances.
The bands follow up to this album is "Undead" a live album that basically followed them to America and pushed them over the top in 1968, at Bill Graham's Fillmore West first and then the newly opened Fillmore East respectively.Ten Years After would go on to make and release fifteen albums.
According to Alvin Lee:
"The first album was, in fact, basically our live set. We didn't have to think much or write anything and the album was recorded in two days."
"The album was officially released on October 27, 1967 but Decca Records only pressed one thousand copies of the LP and they sent them all to the label's Manchester branch, making it unavailable in the rest of England for weeks."
"At the age of 23, I realized that the giant record companies were not as big as we thought."
Alvin Lee: "When I left New York in the middle of August, to return home after a nine week trip, I knew that it was only a matter of time before Ten Years After would be one of the biggest groups on the American Circuit."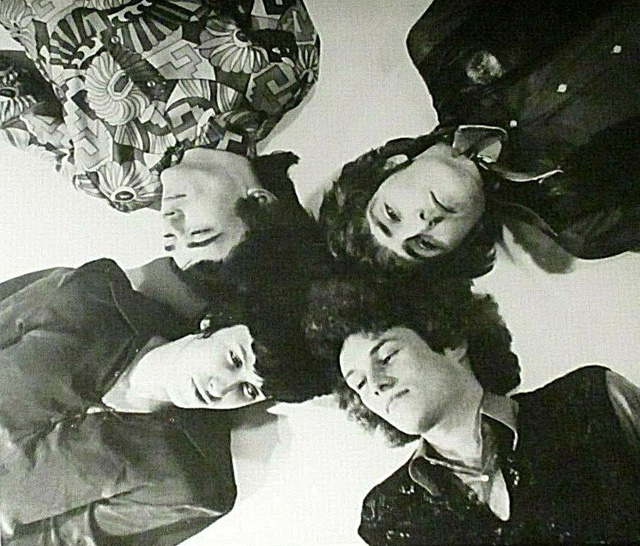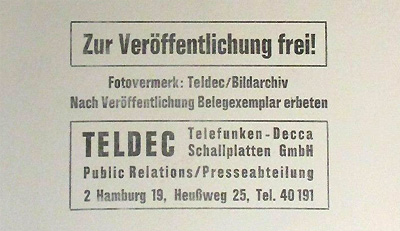 Meloday Maker - October 21, 1967


Chris Welch



Friday, October 20th, 1967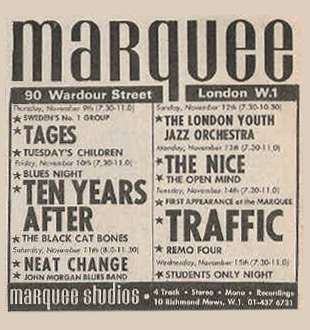 Friday, November 10th, 1967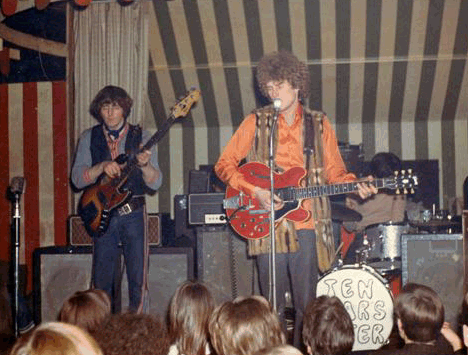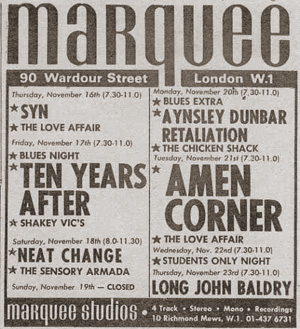 Friday, November 17th, 1967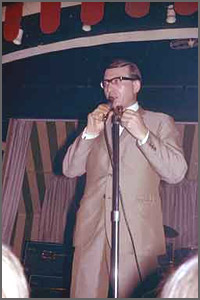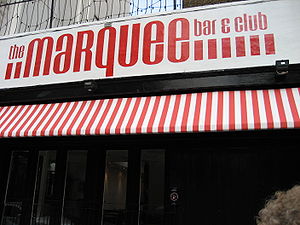 On Saturday November 11, 1967 – Ten Years After played support to The Jimi Hendrix Experience at the New Refectory Sussex University in Brighton, England.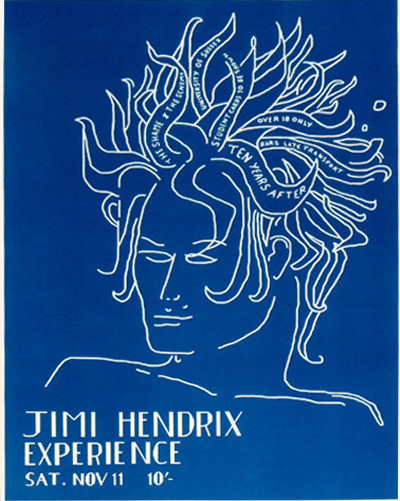 The following is a first hand account of that concert from Allan Clark who was a school freshman at the time.

"I went to a dance at Sussex University on November 11, 1967 because the headliner was The Jimi Hendrix Experience who was suppose to play at 9:00 or 10:00pm. Because it was a dance, there were no seats, just five stages with various bands playing all the time.

To make sure we, meaning my girlfriend and another friend from UKC in Kent, England, had just started our first year, as freshman We made sure we got a good view of Jimi Hendrix, we arrived at the front of the stage a good hour before he was scheduled to play. No problem.

There was a support band playing before Hendrix, guys called Ten Years After, with this guy with long hair, orange guitar, and orange knitted "Waistcoat" and the fastest fingers I had ever seen! Great opening session, then came Jimi. We were right in the front of him, and it's one of my treasured memories. Another great session. Nobody left the stage area, because here came Alvin Lee and gang for a second stint / session. Two fabulous guitarist, but so different.

One whose fingers were a blur, and one who hardly seemed to move his hand at all. What a contrast, what a night".

The Hendrix set list was as follows: Stone Free – Manic Depression – Hey Joe – Little Miss Lover – The Wind Cries Mary - The Burning Of The Midnight Lamp – Purple Haze and Wild Thing.

Added Note:

This gig at Sussex University in southern England, took place just before the start of the Jimi Hendrix Experience's United Kingdom Tour Package that included, "The Move", "Pink Floyd" and other bands. Jimi Hendrix's first album, "Are You Experienced" was released on May 12, 1967 in the U.K and on August 23, 1967 in the U.S.A. while the very first Ten Years After album was released in October 1967 just two weeks before the Sussex concert.

"A Disappointing Experience" says The Wine Press: "The Jimi Hendrix Experience, one of the most costly groups yet to appear at this University, at five hundred pounds, was in general disappointing. Arriving twenty minutes late and spending further time tuning their instruments, they eventually played for less than half the hour for which they were booked.

A crowd of nearly 2,000 crammed into level 2 of the refectory to see him do mainly blues, which require from him only a minimum of effort. He did not even play all his hits, although he reproduced extremely well, the difficult, "The Burning Of The Midnight Lamp".

Even his famed version of "Wild Thing" was only marginally superior to that of "The Troggs". On the other hand, an unknown group, "Ten Years After" played three times as long, for far less cash being paid, 60 pounds. The dance was again infiltrated by non-students, who obtained their tickets from the College of Education".

"I was fortunate to see the whole "Hendrix" concert, I use quotation marks because, to us, "Ten Years After" and "Hendrix" were equally revered, although no one would believe that now! There was no doubt who was the main attraction, the noise level was awesome, we thought it was snowing, only to realize paint was flaking down from the ceiling".

Mike Hayes

The "Shame" and the "Scheme" played on level "1". – "We were scheduled to play at the same time as Hendrix, surprisingly, some people actually stayed to watch us play! We finished our set early and rushed upstairs to catch part of the Hendrix set. We were also able to watch all of the Ten Years After set. I know that at the end of the evening, it took us a long time to pack up our gear and vacate the building, as the Hendrix roadies took over the lifts to shift their mountains of Marshall amps and cabinets etc.

Melody Maker – Pop LP's - November 25, 1967
Ten Years After – Album Review (Deram) – By Chris Welch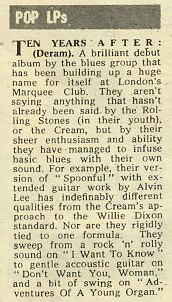 A brilliant debut album by the blues group that has been building up a huge name for itself at London's Marquee Club.
They aren't saying anything that hasn't already been said by the Rolling Stones (in their youth), or the Cream, but by their sheer enthusiasm and ability, they have managed to infuse basic blues with their own sound.
For example, their version of "Spoonful" with extended guitar work by Alvin Lee has indefinably different qualities from the Cream's approach to the Willie Dixon standard. Nor are they rigidly tied to one formula.
They sweep from a rock `n´ rolly sound on "I Want To Know" to gentle acoustic guitar on, "I Don't Want You Woman," and a bit of swing on "Adventures of a Young Organ."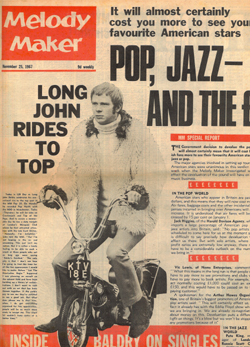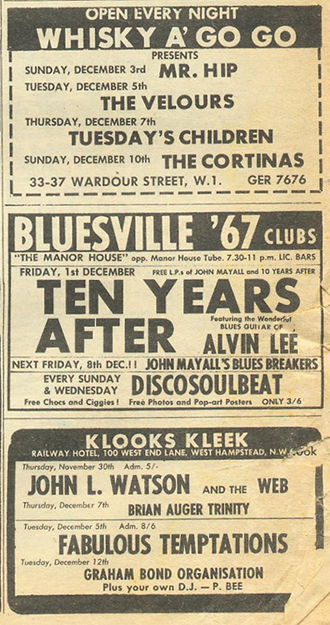 Melody Maker – December 2, 1967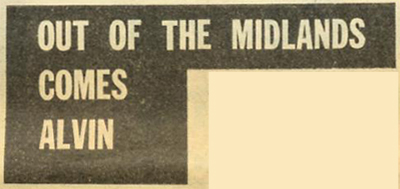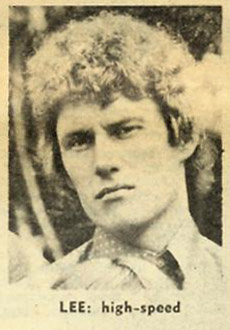 "I'm still marvelling at the whole situation," said 21 year old guitar sensation Alvin Lee.

In a few months, since the inception of his group. Ten Years After, Alvin has leapt from obscurity to becoming one of the most talked about musicians on the group scene.

The group have built up their name by electrifying performances at London's Marquee Club, the birthplace of so many top British groups. "When we started, we tried playing in Wales, which was the silliest thing we could do. It was not a very big success. Then we tried it in London, and it was ok. The Marquee still has the best audiences. If you have an off night, they will still clap politely. Even if you play diabolically, they clap politely!"

MAMMOTH:

Somehow Alvin gives the impression of being an evil giant when he is on stage, picking endless choruses on "Help Me." But he is a quiet 21 year old with a mammoth hair style in the Clapton-Hendrix mould, which gives the impression of towering height. What are Ten Years After trying to do? Are they a blues group, in the Cream, Mayall tradition, or as we hippies would say in jiving London, are they something else? "We don't want to do a pure blues scene. We are aiming at a wider range of music. We have already had a few knocks from the purest. Not first hand knocks. But rumours have reached us, that we are not playing pure blues, and we are only pretending. "But we do play blues. Then again, when we play at clubs, we like to do a few jazzy things as well." Alvin is startling listeners with his high-speed guitar technique. How did his playing career start and who were his influences? "I listen to a lot of George Benson, who used to be with Jack McDuff. I suppose he is an influence, but I don't aim to be like him." "I like Big Bill Broonzy. He is a big influence as far as blues thought is concerned, if not in actual playing. I think his attitude is right. He has a basic simplicity with no false act of being dedicated. "I have played guitar about ten years and my parents were both Broonzy fans, and there was always a guitar around the house. My parents knew Broonzy personally, and I met him once when I was very young. He really inspired me to play. "I came to London from Nottingham and earned a good living playing on record sessions. But it seemed like an ordinary job, and it wasn't at all satisfying.

CHALLENGE:

"I decided to get a scene going about six months ago (April or May of 1967) and it seems to be going down well, because I am doing what I want to do. All I had done before seemed useless in comparison. I'm still marvelling at the whole situation."

The group which includes Ric Lee (no relation) on drums, Chick Churchill on organ and Leo Lyons on bass, recently released a successful first LP, one of the better "straight playing and no gimmicks" British group albums of the year, and are now working on a single. "Getting a hit is something I have always been a bit unsure about. But I would like one now, as it is another medium to have a goal at. I read in the Melody Maker that Eric Clapton doesn't want to make singles, but I think it is a challenge to try and do something in a three minute forum. "The main problem with recording, is getting the atmosphere That's the trouble we had with

"Help Me" on the album. Mood is the most important thing to Ten Years After.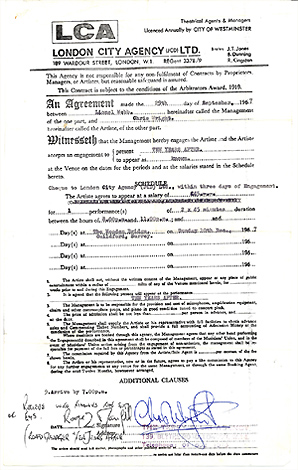 TEN YEARS AFTER Contract - Courtesy of Lionel Webb - 10 December 1967
click picture to enlarge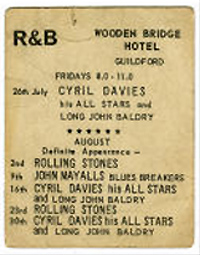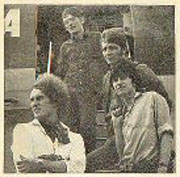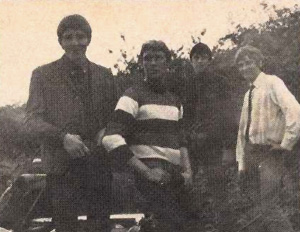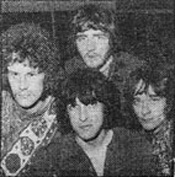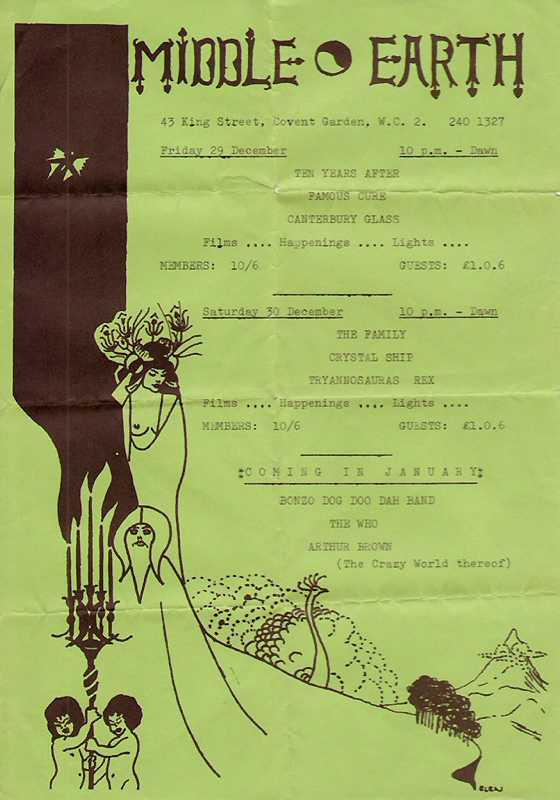 Original flyer for the 29th & 30th December 1967 gigs at the Middle Earth club in Covent Garden London.
TEN YEARS AFTER, FAMOUS CURE, CANTERBURY GLASS,
THE FAMILY, CRYSTAL SHIP, T.REX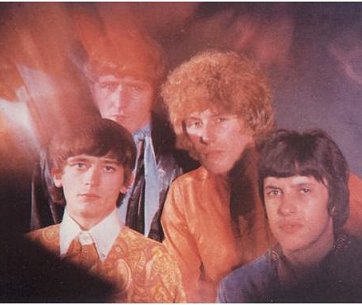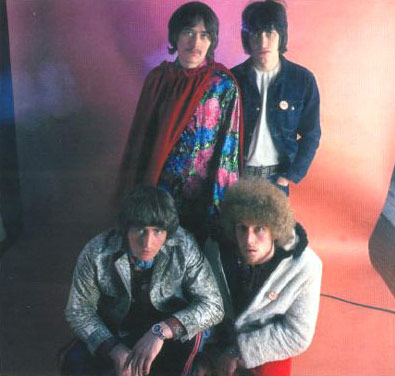 Ten Years After 1967