pop No. 1, Magazine from Switzerland, also published in Germany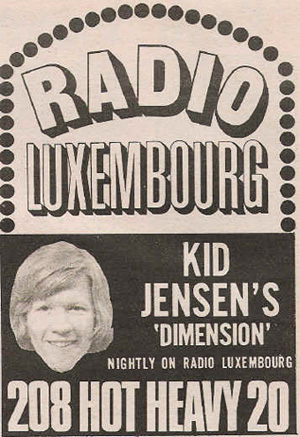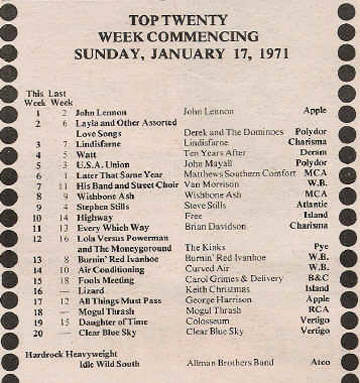 TOP TWENTY Chart - The WATT Album going up with a bullet !
Rolling Stone Magazine – February 4, 1971 – Ten Years After – "Watt" Review:
Deram – XDES – 18050
Flashy fingers and a pretty face, Alvin Lee may indeed possess, but he certainly is a blushing apology for a song writer, a singer, and producer. Under the circumstances, Watt sounds like an exceptionally dispensable album. Alvin seems intent on keeping his flashy fingers in line most of the way here and generally plays without the breathtaking speed that has led so many to dismiss him with a sniff as "fast, but so what"? And turns out to have been his only distinction. His solos here add up for me, to much of nothing, Alvin having nothing to say, a fact that all the effects in the world can't conceal. If he has nothing of real substance to say instrumentally, he has even less to say lyrically, which range from the hopelessly trivial in most of his tunes, to the abrasively contrived in say the topical "Gonna Run". Which, charitably, is to avoid more than brief mention of his impotent Southern-affected singing, which is at best eminently ignorable and at less than best enough to make an otherwise implacable man cringe with discomfort. As for the music, it is mostly deathly predictable, "Heavy" stews of familiar blues phrases. Ric Lee's drumming is astonishingly dull, Leo Lyons contents himself doubtless at Alvin's behest, with simply slugging out unison bass lines to Alvin's lead riffs, and Chick Churchill's keyboards are, as usual, only infrequently discernible. Dreary as the music may be though, there's certainly a good deal of variety here. Besides the heaviness, Watt also offers: One purportedly pretty sort of affair, "Think About The Times" which succeeds only in being very tedious; one instrumental, "Band With No Name" that recalls Mike Bloomfield's theme music for "Medium Cool" and one leaden metallic, graceless, horribly engineered atrocity of a live – at – the – Isle – of – Wight version of "Sweet Little Sixteen" having heard which no jury in the land could call Chuck Berry's murder of Alvin Lee anything other than justifiable homicide. Can you help but concur that the rock and roll world is in pretty dire shape when so pointless a group as Ten Years After can succeed so enormously solely on the strength of ten flashy fingers and one pretty face, when the number of performers with both the charisma that comes of being supremely glamorous and knowing it, and having something musically extraordinary to offer.
(I have Rod Stewart in mind) – can be counted on the thumb of one hand?
Article by John Mendelsohn
Our comment: "Rolling Stone Magazine" is no friends of Ten Years After!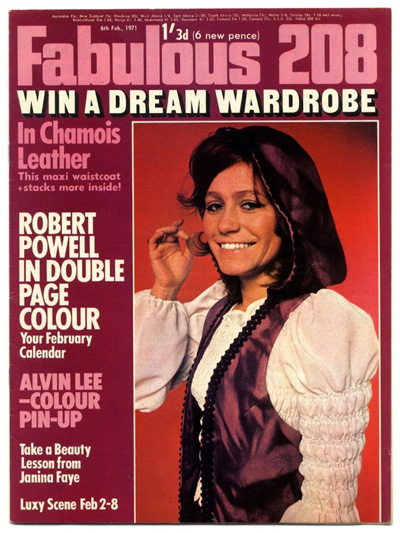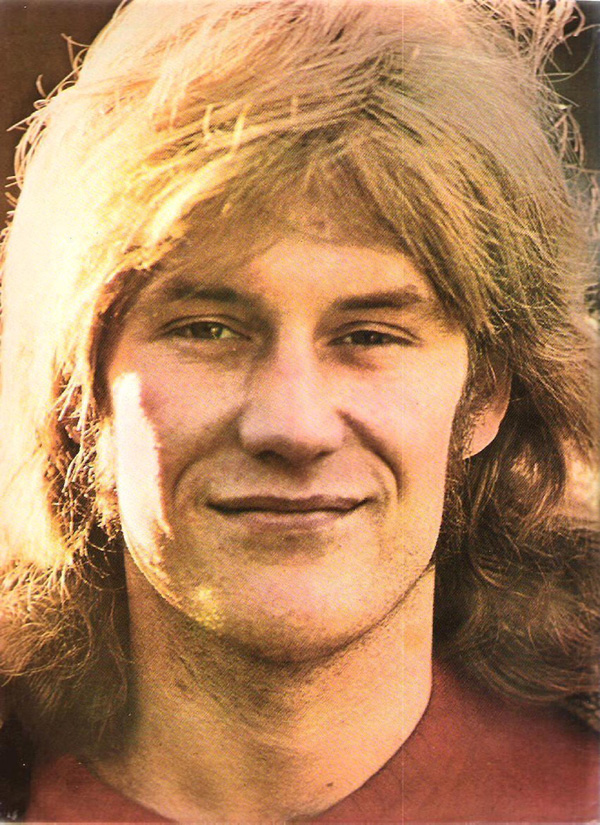 Fabulous 208 Magazine - 6 February 1971
February 20, 1971
Sounds
Ten Years After must be seen

TEN YEARS AFTER are a band who've made it on the strength of their live appearances. It's on stage, playing supercharged rock 'n roll that they've made their name, coming across with a power that only a few groups can equal.

Stage appearance have always been vital to the group and festivals have played a major part in their success since they first reached a large audience at the 1967 Windsor Jazz Festival which they followed with a residency at the Marquee where they built a huge following.
After their festival debut, the group recorded a first album and in the summer of the following year they made their first tour of America.

They played with Canned Heat at Bill Graham's Fillmore West and Graham, certainly one of the most influential powers in the American rock scene, booked them to open his new Fillmore East in New York with Butterfield Blues Band.

The American reaction to the group was so strong that they suddenly found themselves one of the most popular British groups to tour the States only a little while after they'd first come to London from Nottingham where they started.

Individually, the members of Ten Years After -- Alvin lee, Leo Lyons, Ric Lee and Chick Churchill - had been playing around the Nottingham area for a number of years although Leo and Alvin played together in various groups at one time.

As Ten Years After the group has been together for nearly four years. They had, however, been working under other names - like the Jaybirds - for nearly two years before that. Organist Chick Churchill being the last member to join.
To date the group has made a total of eight tours of America. They returned to the Fillmore East to appear with Janis Joplin and have in fact spent over half of their time together working in the States where they are an enormous drawer capable of filling 6,000 capacity halls with thousands left outside.

The summer of 1969 proved to be another turning point in the group's history. It was the year they appeared at nearly all the major festivals including "Woodstock", which attracted half a million people and some of the best rock groups in the world.

The music that Ten Years After play is a contemporary mixture of blues, rock and roll and jazz that is definitely their own. Their music varies from a souped up jazzy version of Woody Herman's "Woodchopper's Ball", which became the stand out number of their Marquee stage act, to a wild, rocking version of "Good Morning Little Schoolgirl"

Its one of the strangest things about the group that none of their six albums - "Ten Years After", "Stonedhenge", "Sssh", :Undead" Cricklewood Green" and "Watt" - have come close to capturing quite what Ten Years After are all about. Their records are good but nothing like their stage appearances.

As a group they're at their best when they're working on stage, they drive each other, working, moving and playing seventies rock and roll with a force and excitement that is impossible to ignore. - ROYSTON ELDRIDGE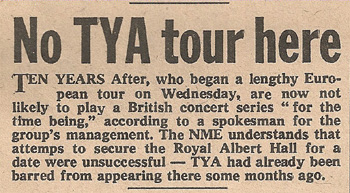 New Musical Express February 27, 1971 (Saturday)
February 27, 1971
Ten Years After concert at KB Hallen Copenhagen, Denmark
March 2, 1971 - Deutschland Halle, Berlin, Germany
Set List: Love Like A Man – No Title – Once There Was A Time – Slow Blues In C – Hobbit One Of These Days – You're Walking Around With Your Head In The Sky – I'm Going Home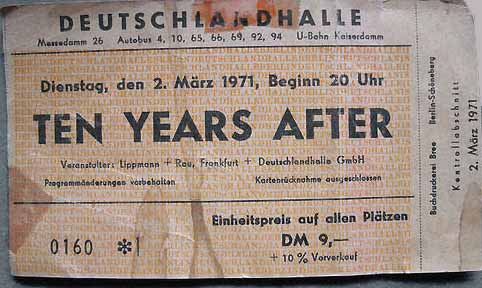 March 13, 1971 - Montreux Poster - contribution by Christoph Müller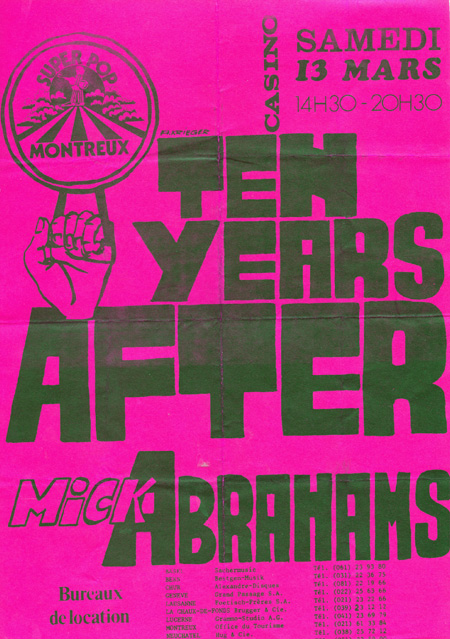 March 15, 1971
Ten Years After at Palalido, Milan, Italy
Article from IL CORRIERE DELLA SERA kindly contributed by Jack Skelly
(Thank you Jack for this great contribution - and many thanks to Alessandro for sending it to us)
March 17, 1971
Ten Years After at Pala Europa – Rome, Italy
"L'Avanti", March 17, 1971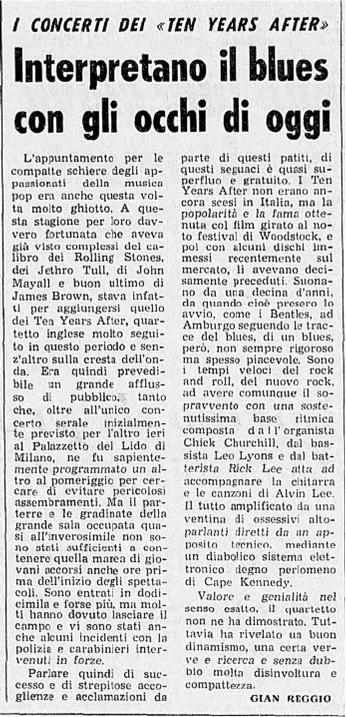 March 18, 1971 (above and below contributed by Alessandro B :)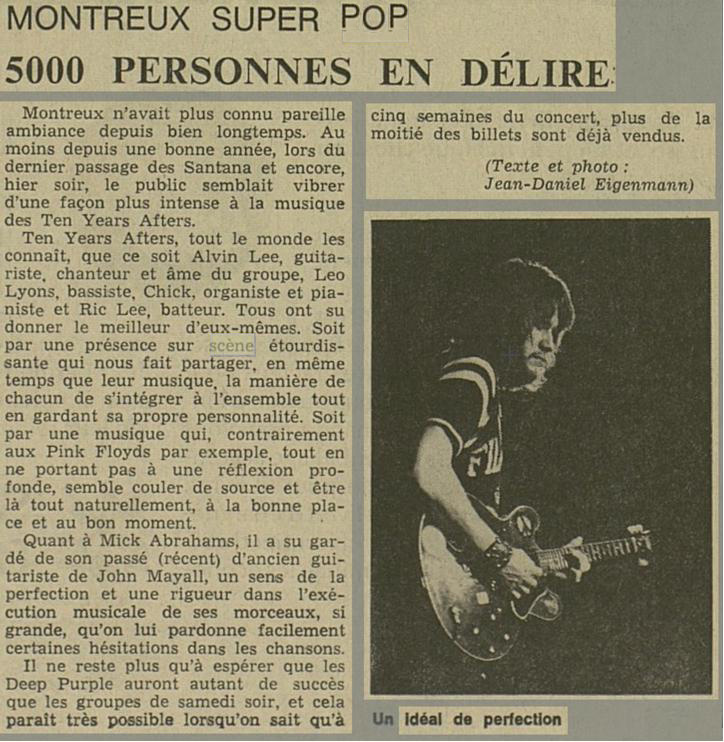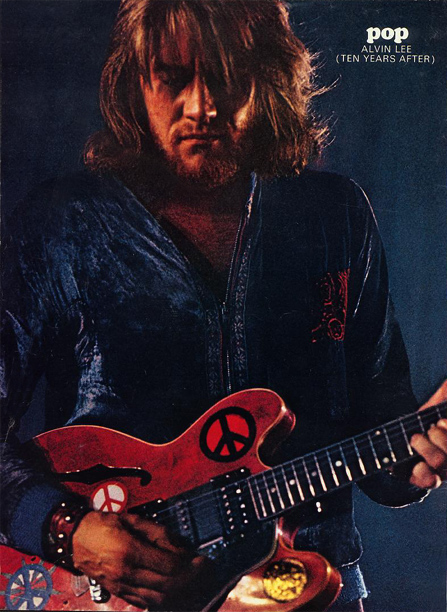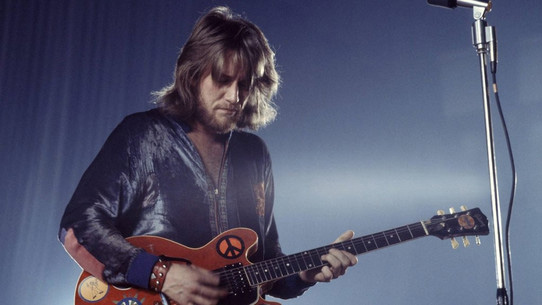 TEN YEARS AFTER Tour in Germany - Düsseldorf, 6 March 1971
Pictures by Hans Hübner - Courtesy of B. Scholz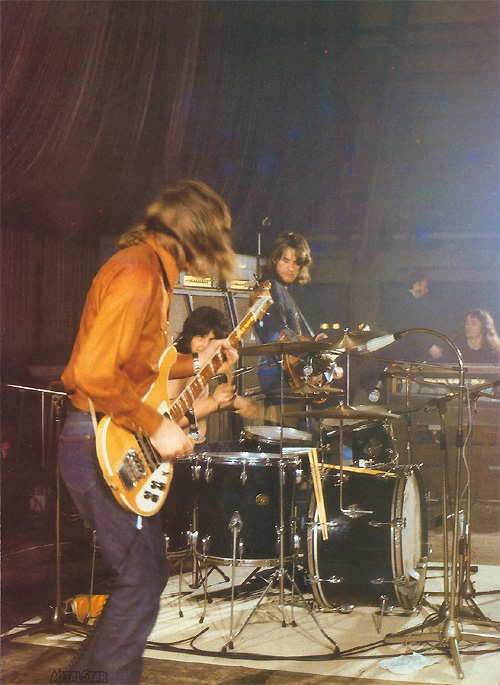 This Photo from METAL STAR Magazine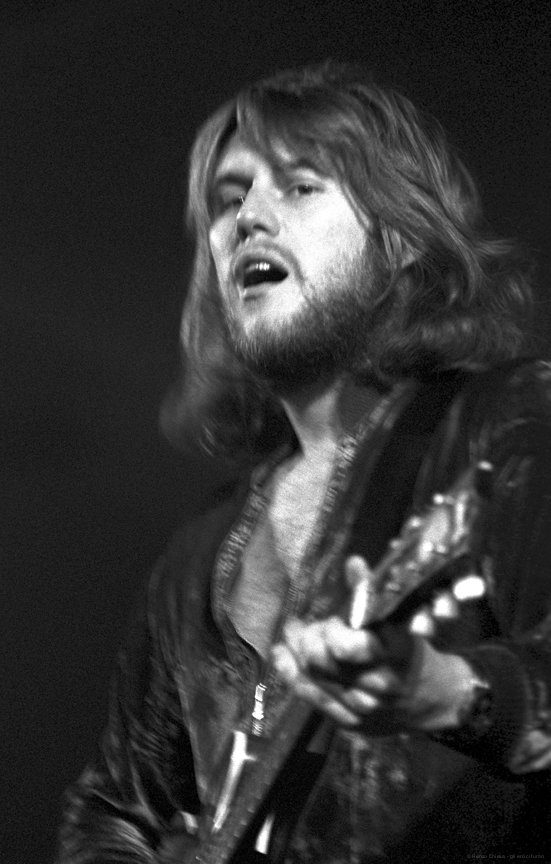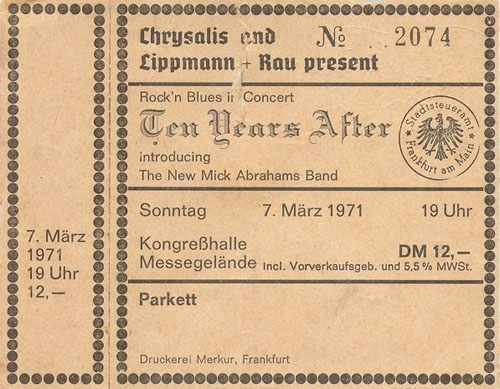 1971 Album Release: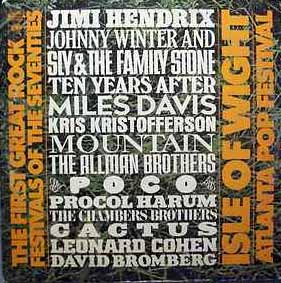 The First Great Rock Festivals of the Seventies:
ISLE OF WIGHT - ATLANTA POP FESTIVAL
The Isle Of Wight / The Atlanta Pop Festival – Three Record Set – Review:
No doubt released to capitalize on the success of the Woodstock three record set, but no where as good in editing or in performance. That being said, I personally have a strong affection for this set of performances. Two of the three disc in this collection were recorded at the Isle of Wight Festival and the other disc was recorded at the Atlanta Pop Festival, both in 1970. When I first purchased it (at a bargain price – as I remember), and got it home, it was Ten Years After that I was interested in most of all. Then came Leslie West and Mountain, Cactus, Johnny Winter, Jimi Hendrix, and all the others followed. Some music on here, I only set the needle down, gave it a quick listen and then scrapped them, never to be heard again.
The Sound Quality:
It's the equivalent of a raw collection of bootleg quality recordings, only without the cassette tape hiss. It's muddy / cold yet listenable. If you desperately want to hear some of your favourite bands performing live in concert, then this is for you.
The Appeal:
So, what's the affection and appeal of these recordings that makes it bearable? Mostly, because the performances are captured and not lost for one. It's a time piece, and I wore out three – three record sets over the years, so it defiantly has something to offer.
I'm sure that someone listening to it for their first time ever, would throw it in the dumpster in a hot New York Minute, and wouldn't miss a thing. But us older folks, classic music people, who lived through it, when it was actually happening, or might have been there in person, have a vested interest in the past, where music festival history is concerned.
I can also vouch for the fact that it's a damn sight better that it's counter-part release called, "The Music People", which did little to inspire or entertain me. Or even worse, my best friend picked up a copy of "Live At Watkins Spring" a single album, with an all star cast of performers of that concert on it…but if he had looked at the fine print at the store, he would've noticed the following: "As recorded by the 101 strings orchestra," in very small print and put out on Pickwick International Records – or was it Ronco. Ouch!
In Conclusion and in retrospect, the three record set under review here isn't so bad after all.
It's not exactly a friend of mine, but a long time acquaintance let's say. It's the sound of the times…..high, drunk and wasted – recorded live, warts and all. Oh Well, give it a good listen at least once through and judge for yourself.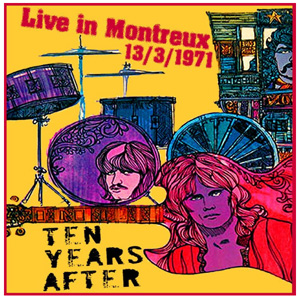 March 13, 1971 - Record Mirror Magazine

Richard Crowley is one of the mainstays of the Chrysalis Agency who exclusively represents:
Black Sabbath, Black Widow, Blodwyn Pig, Chicken Shack, Clouds, Curved Air, Family, Freedom, Groundhogs, Howl, Jethro Tull, King Crimson, Mick Abrahams Band, Principal Edwards Magic Theatre, Savoy Brown, Steeleye Span, Supertramp, T.Rex, Ten Years After, Tir-Na-Nog, Writing On The Wall and Yes.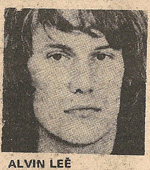 Their currently successful Black Sabbath concert tour opened in Birmingham, but had no London venue, as the management of the Albert Hall did not wish the group to appear there.
Outlets for major tours in London, may be a big problem in the near future. "It's very important that we find a venue in London, purely and simply for promoting Rock Concerts or current pop attractions. Something on the same line as Bill Graham's Fillmore East in New York City, where there are no problems about the kids having a good time. A major problem is that the management of most major halls, I believe are frightened of the audiences and I feel that it is very important to present these artists in London, in a venue where there are absolutely no restrictions.
"Over the last four or five years the business has changed. In every major town and city there used to be at least two or three Rock Clubs, booking artists. Now there are very few, hardly any clubs around and as regards to work the artists have had to look to America and Europe. This is one of the major reasons why there is a scarcity of major artists appearing in England.
"The University Scene, is extremely healthy, but the problem with clubs is very serious, as there is nowhere to promote new artists and groups. "In 1971 the pop scene appears very stale, where as a few years ago the whole scene changed from Soul / Motown to Blues, Rock, Progressive Rock. There seems to be a trend toward lighter music with artists like James Taylor (Apple Records), Neil Young (Harvest / Reprise Records) and Elton John (MCA Records). On the other hand, there is still a strong market for Led Zeppelin, Ten Years After, Black Sabbath, and the heavier bands who are already established. But I can't envision any new heavy Rock Bands coming up and making it".
By Richard Cowley
New Musical Express, March 13, 1971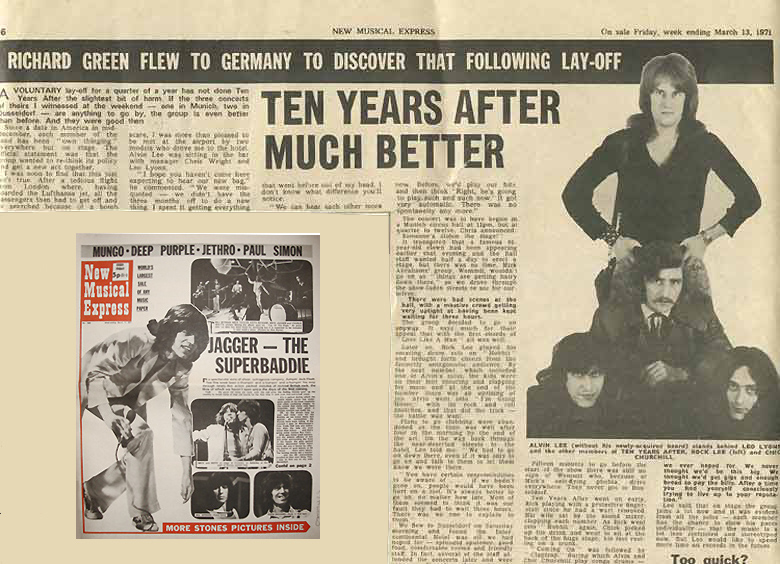 TEN YEARS AFTER MUCH BETTER:

A Voluntary lay off for a quarter of a year has not done Ten Years After the slightest bit of harm. If the three concerts of theirs I witnessed at the weekend---one in Munich, two in Dusseldorf--are anything to go by, the group is even better than before, and they were good then...

Since a date in America in mid-December, each member of the band has been "own thinging" everywhere but on stage. The official statement was that the group wanted to re-think its policy and get a new act together. I was soon to find that this just isn't true. After a tedious flight from London where, having boarded the Lufthansa jet, all the passengers then had to get off and be searched because of a bomb scare, I was more than pleased to be met at the airport by two models who drove me to the hotel.

Alvin Lee was sitting in the bar with manager Chris Wright and Leo Lyons. "I hope you haven't come here expecting to hear our new bag" he commented. "We were misquoted, we didn't have the three months off to do a new thing, I spent it getting everything that went on before out of my head, I don't know what difference you'll notice. " We can hear each other more now, before we'd play our hits and then think 'right he's going to play such and such now.' It got very automatic, there was no spontaneity any more".

The concert was to have begun in a Munich circus hall at 11:00 pm but at quarter to twelve, Chris announced: "Someone's stolen the stage!" It transpired that a famous 95 year-old clown had been appearing earlier that evening and the hall staff wanted half a day to erect a stage, but there was no time. Mick Abrahams group, Wommit, wouldn't go on as "things are getting hairy down there," so we drove through the snow-laden streets to see for ourselves.

There were bad scenes at the hall, with a massive crowd getting very uptight at having been kept waiting for three hours.The group decided to go on anyway. It says much for their appeal that with the first chords of "Love Like A Man" all was well.

Later on Ric Lee played his amazing drum solo on "Hobbit" and brought forth cheers from the formerly antagonistic audience. By the next number, which included one of Alvin's solos, the kids were on their feet cheering and clapping for more and at the end of the number there was an uprising of joy. Alvin went into "I'm Going Home," with its rock and roll snatches, and that did the trick, the battle was won!

Plans to go clubbing were abandoned as the time was well after four in the morning by the end of the act. On the way back through the near-deserted streets to the hotel, Leo told me: "We had to go on down there, even if it was only to go on and talk to them to let them know we were there. "You have certain responsibilities to be aware of....if we hadn't gone on, people would have been hurt on a riot.It's always better to go on, no matter how late. Most of them seemed to think it was our fault they had to wait three hours, there was no one to explain to them."

We flew to Dusseldorf on Saturday morning and found the Inter-continental Hotel was all we had hoped for--splended opulence, good food, comfortable rooms and friendly staff. In fact several of the staff attended the concerts later and were very complimentary the next morning.

The Dusseldorf dressing room was as grand as the Munich one had been miniscule. Suddenly the air was rent with the yell "Silence" stopping the incessant chatter. This, it seems is standard procedure when Alvin tunes up, because he does so by listening acoustically to Leo's bass through the end of the neck. Fifteen minutes to go before the start of the show there was still no sign of Wommit who,because of Mick's anti-flying phobia, drive everywhere. They never got to Dusseldorf.

Ten Years Afterwent on early, Ric playing with protective finger-stall since he had a wart removed. His wife sat by the sound mixer, clapping each number. As Ric went into "Hobbit" again Chick picked up his drink and went to sit at the back of the huge stage, his feet resting on a trunk.

"Coming On" was followed by "Claptrap." during which Alvin and Chick Churchill play conga drums, it's a new number with loads of oomph and went down extremely well.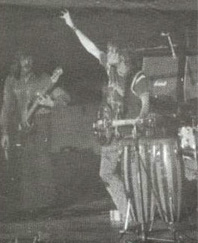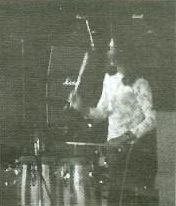 Alvin's announcement, "this is I'm Going Home" was the signal for everyone to stand up and stamp, a few getting on to the stage. At this point the house lights went on and remained glaring until the start of the next show. There were the inevitable demon bootleggers with their tape recorders and mikes on make-shift booms in the sixth and seventh rows, and the equally inevitable encore of "Sweet Little Sixteen" which rocked in true fifties style.

Back in the dressing room. I complimented drummer Ric on his solo and he replied: "I don't like making solos too long, they get boring unless you're Buddy Rich and I'm not! That's why I don't like Ginger Baker, his solos are always too long, they go on and on. "I liked it out there tonight though, sometimes you can just go on and play, tonight the spark was there".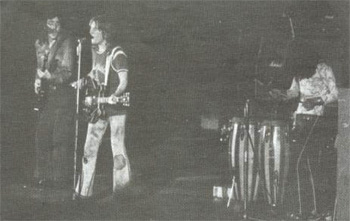 Some bright idiot decided to lead a communal singing of "Robin Hood" because of my name being the same as the film actor's, then Roadie John announced "I've got five birds outside, can I bring them in? Not to be outdone, Roadie Jack proclaimed: "I've got a crate of beer here if anyone wants any."

While Chick, who had blisters on his hands through not playing for so long taped up his thumb, Leo spoke about the break in their activities, "I live in the country I've got horses so there was plenty for me to do," Leo revealed, "I've spent a lot of time thinking about what the group would like to do, whether to go out doing a lot of concerts and taking the money or record more, or what. "You start playing because you enjoy it and don't give a darn about the audience and after a time it becomes so you get your enjoyment from your audience, it's like putting the cart before the horse. Now it's getting back to the way it used to be....We've gone way beyond what we ever hoped for, we never thought we'd be this big, we thought we'd get gigs and enough bread to pay the bills, after a time you find yourself consciously trying to live up to your reputation." About recording Leo says: " We spend three weeks on an album and that's it, it's over and done with" he confessed, "some groups, even new ones take months over it, I think we ought to take more time out for recording, we've done six albums and about sixty thousand gigs, the trouble is we're lazy......He didn't get a chance to finish as Alvin yelled good naturedly across the room "who's lazy? I'm not lazy."

Chick crept off to bed and left the rest of us to find Lovers Club on our own.
Before the group drove off to Frankfurt the following afternoon, we gathered in the restaurant to catch up on the football results and discuss of all things the Industrial Relations Bill with which Chick is in full agreement. When the coach arrived to cart them away, they finished their orange juices and shook hands with me. "Try to make it to Rome at the end of the tour, we'll need someone to keep the lions at bay," cracked Chick as he drove off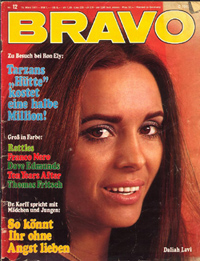 BRAVO Magazine, March 15, 1971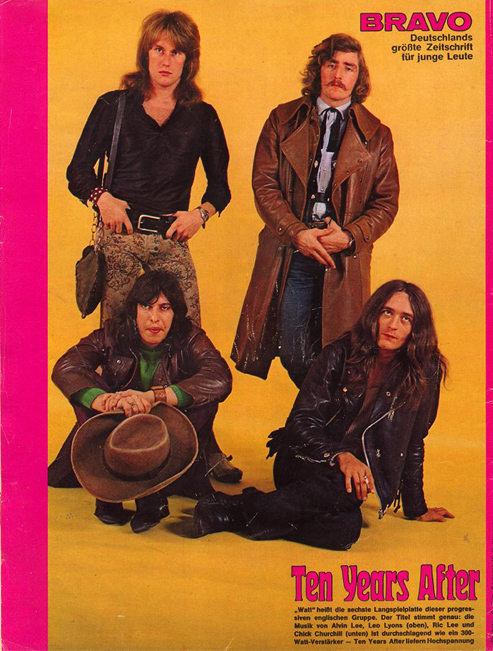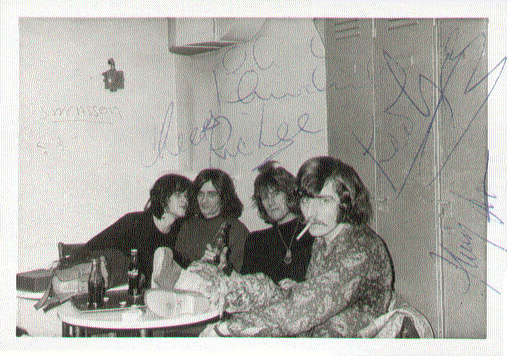 Sounds Magazine - March 20, 1971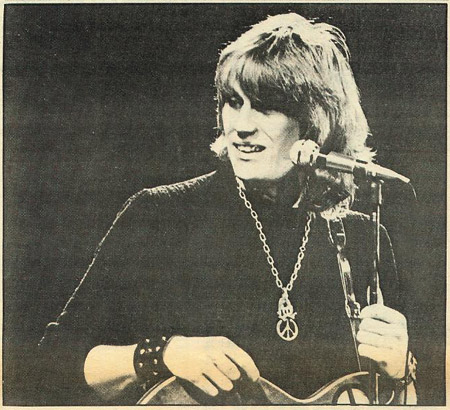 The Kroneball Circus is the premier entertainment venue in Munich. It is a permanent big top, circular and saw-dusted, and Ten Years After played there after the clowns had taken off their make-up and the elephants had been put back in their cages.
There was a change in audience. The older people and the very young had gone home, and they had been replaced by Munich's rock audience, some of whom might have remembered the Beatles playing there years before.
It was an audience that should have seen the result of Ten Years After's three-month lay off. A break from live performances which Alvin Lee says has given the group a chance to recharge their musical batteries and to look at the direction in which they are travelling.
Munich didn't see it though. As a gig it was in manager Chris Wright's words, a bummer. By far the worst of the tour and there was very little the group could do about it, because it had gone wrong before they even got there.
It's a cold city, Munich, colder than Moscow that night and in Red Square, it was eight degrees below freezing, and at the Kroneball Circus when the group arrived, there was even more of a chill in the air.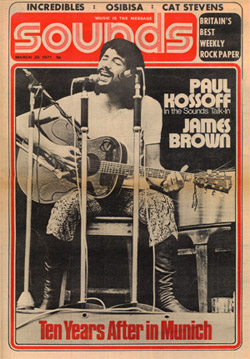 Mick Abraham's band should have started the rock show at midnight, an hour after the last clown cart-wheeled out of the ring, but there were delays. The circus was late in finishing and the equipment was held up in transit from Vienna, the last stop, because of the snow on the roads. And when it arrived there were further problems. The audience, a complete 3,000 sell-out capacity, had been let in early because of the cold and they had come in so quickly that no one left room for a stage. "There was no stage, there wasn't any backstage area, it was just kids," Chris Wright explained. When the group got there, there still wasn't a stage, just a little space out front with hardly enough room for the group to get on, let alone their equipment.
And, the audience were getting a little restless, a little violent, even as the time moved on, and Mick Abraham's came back to the safety of the hotel. It was one of those situations that was beginning to get nasty.
Ten Years After decided to play, a decision that prevented a certain riot, but there were cars back stage ready for a speedy get-away if the situation got worse. By this time, it was nearly three in the morning and Mick Abrahams band were ensconced in the hotel, it was too late for them to go on, and for bass player Pete Fensome, it was rather a wasted journey that day. He had flown out that evening to deputise for Walter Monoghan who had come back to Britain to get married. He didn't play the next day either because of other delays.
Andy Jaworski, Ten Years After's road manager, had managed to organize half of the groups amplification on stage, and on they went. They served up "Love Like A Man" for openers and the audience thawed. Because of the amplification problems, Chick Churchill's organ and some of Alvin Lee's vocals were lost somewhere up in the roof of the big-top, but the group hammered home. A lot of the new numbers had to go by the wayside. German audiences only seem to like music to rock to anyway, and Ten Years After were getting through to them.
Technically they suffered. If the amplification and the lack of stage room wasn't enough, drummer Ric Lee and organist Chick Churchill had to sign autographs during the set, which isn't the best way of keeping everything together, but they did. A new blues number came over well, as did the bass guitar work of Leo Lyons, and one guitar solo from Alvin who used the microphone stand for added effect. A little piece of rock and roll was the encore and Ten Years After sent the audience out into the snow a lot warmer than they had been before.
The Kronball Circus for all of its disadvantages on that night, does permit rock concerts and that's more than can be said about some venues back in warmer England. Ten Years After won't tour here until they can get a London concert and that doesn't look too likely at the moment. Maybe Billy Smart could help…
Ten Years After at Circus Krone – Germany
Set List:
Love Like A Man – No Title – Once There Was A Time – Slow Blues In C – Hobbit - One Of These Days
She Lies In The Morning – I'm Going Home – Sweet Little Sixteen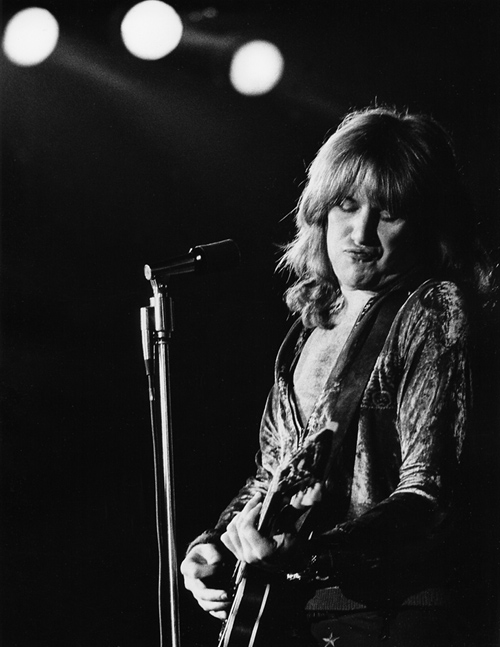 Ten Years After at Circus Krone, München 1971 - Photos by Ulli Schwenn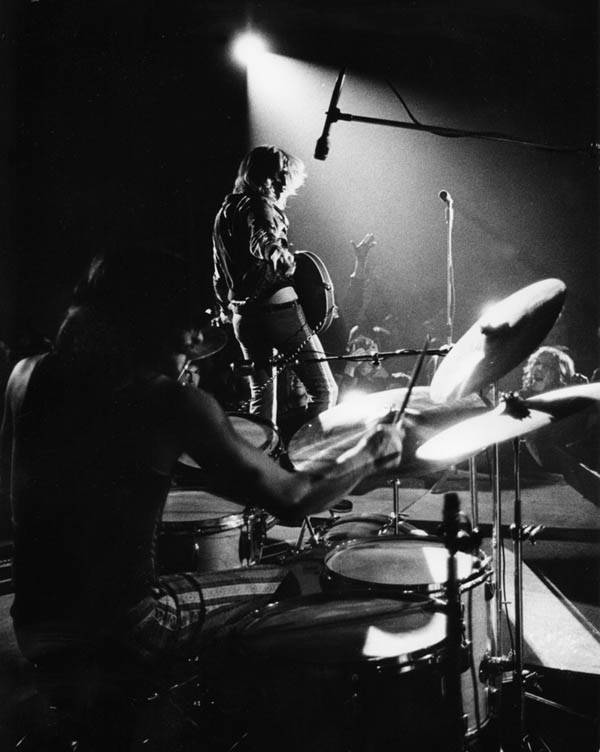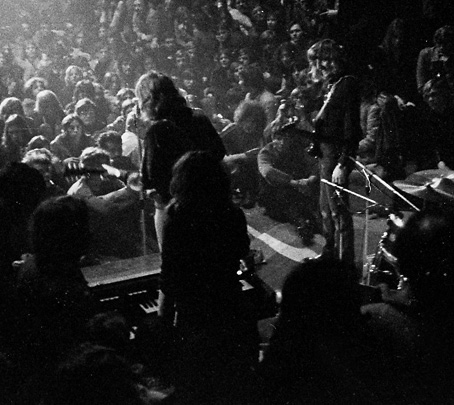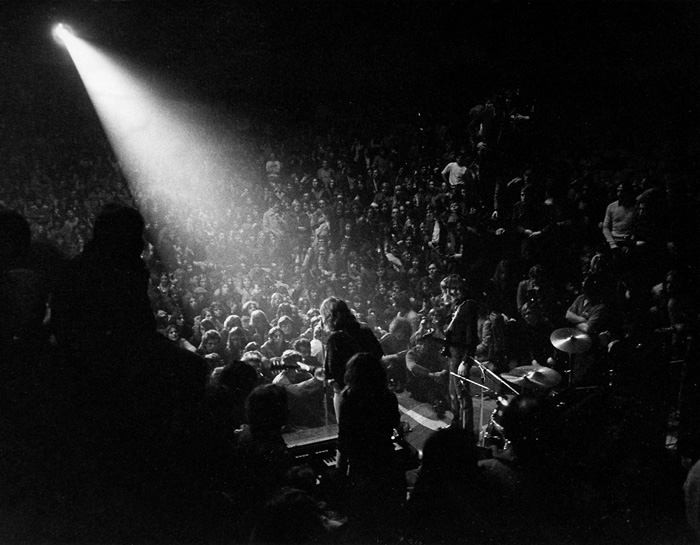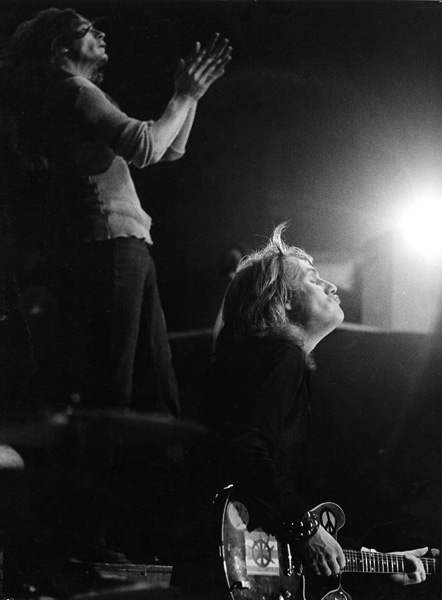 Melody Maker – March 20, 1971
It's about eight in the morning and the warm mist hangs lazily over Lake Geneva.
In places it yawns, and clears, stimulated by sun. It's also Sunday, and the musical bells, seemingly thousands, ring from what might seem as many churches, hidden from view by nature's morning blanket. Twenty or so chicks and youths, long haired, bearded, coated in the grease that comes from sleep, shiver in their sleeping bags, next to the lake, their ears still humming from the night before. Mine hum a little as well, and so does my head, filled to bursting with alcoholic poison. Monteux is quiet, except for the slow movements of the Swiss rock fans, making their way home to all parts of the country. They mumble about Ten Years After, and the new Mick Abram's band. Both did all but raise the bulbous roof off the town's Casino the day and night before. It was a day and night of pungent, never ending hard rock, rock and roll emotion and excitement. There are few things more emotional than a grateful European audience. It was a shame that this contentment and togetherness didn't exist within Ten Years After, probably tiring a little after a hectic European tour, probably tiring of each other.
Lavish:
The rumours of a new stage act, and lavish amounts of new material aren't really unfounded, these ideas are there, but performing the final product seems a near impossibility, as togetherness off-stage, and to some extent on stage has possibly reached an all time low.
It's a natural thing really. Five years is a long time for any band to share each other's lives, heads and company. Rifts are inevitable, as in any unit, but when those rifts become heartfelt depression, something must be done. One is tempted to throw away arguments and sulking as just being part of trials of life in a band, but as I observed in Monteux, last weekend, a solution must be found quickly for Ten Years After, otherwise a fine, exciting unit may bite the dust. But let's describe this day at the Casino, one of the monthly concerts laid on by the ever-young Claude Nobs. Sold out weeks before, two concerts, 2,000 people at each, a special inter-Swiss train, special buses, tremendously honest mania, and stinging hot sunshine.
Champagne of the lakeside, lovely ladies, what more can a man want? The Euro-Hotel sits on the lakeside, Alvin Lee sits in the superb dining hall, sipping tea, talking in broadish Nottingham accent to Swiss reporters. We stroll out, Alvin and lady take snaps of swans and ducks. An hour or so passes, it's time to go to the afternoon concert, Alvin can't be found, he's strolling around town hunting for film. At the Casino, the 2,000 longhairs have just flipped to a set by Mick Abraham's. Chubby, and happy he sits sweating in the dressing rooms. The temperature outside is reaching the 60's and over, inside it's unbearably hot.
"It's gone down really well, I'm so bloody happy with this band," Mick tells me. "In fact I don't think I've ever been happier, this is the first tour I've done that I'm not sick of. At last I've got a band that works, we all get on so well". In fact Mick's band must be the heaviest in existence, averaging a good thirteen stone apiece. The dressing room resembles that of a tag wrestling team. Fine lads. Searching for ale, Mick and myself walk through the cooling catacombs underneath the Casino, and arise at the back of the main concert hall. The kids sit quietly, getting rid of a few pounds of sweat. There's a decorative pool in one corner of the room, I feel tempted to join the fish. My God, every soul there looks every inch a head, not a straight in sight till the local police chief tips in for a beer.
Squeal:
Hot minutes tick away, then we see Nobs trip across the stage, and introduce Ten Years After. In a matter of seconds, hidden hundreds in dark corners squeal with delight, and suddenly the place is a mass of clapping, then mania as Alvin, in clogs, takes the stage followed by Chick Churchill, Ric Lee, and Leo Lyons. There's no boring tune-up. "Love Like A Man" drawls Alvin, and they are away. It's awhile since I've heard Ten Years After, and although a little surprised that "Love Like A Man" was still being used, I enjoy it. Enjoy Lee's lazy, but effective gurglings. There's a fine break from him, he moves little, then produces an erratically fast lick. I've heard few people faster than Lee. Next is "No Title" and that runs well. Lyons picks up some nice bass feelings, and Ric is surprisingly enjoyable, and not half as mechanical as of late. Unfortunately, the organ of Churchill is badly amplified, and his contribution is hard to define.
Heavy:
"Yeh -Yeh" (or it could be "Yea – Yea") It's a new number, short, heavy country and maybe Alvin's own answer to the tale of Johnny B. Goode. It's an excellent length, chunky and sweet, and the audience start to bop a little. Thank God, some cop opens a door, and golden sunshine streams in. I look outside, and kids are already waiting for the evening concert, they are lucky, for the sounds are piped outside and they get a sunburn with their Alvin. If you're going to criticise Lee, then you've got to be honest about the bloke. He's deliciously fast, and tends to be a little too lazy at times, but is singularly inventive, and on this set colourful and listenable. He's a cleaver chord man, and his solo's chip and gobble over frets with excitement. "Slow Blues In C" sees him dawdle too long on occasion, but his breaks are clean, and tidily delivered. An absence of feeling at times, but coupled with his barking vocals he becomes a rock star, and the people go suitably wild as "Going Home" steams along the rails. Churchill still seems sadly out of place, but with Lee shifting so much work, one fails to see why an organist is needed. Little room is left for him anyway, so it isn't his fault completely. The gem of the afternoon for me was Ric's solo. Now he's a drummer who goes in for a deal of criticism for being too rigid, too clockwork. Here he showed that all that lies in the past. It was varied, clever, and fast, coupled with talking cymbals, then tom-toms operated by arms and knees for changing, straining sound effect. Lee bust a string, and entertains the warm, glistening audience with chat as he slips on another. He's cool, and his coolness goes down well, cause he's big, good looking, and is a rock guitarist. Encore, chanting jumping, whistling. More. I thought it was a good set, I believed the band would be pleased. I get stuck in the crowd and don't make the dressing rooms for about five minutes. When I get there I'm warned not to go into the Ten Years After room. A steward tells me there's an argument, someone's smashed some bottle in a temper. Later I see an ugly cut on Alvin's hand.
Vibes:
The uncomfortable vibes back at the hotel weren't hidden, and obvious to all. Ric was especially open about the problems within the band. There was a happy bottle of champagne sipped on the lakeside, and some depressing chat in the café later. I couldn't really get hold of what had happened, but Ten Years After playing in the evening looked highly doubtful. Alvin didn't join the rest of the band to eat. Chick was grumpy and miserable. Leo was moaning non-stop to manager Chris Wright. "I can't see it going on much longer. Musically I'm frustrated," Rick told me. "It's just the climax of being together for five years there's nothing more I can get from the band. We were slung into this commercial thing, when we didn't want to be. Sure, the money's good, but the vibes aren't". I asked Ric if he could see any solution to the problems. "No, there's no solution, except splitting". I realized that he was completely sincere, open an honest. The sunset of Lake Geneva is one of the most beautiful things you could wish to see. The snow capped Alps are cut off at the knees and float like watching, wise old men. What ever troubles lay below them, they had seen it all before, and watched unmoved. The lake turns red and fiery, and energetic ducks churn the glowing water into flames. It's only a couple of minutes walk to the hotel Suisse across the main road. There lies cheerful Mick Abrahams and band. I decide to leave the Ten Years After problems and seek other things. Mick says that he's suffering from the flu, but remains perky, and belly- slapping. Time for them to be on, and we drive to the Casino.
Storming:
Same place, different audience. I'm stopped by a Swiss journalist, and asked why Alvin smashed a bottle. I tell him, I don't know a thing about it. The room is a darned sight cooler, but still the air needs much sucking to hit the lungs. Mick gets a storming reception. It's the first I've seen of the band, and being an admirer of Mick's playing, I'm eager to see what he's got. It only takes a minute to see that Wommit are a fabulous band, and the happy vibes spread to the audience. The lash into "Greyhound Bus," and Mick's guitar speaks rare colour and precision. They calm for an item called "Wind of Change". It involves Mick on acoustic guitar, and organist Bob Sergeant on guitar as well, they blend nicely, and the vocals gell into dreaming harmony, and then wander into blues at will. Their music may not be radically different, but Mick isn't playing tired notes, he's interested, the whole band is interested and the result is excellent. Mick's four minute guitar break kept me going for the rest of the night. He's certainly not one of those technically brilliant players, but he's a feeling player, a talking player and undoubtedly original. The solo blasted and changed, and ran crisp and heady, racing up to a crashing climax of heavily scrubbed chords and a majestic fusion of sound.
Looming scenes in the Abraham's dressing room indicated that all were pleased. "There's something great about playing what you really dig, and what the rest of the band dig. I'm wildly happy out there, again, happier than I think I've ever been, and that obviously shows with my playing. The problems were pretty heavy when I left Jethro Tull, but I knew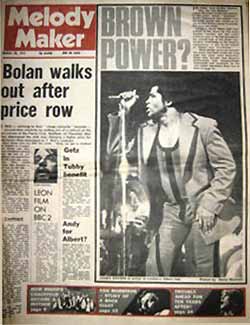 something would work out, and it has done". Mick's right there, it's a fabulously fast band and looks set for lashings of success.
Beer: Beer, oh fine beer. It flows well, and in Monteux one becomes heady after one
glass. Ten Years After arrive, seemingly problems have been ironed out for awhile, and they take the stage, and the place by storm. The same numbers, yes. I don't feel there's as much energy evident as in the afternoon, but Alvin is again listenable, and Ric delivers another excellent drum solo. The rock and roll encore causes incredible wild scenes, "Sweet Little Sixteen" played loud and crudely. It goes on and on. Yet another encore. As live music goes, Ten Years After stands nicely near the top, rocking and rolling away. A press reception follows, Chick walks out, and goes back to the hotel. There's a lot of wine around, a lot of ludicrous speech making, two diabolical strippers, too much whisky. A change of scenery in the club, as it became a gambling centre full of suits and sun kissed ladies. Time to split. In the early hours of the morning the streets are littered with the kids, staying for the night, hitching home, singing on corners. As the wise mountains look on.
It was during the very first nasal whinings of the 'Beatles' "Love Me Do" that were wafting over the air waves that a group calling themselves The Jaybirds were having their first experience of flower power, in the form of a Chrysanthemum Society. The focal point of this three man outfit was Alvin Lee, who was a short, and fair youth, who sported skin tight cavalry twill trousers, with loose fitting waistcoats, with his hair slicked back in the true Elvis Presley style.
Alvin and his band performed on Friday evenings, and sometimes on Mondays as well, at the St. Michael's Church Hall, Sutton in Ashfield, at an event known to the locals as the Sutton 'op or pronounced as Sut'nop. The entrance fee was just two bob, and if Alvin and the band made a fiver on the night they were more than satisfied. That explains why the Sutton in Ashfield, and the District Chrysanthemum and Dahlia Society in general were regarded as something of a fly in the group's ointment, so to speak.
As this small Society used the very same hall favoured by the huge, and frequently war like patrons of the Sut'nop and on two weekends a year they saw the need to hold their early / late flower shows there. When this happened, it meant there were to be no Friday night 'hop' for the Jaybirds, and the need to find a new and quite possibly, a much less appreciative audience to win over, was the case. To be sure, the patrons of the Sut'nop were not renowned for their delicacy or restraint by any means, but it was during this time that the last desperate remains of the "Teddy Boy" phase were struggling unsuccessfully for their drape jacketed survival. These groups of youths, and many of them scuffing their large pit boots menacingly along the entrance, and on into the hall, would arrive promptly at seven p.m. with their best ladies at their side for the start of the evenings entertainment. It wasn't until about seven thirty that the pit boots along with drainies had left their girlfriends and lovers behind to listen to the power chords and fast riffs of Alvin's already blistering lead guitar solos, and proceeded to walk across the road to the popular Dew Drop Inn. Now what was the reason for them leaving the concert you're wondering? It had nothing what's so ever to do with The Jaybirds, but the story is double sided. In the first place, the good folks at St. Michael's Church run an alcohol free establishment, the only refreshments served there are coke-a-cola and orange juice, with or without ice! Secondly, the fine ale across the street was only 1s 5d for a pint, at the Dew Drop or at the New Cross Hotel, as the fine folks new to Sutton referred to it. So at about nine forty five in the evening, the Smokey thick atmosphere filled the whole tap room, and was now working its magic, along with all the muted oaths, and the extravagant claims of large amounts of ale supped, as the pit boots trooped back into the church hall once again.
They would have remained back at the pub, and fastened to their pints long after the final request for their departure coming from the land-lord, except for one important factor, they didn't want to miss all the action and frenzy that was going on towards the end of the concert. Everyone knew, that the show finished at ten p.m. and it was quarter to the hour now. Alvin and the band could be heard at their loudest and best. The reason for this was due to the fact that the last part of the hour of their performance consisted invariably of misguided attempts to make themselves heard above the frenzy caused by the two hundred people who were very intent on fulfilling the mass ritual of fisticuffs.
It seems that the trouble always started with the return of the pit boot brigade from the pub. While they were away the younger crowd had remained at the hall and proceeded to take liberties with the pit boots lady friends, with a little dancing on the floor. A very unwise decision to be sure, as these youngsters found themselves confronted with very large, very drunken, and very aggressive pairs of pit boots coming directly at them.
Leave it to the Jaybirds at this point, to go into songs like "Carol" and Johnny B. Goode." As Alvin's fingers would be working overtime while he was sweating furiously in order to drown out the boot crunch against the bone sound! It should be noted, that during one of these particularly prolonged and spectacular melee, that the first long introduction to a song was born. As back in those days bands playing in front of a live audience, rarely if ever moved outside of the tight and very limited confines of the conventional three minute format of their numbers. It was in this area that Alvin Lee was one of the first to break into new territory when he was forced to play a lashing, stinging five minute guitar solo at the beginning of the song "Money" while chairs and fists were flying dangerously close to the stage area. Back in those days Alvin had quite a growing reputation for being an innovator, some people have never recovered from the traumatic effects of the time he walked into the hall wearing the very first pair of Cuban heel boots ever to be seen in Sutton. This event alone, in the face of all those pit boots, was to say the least a brave gesture at that. Although Alvin had a certain polish even back then.
The group's version of "Poison Ivy" was thought by many to be even better than The Rolling Stones Version which was released on EP. No one but Alvin could change from rhythm guitar to lead guitar with quite the same panache. As all good things come to an end, The Jaybirds were lost forever to make way for the "Bee-Hive Hairdoes and the Pit Boots of St. Michael's. Moving forward, the gigs at nearby Mansfield Palais were to be the next step up the ladder of success, and before very long even little Nottingham had fallen at the feet of the blonde, speed, freak and his band. But The Jaybirds have certainly come a long way since those meagre days so long ago.
They've managed to sell a lot of records, and made a great deal of money while touring America. Although they're no longer called The Jaybirds, because somewhere along the line bass player Leo Lyons came up with the name that would make the world stand up and take notice of "TEN YEARS AFTER".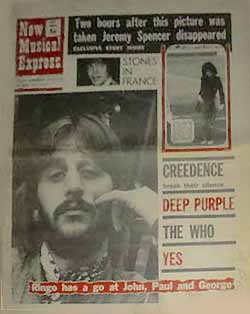 New Musical Express – April 24, 1971

For the third time this year, Ten Years After's management is attempting to arrange a British concert tour for the group. Both the earlier attempts ended in failure because of the unavailability of a suitable London venue. The group has not toured this country (England) since 1970. A spokesman for Ten Years After told the New Musical Express: "It is important to appear in London at the beginning of a major concert tour, and we tried to the Royal Albert Hall, for two projected tours, but they would not accept the booking". Currently touring America, Ten Years After returns to this country in early May, and then immediately begin work on a new album which is expected to be released in July or August.
April 16, 1971
Ten Years After – Boston, Massachusetts – With Cactus and opening band Humble Pie
April 17, 1971 Friday
Ten Years After at State Fair Coliseum Syracuse, New York - Opening band Humble Pie
April 23, 1971 and April 24, 1971
Ten Years After at Dania, Florida – Pirates World with opening band Humble Pie
May 2, 1971
Ten Years After at Long Beach, California Arena with Cactus and Humble Pie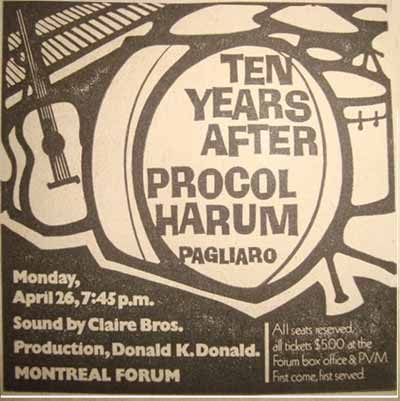 26 April 1971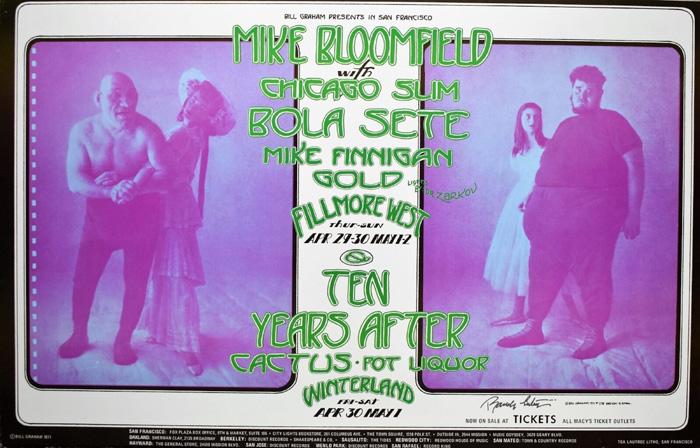 April 30 - May 1, 1971
Concert Poster (above) and Postcard (below)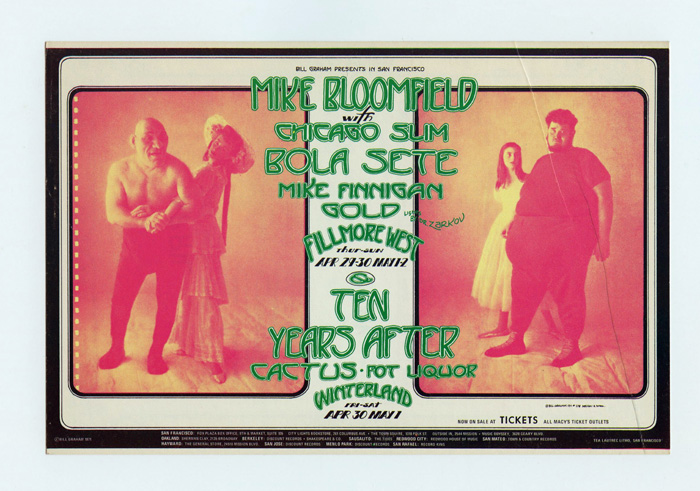 TEN YEARS AFTER - FILLMORE EAST AUDITORIUM

Photography by Thomas Monaster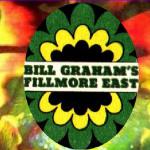 The More Things Change, The More They Stay The Same:

In an open letter appearing on page 45 of the May 6th, 1971 edition of The Village Voice, Bill "Uncle Bobo" Graham published an open, 'Dear Friends' letter explaining his reasons for closing down the famous venues. The seven reasons he enumerated are quoted exactly as they were published - and resonate as much (if not more) today, then they did 35 years ago - - -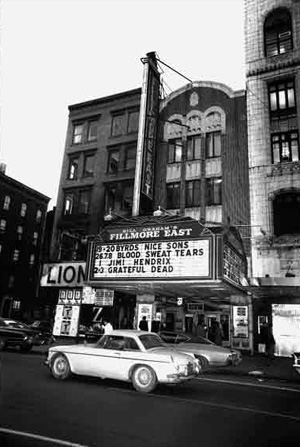 April 29, 1971
Dear Friends:

Ever since the creation of the Fillmores, it was my sole intention to do nothing more, or less, than present the finest contemporary artists in this country, on the best stages and in the most pleasant halls.

The scene has changed and, in the long run, we are all to one degree or another at fault. All that I know is that what exists now is not what we started with, and what I see around me now does not seem to be a logical, creative extension of that beginning. Therefore, I am taking this opportunity to announce the closing of the Fillmores, and my eventual withdrawal from producing concerts.

The process will commence with the formal closing of Fillmore East on Sunday, June 27, 1971.

My reasons are as follows:
Reason #1

"The unreasonable and totally destructive inflation of the live concert scene. Two years ago I warned that the Woodstock Festival syndrome would be the beginning of the end. I am sorry to say that I was right. In 1965 when we began the original Fillmore Auditorium, I associated with and employed "musicians." Now, more often than not, it's with "officers and stockholders" in large corporations - only they happen to have long hair and play guitars. I acknowledge their success, but condemn what that success has done to some of them. I continue to deplore the exploitation of the gigantic-hall concerts, many of them with high-priced tickets. The sole incentive of too many has simply become money. The conditions for such performances, besides lacking intimacy, are professionally impossible according to my standards."
Reason #2

"I had always hoped to be able to present artists whose musical worth I felt was important: artists whose music was valid, whether commercially popular or not. There are more quality artists today; but many of those that do exist do not appear in public regularly. Therefore, in order to stay in business, I would be forced to present acts whose musicality fell below my personal expectations and demands. I could do this, and in having to book fifty-two weeks a year it becomes tempting because it is so much easier to do. Thousands might even come to these concerts, but I personally would prefer not to present them. For who would gain?"
Reason #3

"With all due respect for the role they play in securing work for the artists, the agents have created a new rock game called "packaging"; which means simply that if the Fillmore wants a major headliner, then we are often forced to take the second and/or third act that the agent or manager insists upon, whether or not we would take pride in presenting them, and whether or not such an act even belongs on that particular show. To do so would be to relinquish the essential responsibility of being a producer, and this I will not do."
Reason #4

"In the early days of both Fillmore East and West, the level of audience seemed much higher in terms of musical sophistication. Now there are too many screams for "More" with total disregard for whether or not there was any musical quality."
Reason #5

"The time and energy that is required for me to maintain a level of proficiency in my own work has grown so great that I have simply deprived myself of a private life. At this point I feel that I can no longer refuse myself the time, the leisure, and the privacy to which any man is rightfully entitled."
Reason #6

"For six years, I have endured the abuse of many members of the public, and press (in most instances people who did not know me personally). The role of "anti-christ of the underground" has obviously never appealed to me. And when I asked for people to either judge me on some factual personal knowledge, or at least base their opinion on that which I produced and gave to the public, I was rarely answered."
Reason #7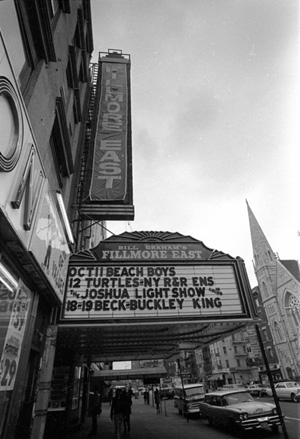 "Rock has been good to me in many ways, but the final and simple fact is that I am tired. The only reason to keep the Fillmore in operation at this point would be to make money. And though few have ever chosen to believe me on this point, money has never been my prime motivation; and now that it would become the only possible motivation to continue, I pass."
In Closing...

My personal future will begin with a long-needed rest. What will follow, I do not know. The several hundred good people who work at the Fillmore, maniacally dedicated to our standards, will, no doubt, go on to other creative things on their own. Fillmore West, as you may know, has been allocated for demolition for a long time now. It will neither relocate nor be reopened.

The "Fillmore" will become a thing of the past. I will remember with deep emotion and fondness the great and joyous moments of that past. I sincerely thank the artists and business associates who contributed to our success. But, I warn the public to watch carefully for what the future will bring.

The rock scene in this country was created by a need felt by the people, expressed by the musicians, and, I hope, aided to some degree by the efforts of the Fillmores. But whatever has become of that scene, wherever it turned into the music industry of festivals, 20,000-seat halls, miserable production quality, and second-rate promoters - however it went wrong - please, each of you, stop and think whether or not you allowed it, whether or not you supported it regardless of how little you received in return.

I am not pleased with this "music industry." I am disappointed with many of the musicians working in it, and I am shocked at the nature of the millions of people who support that "industry" without asking why. I am not assured that the situation will improve in the future.

But beyond all these viewpoints, I truly wish to express my overwhelming appreciation to the people, who, over the years, gave their time and devoted energy to working at the Fillmores. To them, and to many, many musicians who grew in stature without ever copping out, and to those admirable patrons who both refused to support marathon rip-offs and who even took the time to helpfully criticize me for the errors I made - to all of you, my fondest thanks and farewell.

Sincerely,

Bill Graham
Bill Graham's "Winterland" San Francisco, California
Called The Winterland Ballroom in San Francisco, is often referred to as the Winterland Arena or simply – Winterland. It was originally built and opened June 29, 1928 as an ice skating rink, over the years it was also a showcase for Opera's, Boxing and The Ice Follies.
Winterland was located at the corner of Post Street and Steiner Street. It was converted to a music venue in 1971 by legendary rock promoter Bill Graham. Graham turned the old ice skating rink into a music venue that seated some 5,400 people. Winterland closed New Years Eve of 1978 going into 1979. The entire building was demolished in 1985 and replaced by condominiums. During its hay-day some of the best bands, musicians and artists played there, including: Jefferson Airplane, The Grateful Dead, Ten Years After, Heart, Yes, Kiss, Grand Funk Railroad, Journey, Joni Mitchell, Led Zeppelin, Humble Pie, Peter Frampton, ELO, ELP, Neil Young, Eric Clapton, Bob Dylan, Cream, Allman Brothers Band, Rolling Stones, Traffic, Golden Earring, Bob Seger, Boston, The Sex Pistols, Bruce Springsteen, Lynard Skynard, Genesis, Loggins and Messina, Pink Floyd, The Band, Jethro Tull, The Doors, Jimi Hendrix, Steppenwolf, Styx and The Paul Butterfield Blues Band…..and many more.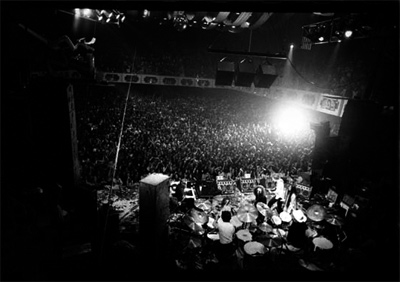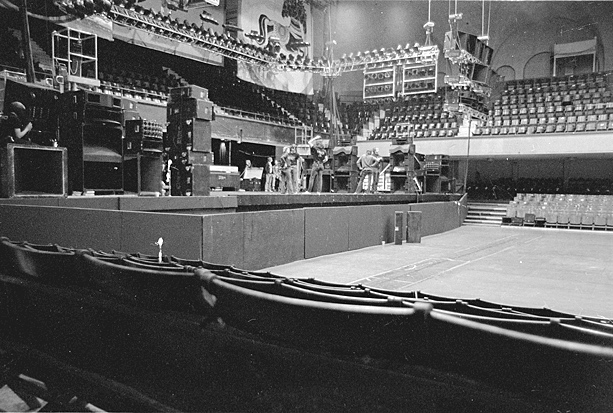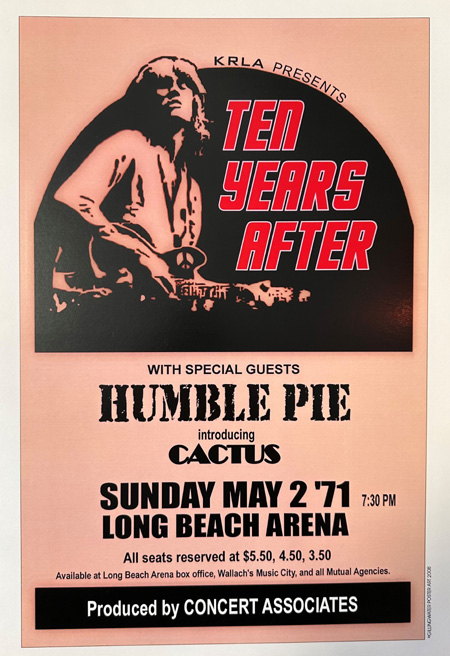 Long Beach California - The opening act is Humble Pie. The concert is a sold out event, and four hundred Ten Years After Fans will not be allowed entry to the venue. Needless to say, they are beyond being just angry they're pissed off and have turned into a mob. The police are called in to resume order and tear gas is used to quell the disgruntled mass. Bottles are thrown and windows broken before all is said and done.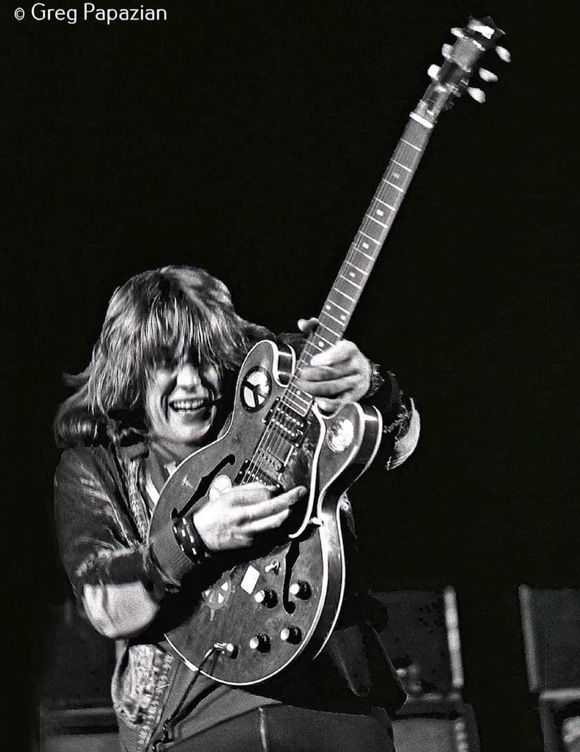 2 May 1971 - Long Beach Arena, Long Beach, CA. / Photo: Greg Papazian
May 8, 1971 - New Musical Express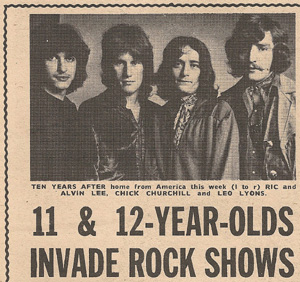 By Nancy Lewis in New York
11 and 12 Year Olds Invade Rock Shows
Expect to hear soon about a very impressive record deal involving Ten Years After. No details are being released as I write however. The group has been touring America, creating the usual sensations. Ten Years After came to New York's Fillmore East for one night only.
Needless to say, both shows were completely sold out well in advance, and on the night, crowds lingered around the front doors hoping for returned tickets. The early show was somewhat disturbed, however, by over-eager fans screaming out during the performance.
"We don't mind people leaping about dancing the part of our set when we're into our rock and roll mood," Ric Lee told me, "but it's distracting to have all that going on when we're trying to play a blues number. It made us feel tight during the first show. We were much looser in the second house". Although Ten Years After are respected as "heavy" musicians they also have an incredible following among the teenybopper set. Whatever may be said about the disappearance of American "screamers," they seem to turn out in droves for –
Ten Years After. I asked Ric if he felt their audiences were unique. "I don't think it's only us," he said, "Several other groups I've spoken with have said their audiences are getting younger. It amazes me to see that the age group attending concerts, includes a lot of 11 and 12 year olds now-a-days. "Possibly some of this is due to the Woodstock film. Even though it was released with an "R" rating, it had a tremendous impact. It was certainly a positive factor in the career of our group". The group ended its tour in Los Angeles on Sunday and should be back in London by now, working on a new LP. It's a rare occasion to hear any "live" music on American radio stations, but New York's WPLJ (FM) is running a very successful series of concerts. Such artist as Elton John, Taj Mahal, Sea Train, Butterfield Blues Band, and this week Procol Harum, have presented complete concerts, broadcast live. Taped versions are aired later on affiliated stations across the country. Strange, isn't it, to think that now-a-days, the broadcasting of live music, is a real novelty in America!
MUSIC IS THE MESSAGE

SOUNDS MAGAZINE

From June 28, 1971

TEN YEARS AFTER AT HOME

"Those were the days" - Leo Lyons
LYONS´ COUNTRY COMFORTS
FEATURE BY: ROYSTON ELDRIDGE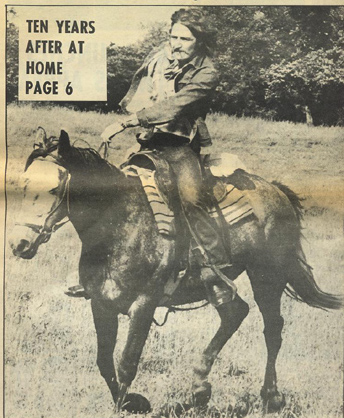 PICTURES BY: SPUD MURPHY

"WE TOOK THREE MONTHS OFF TO GET OURSELVES INTO PERSPECTIVE"

LEO LYONS

Rural England is full of villages so small that if you blink as you pass the first pub, you miss the post office, the general store and the church that seem to supply the needs of all the inhabitants. One blink as you drive by and they're gone.

Up in Bedfordshire, sixty miles on the motorway from London, Leo Lyons loses himself in one of those villages that isn't full of antique shops and that hasn't as yet become inundated with rock and rollers getting back to the garden. Bedfordshire, you see, is hardly hip Berkshire.

STUDIO:

It's doubtful anyway if the locals know they have one musician in their mist. Ten Years After spend the majority of their time out of England, averaging out about three tours of America and one of Europe a year, and when he's not playing bass Lyons slips into the country life, building a new stable behind the chicken coop, or tinkering about in the studio he's fitting up in the attic. If he's not doing that he goes riding on one of his horses which a girl from the village exercises when he's away.

ALBUM:

Lyons, Alvin Lee, Chick Churchill and Ric Lee have just returned from their ninth American tour and gone straight into the recording studios to work on a new album and possibly a new single, although they're not to sure about that.

RULES:

"We haven't done one since "Love Like A Man", we haven't tried for one, but if one comes out of the album and the record company wants to use it, then I guess there'll be one, there's a few things that could be singles on the album. "It was the fickleness that put us off, the principle of making a number that is two minutes long, you know, the rules that you are supposed to abide by although I think that's going by the board a bit now. You're getting longer singles and they don't follow the sort of pattern they used to a couple of years ago.

ELECTRIC:

"The idea was that we didn't want people to know us for a single and not know anything else about us. If the only reason people knew us was because of one hit single then we'd feel almost, in their eyes, finished if we didn't have another one, and we much prefer people to know of us for what we do in an entirety, by albums or concerts, rather than just a single," Lyons explains. It's early afternoon and he's just got up after an all-night session at the studio in London. He's got a rough mix of what they put down upstairs on the tape machine in his own studio which he put together over the years and it's full of equipment, quad sound, control panels, and even something he calls a "transistorised drummer". It's a kind of electric percussion machine and by linking it up with one of his amps he can play and record on his own. Whether a single comes out of the album Ten Years After are recording or not, the results of their longest ever recording session will be the first England has heard from them since their last tour here. After that they toured Europe and the States again and took a three month lay-off period.

IDEA:

The idea behind the lay-off, Lyons said, was to get themselves and what they've done into perspective and to catch up with what's happened, because it's happened so fast they've hardly realised it. "We get to the stage where we were working all the biggest halls in Europe and in America, forgetting England for a moment because we reached that stage here quite some time ago, and we couldn't figure out what shall we say, direction things were going in.

We didn't like the idea that we'd just go around and play all these enormous halls and not really have any direction. So we had three months off to get ourselves into perspective, to decide what we wanted to do and just to catch up with things that have happened.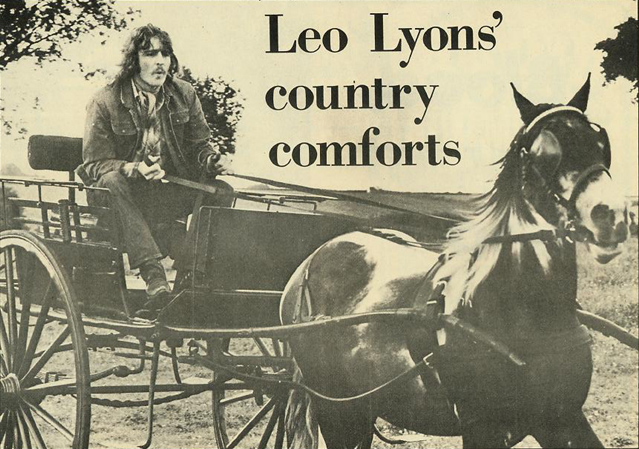 STAGES:

"And it's worked out okay. The band's much tighter now, much closer than it has been. Every band goes through stages when they're striving and striving for something and then all of a sudden they achieve possibly well beyond what they anticipated and it gets to the stage when you begin to think, "well what the hell am I doing here?" "You see we never really thought about making a lot of money, or being really big or popular. The only thing we considered was that we'd go along and play music that we enjoyed, we obviously hoped that people would enjoy it and then all of a sudden it took off".

AWARE:

"It was quite a shock in a way. The difficult thing is realising it and that's why we had this lay-off period, because we were going along and it was all happening, but the four of us were still on the same level, we weren't aware of what was happening exactly outside".

COMPETE:

"It just seemed the same to us. We're still trying to play good music and we still have good nights or bad nights, we know how well we've played on a night of if we haven't played as well as we'd like even if the audience doesn't notice, because we're virtually competing against ourselves as we have been doing right from the beginning".

REACTION:

One of the things that Ten Years After did become aware of was a change in their audience. Their appearance in "Woodstock" made them and even hotter commercial property than before and in some areas they found what Lyons refers to as a "screamer" type audience.

"We don't get any kicks out of people screaming and shouting and mobbing the stage. We enjoy it much more if people are reacting to what we're putting down on stage, than reacting to something that they've heard about and come along to see. You get to the stage where your reputation causes a reaction before you even play a note and under those circumstances it's difficult to play. The audience is at such a pitch all the time, that whatever you do, you don't feel that you're getting through to them.

LIVE:

"We prefer them to react to what we're doing rather than what they've heard we do". It's been on live performances that Ten Years After have built their reputation, rather than on their albums, and the group are aware of that. "We want to get our recordings up to the standard of our live appearances," Lyons says. "With most bands," he continues, "it's the other way round, they're bloody awful on stage, but they get it together in the recording studio". For this album, Ten Years After have spent more days in the studio, twenty three to date, than ever before.

STRENGTH:

"Our strength in the past has been improvisation and the way we've done our material on stage, rather than the material itself, but on the new album the material is very strong. It's some of the best stuff that Alvin's ever written."
---
Dave's Notes:
The album that Leo was talking about was "A Space In Time". He is also correct that it was the strongest material that Alvin had ever produced up to that point. The time the band took off really helped Alvin's creative process, as well as contributing to the entire bands well-being. Looking back, the three months they did receive, compared to the six months that Alvin requested, was really no time off at all. Then they were all back on the road again.
The album was their best seller, it went gold and eventually platinum. The album contained two radio hits: "I'd Love To Change The World" and "Baby Won't You Let Me Rock and Roll You"
.
The band also changed their record company, now being signed to Columbia Records, they wanted to showcase what they were really capable of, far beyond the flashy speed guitar that Alvin was known for, this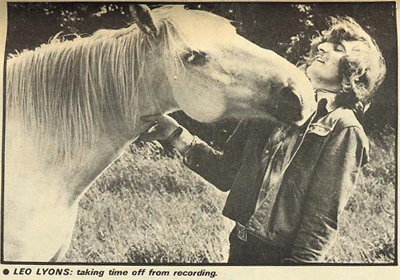 album was a direct departure from that Woodstock Haze!
Acoustic Guitar work, tasty lyrics, thoughtful tunes and torrid tempo jams.
On my record shelf, it's on a par the "Who's Next" album – both released the same month, both classic rock albums for 1971.
From Leo - His horses names back then were "Jack" and "Annie" (two popular characters from an English soap opera). Then there's "Trigger" and one named "Joe".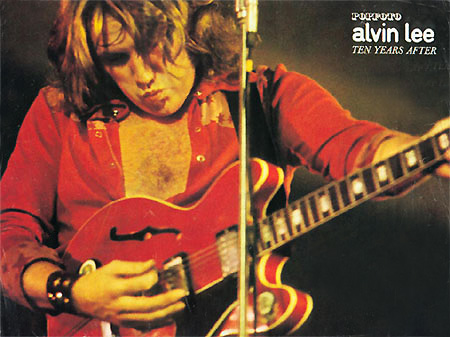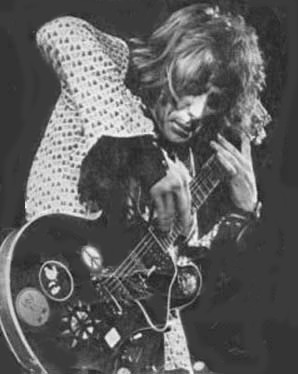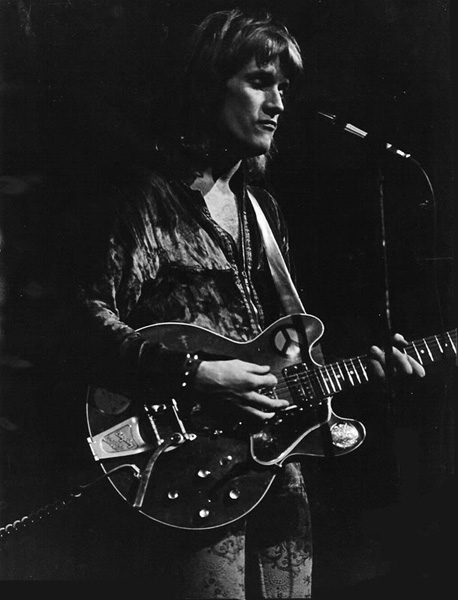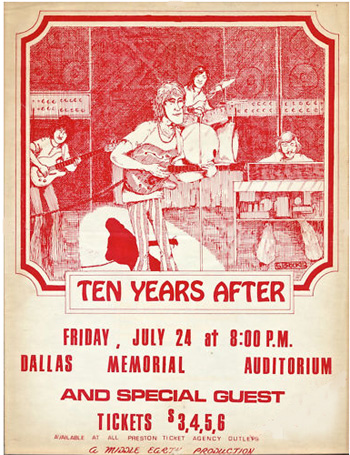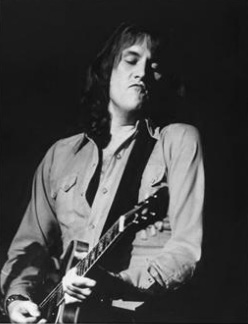 We found this flyer of interest - as the only person in the right position is Alvin Lee. It has Ric Lee on bass, Leo Lyons on keyboards and Chick Churchill on drums. Either this is someone's idea of a joke, or else they know nothing about the band. It's funny! This concert took place on July 24, 1971.

Beat Instrumental and International Recording Studio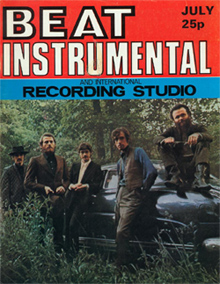 July 1971

Interview with Ric Lee
When a reporter manages to arrange an interview with Ten Years After, he usually finds that they have just returned from a trip to America. The interview with Beat Instrumental was no exception. Drummer Ric Lee described the latest visit as "pretty hectic tour of one nighters."
"We were mainly at places we hadn't played before. Last time we were doing 18,000 seaters, but this time there were only about 6,000. It's not that our popularity has declined there, but just that we were playing at new places," he said.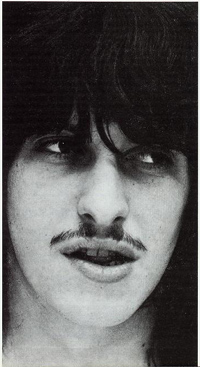 Ric noted a change in American audiences, "They're getting younger. They seem to be twelve and thirteen year olds. Maybe it's the influence of the Woodstock film, but before a good percentage of our audience was a listening audience, but now we've got the shouters back who spoil it for everyone. The trouble is they all want to be part of the show."
"A lot of groups are making political demands of the audience. At Boston there were about 15,000 people and two hundred cops. Some people rushed back stage and were thrown out, so the singer of the other group – who shall remain nameless (The Doors for instance) started saying, "Don't be pushed around by the pigs!" "Let's start it all right here" and all that kind of thing. When we came on, the audience were really hostile, and the police insisted that the house lights be kept on. In fact Alvin cooled the kids down and after we'd been playing a while, they all went back to their seats and the lights were turned off. I've always looked on music concerts as something warm and friendly. We go on to play music, not to stand and talk politics."
Ten Years After are now settling down to record their first album since the expiration of the Decca contract. The new album will be released through CBS (Columbia Records) in America, but an English deal has yet to be finalised. They are using Olympic's excellent small sixteen-track studio and are taking a different approach from the one they've adopted for their more recent albums, which for my money, haven't the drive and feel of their earlier recordings, and don't match the excitement of Ten Years After on stage. "I like Cricklewood Green," commented Ric. "But I think at the time of "Watt" we were in a bit of a vacuum. It's unfortunate, but you just go through these periods. Before we've gone in and recorded stuff which we've then tried out on stage. But that hasn't always worked. The number develops as you play it live and people want to hear the developed version on record. But now we're recording some numbers that we've used in Europe and America that we feel have developed enough to record." "We're back to where we were, doing live stuff and putting that on record. But we will also be putting down some new material that will no doubt develop later."
"The group is very together now in every way. It's really good. Rehearsals have been good, and we spend more time discussing what we're doing than actually playing. We're all going in the right direction, and we all know what we want to do. Alvin has written a lot of new numbers that are heavy, but have got much more melodic content than some have had."
No Split Up:
From what Ric said, there seems to be a new breeze blowing through the group, following some tense incidents that took place at Montreux during their spring tour of Europe, when the press suggested that Ten Years After might split up. "No, there isn't any question of us splitting up," said Ric quietly, but emphatically. "I think Montreux got blown up out of all proportion. We've had these sort rows before, but the difference with this one was, that there happened to be a reporter there, that's all. What happened at Montreux sorted things out and it wasn't what it was cracked up to be in the press." "We've been playing together as Ten Years After for four years now and for a good while before that too. When you have been playing together that long you are bound to get silly differences like at Montreux. The feeling there was to knock it on the head because, basically, we couldn't get anything new out of it, although there were other pressures as well." "But you've got to learn to overcome the pop business machine. You have to pull yourself out of it and work constructively. Then that striving for something comes out again, and you think to yourselves, "Why should we be stuck in a rut?" "I think we were losing sight of each other as musicians and it took Montreux to make us get out and get on with it and become musicians again," he added.
Breath Of New Life:
As well as being happy with the way things are going in the group as a whole, Ric is also pleased with his own playing at the moment. "I used to be a bit lax about it, but I'm evolving new things. My solo is getting a bit stale now. Some nights you get the breath of new life and sometimes you don't, but at least I'm aware of it. By the end of the tour, it was getting beter again I think." But, Ric is starting to work out a different solo to replace the one he has become well known for, where instead of the usual full-bore solo we get from most drummers, he plays a tasteful and well-constructed one. At one point everything goes quite, as Ric gets right on top of the tom-tom, pressing it with his knee. Ric, who plays Gretsch equipment exclusively, uses two tom-toms – one tuned tightly like the rest of his kit, and one slackened off. It's the one he uses virtually for the solo only, so he can get variations of tone by applying pressure to it.
Like most drummers, he is very critical of the sound he gets on records. "We used to have great difficulties recording the drums. We'd get a dead sound and then spend hourd trying to get it right, but it's always difficult to pinpoint exactly what you are looking for. I've been listening to a lot of drums lately, and I like that echoey sound that is like drums sounding in an empty hall, rather than the tightly damped studio we've got in the past."
About Drums…
"A lot of drummers have their skins flapping, which carries well in a hall because the dull sound cuts through the rest of the group on stage. A tuned kit like mine doesn't carry in the same way because there is a ringing that carries on after the drum has been struck, which gets lost in everyone else's sound." "I like drums to have some note or pitch which does make them difficult to record. "I like the sound that jazz drummers often get on record, but they play at a low volume which means that mikes can be placed very close and there's not much juggling to do in the control room afterwards. But with our sound, and with the force I hit the drums, you've got to start from a different concept of recording."
Ric is now teaching himself to play vibraphone, but he won't be using it publicly for a while yet. "I think a knowledge of chords and so on will help me understand the structure of the music so that I don't see it purely from a rhythmic point of view. I think that will also increase my listening powers because I tend to judge a record from the drummer's point of view, which comes from a lack of understanding of other musical instruments."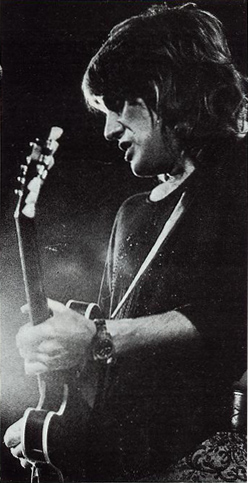 As a last point, I asked Ric what was the motivation for carrying on playing when your group gets to the stage Ten Years After have reached, where there are no apparent few new hurdles to jump, where you've done more or less everything, in terms of live concerts, international tours, and international hit albums?
Never The Same:
"I think you've got to give your best every time you play," replied Ric. "If only from the point of view of personal satisfaction. There is always another hurdle to cross musically, and if you think there isn't, you're kidding yourself. You just can't rest on your laurels if you are a conscientious musician. Sometimes the music can get mechanical, but there's always the urge to get out of it again. We've been doing "Love Like A Man" for over a year now, but it's never played the same, and I couldn't tell you what I play. It's always slightly different, but that's not a conscious thing, because you can never repeat that point in time when you are actually creating something, however much you try."
And, how long can Ten Years After carry on getting something more out of their music?
"If you're prepared to be happy with your playing, and let it go at that, then your career is bound to be short. But I think it's never finished, if you are conscientious, and keep on trying to do something better. No one in the band has got the desire to switch off now. It will come to the point where we all do individual things, but how far away that is, I couldn't say."


New Musical Express July 31, 1971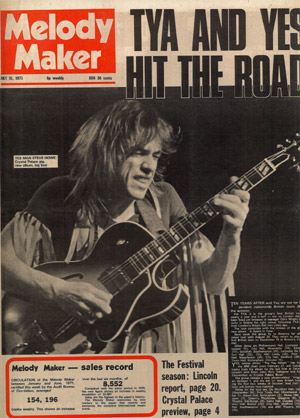 Melody Maker Magazine – July 31, 1971
"Ten Years After" and "Yes" Hit The Road
U.S.A. Thirty Cents
Ten Years After and Yes are set for independent nationwide British tours during the autumn.
For Ten Years After, it is the group's first British tour for nearly a year and a half – but no London date has been fixed yet because of manager Chris Wright's difficulty in finding the right venue, following Ten Years After's ban from London's Albert Hall two years ago.
The tour coincides with the release of the group's new album "A Space In Time".
Next week the group fly to America for another major tour until August 29th. They return to play their first British date on September 14th at Bristol's Colston Hall. Other dates are Philharmonic Hall, Liverpool (September 15th), City Hall Newcastle (16th), Edinburgh (17th) Guild Hall Southampton (20th) Leicester De Montfort Hall (22nd) City Hall Leeds (25th) Free Trade Hall Manchester (26th) City Hall Sheffield (28th) and Town Hall Birmingham (October 14th).
YES, whose album "The Yes Album" has been in the Melody Maker chart since February 27th, will feature the tracks from the album for the last time at Saturday's concert with Elton John, Rory Gallagher and Fairport Convention at Crystal Palace Bowl. The group release a new album – titled "Fragile" on October 1st and are set for their British tour during the first two weeks of October. And their repertoire will feature new material.
Dates for the tour are: De Montfort Hall Leicester (September 30th) Free Trade Hall Manchester (October 1st) Albert Hall Nottingham (2nd) Music Hall Aberdeen (7th) Queen's Playhouse Glasgow (8th) Empire Theatre Edinburgh (9th) Caird Hall Dundee (10th) Colston Hall Bristol (12th) City Hall Sheffield (13th) City Hall Southampton (14th) and ABC Theatre, Stockton (15th)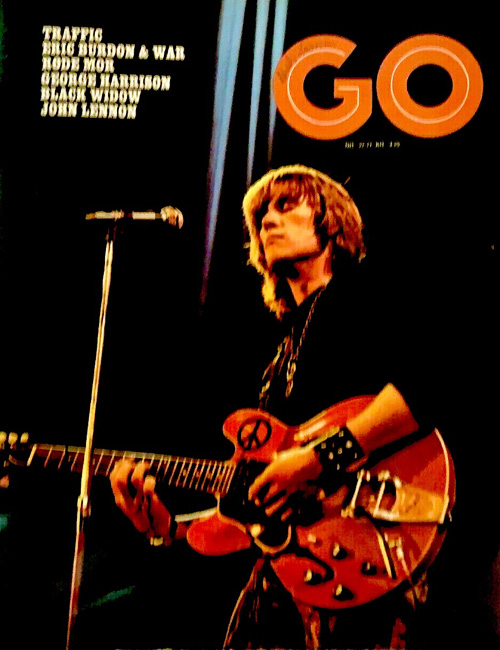 1971, GO Music Magazine, Sweden