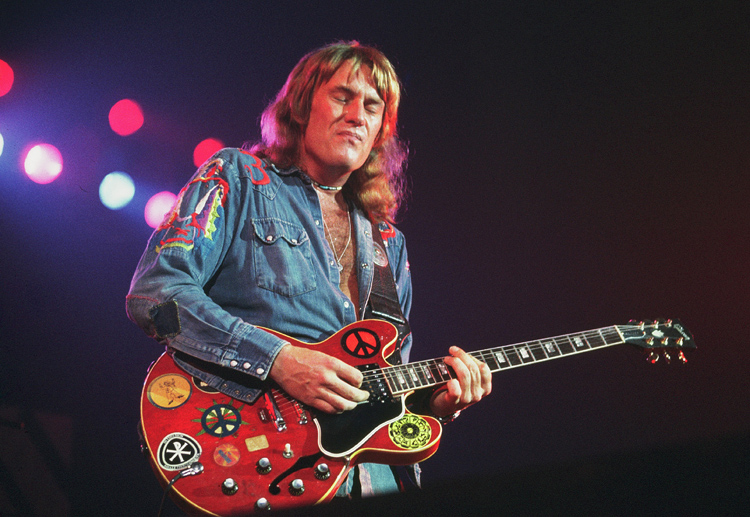 Alvin Lee and Ten Years After at the Chicago Amphitheater 1975
Photo by Jim Summaria - www.jumsummariaphoto.com
---
January 18, 1975 – At The Academy of Music – New York, NY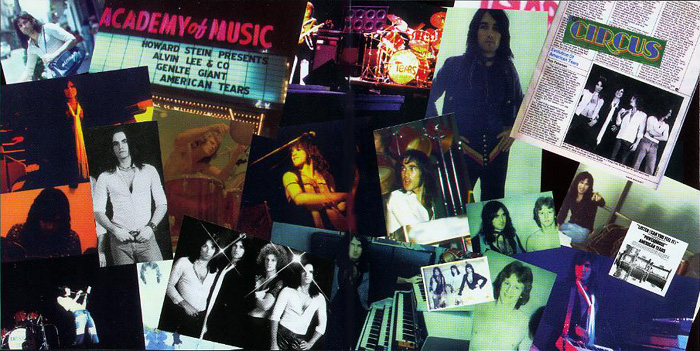 On Bill Are – Alvin Lee & Co – Gentle Giant – American Tears
American Tears, were a "Power Keyboard Trio" who recorded three albums for Columbia Records during the mid 1970's. Their music ranged from progressive and symphonic rock, to keyboard oriented "Pop" songs of the era, as the band emphasized adventuresome arrangements and musicianship. On their third album "Powerhouse" they added a guitarist, Craig Brooks, which gave them access to large vocal harmonies and ultimately evolved into the band "Touch". Touch recorded two albums for Atlantic Records – While all three of the American Tears albums are now available on CD format. "Powerhouse" Japan Import also includes the band's second "single" – "Born To Love". Their three albums are: Branded Bad – Tear Gas – Powerhouse 1977. Out of American Tears came the band "Touch" in 1978
Mark Mangold – Keyboards / Songwriter – Glen Kithcart – Drums and Craig Brooks all guitars. The line-up was completed by adding bassist Doug Howard. Mark Mangold, in collaboration with Michael Bolton composed the song, "I Found Someone" was recorded by Laura Branigan – but ultimately became a big top ten hit for Cher.
From Dave: I recommend American Tears "Powerhouse". I bought the record brand new back in 1977, having never heard of this band before. I was so impressed, that 34 years later I just bought the Japanese import on cd, and it still sounds as fresh and new as ever. Sure it's as much pop, rock and ballad as much of the middle to late 1970's was, except this album was something special – for what it didn't have on it – excess! It's tasty, not sappy and with enough rock hooks, licks and energy to make it enjoyable and memorable. It's like finding an old friend once again – welcome back my friend!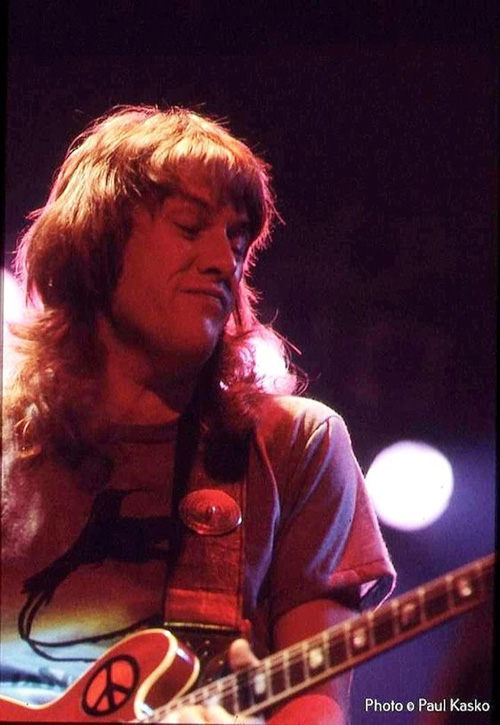 January 19, 1975 - Alvin Lee & Co. at Lisner Auditorium,
George Washington University, Washington, DC
Photographer: Paul Kasko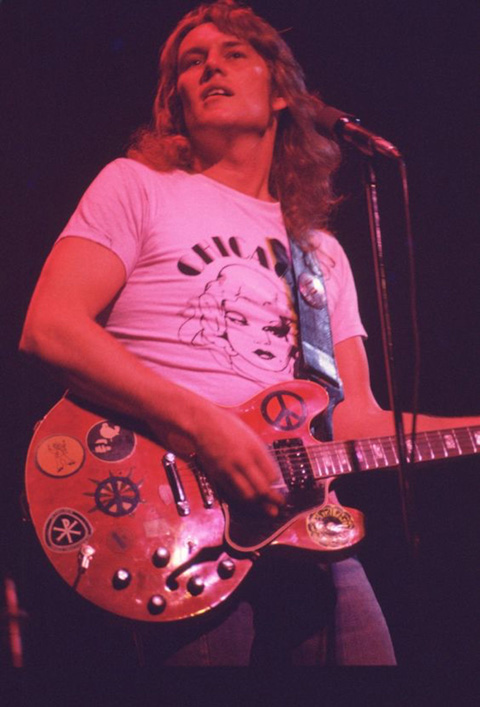 January 28, 1975 - Alvin Lee & Co. at The Auditorium Theatre, Chicago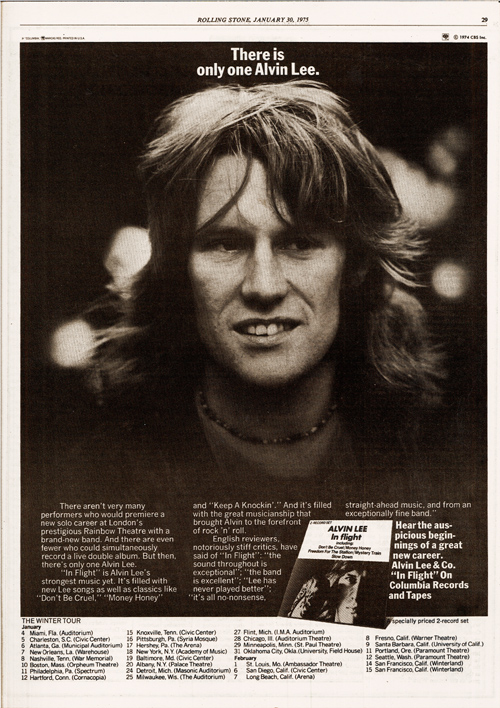 There aren't very many performers who would premiere a new solo career at London's prestigious Rainbow Theatre with a brand new band. And there are even fewer who could simultaneously record a live double album. But then, there's only one Alvin Lee.
"In Flight" is Alvin Lee's strongest music yet. It's filled with new Lee songs, as well as classics like "Don't Be Cruel" – "Money Honey" and "Keep A Knockin". And it's filled with the great musicianship that brought Alvin to the fore-front of rock n´ roll. English reviewers, notoriously still critics, have said of "In Flight": "the sound throughout is exceptional " "The band is excellent, Lee has never played better," "It's all no nonsense straight ahead music, and from an exceptionally fine band".
Hear the auspicious beginnings of a great new career.
Alvin Lee and Company "In Flight"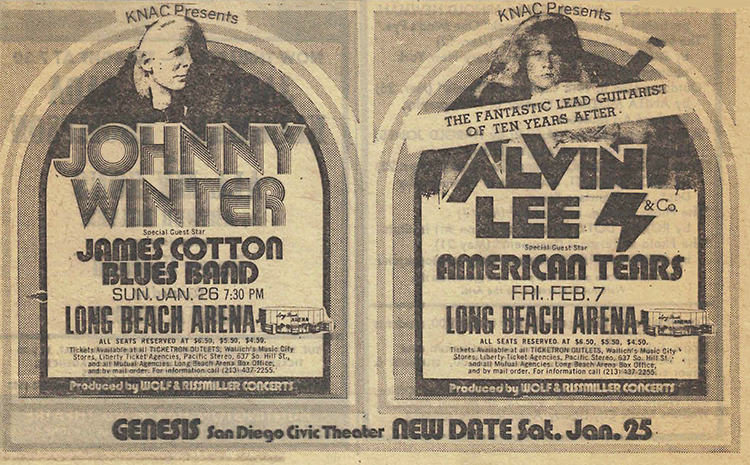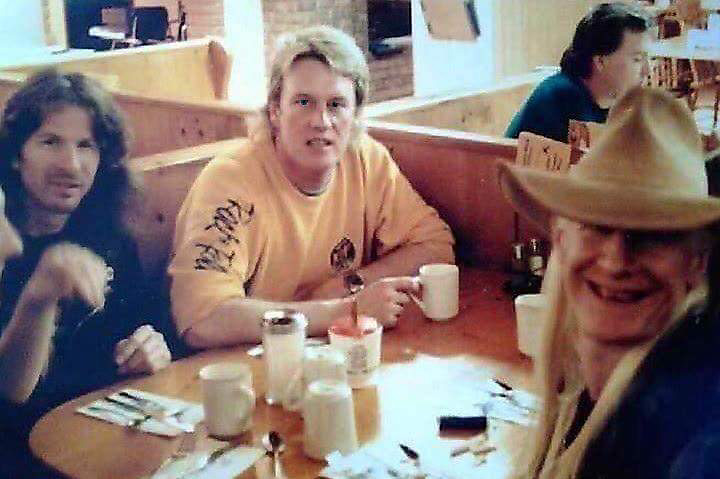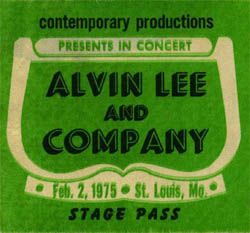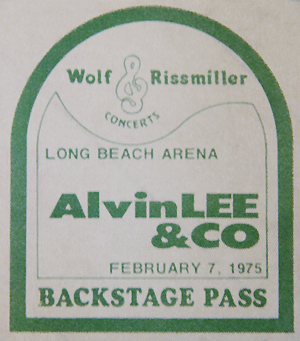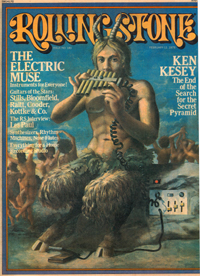 ROLLING STONE February 13, 1975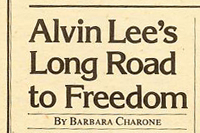 London---Alvin Lee is on the road again, and this time he's not going home. Inspired by a special London concert last March without Ten Years After behind him, Lee bid an indefinite good-bye to his colleagues of seven years. Ten Years After might someday work together again, he says, but the immediate future belongs to a new band called Alvin Lee and Company. They are now on a six-week U.S. tour, and Lee's Rainbow Theatre concert has been released as an album, In Flight. "Well, Lee says, grinning in the corridor of his countryside home, a gold record for the Woodstock album hanging overhead, "I'm certainly not going to be playing "I'm Going Home."
In a sense Lee is home, playing the kind of music that earned him that first initial recognition. The new band creates a sense of déjà vu, all of the players going back to their roots. There's bassist Steve Thompson and keyboard player Ronnie Leahy, former member of Stone the Crows, Maggie Bell's starting ground. Drummer Ian Wallace and reed player Mel Collins are former members of King Crimson and have contributed to numerous albums. A percussionist and several backup singers complete the group.
The rejuvenation of Alvin Lee as a musician started before the London concert with an album with Mylon LeFevre, On the Road to Freedom, the first step out of the musical prison TYA had become. "It got to feel like an old marriage. I started to get the seven-year itch. I wanted a band," he says, "I didn't want it to be Alvin Lee showing off his clever tricks, which is what was beginning to happen with TYA. It all became too mechanical."
The machinelike atmosphere became oppressive during the band's last American tour. "It got to the point where American tours were boring. It was too much like a job; the fun was gone. Everything ran too smoothly. It was just an endless cycle of tours and albums. On that last American tour it got so bad that each day I'd look forward to a different airline, a different colour scheme, a higher hotel than the night before." TYA began to feel like a treadmill, just what Alvin wanted to escape through music. Before Woodstock, TYA was just another entertaining British blues band dabbling in jazz. After the infamous three-day festival the band—Alvin in particular—was elevated to superstar status, confined to a set pattern.
"Yeah," Lee shrugs. "We were a different band before Woodstock.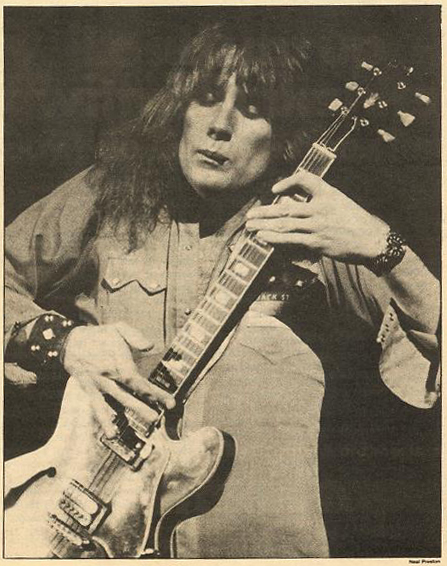 We'd play the old Fillmore and be able to just play. We had a respectful audiences then who would appreciate a jam or a swing. But after Woodstock," he winces, "the audience got very noisy and only wanted to hear things like "I'm Going Home." "I've always been much more of a guitar picker but I began to feel forced into a position of being the epitome of a rock & roll guitarist.
Originally TYA wanted to make it without having to compromise to pop. It worked for a while but after five or six years the fun went out of it for me, a lot of the music went out of it. And, he smiles shyly, "all I wanted to be was a musician. With this new band I feel relaxed. I have enough freedom that I don't feel pigeonholed anymore.
"Everyone thinks of the group as my solo thing but I think of it as a band. Everyone in the group is free, everyone is their own musician. It's up to each individual what they play. "This band is just good fun. The excitement of not knowing what will happen next is great; it's a welcome change. It really is like going back to the roots; feeling enjoyment in the music again is how TYA used to feel."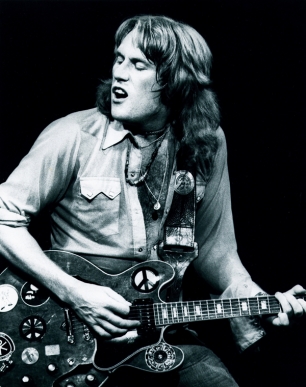 On their recent European trek, audiences shouted for the band to boogie, and to play TYA standards, but were quickly pacified by the new music. Standing out front, Alvin Lee taps his foot gently and takes time finding the right notes. Gone are the bullet like barrages of lightning-fast solos, the archetypal superstar Grimaces , replaced by fluid playing and an anonymous grin. The material is strictly non-TYA.
"Even though the songs are mine, it's the music of the band. I guide a lot of it but it's still down to the group. "One might get the impression that this time around the guitarist does not dominate the proceedings. "If anything, Mel gets his freedom he steers the band toward a kind of nouveau jazz, bordering on the realms of John Coltrane, Chick Corea and Herbie Hancock- type number and then something like Money Honey.
That's the kind of musical freedom I like: jazz, rock, blues, anything. "You adopt different attitudes when you Play different music. This band is more reserved, more disciplined, more tasteful. But the discipline is good. If everyone were to race off on their own solo it would be a mess. My solos are more tastefully conceived now," he nods his head in agreement. "But I still get going in places. It's just that I build up to it now. I don't race off on a solo. I take my time."
While TYA remains in a state of permanent limbo, this band exists at the least through spring. On return from the American tour, they will record an album. But Lee is quick to add that there might be changes: possibly another album with Mylon, perhaps a tour.
Alvin Lee refuses to commit himself anymore.
By Barbara Charone
Ric of Ten Years After Returns: 1975 Newspaper Article
From the country that helped produce Alvin Stardust and Paper Lace comes yet another group now internationally renowned – Ten Years After. And drummer Ric Lee, one of two members of the group born in Mansfield, recently returned to his home town to give an exhibition of his drumming ability at the Swan Hotel, Mansfield. Ric aged 30, now lives in a large house standing in a leafy 20 acres in Kent, and he made the trip up to Mansfield to Promote Premier Drums in a demonstration organised by the Carlsbro Sounds Centre Ltd. Station Street Mansfield.
Ric performed a self penned drum solo and spent a short time signing autographs and answering questions. Ten Years After is comprised of Ric Lee, Alvin Lee, Chick Churchill and Leo Lyons, who is also from Mansfield. Last week the group gave a concert in Sheffield, after which they left for a tour of America.
February 14, 1975 - Los Angeles FREE PRESS

By Tim Hogan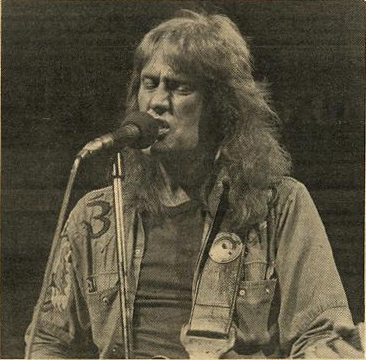 Ten Years After never made it to the ten year mark! The results of Ten Years After's eight year tenure as the foremost British boogie-band are in, and history may well record them as a rock `n´ roll tragedy. "The kind of music we were playing became a trap," says Alvin Lee captured for a brief interlude during his extended debut, U.S. tour as leader of Alvin Lee and Company. "It got to be a trap right after Woodstock. The movie made "I'm Going Home" too big for its own good. It put too much weight on that aspect of the band, until that became the only aspect of the band. People expected "I'm Going Home" and boogie-boogie and bash-bash". The Woodstock movie, with it's lengthy segment of Lee sensually squeezing elongated chop – riffs from his guitar catapulted Ten Years After into the ranks of superstardom.
But Lee, the only surviving member of the band musically, found that aspect of music's rewards to be frightening. It drove him into being a recluse. "I could never play the part," said Lee, as he disappeared into the comforts of his baronial mansion in England's Berkshire countryside. It took the renewal of Lee's friendship with Mylon LeFevre, a southern-fried gospel major, to lift him from his self styled pit of depression. "Mylon sort of gave me the gospel, in that he told me that I had a talent that I should be using. The result of this rekindled fire was the Lee – LeFevre album called, "On The Road To Freedom" 1973, which did more for bringing Alvin back out into the world than it did in the category of record sales.
The album, featuring Lee in his first dose of acoustic country styled music, was an instant sleeper; straight into the bargain bins it went. "The thing was, I was trying to change with the same influences around me. Working with Mylon, gave me new influence and the ability to change a new environment. I learned to enjoy the challenge of change".
But business before pleasure, and we soon find Alvin Lee trapped into more Ten Years After records and touring, and last year's May Ten Years After tour drove the point home with vengeance. "I remember one small incident that really stuck in my mind. There was a black couple, about eight rows back in the middle of the audience, really getting off, I kind of play to them in a way. I was really grooving on it. And then came "I'm Going Home" and the whole crowd sort of rushed the stage, and this guy's chick was knocked on the floor and he had to fight for his chick's life. And I figured he probably wouldn't ever come to a gig like that again, as much as he likes the music, because of all the hassle".
Ten Years After had it's own identity to cope with. "I always thought of Ten Years After as four people who almost fought together to make music. It was really violent and driving, and a lot of people do like that. In fact, I like it myself, but not all the while. The worst thing about Ten Years After was they didn't have any enthusiasm about playing. It was just a job".
It took a dare from George Harrison's aide-de-camp, Terry Doran, to get Lee back into the music world after that last Ten Years After tour. Lee had again retired and was one day sitting around the Harrison homestead, when Doran challenged Lee to get off his ass and do something. "I can do whatever I want, when I want," said Lee. "No you can't" teased Doran, and Lee retorted, "Yes I Can" back and forth until Lee had committed himself to doing something. The result was much like the initial indications on a seismograph that something big was coming. Four weeks later, Alvin had drawn together some of the best available musicians under the banner, Alvin Lee and Company. A date at London's Rainbow Theatre was booked and once again Alvin was out of retirement. The concert was recorded and released as Lee's latest Columbia effort, "In Flight".
The momentum from that concert resulted in Lee agreeing to take the company out on the road, and its been one hell-of-an experience for Alvin who was a prisoner of his own imagination. With slightly altered personnel from that on the LP, Lee hit the road in January on a tour that's been extended several weeks because of the high level of enthusiasm that the band has met with, and this new unit is no rehashed Ten Years After.
"This band is a funky band," explains Lee. "What we're after now is to do some acoustic numbers, some jazz numbers, basically to add some depth to our performance. I can nip in and nip out, I don't have to keep playing rhythm all the time. There's a lot more variety and I think it will appeal to a wider variety of people. The music is changing and so am I".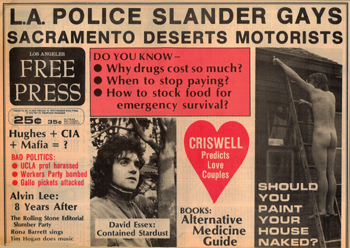 And Doran's challenge to Lee has resulted in Lee coming out more as a musician. Early this year, he found himself in Nashville, working with Earl Scruggs on his anniversary LP, along with Charlie Daniels, Billy Joel, Tony Joe White, The Scruggs Brothers, Reggie Young and Bonnie Bramlett. Another LP with Mylon is tentatively set for some time in 1976, and he expects to return to England at the end of this tour.
The door is open and Alvin Lee is walking tall. "Win or lose, I'm enjoying it".
1975, February 14 - Winterland, San Francisco
Alvin Lee & Co. - Photographer: Dan Cuny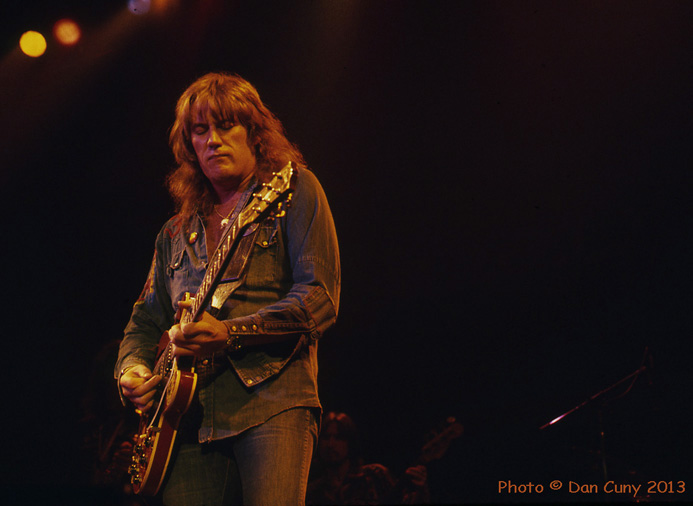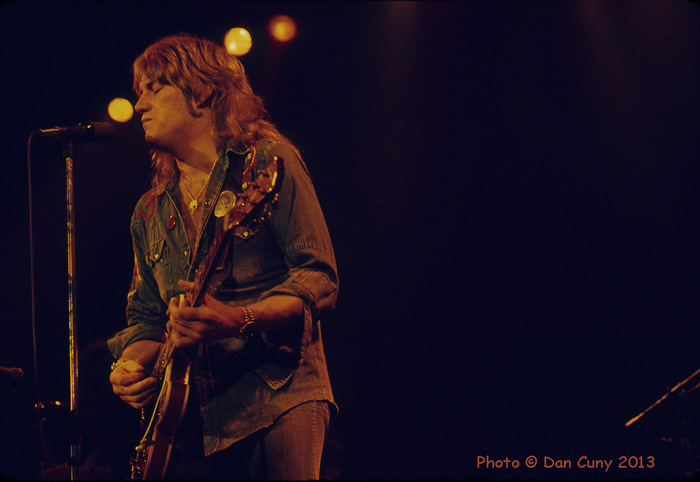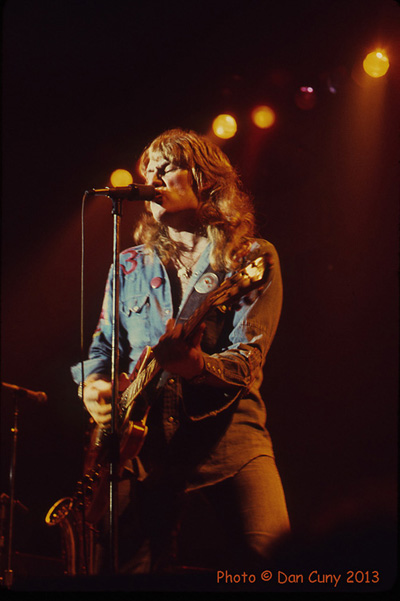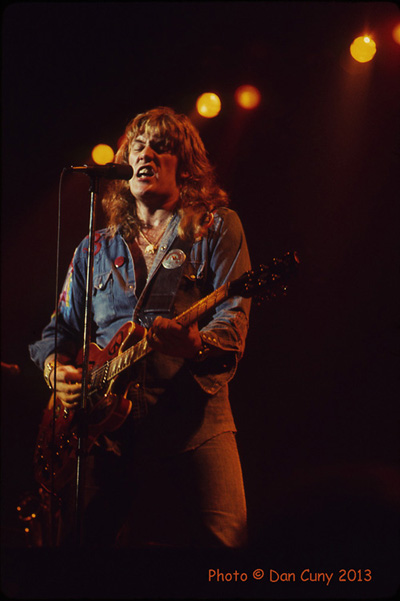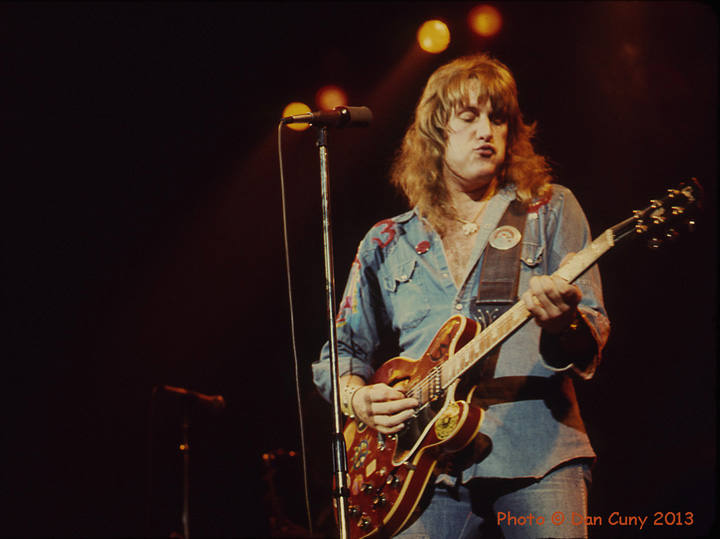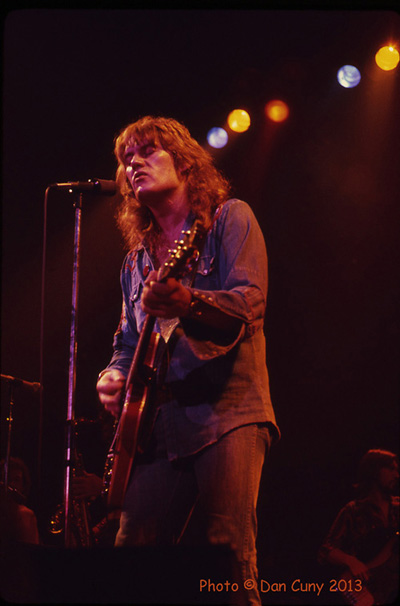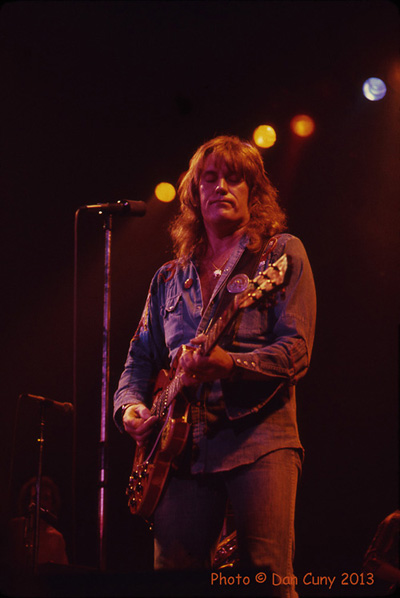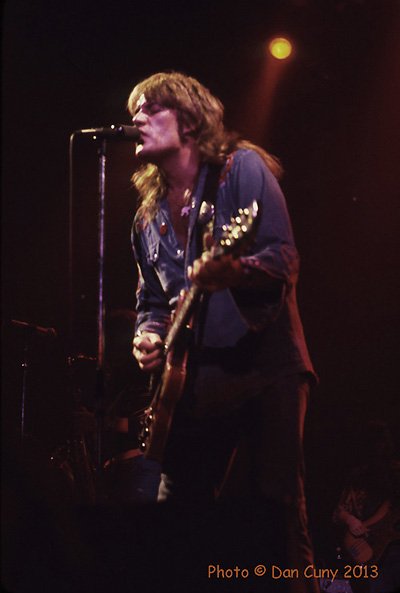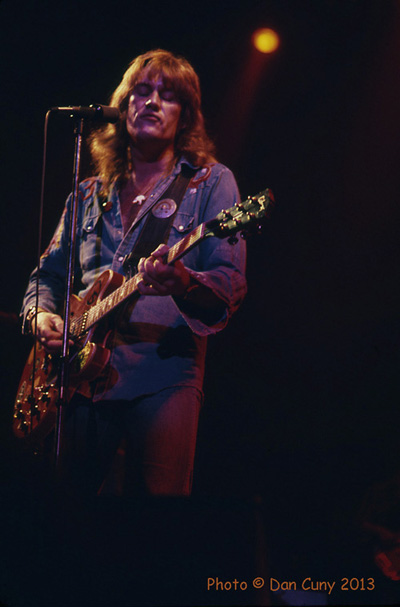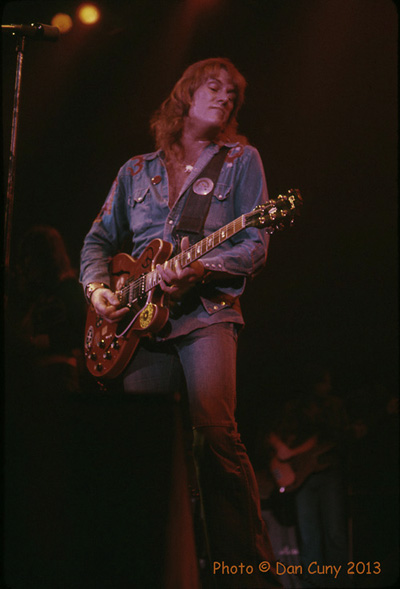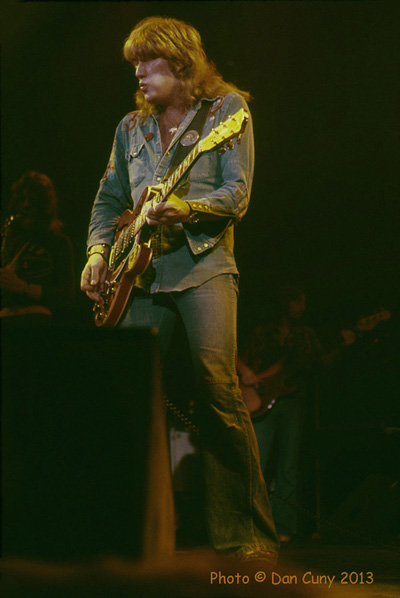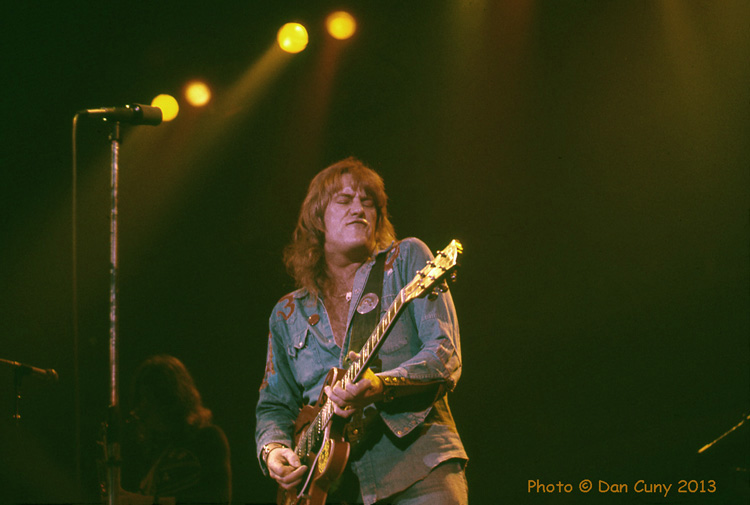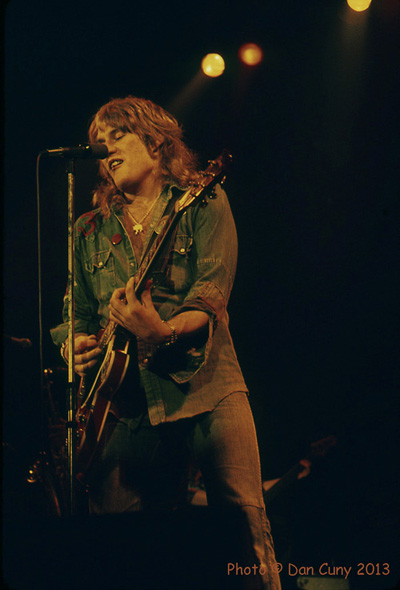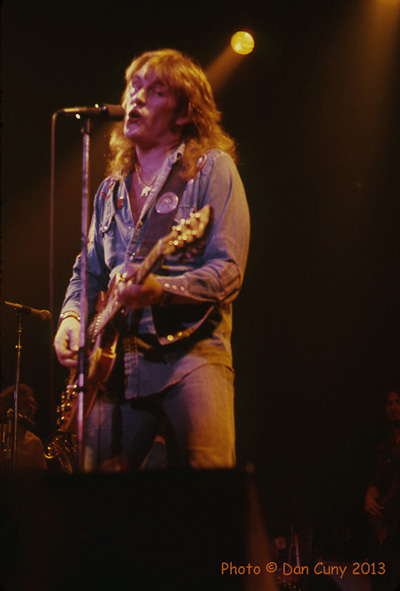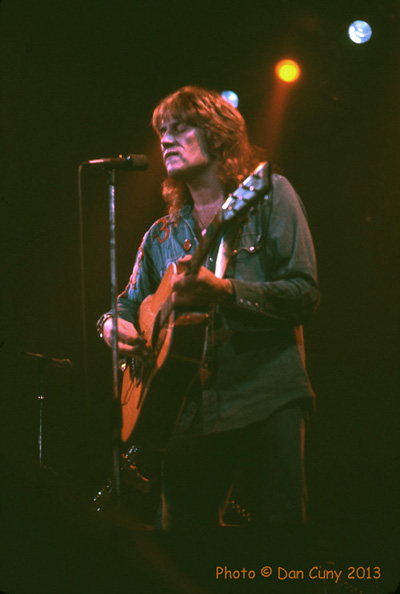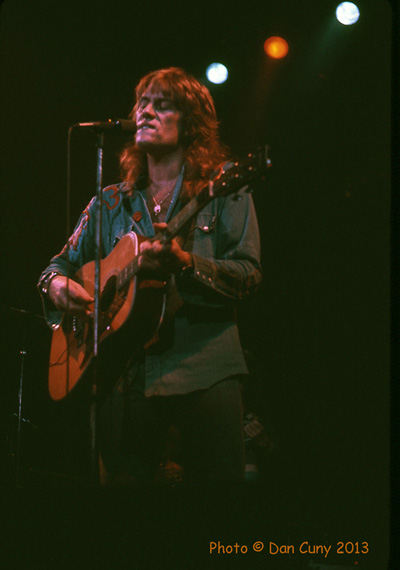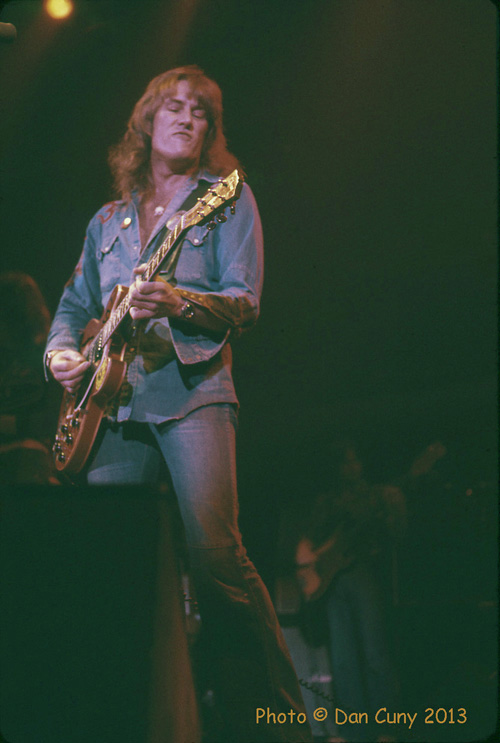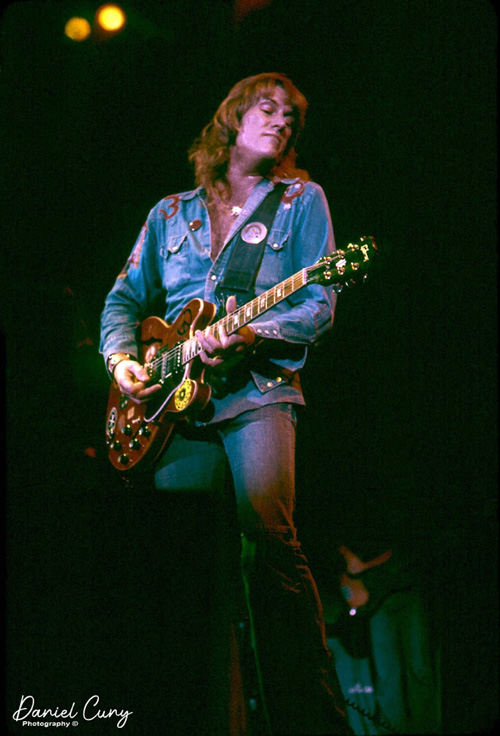 Photos by Daniel Cuny - Website: https://www.dancuny.com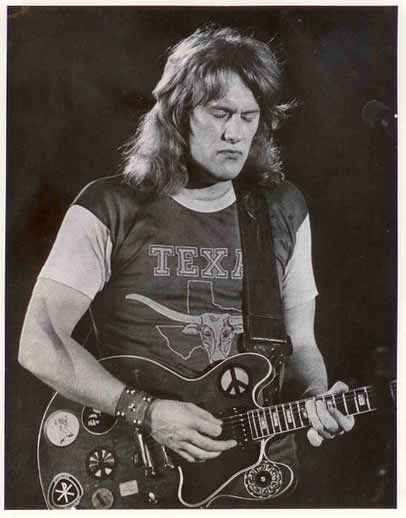 Alvin Lee - Photo by Charles Daughtry
taken at the Sam Houston Coloseum in Houston, Texas in either 75 or 76
More excellent photography on his website http://www.charlesdaughtry.com/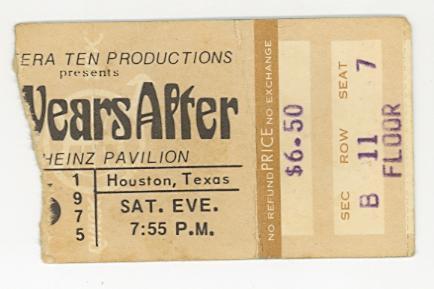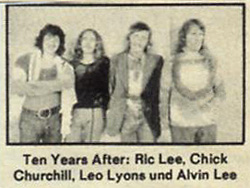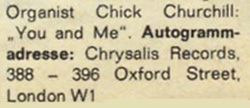 BRAVO Magazine - March 6, 1975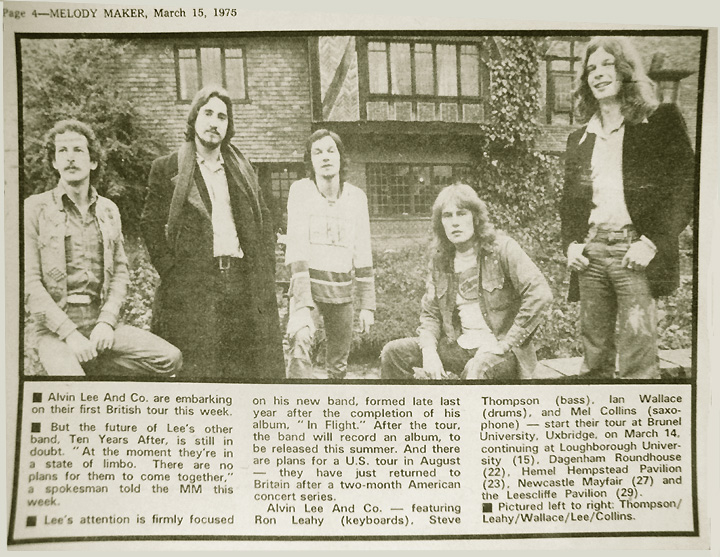 Many Thanks to Claudia Staehr for the above article (Herb Staehr's collection)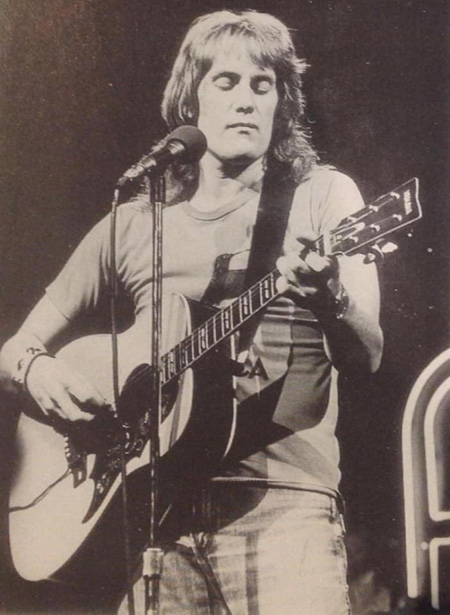 March 21, 1975 - Alvin Lee & Co. at TV Show "Midnight Special"
NBC Studios, Burbank, CA
Photo: Jon Levicke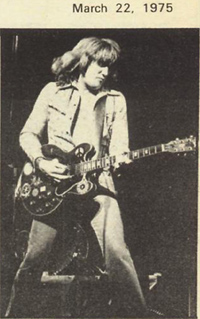 New Musical Express
March 22, 1975
Alvin Lee is continuing to work as a soloist, while Ten Years After remain active, and this week finds him on the road undertaking his first ever British tour with his own band. With a line up comprising former members of Stone The Crows – King Crimson. Alvin Lee & Company have dates during this gig period at Dagenham (Saturday) and Hemel Hempstead (Sunday)
Melody Maker
- March 22, 1975
"Going Home No More" - by Chris Welch
Alvin Lee is getting into self-sufficiency. Along with many fellow Britons, alarmed at the daily news, he is determined to make full use of the land. "Yes," says Alvin peering through the windows of his mansion at rain swept acres, "we've increased the size of the vegetable garden, ready for the revolution. We've got broccoli, parsnips, peas, potatoes …" It must be wonderful to bathe hands in the soil and be one with nature. "Oh the gardener does it. I just watch it happen." Disappointing, but to be fair, Alvin has most of his time cut out in bringing rock and roll to the world, which leaves little opportunity for raking soil, barrowing muck or dividing rootstocks.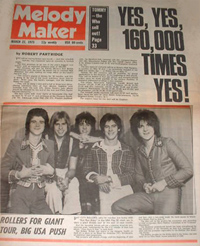 ABRUPT: and Alvin has been a busy man since the abrupt change in his musical career just under a year ago. Mention Alvin to fellow musicians, and you'll get a stock response; "Good Lord is Alvin STILL playing 'I'm Going Home?' The answer is 'no' TYA is behind him, and Alvin, Guitarist and Pioneer has replaced Alvin, Man In A Rut. It was not without opposition that Alvin took the gamble that led to the end of Ten Years After. He says, quite honestly , that in the final days, only money held the old band together, and of course his
Management were not to keen on him throwing away what they may have regarded as a sound investment.
There was doubtless a certain amount of wailing and gnashing of teeth in the corridors of power, when Alvin flung in his lot with the likes of Mel Collins, Tim Hinkley and Ian Wallace, leaving out in the cold Chick Churchill, Ric Lee and Leo Lyons. As the dust settles still, it is possible to perceive that while TYA are no more, and Alvin has severed some of his ties with Chrysalis, the guitarist is determined to broaden his horizons, and stay at the forefront of musical events.
Alvin's acres are situated in rolling countryside, not far from George Harrison's palatial home. The latter is surrounded by lodge houses and high walls and looks not unlike one of those mid-Victorian establishments designed to bring 19th century enlightenment to the insane.
ABODE: But Alvin's pad has a friendly air of a gentleman farmers abode. And indeed it was such a place, when over a thousand acres fell within its domain. So important was its role in the community, that it served as an air raid warning station and water rate collection centre, until most of its land and assets were stripped away and finally a rock and roller from Nottingham took over where once Squires held sway. The slight air of decay is heightened by the area of devastation that was a milking shed and indoor tennis court, which recently collapsed during a storm. "That's what comes of living in big houses," says Alvin phlegmatically. But what will future tenants make of the vast recording studio Lee has built in the Tudor barn, I wondered. Master Lee may have little inclination towards agriculture, but he is certainly not idle. He has just returned from the Americas, and a successful tour with his new band (known as Alvin Lee & Co), when we met in his lounge and discussed pertinent matters.
"I got back a week ago and we finished off the tour in Honolulu. We spent seven weeks on the road and it was very interesting. First of all we played Europe and Scandinavia. We played one gig in Paris and just before Christmas, we played some dates in Germany. "Worried? No not really. The reaction in Germany told me we were onto the right thing, although the Scandinavian audiences were a bit strange. But I think that's peculiar to Scandinavia. They're not so in touch with world musical developments. I got the feeling they didn't know what to make of us. That was one place we suffered from not being like Ten Years After. "In Germany if felt more like we were doing a show. At first it tended to be just a list of songs, y'know? It really came together in Germany, where we played at some American bases, and that made us feel optimistic about playing in the States. "I was worried there would be shouts for 'I'm Going Home' but there wasn't a lot of that. In the first fifteen minutes we established that this was going to be a different band and audiences seemed rather stunned. We played mainly 5,000 seaters and a couple of big ones. The people came to listen and realised it wasn't just a rock and roll extravaganza. The atmosphere was more intimate and controlled, without people rushing to the front of the stage."
Did all the guys in the band enjoy the experience? "Yep. There were eight of us stuck together for seven weeks, and we'd not worked together before. There were a couple of gigs that weren't up to standard, but one thing I've learnt after eight years on the road, is not to get upset about good and bad gigs, because as long as the general standard is high, audiences won't worry.
BUSINESS: "In fact the audiences were great, and only on the business side, were some of the promoters worried. Some people thought it wasn't Alvin Lee without TYA---they thought it might be somebody else using the same name! "We did some places I'd not played before, like Knoxville Tennessee, and it was a good experience, for the band got better and better. And what had been an experiment for me before Christmas, has now become my definite direction. I wasn't sure until the tour, but I really got off on it.
I would have done ANYTHING to get out of the rut. "The vibe I got back was that we were playing to the people, rather than presenting a hypey, superstar bit, and a lot of people approved of that. A lot of silliness goes on in the world of groups, and it came across that we were taking the music seriously. "

A lot of people coming to see what we were up to, were turned on by the new stuff. They liked the percussion duel between Ian Wallace and our conga player, Brother James, and Mel Collins sax playing. "One of the highlights of the trip to the States for me, was a session I did in Nashville with Earl Scruggs. It's his 25th anniversary with Columbia and they called me up to help out on a celebration album.
FIDDLE: "There was Charlie Daniels the fiddle player and guitarist and Reggie Young, who it turned out I'd heard on so many records. I'd always liked his solos and never knew who played them. He was on Bill Dogget's 'Honky Tonk' and Billy Swan's new LP. "Let me see---Tony Joe White came down, and part of the Marshal Tucker Band. It really was a party. Everybody arrived very late, and I was all early and businesslike. I asked Earl Scruggs what he wanted to play and he said: 'Ah don't rightly know!' "But we did four tracks on one session, then I went off and did a gig, and came back for some more sessions, this time with Aretha Franklin's keyboard player, and Willie Hall who was the drummer on the original 'Shaft.' He was steaming. "I don't know when the album's coming out or what it's called, but Bob Johnstone produced it. We got on so well I wanted to invite them all round to my place and make an album. We could call it 'Nashville On Thames.' "I also did a Bo Diddley session in New York, with Leslie West and myself on guitars, and Carmine Appice and Tim Bogert as the rhythm section. We did all the old ones like 'Bo Diddley Is A Gunslinger.' I just turned up and blew, and it was great. No, I couldn't get any of the tapes I'm afraid! "
HATE: Alvin admits that launching his new band was like starting again: "But we started on a good level, headlining at 6,000 seaters and I like working. Hate days off. I'd sooner be playing every night. The nice thing was that people accepted us and we didn't have to play any old numbers at all. "With TYA they always shouted for the stuff they knew. The LP we did live from the Rainbow sold well in America, about 100,000 but it only sold 8,000 in England and I was disappointed about that. Perhaps if we had done a tour here, it might have helped. "We're doing some dates now, not a major tour, but some universities. I'd sooner do that than concerts with all the teeny-bops and teddy-boys. We want to play to a listening audience. We'll be working until the end of March and then it'll be pretty loose. "It's nice. There's no pressures. We just blow and have a good time."
Will there be another LP from the group? "Well there's not another release planned until the Autumn. I want to do some new things and may not stick to the same line-up for recording. We've been leaning a lot towards jazz, under the influence of Mel and the bass player.
FREEDOM: "That's just the way it worked out and it wasn't intended. I believe in giving musicians freedom, although the business element believe I should dominate and come on strong. I just enjoy being a part of the band. It's not really my music, but I'm adapting to their style. "It's a very funky rhythm section, which isn't exactly my style, but it's taught me a lot of discipline. Ten Years After was one long raving solo, but with Mel blowing away, I and afford to lay back. "I love his playing and he's been getting great reviews.
And Ian's drumming is so dynamic. He'll drop the level right down into another groove, and he'll do it anytime, so you have to watch for the signal. A couple of times he's left me wailing up there on my own! I'm adapting to it, and it's good for me musically. "If Mel solos first and I follow, then I have to pull my licks together, because he's phenomenal. He can play ten times faster than me, and with such light and shade."
Has TYA definitely broken up---officially? "It would appear so. I've not heard a word from anybody since last May. But I keep getting bills. It's a shame ---it seems to have dwindled to nothing. We were never a great musical band as such, but it had energy. When the energy faded it left a successful shell, without any meat. "I hear Leo is now managing Wessex Studios, and Ric has got an LP together, but I've not heard from any of them. Mind you, it had been like that for some years. We never spoke to each other except during the tours. If you have no mutual interests it's got to suffer sooner or later. "Maybe we'll get back one day, but the only thing that kept TYA together was money, and that's
not the right motivation. It had been like that for two years. We had been together for eight years. We nearly made it to ten."
RECORD MIRROR - March 29, 1975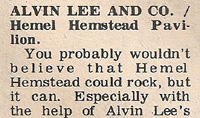 Alvin Lee and Co. Concert Review
Hemel Hemstead Pavilion (Sunday Concert)
You probably wouldn't believe that Hermel Hemstead could rock, but it can. Especially with the help of Alvin Lee's new band and a mixture of new songs and old rockers. The band, a six piece blend of old Stone The Crows and King Crimson members, are individually proficient, but took a long time to bed in together. So it wasn't until the later reaches of the set that things started to move. Having just returned from America and now filling in time on a few UK dates before recording their first album, the band as a whole are warming themselves up, getting to know each other. They're well on the way, though not quite there yet. Though numbers like: "Keep On Moving", "Got To Get Back", "Somebody's Calling Me", even "Freedom For The Stallion", the quality of the musicians over came any hint of
un-togerther-ness. The atmosphere on stage was loose, joking with each other and generally at ease. Mel Collins sax was featured heavily, and though he is an outstanding player, one felt a lot more tracks might have featured more of Lee's guitar. When it did appear, so did the old magic. Sad thing was, it did not appear for any length of time. By the time of the encore:
"Every Blues You've Ever Heard", and "Ride My Train", the audience had gathered round the stage and were shaking and dancing where appropriate. Yes, they're a solid band alright, just a bit new at the moment, which promises well for the future.
Article by Martin Thorpe
New Musical Express 4/ 5/ 75
THERE'S A WHOLE WORLD OF LICKS OUT THERE:
AS ALVIN LEE becomes musically more itinerant in the grand tradition of the Disillusioned Rock Star nonchalantly wandering in and out of projects, it seems his saga is becoming correspondingly less impressive. Even now, several years after what the hulky AL describes as "my first move away from neurotic rock" (when he recorded the album "On The Road To Freedom" with Mylon Le Fevre between appointments with Ten Years After) he is considering ceasing operations with the present band, Alvin Lee & Company. "As far as this band goes we only plan to work till the end of March, then it's back to the studio. Back to the drawing board," he explains. You might say Alvin lays it on the line in a sometimes humorous, often honest, and generally engaging way. The Most Boring Man In The West must surely be a reference to his guitar playing, and not his conversation. And just in case you've as much of an aversion to Alvin Lee Interviews as instalments of Crossroads we'd better fill in a few biographical details to bring you up to date.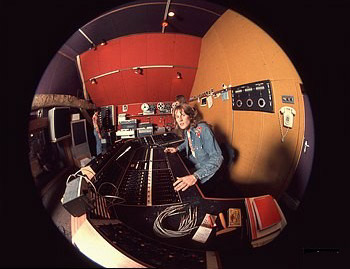 Musically speaking, Lee was born in the late 60's and remained as the head of the Ten Years After household until 1973 when, due to spiritual disenchantment, he buggered off with the aforementioned Le Fevre. "It was the first time in four years I was coming out of the studios overjoyed with something I'd done." He comments. "And it gave me the energy of my younger self. I realised I wasn't really getting old, I was just getting in that rut, and if I got out of it and did things—it'd keep me going." Obviously delighted with the experience and excitement he encountered once out of the traditional confines of a stable unit, he started to poke the neck of his Gibson 335 into alien areas. With Boz Burrell, Tim Hinkley, Mel Collins and Ian Wallace he formed a band called 'The Gits' "a funky kinda thing, not unlike the Average Whites". When Boz split for Bad Company they disbanded, making way for other musicians to enter Lee's life, such as Alan Spenner, Neil Hubbard and the Kokomo singers. Their Rainbow gig was recorded ("In Flight") and filmed and marked the conceptual debut of Lee & Company. Changes ensued: Wallace and Collins stayed but the rest of the band now consisted of Ronnie Leahy, Steve Thompson, and percussionist Brother James. Earlier this year they toured comparatively small theatres in America and more recently played British Universities.
From the States dates Lee came to two distinct conclusions; because the smaller theatres were "a strange environment" the security forces were totally able to control the audience and so prevent a suitable ambiance in the music. In fact, only six of their dates really impressed him. So next time round he intends to "strike a medium" between the low and high venues. Secondly; the band wasn't all it should be. "I think where it felt short—well, in some places it didn't, it was great but elsewhere it was just a bit cold, a bit sessiony." he remarks. "I get it too. If I'm playing and I turn round on stage and see everybody getting into the thing, but not getting off visibly, I'm not suddenly gonna get off and start leaping around, because I'd feel silly. "If I turn around and see, like Leo" (Lyons of TYA) "for example who'd always be thumpin' an' thrashin an' sweatin'…..that kinda gives me a kick. "So I wanna go in the direction of keeping the musical taste I'm getting into, but produce a bit more kick and a bit more balls. That's what it needs. In this band I've felt that the climax comes too late and too quick." Alvin does not, however, lay the blame totally on his band. He mentions one problem that he still suffers from; the reputation of being "a rock 'n' roll, boogie-woogie, rave up-type guitarist". Consequently audience response comes on what he calls "a trite three chorder", rather than on, say the modern jazz which had preceded it. "There again," he says, defending his boogie-woogie image, "when I get out on stage and I feel that vibe I actually want to do it. If the audience wants to get rockin', I dig playing like that. "It's just that this band is almost too tasty to rock 'n' roll with effect. "It's so tight," he elaborates , "that it gets boring quicker than if your playing with somebody who's feeling something, and maybe they….uh…over feel and go off. But you get these new changes and new things happening. "I'd really like to look for some fresh musicians."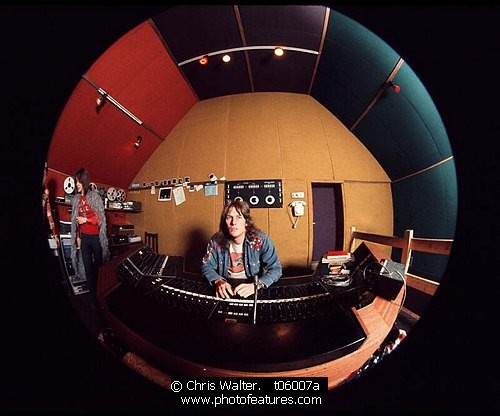 But what is Lee attempting to do with the Company bands? His attitude to do this particular project seems ambivalent. It appears he's attempting to form a unit of which he could be a mere part, in a similar way to what Clapton did with the Dominos. Yet he still wants to remain the front man. "It really wasn't meant to be," he says emphatically, "but that's the way it turned out. When you do the singing and the guitar playing you tend to be the front man rather than a musician." And he adds that, at a recent jam session in Dingwalls with Carol Grimes and others, he particularly enjoyed standing by the speakers just playing guitar. "I think with the right people I could do that." He continues, "Jimmy Page is just a guitarist, but it's his band, his direction, but he has Robert Plant dealing with the sexual image and the fronting, which is great, because that's something which has always made me feel awkward, ya-know? "I really would like to be….I already think of myself as a guitarist. I don't think of myself as a singer. I just kinda do that adequately enough. I'm not a phenomenal singer, I don't have a voice that's recognisable like say Rod Stewart." Of course, another consideration on this point is that Alvin Lee controls the purse strings, and so pays the guys a wage, which immediately creates something of a gulf between them. (And it's also feasible that his ego prevents him from theoretically lowering himself to an equal status basis within the outfit). "Unless it is a band of people that I could feel on a par with musically." He explains "it couldn't really be an equal situation, because as I say, if I go and do a tour at the moment as Alvin Lee & Company, people come see me and what the Company is. It's not as if the Company itself is drawing people in. "It could do, if I continued to work it, but I'm not going to get a band together and stick with it because that would become the same kind of trap as Ten Years After got into—and probably a lot quicker, because I've been through that scene.
"I enjoyed it," he hastily asserts, "but all the bands that stay together a long while seem to go in that direction. It turns into A Job. Tours turn into a "How much do we get?" That's the wrong motivation for going out to play music, just to make a few bucks. "I'm not against making bread, but I'd rather get something I'm proud to be with and then work out how to get some bread out of it. That seems more like the right way of going about it."
ALTHOUGH Lee will retain those musicians from the present band "who're really keen" he now intends to find some fresh faces on the English scene, and move into various musical styles, which may be reggae, blues or even jazz. Whatever turns him on. "What I intend to do is try different things out," he says. "I'm looking for different musicians with different influences, 'cause what I've found is, different musicians around me with different influences make me look for new styles. "Besides, I think there are good musicians in England. But the scene has got so poppy again. It's gone round in a circle. There's a lot of good musicians who resort to playing something really corny just to get something going." He should know. "A lot of bands that you see backing up singers and duets on TV have got good musicians. It's just that they're stuck in a rut. "Everything's an experiment. I don't really feel anything that strongly urging to come out…except to try new directions. That's the only real urge. "The most commercial thing for me to do would be to get a four-piece rock band." He points out. "I mean, the most commercial thing for me to HAVE DONE when the TYA thing was DROOPING would've been to get three more musicians, keep the name, and go out and rock 'n' roll. "But, as I say, my own head heeded to go in these other directions. "I don't want to go out on the road for the sake of doing it, I want to have something going to take out and show the people. Which is what I've done with Company. "It's been successful."
WITH ALVIN spieling so candidly it'd be remiss not to bring up the subject of TYA---remember. Of course what it's not in vogue these days to announce the fact when a major band splits up. So, like the Moody Blues, TYA is "inactive"---only because nobody will say, Yes folks, we've split. Which of course, is something of an advantage to us, because---if ever the situation did occur---we won't have to suffer an exhaustive campaign announcing a reformation. "It's DEFINITELY FINISHED." Says Lee, "because no one will say it's finished. But as yet I don't see any move to get it together. The only reason they or I would consider it boils down to the money again. "I'm sure everybody'd ring up and say, 'Let's do a tour and make a few thousand', but nobody's saying 'I really want to play'." Alvin considers the high point of TYA was when they played the Marquee. "We Kicked Shit. Sweat and grind." he recalls, "I really used to get emotions in those days." Even so he is reluctant to deride their music towards the end, and explains numbers such as "Goin Home" were musically good---"because we'd played them 8,000 times." But their career followed the pattern of so many successful bands. Once they had financial stability their interest diversified, and touring became a monotonous process. Their motto, Lee remembers, was "Get on, get off, and go home." And for the last two years it was a thoughtless process. "I could be up there playing what appeared to be an incredible solo to the majority of people." says Alvin, "but in fact I was probably thinking about something else." Like?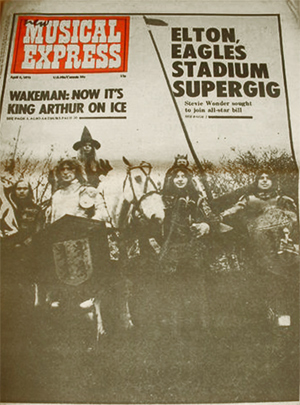 "Looking round the audience and seeing who's there and things. Checking out that scene," he smirks, "was always one of the sidelines. Sometimes I'd just wander off totally. "It's like when you're driving a car, you'll be thinking about something else, and then suddenly you'll come back to driving, and you realise you've just driven through London, down the M4 and turned off, but you don't remember a thing about it. "Well when you repeat yourself playing the same numbers you just play on automatic." And the analogy he uses to explain exactly why he is now experimenting in music is as equally, er, illuminating. "It's like an old tired marriage a lot of the time. Nothing gets you off more than a bit of fresh on the side. That's really the basis of what I'm doing---just looking for that fresh excitement. Trying to renew the energy I had before. "It's working. "As long as it's good it can go in any direction, from blues, jazz. Rock, reggae, classical, musique concrete, to whatever. My gig is to make it good, and enjoy doing it. "There's a whole new World of licks and tricks to experiment in."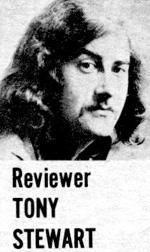 Article written by
TONY STEWART
From Rolling Stone Magazine 4/ 10/ 75
Alvin Lee
- "In Flight" (Columbia PG 33187
)
British blues has always been a workmanlike form, as much a job as a pleasure. Alvin Lee is smart enough to realize this, and having deserted his own limey blues band, Ten Years After, he has made In Flight in pursuit of a new image. Unfortunately, Lee's problem isn't easily wished away. He sinks into new restrictions quicker than he can soar away from the old ones. Ten Years After was never much of a group, although they made some interesting records, particularly Ssssh and Watt. The group was the sleeper surprise of Woodstock, and "Good Morning Little Schoolgirl" and "I'm Going Home" were significant pre-heavy metal tours de farce for guitar. All of their exciting moments, though, had as much to do with stagecraft as music. Lee's flashing smile was as important as the white heat of his guitar runs. Alvin Lee was fast, the epitome of the British speed demon guitarist, but his speed and his smile were intertwined forever.
The one made him saleable, the other made him identifiable; I was never sure which was which, but we all know what too much speed does for the teeth. Still, without those alabaster incisors, Ten Years After might have lent new meaning to the concept of facelessness which dominates so much of the rest of British blues.
For all its limits, Lee's twin talents gave them a head start over the various Foghats, Savoy Browns and Mayalls. Lee has personally, if not charisma, and the sense of humour--not just fun, which is intimately tied to work— that ought to go with it. It is difficult to imagine even such an inspired British bluesman as Eric Clapton having the ironic self-perspective to tote a watermelon over his shoulder as he trudged off the Woodstock stage, in full view of 500,000 fans and half as many cameras.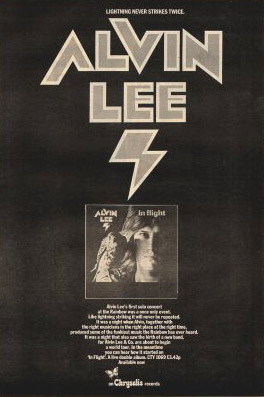 Lee is in flight, in deed as well as concept, on his new album. Fleeing that confining image, however, he seems desperate, uncertain of just what he'll choose to replace it with. Consequently, In Flight is a kitchen-sink job; a live album, two records, with horns and a female chorus. The music can't decide between rock and blues and half-assed mellow jazz. There isn't a chance for any of the facets to shine long enough to give the record, or Alvin focus. Lee's best moves are as a rock & roller, even if his most coherent ones are still tied to his version of the blues. The most interesting track on the album, "Mystery Train," fails utterly. After Elvis Presley's and Junior Parker's versions, "Mystery Train" wasn't a song anymore at all; it was a pair of records, each defining the limits of one of its dual themes (sex and death). Lee has nothing to add to that except a pleasant, smoky voice. But even that voice is obscured by the awful chorus. The English have been trying for a decade to figure out what to do with the Stax concept—the way voices and horns are used in Memphis—without much luck. Lee's ideas aren't much more useful than Joe Cocker's. The chorus shouldn't drown out the singer in an arrangement like this; it should add tension. Here the chorus elasticises everything, drawing it out to the point of boredom. It happens time and again—on "Slow Down," "Money Honey," which had the chance to be special, even Lee's own best song "I'm Writing You A Letter."
Surprisingly, Mel Collins's sax and flute are handled with some taste, probably because they are not, as with most blues groups which resort to horns, bowled over by a blaring brass section. (I know of no great white rock record in which brass plays a dominant role.) But for all their limitations, the rock songs are still more effective than Lee's blues, which for the most part are just as excessive in length and velocity as those he played with Ten Years After. Only sax dipping in and out reminds that this is not a TYA record.
With his usual irony, though, Lee redeems himself a little, simply by calling one of the songs "Every Blues You've Ever Heard." He ought to be required to open his show with it as a sort of caveat emptor –and not he alone, but the whole sorry batch of Anglo blues mummies. Still, this isn't as inauspicious a debut as I may have made it seem. Lee has broken free of the TYA image, certifying himself as a rock singer of some talent. The rockabilly cuts here move, and if it weren't for the chorus, you could say they never get cute, as too much British pseudo-rockabilly does.
With a little reorganization, Lee might have a fine post-heavy band in the making.
by Dave Marsh, music critic for 'Newsday'
Record News: Alvin Lee's new album "Let The Sea Burn Down" will be issued in mid – September by Chrysalis. Among musicians featured on the set are Ian Wallace, Tom Bryson and Ron Burgh (all on drums) Andy Pyle, Colin Gibson and Boz Burrell (all on bass); Tim Hinckley (keyboards), Harold Burgon (Synthesiser) and Jack Lancaster (sax). The set was recorded this spring at Lee's home in Oxfordshire. (1975)
THE STORY OF POP – SPECIAL VOLUME – PART 43 – 30p – EVERY THURSDAY: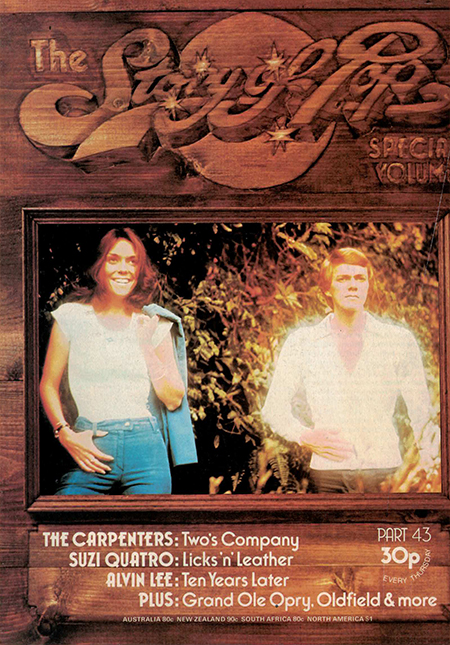 THE GREATS – ALVIN LEE: THE AXE MAN COMETH: 1974 / 1975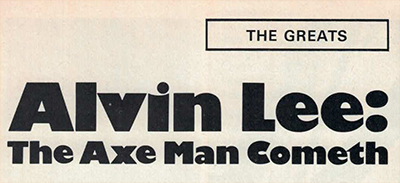 If Eric Clapton Was The First Guitar Hero. Jimi Hendrix The Most Absolutely Crazed, Then Alvin Lee, A Guy Who Looked As If He Came From Scandinavia, But Really Hailed From Nottingham, A Centre of England's Light Engineering Industry, Was The Fastest and In Terms of Personality The Sanest. Not For Alvin Was There Any Heavy Involvement With Dope Or Religion. If He Experienced Any Intense Personal Pain Then It Never Showed In His Playing. Unlike Eric Clapton, Jimi Hendrix or Peter Green His Playing Never Sounded Totally Committed To The Blues, Though That Was Where The Bulk of His Inspiration Came From. Nevertheless, Alvin Lee's Status As A Bona-Fide Guitar-Hero Was Established By The Late 1960's (August 1969) Following In The Wake of Eric Clapton and Jimi Hendrix and In A Way, It All Happened In An 11 – Minute Period At Woodstock, The Rock Festival That Was For A Time Regarded As A Turning Point For A New Generation. It Was There That Alvin Lee and His Band, Ten Years After (Alvin Often Maintained That "Ten Years After" Operated As A Co-Op, But As Time Went On It Became More and More Evident That Alvin Lee Was Ten Years After; As He Wrote All The Songs, Sang Them, Played Almost All The Solos and Was The One That Audiences Focused Their Attention On) – Turned In A Rip-Roaring Piece of Rock – Blues, Short On Aesthetic Value, But High On Sheer Flash, That Highlighted Some of The Fastest Electric Blues Inspired Guitar Ever Played, On The Band's Song "I'm Going Home."
Alvin's Appearance Became One of The Highlights of The Subsequent Woodstock Movie, This Is Where Alvin and The Rest of "Ten Years After" Won Their Place In The Hearts of Countless American Rock Fans For Their Particular Brand of Boogie. As American Rock Fans Are Particularly Partial To Boogie and Alvin and His Group Could Boogie Better Than Most. Hence The Reason That They Did 28 Tours of The United States Up To Their Farewell Tour In Mid 1975.
The Roots of Ten Years After Grew From A Nottingham – Based Band Called "The Jaybirds" That Was Formed In The Early 1960's – The Personal At That Time Included Alvin Lee and Leo Lyons. The Band's Roadie Was Chick Churchill Who, Though He Wanted To Be, and Was Considered By The Others To Be Good Enough To Join The Outfit, He Didn't Have The Money To Buy A Hammond Organ, The Instrument That He Had Been Playing, Courtesy of Friends, For Some Time. It Was The Hard Round of Gigs That Enabled The Jaybirds To Save Enough Money That Enabled Them To Place A Deposit On A Hammond, and Chick Was In.
This Is When Alvin Lee Decided To Change The Name of The Band To "Ten Years After" Meaning: "On The Grounds That "We Started Ten Years After Elvis Presley."
If Ten Years After Had Appeared On The Music Scene A Year Or Two Earlier, Alvin Lee Wouldn't Have Been Allowed / Accepted, or Given So Much Room To Stretch Out As The Instrumentalist He Was On The Debut Ten Years After Album – (1967).
It Was Eric Clapton and Jimi Hendrix That Opened The Doors and The Record – Buying Public Were Ready To Hear As Much Blues Inspired Guitar Playing As Could Be Laid On Them. So Alvin Obliged Them On That Debut Album and Gave The Ever-Increasing White Blues Audience Just What They Wanted.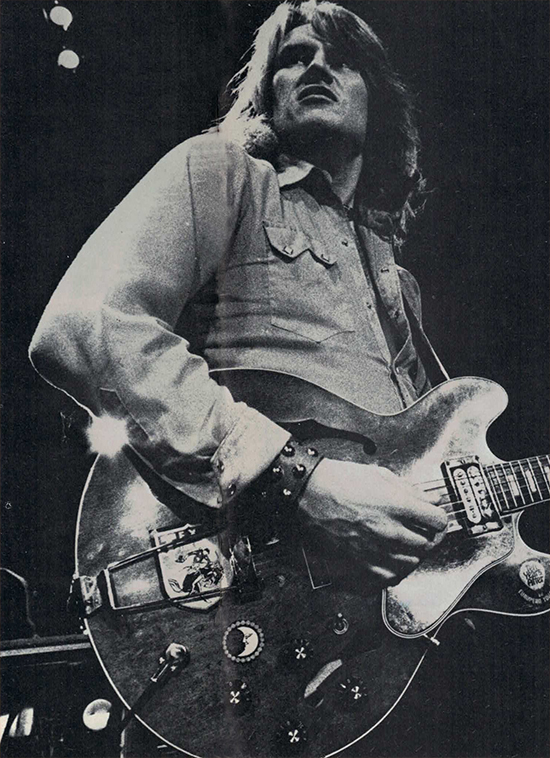 RARE SPEED:
Veteran Bluesman Willie Dixon's "Spoonful" Was Was Somewhat Daringly Included On The Album; After All, Cream Had Turned In Their Version of The Song On Their First Album, Called "Fresh Cream" That Was Released In 1966. While Ten Years After's Version Showed That Their Guitarist Was More Than Just A Competent White Contemporary Blues Guitarist. And While Alvin Didn't Come Across As Sincere As Eric Clapton, Or Peter Green, His Playing Displayed A Rare Speed If Not Thoughtful Construction. On Some of The Album's Cuts This Showed To The Extent Where Alvin's Playing Wasn't So Much Fast As It Was Downright Hurried For Instance – "I Want To Know" - On Al Kooper's Blues "I Can't Keep From Crying Sometimes," Alvin's Playing Was Jazzier Than The Work of Other Popular Guitarist of The Era…And It Was This Side of Alvin's Playing That Was Fully Explored On Ten Years After's Second Album, Called "Undead" – A Live Recording!
During This Time Period Ten Years After As A Group Very Much Differed From Their Contemporaries In Their Light Approach. Their Rhythm Section of Leo Lyons and Drummer Ric Lee, Didn't Make Any Attempt At Being Heavy, Preferring to Go For An Approach That Had Much More To Do With Swing. Alvin's Playing Lacked The Knife-Edge Tension of His Contemporaries and He Preferred To Stretch Out With His Guitar, Like On The Album's "I May Be Wrong But I Won't Be Wrong Always" Which Again Demonstrated Alvin's Great Speed Playing. Unfortunately, He Tended To Repeat His Licks Incessantly So That His Playing Came Across As Being Unimaginative, Even If It Did Rate High On Flash!
Undead Also Contains The First Ten Years After's Version of "Goin' Home" (It Was Later To Appear On The Woodstock Sound-Track Album and On Their "Recorded Live Album That Was Released In 1973). The "Undead" Version Isn't As Blatantly Ear-Catching As The Woodstock Version, and Once Again The Above Criticisms Could Be Applied To Alvin Lee's Playing On It. Despite Alvin's Aesthetic Shortcomings He Was Beginning To Establish Himself As Something of a Leading Guitar Stylist In The Rock-Blues Field, Though A Lot of The Rock Audience Thought Alvin's Playing Was A Watered Down Version of The Real Thing Currently Being Exhibited By Eric Clapton, Peter Green and Jeff Beck.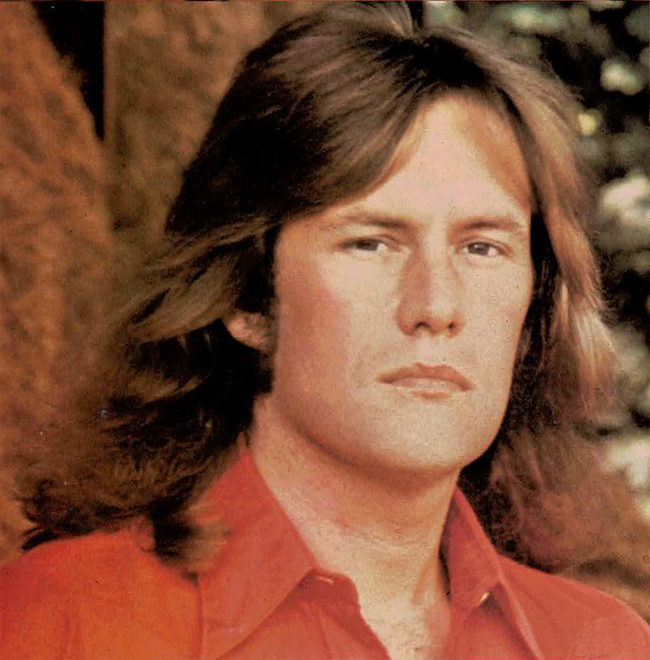 ARTISTIC DILEMMA:
Alvin Lee's Popularity Had A Lot To Do With His On Stage Antics. With Something of A Stud Persona, Alvin Had All The Arrogance It Needed For Him To Become A Guitar Hero, Vividly Contorting His Face While Seeming To Produce His High Speed Runs Effortlessly.
Ten Years After's Third Album Called "Stonedhenge" (Note The Hip Crassness of The Title)
Saw The Group and Alvin Lee In An Artistic Dilemma. As They'd Openly Admitted Their Dissatisfaction With Their First Album, (Their Only Studio Album At That Stage), Stating Candidly That Work In The Recording Studio Came So Much Harder Than On Stage.
"Stonedhenge" Was A Dire Album, With Alvin Keeping Himself Surprisingly Enough, A Very Low Key Profile. What There Was of His Playing Was Restrained, Only On "No Title" An Early Indication of Just How Embarrassing Alvin's Lyrics Could Be, Did His Guitar Playing Come To The Fore. Again, It Was Short On Aesthetic Value, But Rock Has Never Been Renowned For Its Good Taste, and Alvin Lee's Playing On The Cut, Was Heavily Distorted and Very Fast, and That Impressed A Lot of People.
Their Subsequent "Ssssh" Album Saw Ten Years After and Alvin Lee Finding Their Recording Studio Feet. This Time The Cover Art Showed Who Was Ten Years After's Main Man, As The Album Cover Was Entirely of Faces By Alvin Lee. On "Ssssh" Alvin Blatantly Copied Eric Clapton's "Woman Tone" Technique, Thus Producing A blurred Fuzzy Effect.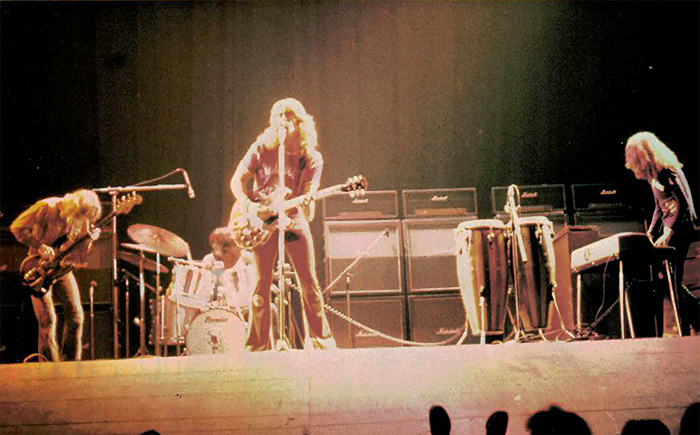 The Band Had Become A Lot Heavier and So Had Alvin, Tightening Up His Playing Style Considerably. His Adaptation of "Good Morning Little School Girl" More Than Anything Else On The Record Shows Alvin's Adaptation of The Eric Clapton Mode of Playing, Although It Lacked Eric's Finesse. The Style Alvin First Demonstrated On "Ssssh" Found Its Way Onto The Next Two Ten Years After Albums, "Cricklewood Green" and "Watt" and The Group Had By This Time Maintained Full Momentum Spending Spending Much of Their Time On Vast Money – Earning United States Tours. Ten Years After Were Going From Strength To Strength, Even Making The British Singles Chart With One of Alvin's Better Songs, Called "Love Like A Man".
By The 1970's The Blues-Boom Had Burnt Itself Out, and For The First Time Ten Years After Had Very Little To Do With White Blues Rock, Concentrating On Songs In Acoustic Settings. Alvin Himself Had Improved As A Guitarist and For The First Time In His Career Showed A Modicum of Taste In His Playing. A Track Called, "Hard Monkeys" Shows Alvin's Playing With More Ferocity Than Ever Before and Managing To Couple This Added OOMPH With A Slicker Tone. His Guitar Style Improved Further On Ten Years After's 1974 "Positive Vibrations" Album Which It Was Rumoured At The Time, Could / Would Be The Band's Last Studio Album. As Alvin Lee By This Time Had Established Himself In A Palatial Country Manor House. Including A Recording Studio Located In One of The Many Out Buildings On The Vast Property, and Called "Space Studio" – Recorded Here Was Alvin's First Solo Album, "On The Road To Freedom" In 1973. With Mylon LeFevre, A Musician With Strong Leanings Towards Country / Gospel Music. The Album Also Included Material From George Harrison and Ron Wood. ("Woody") Both of Whom Played On The Album. The Title Track Again Portrays Alvin Lee As A Very Fine Rock Guitarist, Slick, Sharp and Precise Without A Trace of His Former Self-Indulgence.
Copyright: 1973 / 1974 / 1975 – From Phoebus Publishing Company (PBC Publishing LTD).
169 Wardour Street, London W1A2JX – Made And Printed In Great Britain By Petty and Sons LTD. Leeds…And Ten Years After Elvis Came Alvin Lee, The Demonic Wizard of Blues – Rock With A Lightning – Swift Guitar Technique.
| | |
| --- | --- |
| By – Steve Peacock | |
From Sounds – April 5, 1975

You're looking at a free man who hopes to create Nashville – on – Thames. He doesn't know what the future will bring, but he'd like a hit single.
Article:
Show me Alvin Lee and I'll show you a man who has discovered indecision as a positive way of life. He's slipped the leash on the band that made him rich and famous and he's allowing Plan B—Alvin Lee & Co.—to dismember itself with the minimum of formality. "It was like the evolution of Ten Years After over eight years taking place in three months", he says. Which is not to say that AL&C became hollow product—merely that it ran as far in its chosen direction as Alvin Lee wanted it to run with him on board. "This band really got into jazz as a natural kind of leaning," he says. That was fine, he didn't want to mould them any more than the main songwriter, singer, front man, soloist and provider inevitably shapes a band. But the way the band was developing wasn't the way Alvin Lee wanted to make music further than the end of this month. "It's great, but that attitude of jazz seems to be "well, there's an audience there but don't let it affect you too much." If there's an audience there, I'm always very much aware of the fact. I want to deliver something to them that'll get ém off. That doesn't seem to be the attitude of jazz—jazz is introvert, and if this band were to continue it'd develop more towards that and it isn't really what I want to do."
Quite what he does want to do is not so clear—not in terms of style or specific musicians anyway. "There are options: there's country, there's rock…I've got a strong leaning towards getting back into R&B, getting back towards the old stuff, perhaps leaning towards the blues a bit. Chunky…chunky funky. I'm going to experiment. I've a strong feeling that I could go any way from now. I'm getting off on all the styles there are. Maybe the next album will be a couple of tracks with this band, a couple of something else, a couple…but I don't know if it's the right approach. That's the thing. It'd be fun, but…" The right approach can only be what he fancies doing at the time –yes? "But it is nice to be able to go out on the road with the same band that made the album, so you don't have to get people copying things that other did on the album. "That's what nearly happened with this band but luckily they were strong enough to put their own personally onto it, and anyway we only did half the album on stage. But whatever happens next, it'll grow out of the next album I do—I now accept that changes take place, and I'm now inviting them.
"I've got a strong leaning to get more into recording and producing, but I know that after a few months I'd start getting itchy feet again. I've been touring since I was 16 and you get something that builds up inside you that you've got to release, and that you can't release any other way. And I'm addicted to America—I have to get out there at least once a year just to get the buzz from that."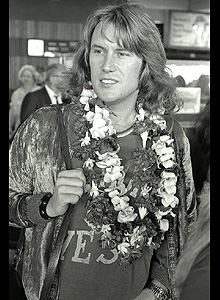 Ah—the roar of the greasepaint and the smell of the Holiday Inn. Alvin Lee may have the comforts of home and a remarkably well equipped studio in his backyard, but you'll still find his butt shakin´ and his guitar wailing in Knoxville, Tennessee—even Hemel Hempstead, Hertfordshire.
When he struck out on his own with the And Company project, Alvin Lee was more or less starting again: it was hardly a balls-on-the-rail venture, to the extent that he had money, he could afford a good band and his TYA-made name guaranteed him a certain amount of built in audience appeal. Yet it was still quite a bold venture when you consider that he could have spent the time in his studio or sun soaking in the Bahamas or Hawaii, grinding out a swift TYA tour and album each year to keep the accountant smiling.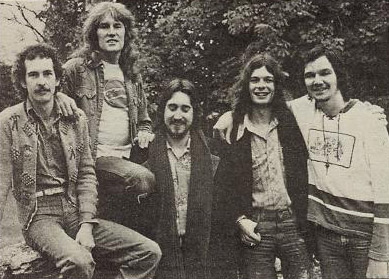 With the original team of Boz, Tim Hinkley, Ian Wallace and Mel Collins he had the makings of a rock band with enough drive to satisfy his baser instincts, and enough funk to make it a dramatic change from TYA: Boz split to Bad Company before that could ever face the crowds, and the band that played the Rainbow concert (from which the live album was recorded) was rather hastily assembled. Neil Hubbard and Alan Spencer and the Kokomo singers were recruited 10 days before the gig, but returned to base before AL&C went on tour.
With the touring band as it turned out—the basic Lee/Collins/Wallace nucleus plus Steve Thomson and Ronnie Leahy from Stone The Crows and percussionist Brother James—the idea moved yet another stage away from its origins. It worked and Lee enjoyed himself—the music and the situation. "America was so different it was almost like going for the first time. What was really good was coming off stage and talking about music and listening to the tapes…having a bit of a jam. It was a different relationship with the band, a lot more like lads on the road—less professional but more fun. There were a lot more downs as well as the ups—we'd have incredible long dissections of things that went wrong, have a sound check the next day and sort it out. With Ten Years After we used to sleep in the afternoon, get a call at six or seven, get to the gig at 8:30, tune up and play." In a way, the whole process had been a kind of exorcism for the man who felt himself lumbered with the flying fingers image. He was able to lie back as a musician and see the possibilities, but perhaps he over reacted against his history. "During the tour I managed to conquer the feeling of wanting to do something loud and raucous but not doing it on principle. I finally did it, got into some of those tasteless things I was wanting to do, and the fact of not doing from the beginning made it all the more effective. It was really nice and gradual the way it should be."
Having shown bell book and candle of laid back funk to the heavy metallurgist that lurks within him, he feels confident enough to let him out for a trot every now and then.
It was something he had to go through. But with the European and American tours, he feels this band has run its course and he is ready for something new. "If this band really wanted to stay together and had a clear idea of what they wanted to do, then I'd do it, but first I need to look around a bit, get some new inspiration and write some new songs." In any case it seems unlikely this band will survive as it is (Mel Collins is pretty certain to rejoin Kokomo), though it seems equally likely that Ian Wallace will stay close to Alvin Lee: "He's got to be the best drummer in Britain".
While in America he managed time off to do some sessions: one in Los Angeles for Bo Diddley, and several nights in Nashville on sessions for the 25th anniversary album for Earl Scruggs, alongside people like Charlie Daniels, Willie Hall, Don Nix—the crew. Among his plans is to: ship Charlie Daniels band over to his studio this year for a Nashville-On-Thames sessions.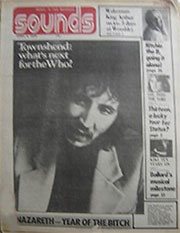 He's also going to be working on a film—a kind of "up to date Fantasia based on the idea of Atlantis"—for which he will provide the music and be involved with mapping our sequences. That's in its infancy at the moment.
And there's another thing: "I must admit I've been toying with the idea of taking the easy short cut with the old hit single. I know I've been against it all my life, but the Average White Band have proved it can be done with something that's just good music. I've thought about playing around with different styles of things, seeing if any of them pick up." That should lay the TYA great coat ghosts for good.
Meanwhile, it's a case of finishing the current tour, getting out and listening to some music, writing some songs, and getting some musicians together to play. "I'm going to get on playing music and see where that takes me."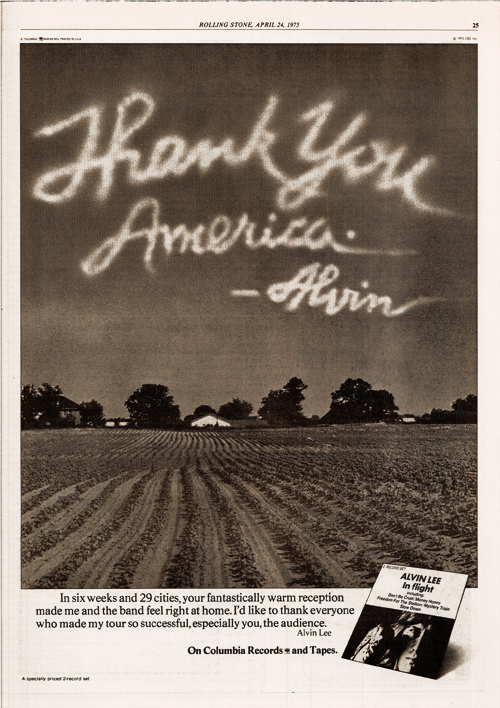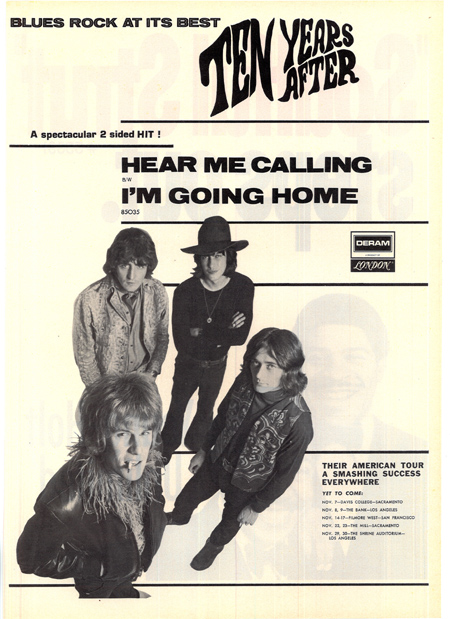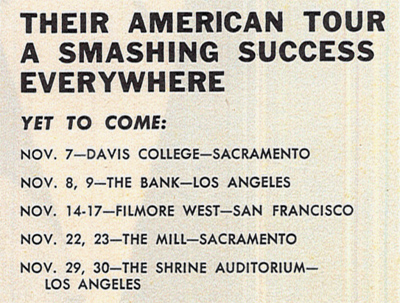 Melody Maker 5/ 24/ 75
Ten Years After - "Goin' Home!" (Chrysalis)
A compilation album of the first three years of Ten Years After's existence. And a pretty neat selection of some of their best-known numbers, including, as the title suggests, the TYA classic "I'm Going Home" a live version from the Woodstock film.
Alvin Lee has taken a bashing from some critics over his "speed-trip playing," but he and TYA were undoubtedly worthy of the success that came their way in the late sixties and early seventies. Lee became one of the legendary guitar heroes and I always thought his playing could be tasteful at times as well as brash and violent as it is usually regarded. In judging Lee the critics often missed the point. The band were exciting to watch and it was this excitement, through flash playing that Lee tried to convey on record, especially on the "Undead" album, which was recorded live, and "Ssssh."
On this album we have: "Hear Me Calling," "Going To Try," "Love Like A Man," "No Title," "I Woke Up This Morning," "Woodchoppers Ball," and " I'm Going Home." "Love Like A Man" is the studio version and it is debatable whether the live number should have been included, although the studio one is much more polished and precise.
"I Woke Up This Morning" is an object lesson in what can be achieved without straying far from the basic blues theme. Lee's playing is beautiful, with the rest of the band filling out the bottom. "Going Home," the closer, sums up the essential TYA in a nutshell. You can almost see Lee onstage snarling out the vocals and ripping into his axe, no quarter asked or given with the excitement rising as the audience lets its hair down.
But one of my favourites is "Hear Me Calling," with Leo Lyons' bass thudding out the riff and Lee soloing in a restrained fashion. An excellent album showcasing all that Ten Years After had to offer---and that was a hell of a lot.
By E.M.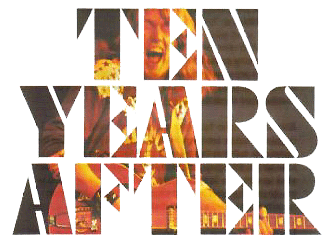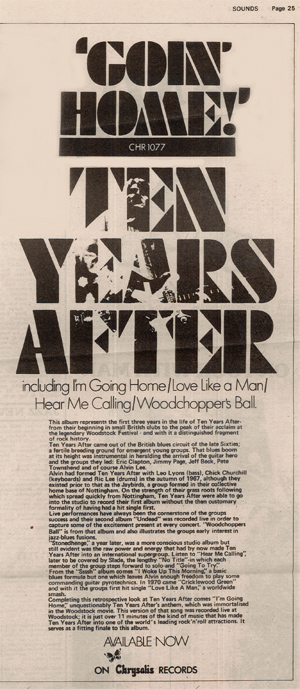 This album represents the first three years in the life of Ten Years After from their beginning playing small British clubs, to the peak of their world wide acclaim at the legendary Woodstock Festival, and with it's distinguished fragment of rock history.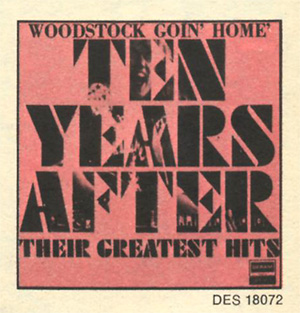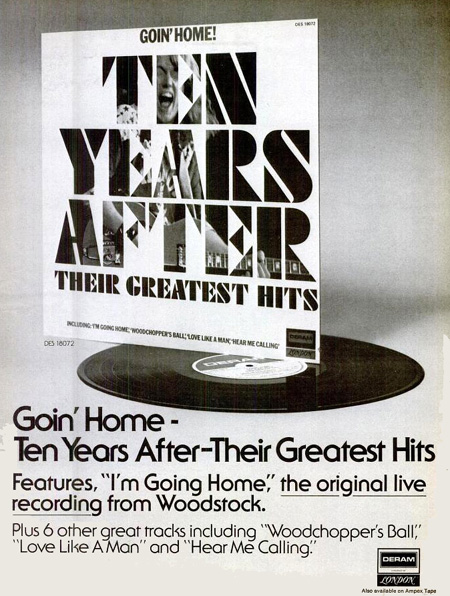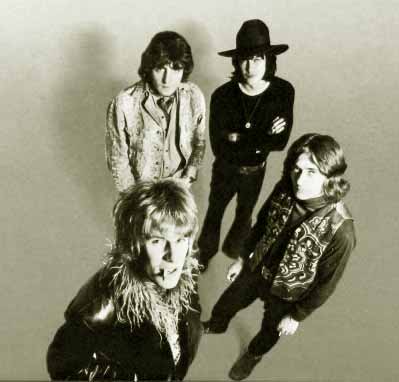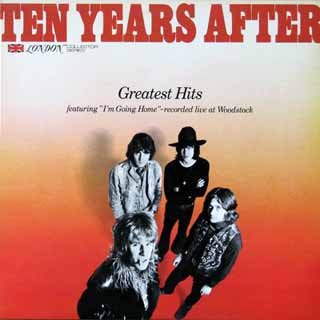 June 1975 - Let It Rock Magazine
The world's fastest guitarist takes up his generator, JBL's and bits in between...
and chooses ten discs to keep him company
"My Top Ten" from Alvin Lee:
"Baby Let's Play House" – Elvis Presley: Because there's a great bit with Bill Black playing bass that goes…docka-docka-docka-docka.

"Sweet Little Rock and Roller" – Chuck Berry. This is possibly my favourite of his songs. There are a few others I would include, but I would want to listen to them all again first.

"Brother Jack McDuff with George Benson". It's done in a roadside club. It's really live, sweat dripping down the walls, kind of feeling; glasses chinking in the background. They blow a storm…Good musicians atmosphere. He's probably playing his best. Put him on stage at the Albert Hall and he will play well, but won't have that down to earth funkiness / looseness.

"Abbey Road" – The Beatles: The melodic-ness of it. The fact that their personal relationships were not visible. Paul has amazing melodic sense – he's not a rocker or a raver, or a heavy musician, and he plays a very tuneful bass. For the same reason, I would also say.

"Maybe I'm Amazed": Paul McCartney. To me, this is what the Beatles were striving for.

"Burnin´ The Wailers": They are the best. The complexity and the neatness of it. The experiments – they are almost virtuosos. There is a lot of good basic reggae, which is just as good in feel, but the Wailers put something extra in – harmonies and things.

"Music From A Doll's House": (Band) Family. The music is very good, obviously. The recording is five years ahead of its time. The quality of it and the effects.

"Dark Side of the Moon": Pink Floyd. I like the mood. When I listen to Pink Floyd I don't listen to how he (David Gilmour) is playing the guitar, or the technique of the drums, I just go for the mood. Being a musician, professionally you tend to listen to a lot of music critically and analytically, and you don't enjoy it that way. I can listen to the "Floyd" or some electronic music and hear it, just like an average man on the street.

"If 6 was 9": Jimi Hendrix. The whole album, actually, but this song in particular. Excellent stereo effects, phasing and the like. Hendrix's influences didn't come from any obvious sources, he was very much his own force. He was not a great guitarist, in the classic sense, but what he put over was feel and his personality.

"

Kodachrome" – Paul Simon: A very precise, very professional album. He makes almost seem-less recordings, with everything crystal clear. You seldom find a phrase in there that isn't one hundred percent effective.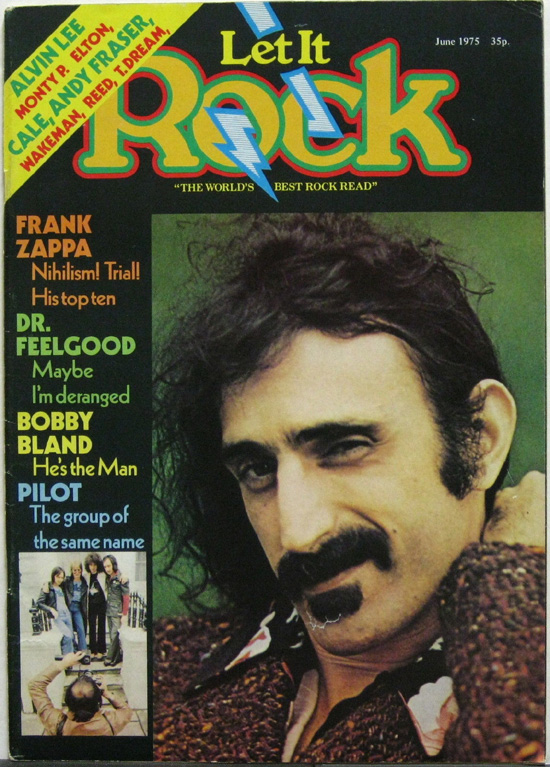 Creem Magazine 1975
I admit it. The first line of this article was written a week before the concert: "Having assured us all most emphatically at Woodstock that he was `Goin´ Home,´ old butter fingers is back…" Well, it was a waste of time and talent. The fact is that Alvin Lee has just broken a precedent: not only is he back, but he's also better than ever. Claws in. Next victim, please. So Alvin's back. Who isn't? But it's news this time. He's doing what Eric Clapton wanted to do: sacrificing lone star status to be one of the boys. The difference is that Alvin Lee has a strong and spirited bunch of musicians to play with.They don't kowtow, and he has found strength in the challenge. He has to work for his riffs, and he burns brighter with every exchange..

"I kept telling everybody

I wanted to do

something else!".

The final few moments of every song are explosive, but never fear, Alvin is in control now. It's no longer how many notes he can play that counts; he's out to prove how well he can play them. Quality over quantity at last. Of course he has a lot of help to keep him in check. Alvin Lee and Company is no small time operation. There are the two members who have been with him for over a year, the amazing Mel Collins on various horns, and the dynamic Ian Wallace on drums. Newer members include Ronnie Leahy who handles the keyboards, and Steve Thompson on bass. Brother James is a killer on congas and other percussion instruments, and Donnie Perki and Juanita Franklin make up the angel's choir.
That's a lot of band to handle. Alvin Lee tackles being back with a vengeance. He does have a mean streak-the meanest mother in rock and roll, attitude wise. From the moment he told promoter Howard Stein where he could stick his spotlights, there was no real doubt that Alvin Lee could chuck it all, any time. "I've done that a few times," he says. "I mean I did it after Woodstock. I hid away for about six months. And everybody said I was mad because the band could have been out makin´a fortune on the strength of Woodstock. That big screaming rock and roll circus thing I've always been against.
He may have been against it, but his business associates and various money men were not. He was subsequently held in check, which led to his retreat, which led, ultimately, to his rebellion.
"I kept telling everybody I wanted to do something else! And nobody would take me seriously, until I said, well, "Here I'm gonna do it! HERE I COME!! And I'm having to prove the fact that I'm serious."
The music ranges now from the mellowest of jazz and soul-a Junior Walkerish "Freedom For The Stallion," no less-to the bluesiest of blues. Alvin's guitar is at times supportive, although always with a sting. When he has the show to himself, he really lets himself go. Letting go now, however means controlled combustion, there's more feeling than flash. Whatever he does is usually right for the moment. For instance, "Every Blues You've Ever Heard" was and wasn't. Though it did utilize every blues cliché imaginable-what blues doesn't-he couldn't have made them seem as urgent or as authentic years ago. That is the difference-maturity. The precocity has given way to a kind of raunchy practicality.
He hasn't abandoned all fun, though. Towards the end of the show, having pulled off one helluva rock and roll number, Alvin, "let fly" with his old freaky fingers act. But suddenly he crumpled over sideways onto the boards and rolled on the floor, kicking up his heels, still playing away, laughing at himself and enjoying the parody immensely. The audience was with him all the way-it had been rolling and rocking in the aisles from the git, and the sudden burst of insanity from the great scowl face was a welcomed release.
Backstage was a bit less refreshing, at first. It generally is. Recently L.A. Free Press editor Tim Hogan and I were stealing food and booze and a few laughs at a backstage circus for Kiss, and he remarked, "Y´know, as many times as I've been here before, it still feels like I've been here before." Maybe it's an inside joke. But it's nonetheless true. After a good show, a precedent-breaking show like Alvin Lee and Co. had put on that night, one cannot help hoping that perhaps the stars themselves will be different—that for once the surprise will carry over backstage as well. It never does. And if experience is the best teacher, we journalist should know better. There are no new twists to the backstage promenade.
Alvin was doing his super stud act from bygone days. He's a healthy boy, and he likes his women, and doesn't care who knows it. With a babe on each knee he posed proudly for photographs, very much the conquering hero. He's not sickly slim or milquetoast white like most British cutie rockers.
He's rosy and robust: Nordic looking. And he is as commanding offstage as on. He knows who he is, and to handle him, it pays to let him know who you are and where you are as well.
That established, he can be a thoughtful interviewee. Delightfully cockney, he drops his "aitches" and says "me self" and "me own," and takes his time about it. He wants to make certain that his thoughts are clearly stated. Gets to the point, "e does. No pussyfootin."
The point that night was that despite the numerous encores and grinning critics, Mr. Lee was a bit sceptical about the performance and spoke right up. Didn't need to be asked.
"Yeah…Problem is, tonight we played too loose. Messed around a bit. Normally we don't do that. Normally we're much tighter." Reflection, he let up some. "It was the mood, ý know? The mood of the day. Every night is quite different because of the crowd, and us, and…"
With a shrug he resigned himself perhaps to the fact that despite his reservations things had gone well. He has learned to be easy. Cést la vie—tommorrow, perfection.
Still, this trial run tour was too important for him to allow for any further foolishness. Alvin is out to find himself again, and he is very much aware of the fact that the former TYA legions may not be willing to tolerate the image exchange. But so far, the audiences have been receptive; even inspiring. And he was delighted.
"We've been out about three or four weeks and it's goin´ GOOD!" he grinned. "What's been nice is getting´ across acoustic and with jazz band numbers and funky numbers and all that variety of material. Now, they don't take it too well in the backwards places, like… Milwaukee and that. But we're playin´ good halls. This tour's had a concert hall feel, where everybody can hear and you don't have…You don't get so many policemen clubbing people and that. It's nicer, y´know? I really get kind of fed up with doing those big potty (shitty) stadiums, y´know?"
He got fed up with more than that. Alvin Lee got fed up with Alvin Lee, and he admits it freely.
Characterising his former self as "Captain Speed Fingers" (he says that today he'll settle for being "Captain Gross Out"), he explained why and how the metamorphosis had come about. And as he spoke he became oblivious to the backstage oglers gallery, the flash bulbs, and the hubbub. True confessions. "I still like…lettin´fly. I still like that. I slipped back into it tonight actually. I'll do that if I happen to feel that way. I'm not against doing that and I did, as long as it's not obligatory…"
He sounded almost defensive; obviously he explained himself many times, almost imploring spectators to understand. Almost. Remember, Mr. Lee has a mean streak. There was more than a touch of "I don't really give a fuck if you get it or not" even in his humblest moments. Alvin Lee is, never forget, his own main man. And that man knows where he went wrong. "What I originally wanted to do when I started to play…when I decided to play the guitar, was to be a musician. And the rewards of bein´a musician are workin´ with musicians and playin´ things before, like, small crowds in clubs or…anyway. Now when it gets to be a habit, instead of what you want to do, then you're workin´. "I never found an outlet for the things I was into. I wrote about thirty new numbers and never recorded any of them and that's sort of frustrating. I couldn't do that, ´cause it didn't fit the format at the time. So I was boxed in. Boxed in by the audiences…the musicians…by the image.

And I got fed up with everything! All the bullshit. I was part of the rock and roll machine. Earning money for people. And…I dunno, I did enjoy it. Originally. But it kinda got to be like a trap, you know?
The business machine would prefer to have twenty or thirty percent of Ten Year's After's billions and millions than thirty percent of Alvin Lee and Co.'s hundreds of thousands. And they said, "Stick with what's making the buyer happy, kid.´ It's common sense. But I don't believe in that. Not when it boils down to commercialism. Not for the sake of it.
I mean, if any of your readers could get paid a thousand pounds a night for standing on stage having an epileptic fit, they'd probably do it quite happily for a few years. But it's got to get to a point sooner or later where you ask, "Isn't there anything more?" He sat back with a decisive nod. "There is more, and this is what I have to find out. I didn't know if people were gonna say "Shut Up" and yell for "Goin" Home or what, but…like, I got the seven year itch, musically. So now I'm just experimenting. This is one experiment. The album with Mylon was another experiment, and the next thing I do will be another experiment and I hope to keep changing direction ´till nobody knows where I'm going. Including me.
"So I…I'm trying to give me-self an unlimited outlet…unprejudiced outlet. An outlet which doesn't tie me down to any one kind of scene. See? It'll take a couple of years from now…this is the start. I'm controlling me records, me own records. I'd like to be able to control me own concert environment. But this is opening it up you see. It's like starting again. Relatively, and I've gotta do this first tour to prove I'm for real."
The best way to prove that, he believes, is by putting his music where his mouth is, and so far, that policy has paid off. He plans to be back in June, to get at more of the public, to prove that he has grown and intends to keep growing. He plans to do all this, first of all, and most importantly of all to him, by giving that public a first class chance to judge for themselves.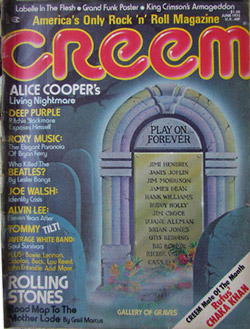 Creem Magazine - June 1975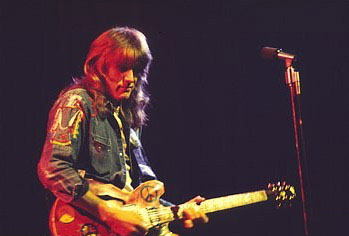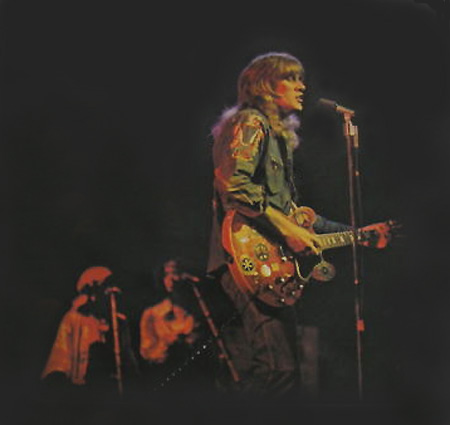 Alvin Lee with back-up singers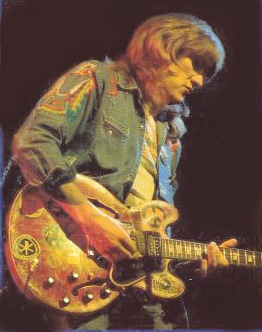 On Tour Once Again - 1975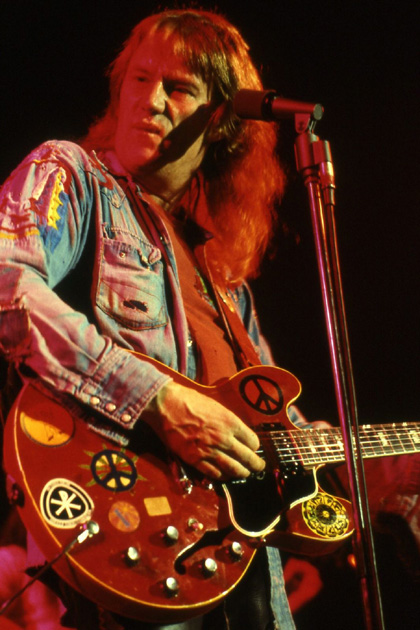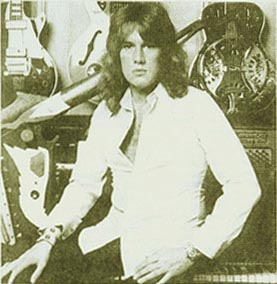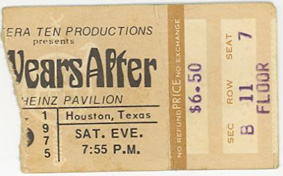 Hofheinz Pavilion - 26 July 1975
INTERNATIONAL MUSICIAN and RECORDING WORLD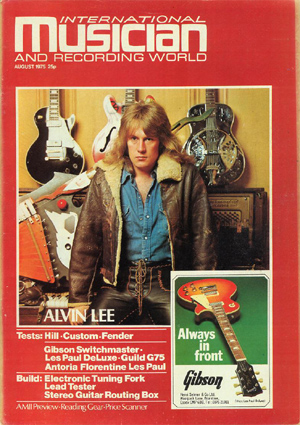 FROM AUGUST 1975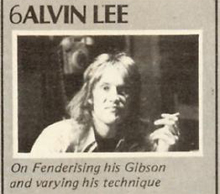 ALVIN LEE
On Fenderising his Gibson and
and varying his technique

Alvin Lee is a guitar super hero. He owes his Tudor manor house, 100,000 recording studio and Porsche to the guitar – usually a Gibson ES335 with an added Fender pick-up.
Q. Alvin, when did you first add a Fender pick-up to a 335?
I did the first one about three years ago (1972) and I repeated it two or three times since then. I've got three Gibson's, two for spares and my best.
Q. Did you actually lose anything by putting a Fender pick-up between the hum-buckers?
A. No, in fact you gain. I now have a Gibson which sounds like a Tele (Telecaster) just when I want it to. I left the original Gibson pick-ups on and just added a Strat (Stratocaster) backed pick-up between the hum-buckers which I use without the covers on. I've also got an extra knob so I can have the pick-up out – so it's a straight Gibson – or in, so it gets Fenderish. The centre part of the body is solid and the main contact comes from the bridge area, the nut and the joint between the body and the neck, so putting a pick-up in didn't affect the sound at all.
Q. Why did you do the job yourself instead of having someone do it for you?
A. I did it myself as an experiment really. The first one I did was out of phase and it was great. Then someone came along and put it in phase for me and it wasn't as good. I put it out again and when I go over to the Fender pick-up the guitar's out of phase. It brings the top end up, the treble.
Q. Did you always experiment with guitars?
A. Yeah. When I was in New York I met Les Paul and I went over to his studios and that was really incredible. He had prototypes of every Les Paul he's ever made hanging around the walls and there's a workshop there where he carves them out, old pick-ups lying around and everything… He said, "Oh I know you. You're one of those types… I work for three years to get the right sound out of a guitar and you take the capacitors out and turn the pick-ups round, it happens all the time! He said "I don't know why you bother."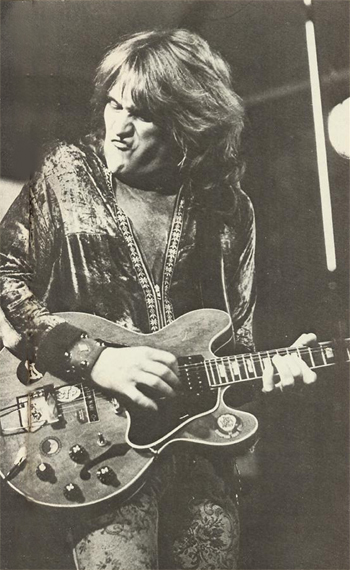 Q. What did you think of his playing?
A. Oh, he's great. He says now that his playing's not so good, arthritis is setting in, but he's still a major force so far as being inventive is concerned. He's into studios and creating new sounds. The big thing with him is timbre, he'll say "That's a nice tone but I don't like the timbre," so he's got all these gadgets for changing the timbre.
He built the first eight-track recorder, of course. He did it disc to disc first, he had his own disc cutters. He recorded a rhythm track on a disc, transferred it from a disc onto another disc and added the next bit on and so on. The quality was great.
He's been responsible for so many breakthroughs, like echo – he's really incredible. He made the first eight track out of bits like a Cadillac flywheel and motor.
Q. Have you always been interested in the gadgets that go with guitars?
A. Not so much the gadgets…in fact, I don't use gadgets, I prefer to have the guitar as the sound generator and the amplifier just for amplification. I don't like pedals…and fuzz especially. I prefer to get fuzz or overload valves rather than fuzz pedals. My own set up is a 15 watt WEM Dominator.
Q. The one with the pointed front?
A. No, not that one, it's one Charlie Watkins made up for me. I have an output from the power amp – low level, so I get my sound off that. I can mike that on stage. I take a lead out of the power and I can just put it through a slave amp and get the sound right. I get the tone I want and I can get the level from another amp. The sound I want is valve overload and in fact when WEM were trying to make me a big amplifier and I was very happy with my ancient 50 watt Marshall, they had a white coated boffin analysing the single and he said "The sound you like is the harmonic distortion of the third octave." So I said "OK". He made about five patents of valve distortion simulators but none of them worked.
The thing with a valve…when it distorts, when you overload a power amp, not a pre-amp, the valves sing – they acquire their own individual harmonic. You play a chord and it's a solid sound, play it through a fuzz and it just disintegrates into a nasty great grating sound. It's O.K. on single strings where you get all that dirty noise in between the notes.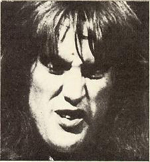 Q. When did you finally get rid of the Marshall?
A. I was working a lot in the studio and when I started the new band, I didn't want it to be 1,000 watt band like Ten Years After, so I used the WEM on stage.
Q. You're into many other things now, like management and your studio, but are you still obsessed by the guitar?
A. Oh yeah, right. Doing all the other things is giving me new inspiration. Hearing other musicians play, mixing with other musicians, my whole scene is one of musical involvement. I went through a period when my music did stagnate, because I was playing the same stuff over and over again and I got over that by getting my studio together, going in and blowing (working / playing) with different people and experimenting – not making albums, not recording tracks. Some of the most enjoyable things I've got down on tape are just jam sessions. They're not commercial prospects, I don't think anyone would buy it, paying $3.50 for 20 minutes of self indulgence on one chord. But it gets me off.
Q. During your period with Ten Years After when you were doing the marathon tours of the States, did you ever get to the point where you never wanted to pick up a guitar again?
A. Not really. I have acoustic guitar spells where I can get into country picking and if I was getting fed up with what I was playing I'd be doing other kinds of music in the hotel room. Guitar playing should be a hobby. When one type of guitar playing became a job for me I'd develop another style of playing as a hobby. I got into jazz, a bit of classical…
I was actually a student of the guitar, I wanted to explore as many avenues as possible.
Q. Have you lost that feeling now?
A. No, but equalling that feeling now is my concern with my studio, because that is an extension of my earlier days of fiddling with gear – even in the very early days I used to have a 10 watt amp and use it as a pre-amplifier and power the Vox with that, doubling the tones and so on. I'm a great believer that it doesn't have to be technically right, provided the sound is right. Sometimes you can feed the whole output of a ten watt amplifier into a pre-amp stage and risk blowing it up – and get an amazing sound, providing it last for the take. It gets a little expensive in fuses though.
Q. Do you still play every day?
A. Yes. It's not like practice, I just fiddle about.
Q. What do you usually play when you first pick up a guitar?
A. It all depends what instrument it is. If it's an acoustic I'll do a bit of picking. I usually start by having a whiz around in E, that's my all-time favourite key, it gives you perfect coverage of two octaves. G gets a bit tight, especially on a 335, you get up to G and it's difficult to use the top A, through E. You see, you've got to whip down to a bass E and then up to a 12th.
I play different guitars differently. With a Telecaster, which gives a tight, nippy sound, I play that style, while with a Gibson, I tend to wail more on it. I've got a Martin which I pick, and a "Sitar-guitar" which has its own thing altogether. I've got a Melody Maker which I play bottle neck. Every guitar has its own inclination, and makes me play slightly different.
Q. Have you played with anyone recently, a guitar player I mean, who has really astonished you?
A. Ollie Halsall is a very good guitar player. At one time, I got tagged with the "Fastest Guitar in the West" title. It was a bit silly really, it was never my intention, but Ollie can play twice as fast as I can, twice as clean, and he's a far better guitarist, he's just unrecognised. He's just over the heads of most people.
Q. We spoke at length to Richie Blackmore in our March issue and he was talking at length about your playing. He said that he was astonished that you play at the speed you do, and yet you only stroke one way. Do you stroke up and down continually, or are you basically a down stroke player?
A. Not completely, no, but in fact I do finger a lot of notes, the passing notes. I pick the E and I can apply the G flat and the G without another pick, and that's how the notes come in. I do back pick as well, I tend to back pick on off-beats. It's more of a left-handed style, especially the fast stuff.
Q. Do you feel that your right hand is weak, that it's your weakest hand?
A. Oh no. No, not really. To tell you the truth, picking every note on the scale to me sounds like the type of style that you learn reading music, and not from listening. I mean to go for an effect of three, I don't have a planned technique for how to execute it – I just throw it around until it sounds good.
Q. Were you always like that or did you go through periods of trying to improve your clinical technique?
A. Oh, I used to play along with Hank Marvin and I got a couple of Buddy Holly solos off note for note. What started to develop when I found Chuck Berry was that, rather than copy what he was playing, I would play along and imitate the style but not actually take his licks, applying my own licks to that feel.
Q. Is that why you originally chose a Gibson?
A. Not really, the reason I played it was that I got it originally for $45.00 – I was stuck with it!
Q. Now, if I may, I'd like to talk to you about the studio. Apart from actually just having it, what has it done to you as a musician, now that you have the facilities to record instantly?
A. It has spurred me on, I mean, it's sitting there, ready to go and all I have to do is have the material, so it's spurring me on to get the material together. The great advantage of it is, for example, if I'm doing a mix down – like when I mixed the Rainbow concert it took me two months, on and off, to do that. The main advantage to that is that if I want tea or if I don't know where I'm going, I can turn it off. I can go out and have a walk, or anything, and come back – it's all there, ready to go, you play it again and get back in fresh. That's the great advantage, if you rent a studio and you come back, everything's changed, you have to start out all over again.
Q. You talked about your material, how much do you have at the moment?
A. Well reasonable. I work in spurts. About August last year, I had a real burst. I write one verse songs, maybe four or five a week and put them down on tape, and I'm still about seven cassettes behind, which is about 14 hours of songs which all need second and third verses and break bridges and choruses and that's the work, that's when I really sit down and lock myself away and get down to it.

Q. Do you manage to slot song-writing into your everyday life?
A. Yeah, I think I do. I've tried sitting sown and saying "I'm going to write some songs today" but I can't do it to order. Another day I'll be watching TV and I'll have to get up and write something.
Q. Of those verse songs, how many do you throw out when you come back to them?
A. I tend to pick the best. It depends what mood I'm in. Sometimes I'll listen to a tape and say it's all rubbish, other times I'll think it's good. So when I start a song I really try to finish it, whether it's good or bad, because I've found that I'm the worst judge. I have a problem satisfying myself, I'm always wanting to do something better than before. When I come back to songs I try to finish them no matter what and if you still don't like it when it's finished, you learn something by working on it.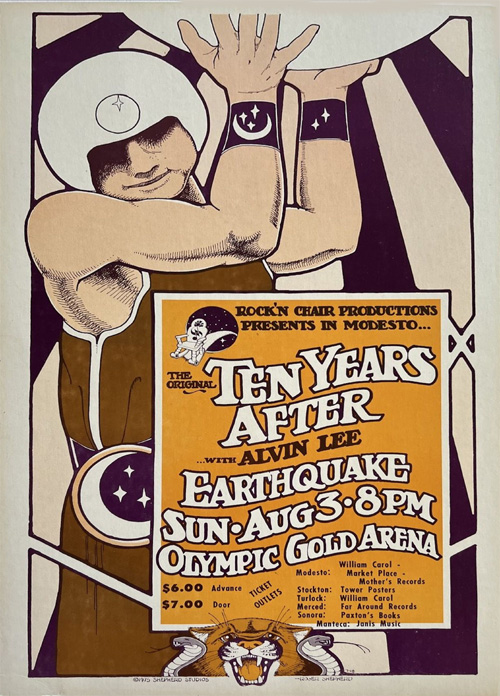 August 3, 1975 - Ten Years After at Olympic Gold Ice Arena, Modesto, California
Contributions - above and below - by Christoph Müller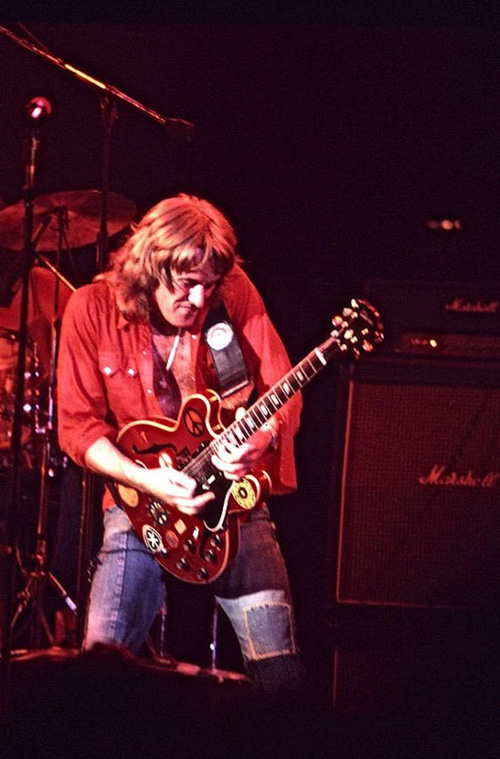 August 4, 1975 - Alvin Lee and Ten Years After at Winterland, San Francisco
Photographer: Ron Draper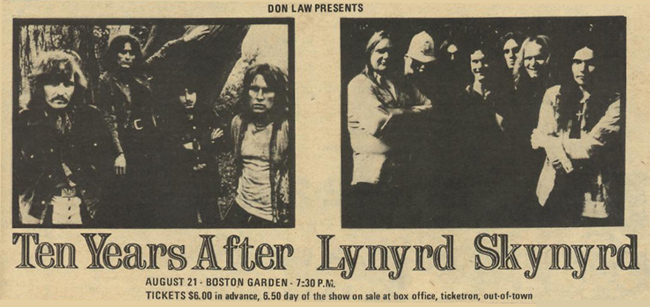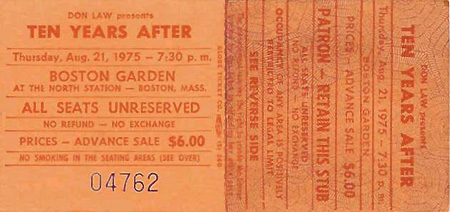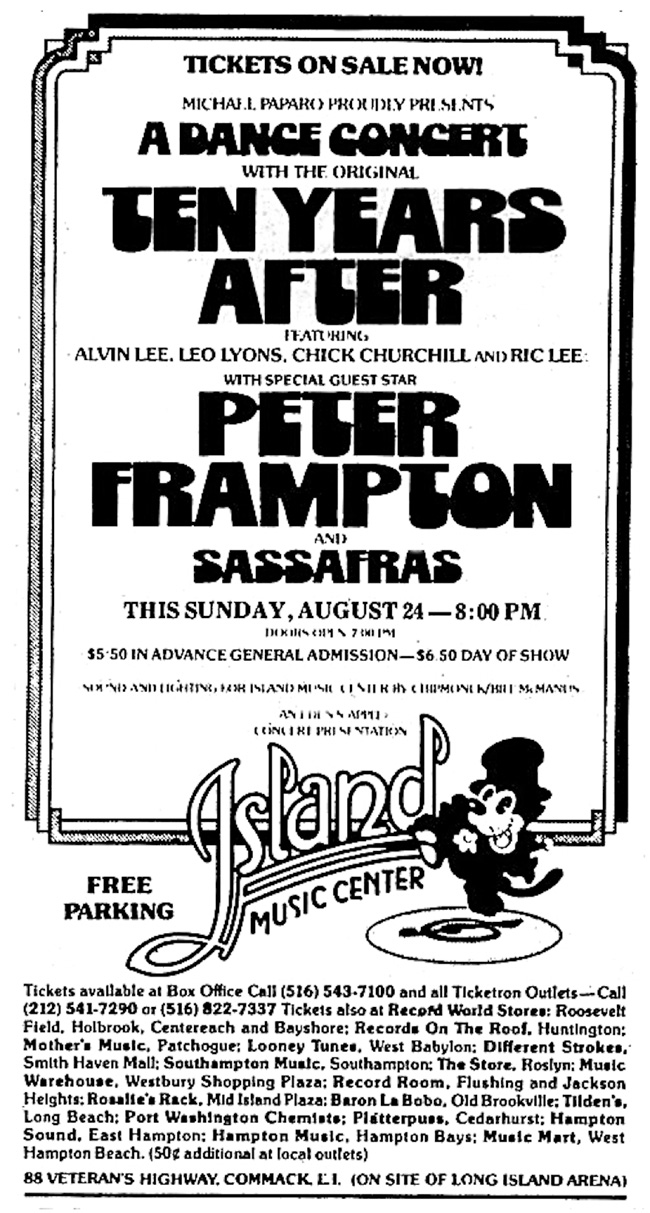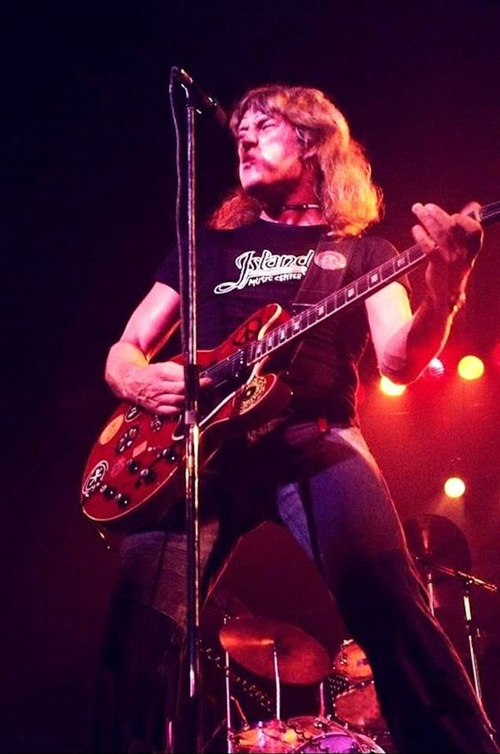 August 24, 1975 - Alvin Lee and Ten Years After at Island Music Center
Commack, Long Island, New York
Photographer: Michael Landskroner
6 September 1975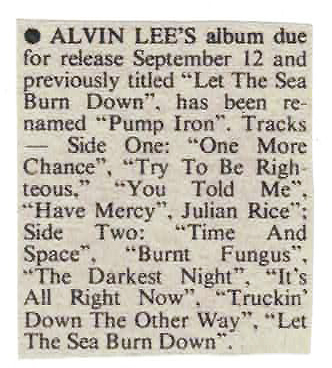 Melody Maker - September 6, 1975
Alvin Lee – "Pump Iron" (Chrysalis 1094)
Gotta keep on keeping on, friends. Keep that old geetar burning hot, with a variety of subordinate rhythms. That in a phrase, is the credo or ethos if you like, of young Alvin Lee, beat king extraordinary. The "Wild Man Of Pop", has returned with a selection of performances that would please any keen student of roll, and indeed rock. If it is to your taste to tap the old foot, or incline the head at an appreciative angle, imperceptibly, nodding to the incessant beat, then this will find a place of honour on your radiogram turntable. The world of rock seethes with argument is the song "One More Chance," the opening piece, a direct result of the influence of Stevie Wonder upon Led Zeppelin? Can one detect Afro-American folk culture roots inherent in such powerful stompers as "You Told Me," and "Have Mercy?"
Would one say that Alvin Lee's soulful dexterity as a guitarist is dependent not merely of years of training, but the incalculable effects of early indoctrination by the works of such masters as Django Reinhardt. Les Paul and Pig Foot Blenkinsop, the partially-sighted Texan Blues Legend? One scarcely need indulge in such high debate, for the music on this entertaining album is designed not to inspire controversy , but to unleash a body reaction, straight from the gut, if not the pancreas. Stomps, shouts and hollers there are plenty, drums pound, keyboards clank and throughout it all, wails the Alvin Lee Axe, on which he performs as if maddened by some intoxicating Eastern stimulant, or bemused by spirit beings. At least, that's the first side of the album.
Elsewhere, we hear Alvin in a more relaxed mood, joined by Mel Collins at the soprano saxophone, as on the lightly swinging acoustic flavoured song, "Time And Space." Those sour critics who complain about the lack of "variety" should listen attentively to these exhilarating passages. And if it is thought that Alvin tends to "Hog" the proceedings, then observe the role of his fellow musicians who make a full-blooded contribution to items such as the immensely dramatic song called, "Burnt Fungus," notable for the sensuous Hammond Organ playing. This is a piece that reminds me of many nights spent in the Speakeasy, Cromwellian, Bag O´Nails, Klooks Kleek and Eel Pie Island during the golden years of British rock, which gave one such inordinate pleasure. The audience on these "Live" performances think so as well, and it is my opinion that the record buying public at large will add their acclaim and make such a significant purchase, that this disc will find its way into the popular best selling lists. If not, then they need their heads examined.
Review by C.W


From October 11, 1975 – Sounds
By John Ingham – At Hookend Mannor
To visit Alvin Lee at home is seemingly to see a man living the perfect fantasy life – 40 room mansion, large gardens, recording studio, colour darkroom, and all the gadgets and toys that makes living in the Twentieth Century so much fun.
Waking up in the late afternoon, he had lain in bed watching "Abbott and Costello Go To Mars". Now he was ensconced in the TV / Video room, a wood panelled room whose only centre of focus was a large television. Beside it stood a very sophisticated VCR and video camera. Alvin likes to make videotapes; he's preserved several concerts for posterity.
We watched a cassette of Ali's Manila Killer and then retired to the sound / film room, passing an enormous r/c glider lying in a window bay. Everywhere you looked rooms extended the spaces occasionally intersected by comfortable furnishings; but unlike Kane's Xanadu, very comfortable.
This second media room is dominated by a Tannoy Malorcan in each corner, though Alvin dismisses quad. A dobro and guitar lean against a speaker, records range along one wall. An alcove holds a slide and 16mm film projector standing on top a bench stacked with cassettes of slides. A fire burns in the grate. In the middle of the room a clump of beanbags cushions in American and Russian flag covers await the body's pleasure. It is here that Alvin writes most of his songs.
DISTRACTIONS:
But is it the perfect life after all? "It's great to have everything you want, but in a way you've got more problems. You've got everything you always wanted and you think. "I should be in the best environment in the world." You wake up in the morning and you're not feeling too good, in some ways it's worse, because you play pinball and then snooker, ride the bike around the garden, and you're still feeling wrong. What I need to do then is work and make myself sit down, but sometimes there are too many distractions. That pinball machine – Christ!"
We should all have such problems. I'd been wanting to corner Alvin for a couple of months. He had told me in an interview that he doubted Ten Years After would ever reform, regardless and / or because of individual pursuits. He hadn't even talked to them on the phone since the break up. A month later a TYA tour of America was announced. Something sounded amiss, something I wanted to get to the bottom of. But first… "Pump Iron", the new album. Given a deadline, Alvin had sifted through the tapes that continually accumulate in his studio, either as glorified demos with himself on all instruments (his drumming is hilarious) or in sessions built from combinations of the familiar names on the back cover. Usually, lyrics were one verse and a chorus or less.
DEADLINE:
With things in reasonable shape, drummer Ian Wallace was called in for one of his spectacular overdub sessions, slotting himself into tracks that were otherwise complete. Later, Boz arrived to perform the same function on other tracks. It was finished at 10 pm the night before the deadline.
An eclectic album, it ranges the gamut from an electronic Sargasso Sea, wherein Alvin mixed down about 50 tracks of noises, bleeps and whirrs, to Alvin Lee and Co. taped live at New York's Academy of Music, which prompted him to construct various songs across that side of the record as though they were being recorded in similar situations. Although this isn't the projected "Chuck Berry album" Alvin's been threatening us with, the same sentiments exist. "A lot of music now I find leaden and boring, overdone. Whereas a lot of the old rock and roll was really subtle—you used to think it was going bash bash but in fact it wasn't. That was what I basically got tired of in Ten Years After, the whole format and attitude of overplay. It worked for the audience—if you hit them in the teeth hard enough they're bound to notice you. I've gotten out of it but I don't underestimate its effectiveness. There are so many tasty musicians who don't get anywhere. If Ten Years After had been like that we'd probably have been appreciated, but no one would have said, "Cor, have you seen this lunatic who plays eight billion notes a minute?"
There—it was out. Is any Alvin Lee interview possible without mentioning TYA, or for that matter, Woodstock"? Unbidden, the magic names hove into view.
"Ten Years After grew into something I didn't want—the heavy rock image thing, and we really tried to keep out of that. But it happened anyway through "Woodstock", which was a complete accident, and it really changed a lot of people's attitudes to what we were doing. Before then it didn't seem so important, just go out there and have a good blow and get people off. Suddenly, it was really big gigs. Gotta play note for note. The fun seemed to disappear when the audience got to 12,000…15,000.
ACQUISITION:
"It wasn't too important to me or I wouldn't have given up doing it. I just really needed a break from that whole trip. It was a good one after the days of starving and in a van up and down the M1. Then the success and the acquisition of worldly goods—gotta do that one, finding out that's not all it's cracked up to be. This is one of the things that strikes me; you sit down and think—especially if you're moving and progressing in what you're doing, the band is successful –you think, "This is a good opportunity, what do you want to do with it?" And you work out a basic plot---get a good house with a studio, plenty of rooms. And then reality.
"You don't wake up every day and say this is incredible, because you get used to it and things still go wrong and pipes burst. It's all relative. I used to live from hand to mouth on six pounds a week and spend eight. It's the same now except it's in thousands. I won't get into business at all. I hate it. Accountants saying you must save and invest in bonds and me saying bullshit. "The funny thing was I didn't even want to make any money, particularly. My original motivation wasn't to be a rock and roll star and be rich and famous, it was to be a musician, and it just went into that."
Listening to all this in a mansion stuffed with the tools and toys Alvin finds essential to his existence was a bit weird, but since arguments based on the notion that "It's easy for you to dismiss material wealth" seemed trivial, the subject wasn't pursued. Rather, I tracked down Alvin's solo projects, which usually start off as hobbies until he begins to think he could perhaps tailor them towards more productive and realistic projects.
FBI he first saw on "Magpie" one afternoon, where they announced that they had neither record company or manager. He contacted them, offered the use of his studio, and has been intimately involved ever since. A recording contract is currently being "lawyered over", and Alvin plans on taking them with him on his next tour in February, 1976. Whether this will be in Britain has yet to be decided.
Concomitant with his love of video, Alvin is also supplying the soundtrack for a projected film on Atlantis by "2001" computer animation wizard Jack Knight, using (your best basso announcer voice, please) computerised animation equipment never before used in the history of motion pictures.
LAWYER'S MILL:
That is, he will be working on it but "it's still in the lawyer's mill, know what I mean? Dee, my business manager will ring when it's all fixed and say, "Okay, go." I'm quite proud of my system now. If someone calls up and asks if I want to do something I say sure, because I don't have to worry about the wheeling and dealing, my business manager sorts it out. If it were to be a good film and do well, then somebody somewhere will make a lot of money out of it and therefore each share has to be worked out.
"I've been reading up on Atlantis…I think it's best to interpret it—keep the mystery, because when you see what it actually was, it wasn't that groovy. Wars like everybody else." Do you believe in all that? "I don't not believe. I very rarely make my mind up about anything because I change it so many times. I was once told my failing as a rock star was that I had nothing to say to people; that I'm not a preacher. But you can't really help the world by telling them what you think." Enough of this dilly-dallying ---it was time to take the bull by the horns. Alvin, a few months ago you told me you hadn't even talked to your compatriots and the next thing….
WHY NOT?
"Ah, yes. I went to Los Angeles on August 14 to cut my album, still not sure whether the tour was going to come off because of a lot of business hassles…lawyers again." One gets the impression Alvin doesn't like lawyers. "So I went prepared to do it whether I got paid or not. I knew Leo (Lyons) would be there because he had come down one afternoon and talked about it and I said, "Yeah". Why not? But the others were unknown quantities. So I flew to Birmingham, Alabama, on the 17th, the band arrived from England that evening and went straight to bed, and we met the next day for the first time in 14 months.
"We decided what numbers we wanted to play on the way to the gig, which was a racetrack. By the second number of our rehearsal it started raining and we ended up blocking out numbers in a trailer, with one amp. Went on that evening and did a great set. It was like turning the old switch on again. By the fourth night we were playing as well as we've played, but we were more enthusiastic than we had been for years." Just like that? It seemed a bit prosaic. Weren't financial aspects a prime motivation? "Yes and no. It was a prime motivation to get the band out. But I made a decision that I wanted to do it for fun rather than---well, we haven't been paid for the tour, and we didn't expect to because of all the lawyers. Business people…"
It was the question, why America? (as if we didn't know) that revealed all. Due to the American recession, only safe, established bands were a guaranteed gate. Ergo, while it was a bad time for an Alvin Lee and Co. tour, it w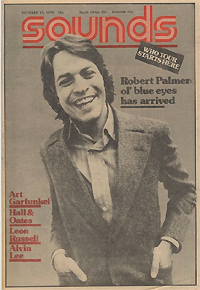 as good for a TYA tour. Manager Chris Wright performed the actual persuasions. As for future tours, Alvin reckons they'll be very widely spaced, if at all.
Even on the road Alvin had kept it all in perspective. In Nashville earlier this year he had wandered through Earl Scrugg's tenth anniversary album, rubbing shoulders with Bonnie Bramlett, Charlie Daniels, Tony Joe White, Linda Ronstadt and an army of other liggers. In Los Angeles, he had jammed with the Scrugg's Revue, noting that when they were really cooking they'd look at each other and perhaps tap a foot.
Back near Music City he had been invited to the second annual Charlie Daniels jam-boree and festival, which showcased just about every Southern musician from the Allmans down. That Alvin was the first outsider to be invited onstage you may interpret as you wish.
It being such a fashionable subject, there seemed only one question left. Are you one of the exalted 90 percent taxed? "Not really. I don't make a lot of money myself, it all gets used up before I get any. I'm staying by choice—I could live in Vienna and not be paid for doing a tour; I might as well live here and not get paid."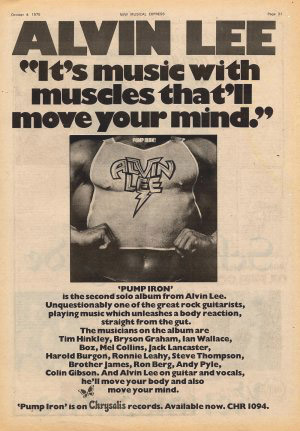 New Musical Express 10/ 18/ 75

Alvin Lee: Pump Iron (Chrysalis)

Alvin Lee may be a nice bloke, but all his taste's in his mouth. "Pump Iron" is a great title, except that Lee's familiar alchemy transmutes the iron into lead. He has assembled a band here around the potentially excellent drummers Bryson Graham and Ian Wallace with Bad Co's Boz on bass. The formidable Mel Collins and Jack Lancaster take care of horns, while Ronnie Leahy (formerly of Stone The Crows) plays organ. At various points Boz is traded in for either Andy Pyle or Colin Gibson, whilst at others Ron Berg plays drums.

Side one opens with "One More Chance" a plodding cement-like attempt at black funk bisected by a totally

undistinguished solo by Lee. "Try To Be Righteous" is a limp-wristed reggae with extraneous acoustic guitars and redundant chord changes. Occasionally flat. "You Told Me" is "One More Chance" played backwards, while "Have Mercy" is a

mid paced blues bursting at the seams with clichés.

"Julian Rice" closes the first side with all the verve of a sloth on mandrax.

Side two is similarly forgettable; Lee is apparently unable to pull out one single decent riff. The sidemen all

Sound totally bored; they seem similarly incapable of providing anything of intrest.

I really cannot fathom how Chrysalis allowed themselves the extravagance of releasing this album. "Pump Iron"

is one of the most redundant albums I've ever heard.

Pure tapwater.

Pete Erskine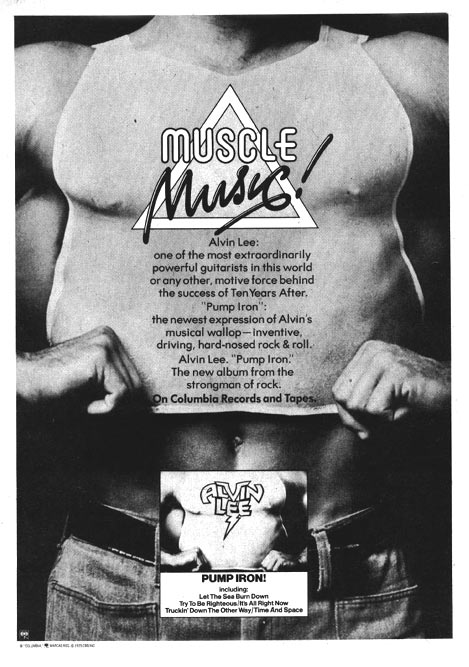 Rolling Stone Magazine 11 / 75

Pump Iron

- Alvin Lee

Columbia PC 33796

Since divesting himself of the other members of Ten Years After, Alvin Lee's music, both here and on the previous

In Flight, has taken on a stronger R & B feel and focused on his vocal abilities as much as his guitar.

Pump Iron follows the same pattern as it's predecessor –a solid upbeat –R & B meets Anglo-flash format with Lee backed by well-known friends (Boz Burrell, Ian Wallace, Mel Collins and others) who perform with restrained expertise.

Lee still spins a few "Goin' Home" riffs ("Burnt Fungus") and even adds a love song ("The Darkest Night") but

most of this album is white, English and hard. Those who remember Lee only as the finale to the movie Woodstock

may find the diversity of Pump Iron appealing.

By Alan Niester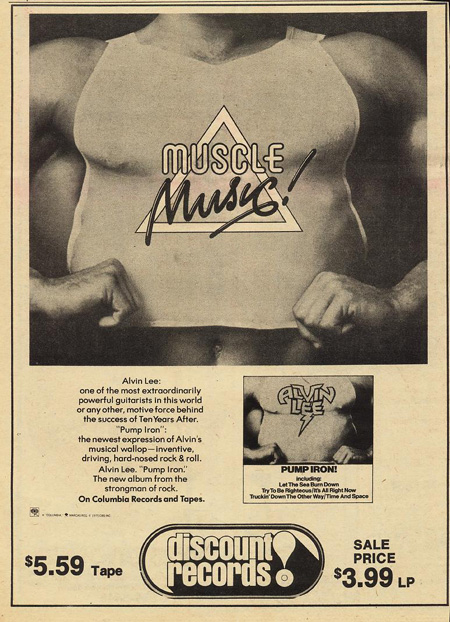 Melody Maker Magazine

Alvin Lee - "Pump Iron"

(Chrysalis CHR 1094)

Gotta keep on keeping on, friends. Keep that old geetar burning hot, with a variety of subordinate rhythms.

That, in a phrase is the credo, or ethos if you like, of young Alvin Lee, beat king extraordinary.

The Wild Man Of Pop, has returned with a selection of performances that would please any keen student of roll,

And indeed rock.

If it is not to your taste to tap the old foot, or incline the head at an appreciative angle, imperceptibly, nodding

to the incessant beat, then this will find a place of honour on your radiogram turntable. The world of rock

seethes with argument. Is "One More Chance" the opening piece a direct result of Stevie Wonder upon Led Zeppelin?

Can one detect Afro-American folk cultural roots inherent in such powerful stompers as "You Told Me" and

"Have Mercy?" Would one say that Alvin Lee's soulful dexterity as a guitarist is dependent not merely of

years of training , but the incalculable effects of early indoctrination by the works of such masters as

Django Reinhardt, Les Paul and Pig Foot Blenkinsop, the partially-sighted Texan blues legend? One scarcely need indulge in such high debate, for the music on this entertaining album is designed not to inspire controversy, but

to unleash a body reaction, straight from the gut, if not the pancreas.

Stomps, shouts and hollers there are a plenty, drums pound, keyboards clank and throughout it all, wails the Alvin axe on which he performs as if maddened by some intoxicating Eastern stimulant, or bemused by spirit

beings. At least that's the first side.

Elsewhere, we hear Alvin in more relaxed mood, joined by Master Mel Collins at the soprano saxophone, as on the

Lightly swinging acoustic flavoured "Time And Space." Those sour critics who complain of lack of "variety"

Should listen attentively to these exhilarating passages. And if it is thought that Alvin tends to "hog" proceedings

Then observe the role of his fellow musicians who make a full-blooded contribution to items such as the immensely dramatic

"Burnt Fungus" notable for the sensuous Hammond organ playing. This is a piece that reminds me of many nights

spent in the Speakeasy, Cromwellian, Bag O' Nails, Klooks Kleek and Eel Pie Island during the golden years of British

rock, which gave one such inordinate pleasure.

The audience on these "live" performances think so as well, and it is my opinion that the record buying public

At large will add their acclaim and make such a significant purchase that this disc will find its way into

The popular best selling lists. If not—then they need their heads examined.

By C.W.