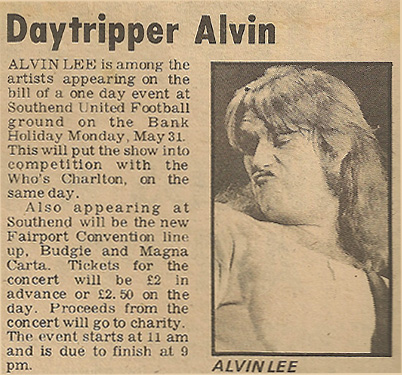 RECORD MIRROR - April 10, 1976
New Musical Express

April 17, 1976

Alvin Lee's Band In Concerts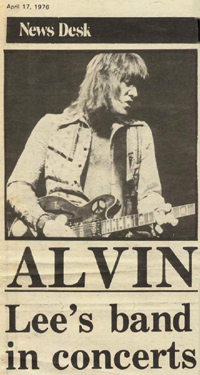 News Desk:
Alvin Lee is going out on the road again, opening later this month, and he has completely re-vamped the line up of his backing band – although it will still be going under his standard billing of Alvin Lee & Company. The British dates will serve as a preview to the outfits new album, which is due out at the end of next month.
With Lee featured on lead guitar and vocals, he is joined in his new look outfit by highly respected keyboard player Tim Hinkley, who has previously worked with at least a dozen different name bands; drummer Bryson Graham, best remembered for his work with Spooky Tooth; and spells with Savoy Brown and Blodwyn Pig.
A spokesman commented: "This is not a question of the old band having split or been sacked. Ever since he started working as a soloist, his backing band has always been flexible. He simply signs up musicians on a short-term basis, to cope with what ever bookings he has in hand at any particular time. It never was a permanent band".
The new Alvin Lee album is titled "Sagitar" and is scheduled for May 28 release by Chrysalis. It will be preceded, in about three weeks time by a single called "Sea Of Heartbreak" a revival of a former hit by country artists Don Gibson.
First dates confirmed for the band are Cardiff University (30) Birmingham Odeon (May 1), Bristol University (7), Ipswich Gaumont (8), York University (15) and the open air concert at the Southend United Football Ground on Spring Bank Holiday May (31).
It is understood that a few more dates and venues have still to be finalized, and they may well include a major London performance. Lee's appearance in the Southend gig, plans for which were revealed by New Musical Express last week, is still subject to confirmation. Said the the spokesman: "Alvin hasn't yet signed a contract to take part in this event, but it is 95 percent certain that he will do so, as he likes the idea of the concert and the charity it is benefiting.
Record Mirror – April 17, 1976

Lee Line – Up On The Road
Alvin Lee is taking the new line-up of his band out on the road this month for seven dates.
He has a single out in three weeks titled, "Sea Of Heartbreak". They are currently finishing an album, "Sagitar", which will be ready for release at the end of May. With Lee in the band are:
Tim Hinkley (Keyboards), Bryson Graham (Drums) and Andy Pyle (Bass).
The dates are: Cardiff University (April 24), Bradford University (30), Birmingham Odeon (May 1st) Bristol University (7), Ipswich Gaumont (8), York University (15) and Southend Football Ground (to be confirmed) May 31st.
Alvin Lee Band - Tour Dates 1976
April 24, 1976 – Saturday, Cardiff University, England
April 30, 1976 – University of Bradford, England
May 1, 1976 – Odeon, Birmingham, England
May 7, 1976 – University of Bristol, England
May 8, 1976 – Ipswich, Gaumont, England
May 15, 1976 – University of York, England
May 19, 1976 – Queensway Hall in Dunstable, England
May 22, 1976 – Leicester De Montfort Polytechnic – University, England
May 23, 1976 – Roundhouse – Chalk Farm in London, England
May 31, 1976 – Open Air Concert in South End United Football Ground, England
June 6, 1976 – Sunrise Festival in Offenburg, Germany
June 13, 1976 (Friday) – Midnight Special - A ten minute unreleased song, Ain't Nothin´ Shaken´ (but the leaves on the tree) and The Devil's Screaming
SOUNDS May 1, 1976

| | |
| --- | --- |
| AT 3PM, Alvin Lee, benevolent despot, was still asleep – he hadn't gone to bed until 9:30 am – so it seemed a good excuse to take the obligatory tour of the grounds. | |
The onions were coming up nicely in the expansive vegetable garden and the grape vines being sprayed by a gardener in one of the many greenhouses looked well established. The geraniums also seemed to be doing well.
Across the fields, where the verdant green of spring battled for attention with the shrill cries of cocky sparrows and jaunty finches, the chimney smoke rose from the cottages of Alvin's tenant farmers. Their welfare is Alvin's concern. It's a hard life, rock and roll despotism.
Within the manor, the lord had risen and was reviving his consciousness with tea. Around him staggered some of his band and co-producer Chris Kimsey. The latter, with bassist Andy Pyle, had just completed thirty hours in the studio, emerging with bass track to "Friday The 13th", a potential song for Alvin's new album called "Rocket Fuel".
Alvin turned the discussion of the track to his publicist. "I've got a story for you. We've tried to record this track on each of the last four albums, but every time something happens that makes it impossible. So when we did it this time we called in an exorcist". "Is that so?" "Yep." Alvin looked pleased. "It's not true, but it's a good story" Retiring to the listening room, Mr. Kimsey threaded the tape in question onto the Revox. Fresh from producingPeter Frampton's last two extravaganzas, his presence was for his ability to obtain good vocals and keep Alvin "If-it's-not-right-in-three takes-forget-about-it". Lee at the post until it was perfect. It's this attention to perfection that caused him to produce "FBI's" album, which in turnhas earned him the job for Kokomo's next outing.
The assembled lounged amongst the comfy floor cushions as four Tannoy Malorcans blasted "Friday The 13th". The bass bounded and leaped like a steamroller in heat while a flight of Alvin Lee guitars cruised in tight formation immediately overhead. Every so often was an excellent imitation of someone ripping the strings off an innocent instrument at full amplification. This track was said to be indicative of the dirtier side of Alvin Lee and Company Mark 2's burgeoning output, a brace of numbers that will stand up on stage. Mr. Lee, needing a deadline as impetus – after all, as part of the Legendary Gits with Boz, Ian Wallace, Tim Hinkley and Mel Collins, he had done nothing for a year except record every weekend, precisely because there was no motivation to meet the public- had live dates arranged and a record release date before a band had been assembled. Oh, there was the odd person, but auditions and selection was required, until, with an ensemble assembled four weeks ago, rehearsals and tapings could happen simultaneously in the barn-shaped studio.
But Mr. Lee. Playing? Going on the road? "It's a physical need. I'm getting bored with sitting here, I need to see the M1 again, the Blue Boar. It'll keep us off the streets". Are we to consider this a permanent aggregation? "It's quite possible. It depends on who falls over first".
The plan as envisioned, is to just keep extending gigs beyond the initial tour, playing three or four nights a week, keeping the hand in. An American tour is scheduled for the autumn. The difference between this "and Company" and the first such was that the latter was very quickly gathered on a musical basis, regardless of personality. It immediately split into about three groups. Mark 2 has been assembled by the opposite process. Mark 1, was also an experiment in directions unfamiliar to Alvin, "which weren't really up my street. "But the journey of being a musician is to take up different paths and explore them. We just got to a point where I was playing out of my depth. This group is much more basic, heavy R & B based. I think there's a tendency to discount what you do best because it's easiest".
The group had moved to the TV room. The sun steamed through the mullioned windows, playing across the wood panelling and the 50 video cassettes littering the floor in front of the television. Outside an open window, finches chattered as they attacked the suspended bag of suet. A breeze rustled the turf of the croquet lawn. The leaves on the trees scraped together. It was a hard life, in the country. ---------- By John Ingham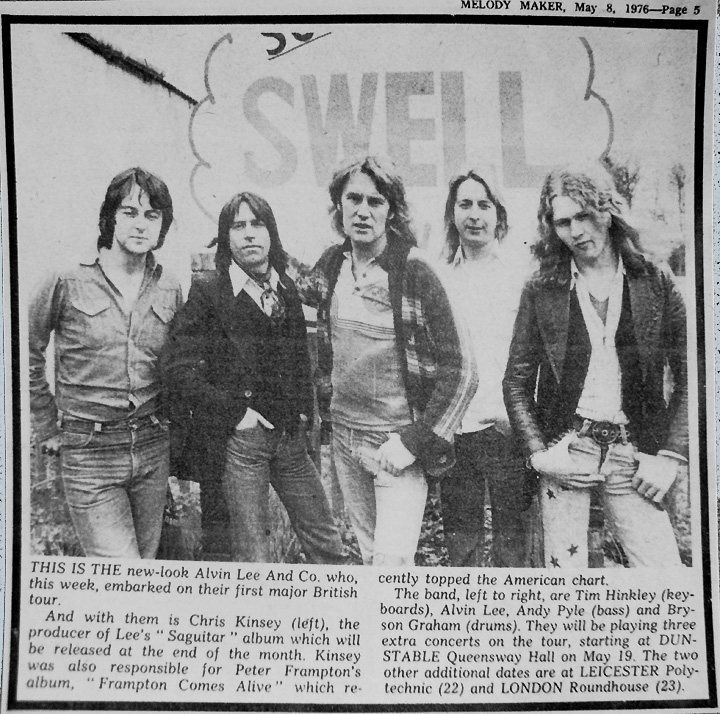 Many Thanks to Claudia Staehr (from Herb Staehr's Collection)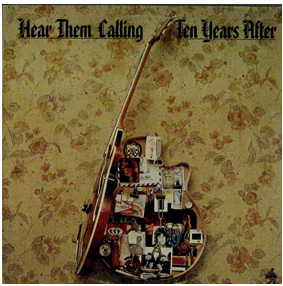 Another "Best Of" Collection by NOVA Records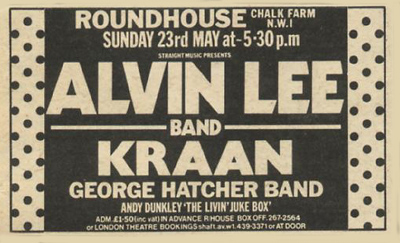 Alvin Lee At London's Roundhouse 1976
Of course everyone knew it was going to happen. By the time the opening band had finished their set at London's famous Roundhouse (the famous locomotive turn around point) on Sunday afternoon, the fact that Jeff Beck was going to make an unadvertised guest appearance was a completely open secret. Exactly with whom he was to play was less well known, so when ex-Mahavishnu Orchestra keyboard man Jan Hammer walked on with the rest of his band, including Steve Kindler, who played violin on Hammer's last album, with Fernando Saunders, bass, and Tony Smith, drums, it looked like we were going to witness a real summit meeting.
While it wasn't quite all that, as it turned out, but it will do to be going on stage with.
After a powerful opening with "Country and Eastern Music", off his album with Jerry Goodman, Hammer called on "a guest guitarist who will join us right now" and Jeff Beck walked onto a storm of applause. They all then swung right into "It Doesn't Really Matter" from Jeff's own "Blow By Blow" album, and it became perfectly clear, that this was not going to be any ordinary meeting of the minds. For the blend of two apparently disparate styles – Hammer's cerebral "Funk" and Jeff's "Blues Tinged Note Bending", has enormous potential. But to be totally honest here, the full potential of what could've been, wasn't entirely realized on this occasion.
Jeff Beck seemed somewhat understated and uncomfortable in his new role as a guitarist in the band. Even if he was set up specially as a featured soloist – which wasn't a role that he has played since the break up of the Yardbirds. Also, with the Hammer material he often seemed merely to be duplicating Kindler's violin lines.
Hammer on the other hand, really seemed to be getting off on Jeff's presence. They were a hard act to follow for sure, and to be fair to the German band Kraan, who were the main support group, they did their very best. Forget everything that you've heard about German Rock Bands so far, that they are difficult, introverted, philosophical stuff, high on electronics and low when it comes to body rhythms – because Kraan aren't anything like that stereotype at all. What they are is funky and exciting, although sadly, it didn't come across too well on Sunday.
That left us with Alvin Lee, who must have had mixed feelings about his surprise guest. Alvin had two alternatives in which to choose. First, he could've pounded the opposition into the ground with pile-driving, heavy metal guitar work, along with five million verses of "I'm Going Home" just like in the Woodstock movie; or, he could show us just how tasty he could be under extreme pressure. Wisely, for my money, Alvin choose the latter option. But, though comparisons would be odious, they are also inevitable.
What Alvin doesn't have, is Jeff's melodic flair and surprisingly he didn't throw his guitar (axe) around as much (as usual)But he acquitted himself reasonably well under the circumstances.
Article written by Karl Dallas
---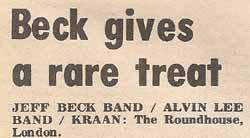 Record Mirror Magazine – "Beck Gives A Rare Treat"
May 29, 1976 – Jeff Beck Band / Alvin Lee Band / KRAAN
At The Roundhouse, London
The rumour was going round, that the legendary Mr. Beck was to put in an appearance at Chalk Farm on Sunday. By that afternoon, the whisper had become a shout, and it was no surprise when the Jeff Beck Band was announced.
The surprise came with the sound they came up with – and what a band: bass, drums, keyboards, electric violin. How does Jeff Beck fit into that? Very well really, he has not altered so drastically, just changed his surroundings to give him some fresh scope.

And if it sounded a bit like the Mahavishnu Orchestra at times, it can have been due to the fact that the man behind all those keys was Jan Hammer. The combination of forces is a rare test.
The concert also marked the return of Alvin Lee after a lengthy adjournment. During that time, he hasn't forgotten a single trick, but then, he hasn't exactly learnt a lot either.
He's still going up and down those frets at great speed, spitting out riffs and licks, and rocking loud. That's what the hair shakers wanted to hear,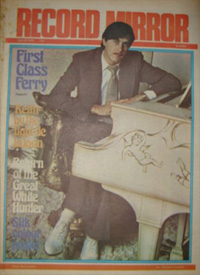 and that is what they got.
German band "KRAAN" gave and expert demonstration of how you could be exciting and subtle, and still rock. Their set lived up to all expectations, from their excellent live double album. They are very tight as a unit, but still have plenty of room for individual expression, through wandering solos, which cleverly come back to the main theme.
It was a great night for guitarists, and Peter Wolbrandt made his mark, as did their remarkable bassist, Hellmut Hattler. Perhaps the crowd couldn't make out the song titles, but they understood the music.
Review by David Brown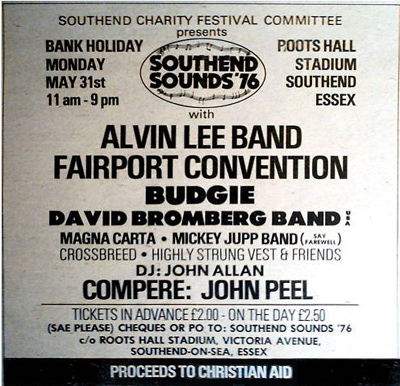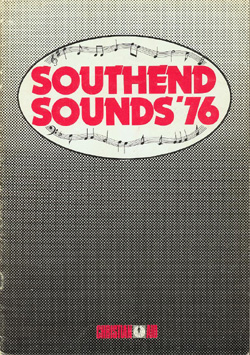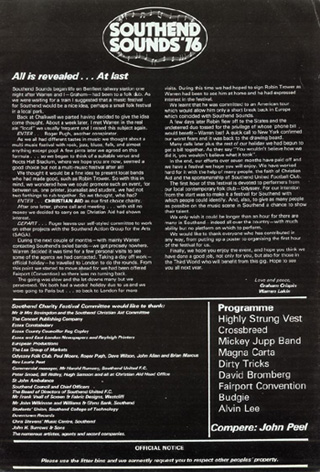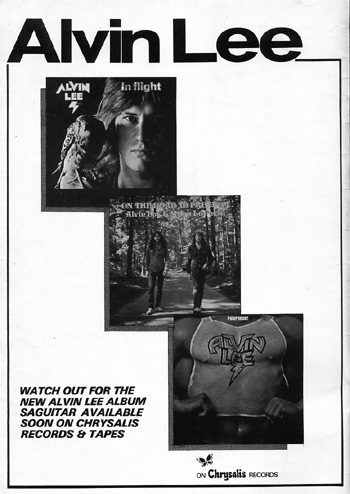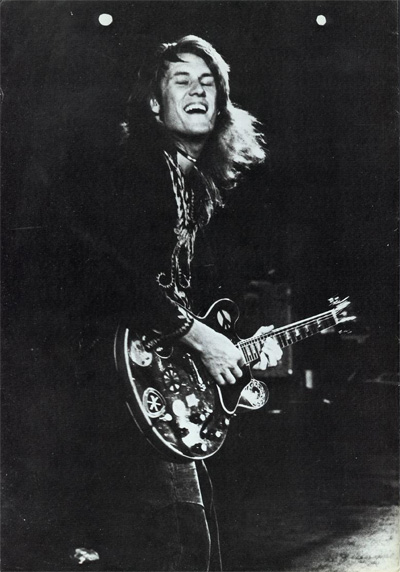 Alvin Lee working hard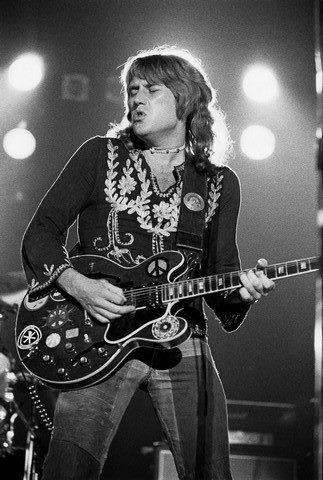 Southend Music Festival 1976:
The growing national trend to use football stadium's for music festivals has spread to Southend, on May 31, 1976, when Roots Hall took on the Southend Music Festival, that is hosted by Radio 1 Disc Jockey John Peel. On the music menu, includes such acts as:
Budgie, Fairport Convention, Alvin Lee Band and The David Bromberg Band. As well as the farewell performance of Southend's own Mickey Jupp Band. Reports say that some 3,000 music fans enjoyed the event.
Southend Sounds 1976, is the closest that we ever got to a music festival at Roots Hall Football Ground.
It featured Alvin Lee of Ten Years After fame, in the top billing slot.
May 31, 1976, The Open Air Concerts at Southend United Football Ground, England.
Southend:
Colin Burnes – Drums – Colin's musical career includes playing to 10,000 people at Southend Football Club on the same bill as Alvin Lee, Budgie and Fairport Convention. Essex born Colin, has been involved in the live music scene in East London and Essex for many years.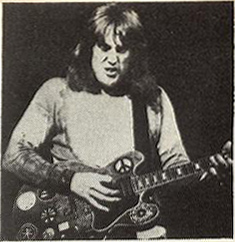 MUSICIAN - June 1976

Alvin Lee – Has A Problem !
By Eamonn Percival
Alvin Lee has got a problem. He may not be aware of it – although I suspect he is, but he really has to get off his arse and rock and roll, if he is going to sustain his position in the ranks of rock's elite. He's worked hard to get there, but he will have to work just as hard to stay there. Over the last couple of years, he has lost a lot of ground and every week sees a new "Guitar Super Hero". Not that he particularly wants to be a "guitar-super-hero", he had enough of that with Ten Years After, but his forte is undoubtedly his six string dexterity.
Ten Years After was the band that elevated the name of Alvin Lee to superstar status. In the early sixties blues boom, it was a case of the faster you play, the better you are. Alvin learned to play fast. From "a good band with a fair guitarist" Ten Years After became "a great guitarist with a fair band". The band did particularly well in the States always thirsty for boogie, and America took Alvin Lee into their hearts and he came out "A Superstar". The film Woodstock put the seal on it. Alvin's red hot solo on "Going Home" was for many, the highlight of the film. Ten Years After were now "Big Business", but it was the beginning of the end for the band. Alvin became disillusioned everywhere they played, the audience wanted to re-live the film. Cries of "Going Home!" eventually provoked Alvin Lee into returning home to England. The band split and he retired to his modest £ 100,000 mansion near Reading, presumably to "get himself together". 1973 saw an album called "On The Road To Freedom" which Alvin recorded with Mylon Lefevre who was a very powerful gospel singer. It was a complete change of direction for Alvin, and his new found independence and renewed enthusiasm culminated in a new road band, called "Alvin Lee and Company", which consisted of Mel Collins (Saxophone) Ian Wallace (Drums) Tim Hinkley (Keyboards) Alan Spenner (Bass) and Neil Hubbard (Guitar). With a minimum of rehearsals, the new band performed one outstanding performance at London's Rainbow, from which the "In Flight" double live album was taken. After the phenomenal success of that gig, Alvin went on to do a world tour, with a slightly different line up, with Ronnie Leahy replacing Tim Hinkley and Spenner's place was taken by Steve Thompson.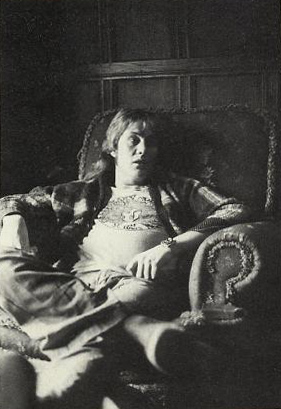 In the summer of 1975, Alvin dug up Ten Years After for another American tour. Unfortunately, the tour coincided with the release of another Alvin Lee solo outing, called "Pump Iron" It was a fair album, but not strong enough to sell on its own. With Alvin touring the States, "Pump Iron" didn't really live up to expected sales. He returned home and set about looking for members for yet another band. His old pal Tim Hinkley was brought in on keyboards, along with Bryson Graham and Andy Pyle playing drums and bass respectively. Together, they recorded an album which should be released in the near future and are now busy rehearsing in preparation for the road. A trip down the M4 to Reading was the order of the day. Four in the afternoon found Alvin only just surfacing, he had been in the studio until eleven that morning, and after a reviving coffee, we retired to the T.V. room to conduct the interview. A video recorder, countless cassettes, a T.V. camera and other playthings littered the floor, while our hero relaxed in an antique armchair and lit up the first in a long chain of cigarettes.

Perhaps Alvin's lifestyle has something to do with his "Problem". Tucked away for most of the year in this gigantic house, next door to an enormous converted barn, housing a professional sixteen track recording studio. It's a comfortable life for a humble Nottingham lad, perhaps a little too comfortable. There's always the temptation to hibernate for most of the year, and only occasionally popping across the Atlantic for a short tour with Ten Years & Company or whoever, eventually returning to Hookend Manor to escape and recuperate. Of course, there's always the studio to keep him occupied at home, but I couldn't help but wondering if his sojourns into the studio are really borne out of a deep desire to be creative or a deeper desire to escape and relieve the boredom.

With the new band, however, he seems to have found a brand new enthusiasm. There is a definite change in direction as he explained this way: "With the music that I've been doing in the past, I was influenced, like a lot of people, by funk and soul. The Rainbow gig we did, had very funky leanings, and the second Alvin Lee and Company band was sort of jazz / funk.

When I went out on the road with them, I thought that instead of being a sort of copy of Cornell Dupree, I should really get down to doing what I do best. It's a musician's trip, always trying to play above yourself. Playing jazz and things with more taste, that would be appreciated by other musicians but that's about it. When all was said and done, we really did have a good funky band, but it was nothing like: The Meters or Kool And The Gang, so it's all down to getting back to the Rhythm and Blues roots now. What's good about it now is that, previously I got the very best musicians that I could find, where as now I've got a band.

The four of us are a unit, which is really nice. It's like the first three years of Ten Years After. Everybody's really into what we're doing, and it's a very communal thing".

Ten Years After stopped being "fun" for you then?

"Ten Years After went through that but then lost it. It's like the very early days, all over again now. Sometimes we sort of sit around talking about what we'd like to do for about three hours. Discussing various records and new directions and things like that". The friendship that exists within the band is very important to Alvin. For the first time in quite a few years, he is working with friends as well as musicians.

Alvin continues: "It really is important to a band, and it shows in the music as well. Like, we'll be doing a take and it might not be quite right, so we come in here and sit around and get our heads together. It's a whole different thing, and it just gells".

When asked how permanent the band is, Alvin was a trifle hesitant in replying. "Well, it's a permanent as……well, it could well be permanent . I'm quite optimistic. It's just a really nice unit to work with". Before they started recording the album, the band had only been together a matter of weeks.

They rehearsed the numbers for a week, cut rough versions in the studio and then took them away for a weekend to "live with the songs". When they came back, arrangements were ironed out and the songs recorded. Alvin says: "It was like the equivalent of three months on the road. That's the reason the whole thing is coming together so quick. It's like when you're on the road and you're doing a number, and you think to yourself "Oh I'd like to put this in here" and by the end of the set, you've forgotten all about it. When you've got it down on tape, you can analyse it in different moods. And when you record it and listen to it afterwards, everyone is very critical. It's an amazing facility really, having a studio to rehearse and record in".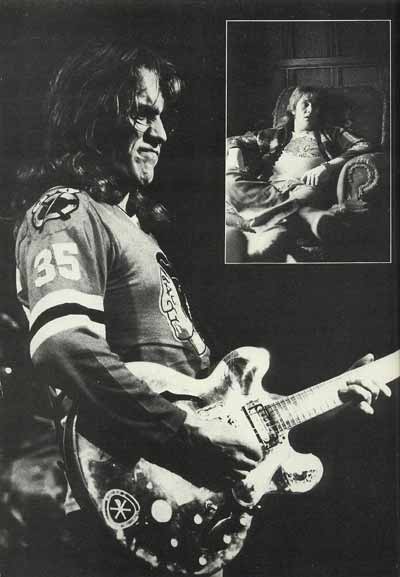 In keeping with Alvin's principle of "getting back to the roots" most of the tracks on the album will be very basic. He is insistent on not doing too many overdubs. He adds: "Most of the stuff I really used to get off on didn't have eight overdubbed voices or anything like that. The old Elvis and Jerry Lee Lewis and Little Richard stuff was all done in just one take, usually. They might have had to do it a load of times, but when they got it, they really got it. I think overdubbing really only helps if your basic track is weak. What we found is with the tracks we've done, overdubbing just doesn't fit because the basic tracks are good. Unless you're super careful, you tend to cross whatever is already happening. You can very easily go too far, and it can happen a lot with multi-tracking too."
Alvin tells me that he's co-producing the album with Chris Kimsey. The partnership goes back a long time, to the days when Chris was engineer at Olympic Studios and he worked on three Ten Years After albums. It is the first time Alvin has used another producer, and he's very pleased with the results. Alvin adds: "He's really good, and it really helps. It's like having a really attentive ear in the studio. It sounds very different up there in the control room. You can get too close if you're producing yourself. Like, I might play a part on the guitar and think to myself "Yeah, that's the one" and Chris will say no, that's not right, and then sometimes I'll do a bit and think to myself: "No that wasn't right" and Chris will like it. A mistake you might try to bluff out of sometimes, turn out to be the best licks. It's just because if you didn't do what you intended to do, you think it's wrong".
On most of the basic tracks, Alvin sticks to his old Gibson ES-335 Guitar, although he sometimes uses a Telecaster or a Stratocaster and various acoustics. He also finds that when he changes a guitar, his playing style alters accordingly. "I picked up a really old Stratocaster in Texas. It's a beautiful guitar, one of those that seem to play itself. The notes sound so nice, you don't have to play a lot. With my stage Gibson, I use a very heavy bottom E string so that if I'm playing up high, I can whang down on the bottom string and it sounds like a grand piano. Where as if you do that with a Les Paul or a Strat, it just doesn't happen because the note just bends away. Also, on the Gibson, I've got heavy gauge Gibson strings for the E,A and D and then the top three are light gauge Fender Rock and Rolls, because they're the one that I bend. That came about by accident really. I was in the States, and I used to use fairly heavy strings, but I cut my finger once and decided to put light gauge strings on the top, so they were easier to bend. Since then, I've just got used to that set-up".
Apart from his own band, Alvin recently became involved with an outfit called FBI (Funky Blues Incorporated – 1976) Just over a year ago, Alvin was watching T.V. when he spotted them playing on a children's show. At the time the band had been slogging around the London pub circuit and getting nowhere fast, but Alvin liked them and offered to lend a hand. He invited them over to his studio and with Chris Kimsey, they both helped to get their sound down on tape. Their first album was recently completed at the studio, (Space-Studio) and Alvin is still very much involved with them. Alvin says: "We've been having a bit of trouble getting them the right set up. They're going to go with me on the tour, and it will be a bit different for them, having to play to a seated audience. They're basically a club band. They're great at somewhere like Dingwalls, but they need experience playing concerts.
The trouble with looking after a band a band like that is from the business angle. I'm not a great businessman. Warner's wanted the band right from the get-go. They heard the demos we did and they said, "Great" so we worked out a deal and everything. Then with my lack of business knowledge, I told everyone else who were interested in them that it was off and that we were going with Warner Brothers. "A few days before it was all signed, sealed and delivered,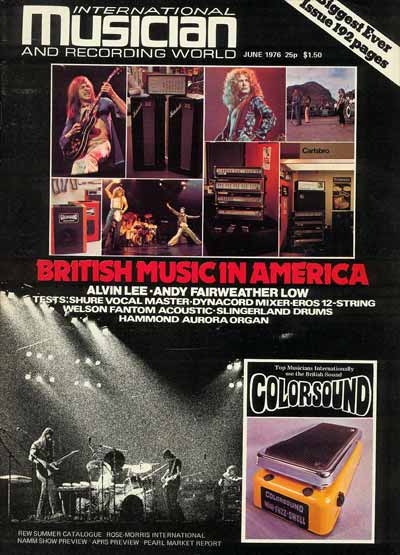 Warner Brothers called the whole deal off – they had cut-backs and closed some of their offices and even dropped some of their artists. By that time, I'd blown it with everyone else. Now, we've got Polydor really raving about the band in Europe, and the guy in England doesn't like it. We almost had a deal in England tied up, but the guy wanted the option for America too, which was totally ludicrous, because they were going to see if it sold in England first, and then release it in America six months later. Well, ideally I wanted it out at the same time. So I've given up trying to be a businessman. It started to affect me. I wasn't playing any music. Some people can get into all that, but I'm not inclined that way. I mean, I'd get stoned and go into a meeting and tell them exactly what I thought and what I wanted to do, and that's not the sort of thing to do in the business world" !
After a month long British Tour, Alvin will go to the States in late August, although it's doubtful that FBI will support him on the American jaunt. He says: I'd like to take them with me, but it could cost a lot of money. They're a nine piece band, and with hotels and plane fares alone, it could be quite expensive. "Naturally, after his problems with Ten Years After in the States, Alvin hasn't set his sights firmly on the USA. The question remains then, where does he see the bands future?
"Well, I don't look at it like that. It's really seated in the music. If the music's good, then we'll go anywhere".
Sunnyside Up Side: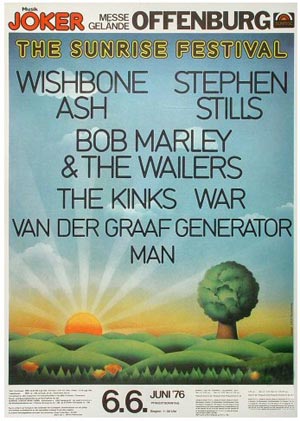 June 6, 1976 – Sunrise Festival – Offenburg, Germany
On the bill are: Van DeGraaf Generator – Man – War – Procol Harum – Wishbone Ash
Bob Marley and The Wailers – The Scorpions – Stephen Stills – The Kinks – Barclay James Harvest – Little Feat and The Alvin Lee Band: Alvin's set list: Gonna Turn You On – Friday The 13th – Midnight Special – Ain't Nothin´ Shakin´- The Devil's Screaming – and one ten minute untitled song (I'm Going Home was the song).
The concert misinformation, list Ten Years After as playing here, but in truth, it's "The Alvin Lee Band" as Ten Years After separated in 1974. The Alvin Lee Band made a surprise last minute appearance.
Richard E. Kesel says of the festival, with the distance of thirty-five year span in between, "of course everyone was relieved when it was around, not to mention all the smoke, and being ankle deep in garbage". However, vibrate with a bit of satisfaction, that it has remained in spite of all the prophecies of doom, a largely peaceful rock concert, that is still talked about decades later. It was an Open Air Festival that took place at the Offenburger inlet, where a reported 18,000 people attended, paying twenty DM per ticket. Good times back then.
It was referred to as a "Festival of Friendship". Also there was Tony Prince, who was the chief spokesman for Radio Luxemburg, working from the Offenburg Festival. It should also be noted, that this festival occurred on Pentecostal Sunday. People started arriving with tents, sleeping bags, cooking pots and pans, cooking stoves, aprons, packets of soup and with guitars in hand. Individually, the audience members represented, The U.S.A. – Germany – The Netherlands – England – Brussels – Spain……you name it, these thousands of rock disciples of, most dressed in adventurous nomad like clothing, in light summer attire.
To put it into context, 1976 was the year disco overruled all other music – "Grease" (the movie and the Bee-Gees soundtrack) was in, and rock was out. It was now seven years after the historic Woodstock 1969 Festival and the Hippie Trial was now stone cold at best.
But this event, was no doubt, the loudest Pentecostal concert that the residents of Offenburg would be witness to. The largest open air rock festival ever held in this quiet community, even regarded as world-class. With an abundance of musicians who were among the best to ever come out of our generation – talkin´ bout my generation! Or that era of rock and roll.
The Offenburg Fairgrounds saw: The Alvin Lee Band, Procol Harum, War, Man, Wishbone Ash, Van DeGraff Generator, The Scorpions and Bob Marley. Offenburg was always a good time for a pop or rock concert I'm told.
The hard rocking sounds of Alvin Lee, was for many the highlight of the event. The greatest fastest paced guitarist of Ten Years After fame, now out to prove himself all over again, with his own band. He performed "I'm Going Home" to perfection, and to thunderous applause.
The "Scorpions" attacked the guitar strings, followed by Europe's champions league "Man".
The quintet from Wales. Procol Harum went on, and who among us doesn't know their hit song of the day, "A Whiter Shade Of Pale" ! Followed by Wishbone Ash, who were well known for such titles as, "Rock and Roll Widow" and "The King Will Come".
The Face Down Side:
It was stated, that the festival should be completed by 22-clock (10:00 PM). By 23:15 (11:15) clock, the time completely ran out, and at the behest of the police lights ablaze and pulling the electrical plug on Bob Marley's performance. Bob took it all in his usual stride, because he otherwise would've been neglected entirely and he realized that, saying – "everything will be alright, we will win in the end, because the truth is on our side. Then Germany will be dancing to the truth, and the truth is Reggae. Bob returned to his cabin and had made a giant joint. "That's the system, never mind said Marley, everything will be alright in the end".
But Bob never lived to see that day come, as he died on May 11, 1981.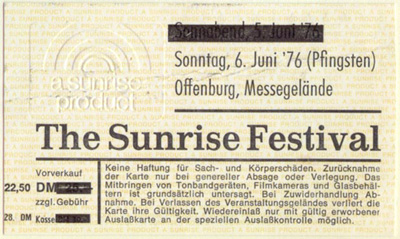 Review by German Fan Herbert who attended the concert

War damals dort. Das Wetter war ausgezeichnet, viele bekamen richtige Sonnenbrände. Ca. 15.000 Besucher waren da. Leider auch viel Polizei mit schrecklichen Kontrollen am Eingang zum Messegelände. Interessant war, dass 2 Bühnen nebeneinander aufgebaut waren und die Bands abwechselnd rechts und links spielten mit relativ kurzen Umbauzeiten. Leider musste man um gut sehen zu können dann auch ständig den Platz vor einer Bühne zur anderen wechseln, was zu einer ziemlichen Unruhe auf dem Gelände führte. Begonnen hat das ganze pünktlich um 11.00h mit der Stuttgarter Band SPATZENSTRULL. Dann spielten die SCORPIONS als kurzfristiger Ersatz für die KINKS, die wegen Krankheit von Ray Davies nicht kommen konnten. Es kam aber der Drummer der Kinks Mick Avory auf die Bühne und entschuldigte die Band. Es spielte dann am frühen Nachmittag VAN DER GRAAF GENERATOR. Dann MAN und ALVIN LEE & Co (nicht Ten Years Later, die spielten erst beim Rockpalast Festival in Essen und das war 1978). Am späten Nachmittag kamen WAR ohne Eric Burdon und bei Sonnenuntergang in schönster Abendstimmung PROCOL HARUM. Am Abend waren dann WISHBONE ASH dran, der Höhepunkt des Festivals für die meisten Besucher. Die Besonderheit war, dass mitten im Set Wasser vom Zeltdach der Bühne in die Verstärker lief, was zu einer Unterbrechung des Konzertes führte. STEPHEN STILLS war auf dem Plakat angekündigt, kam aber nicht. Dafür spielten unangekündigt BOB MARLEY & THE WAILERS ab ca. 22.00h. Soweit ich weiss war das das erste Konzert von Bob Marley in Europa überhaupt. Bin dann allerdings gegangen, weil mich Bob Marley damals nicht sonderlich interessierte, was viele andere Besucher auch taten und das Gelände sich um diese Zeit schon ziemlich leerte. Wie ich später hörte wurde Bob Marley um 23.20h der Strom abgeschaltet, weil sich Anwohner wegen der Lautstärke beschwert hatten. Ansonsten spielte da allerdings niemand mehr, weder Little Feat noch Barkley James Harvest. Insgesamt fand ich das Festival als sehr gelungen, die Stimmung war gut und vor allem das Wetter ausgezeichnet. Erinnern kann ich mich auch noch an die ständigen Blechdosenschlachten, weil die Leute zwischen den Bühnen hin und her liefen und die Sicht verstellten, was viele zum Dosenwerfen animierte. Interessanterweise hatte der Veranstalter wegen der Änderungen im Programm am frühen Morgen ein Info-Blatt an die Besucher verteilen lassen, das den tatsächlichen Ablauf des Tages erläuterte und die Änderungen entschuldigte.

The following review by Werner:

- Kinks sind wegen Krankheit ausgefallen,
- bei Alvin Lee stand plötzlich die ganze Meute
auf und versperrte allen die so schön auf der Wiese lagen die Sicht.
- Scopions legten ein super Konzert hin.
- Procol Harum war auch erstaunlich stark.
- Bob Marley war noch nicht so bekannt, hat mir persönlich auch nicht so gut gefallen.
Die Stimmung war Abends allerdings ganz toll,
dieses Konzert und den Sonnenbrand werde ich nicht vergessen.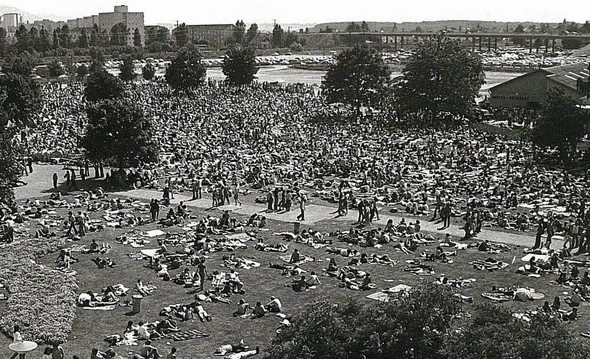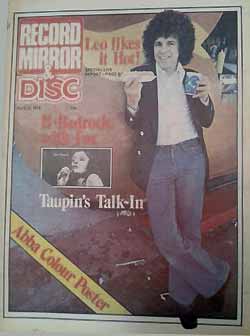 RM 17 August 1976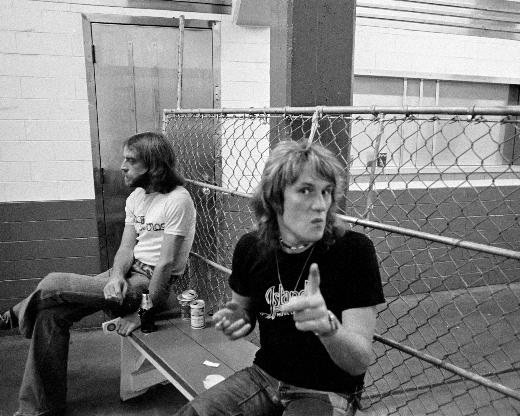 Don't stop here - click to the next page