GOLDMINE MAGAZINE From September 28, 1984
ALVIN LEE - FIFTEEN YEARS LATER Written by Joseph Tortelli
He electrified Woodstock with his fiery guitar playing. His flash and speed elevated him to the status of pop icon. The music scribes dubbed him "The Fastest Guitar in the West." Alvin Lee's prominence in the rock `n´ roll world has declined markedly since those tumultuous days. Today his tour bus arrives at clubs , not festivals or arenas. His audience is older in age and smaller in number than it once was. But memories of the guitarist's stunning performances with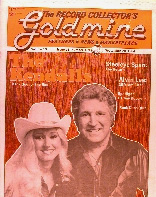 Ten Years After continues to attract the faithful. Relaxing in his plush tour bus after a torrid show at Boston's Channel Club, the veteran rocker looks remarkably fit and youthful. He recalls his introduction to music. "I started playing clarinet," Lee points out. "I played clarinet for about six months. I used to listen to Benny Goodman. And listening to him I got to hear Charlie Christen, who was a very good guitar player." The guitarist from Goodman's band had a significant effect on the neophyte musician. Lee remembers, "I went down to the pawn shop and swapped my clarinet for a guitar, much to my parents horror." Lee's initiation to the secrets of the guitar came through jazz, not rock `n´ roll. Django Reinhardt, Barney Kassell, and George Christian were among his earliest influences. But the young Lee found himself intrigued by another sound too. He credits his father with introducing him to blues. "My father is a blues fanatic," Lee says. "He used to collect chain gang songs, prison work songs, and things like that. I had a great repertoire of blues songs, thanks to my old man."
In 1955, about a year after he picked up the guitar, Lee remembers rock `n´ roll hitting England. He mentions Scotty Moore, Chuck Berry, and Lonnie Mack as a few of his favourite 50's guitarist. But, he adds, " I had a pretty wide range of influences - John Lee Hooker, Muddy Waters. I used to like Chet Atkins, too." American rock `n´ roll records were not always readily available to British kids during the 50's. Lee developed a unique method of landing the newest releases. "I used to buy all the American records," he enthuses. "I have an aunt in Canada who used to send me all the latest American records. It was a big deal in those days to get a Chuck Berry album six months before anyone else had heard of it."
Though he studied with a guitar teacher for about a year, Lee is essentially a self-taught musician. "I avoided taking lesions and reading music, because it will affect your style," he says. "I never used to copy anybody else. Maybe I'd copy a style. I'd hear a Chuck Berry record and I'd play a solo the same style as him. I wouldn't copy it note for note. In that way you can give it your own stamp. I've never been a good copier, probably because I can't. If I listen to a good solo, I can't work out the notes then play. I'd rather choose my own and just play it with a similar feel." Lee attributes his speedy guitar technique to encouragement from appreciative audiences. "I think it comes from the adrenalin I get off playing live," he says "When I get a good audience, I get them off and they get me off too. Sometimes I hear a tape after I've played and say, "Good Lord, is that me?" because I don't know I'm doing it myself. It's just the adrenalin the audience kicks out of you."
The youthful guitarist knew that he was destined to become a professional musician. "I left school when I was sixteen," he says. "I went straight into it, never had a proper job." Like most teenagers in a similar situation, Lee played clubs near his family home in Nottingham, England. He recollects that he joined a half dozen local bands, the first of which as named the Jailbreakers. Lee's guitar style, rooted firmly in blues, hindered his career in initially. "It wasn't accepted," he explains. "I used to get banned from places because people couldn't dance to the music I played. But I played it anyway." The British blues boom of the early 60's changed things. Local fans recognized Lee as one of the top musicians on the Nottingham circuit. Though he recorded a few demos during this period, none made it to vinyl.
Two other Nottingham lads, bassist Leo Lyons and keyboardist Chick Churchill, also gigged in area clubs. They asked Lee to join their band, the Atomites. Lee laughs, "I said, "Well, yes, but only if you change the name." Lee dates the beginning of Ten Years After to 1965. Originally, they were called Bluesyard. But, Lee says, "We decided that was a bit too bluesy, so we chose Ten Years After." Ric Lee, a drummer from Mansfield - which is a town about fifteen miles from Nottingham - completed the line up. All outstanding individual musicians, Lee refers to early Ten Years After as "The Cream of the Nottingham area." Even in their earliest days, Ten Years After displayed considerable musical versatility. They played rhythm `n´ blues, country, jazz and rock `n´ roll in addition to their mainstay, blues. Oddly, the British beat which dominated the mid 60's did not excite the members of Ten Years After. Alvin Lee appreciates the irony. "I've always liked American music," he concludes. "It's funny that Americans like English music and the British people love America music."
Ten Years After became a staple on the club circuit in and around Nottingham. They gained a national reputation with a series of dates at London's Marquee Club. Yet record companies had their reservations about the commercial possibilities of bluesy instrumentalists. With the success of Cream in 1966, the record labels decided that electric blues was a saleable commodity. Ten Years After signed with Deram Records. Their first album, "Ten Years After" was issued in 1967. Lee is proud that their recording contract allowed band members to showcase their musicianship and style. For an act like Ten Years After, an entire album, not simply a pop single, was essential. "We were one of the first bands to get an album deal ," he boasts. "Before then, you did a single and if your single sold, then you could record an album. We got offers to make an album."
The rock world, tiring of the mid - 60's pop sounds, welcomed something different. On both sides of the Atlantic, the burgeoning progressive movement found Ten Years After a robust alternative to top forty bubble-gum. The bands late 60's albums gained airplay on America's FM radio stations along-side Cream, Jimi Hendrix, Jethro Tull and a host of others. A number of club tours widened Ten Years After's trans-Atlantic appeal. According to many critics and blues enthusiasts, this was the period of the group's greatest creative achievements. Apparently Lee agrees. Undead, a live album recorded at a British club date, remains his favourite Ten Years After release. "I enjoyed that," he says, "because I thought it captured what the band did best." He also includes Ssshh and Cricklewood Green as equally enduring recordings.
Ten Years After's Tours and albums secured the band a solid place with underground rock fans. In the summer of 1969, the group was given an opportunity to expand that base dramatically. A performance before half a million rock fans at the Woodstock festival in New York State was the turning pointing the band's career. Lee carefully notes that the Woodstock appearance, itself, did not cause a great stir. "When we did the actual festival, it was a great experience. But we carried on for about a year playing the same kind of venues for about 6 or 7,000 people." The Woodstock film and album soundtrack were released in 1970. Ten Years After filled eleven minutes of time with the steaming rock `n´ roll exercise called, "I'm Going Home." The vinyl and celluloid catapulted the band to the top of the rock `n´ roll world. And Lee, whose guitar playing and singing were prominently featured, emerged as a star. "The movie came out and that made a lot of difference," according to Lee. "Suddenly we were playing giant auditoriums in front of 30,000 people." But the acclaim exacted its price. The hassles and pressures of touring grew with the audiences. Alvin Lee emphasizes the connection. "Although that's when the band got really popular, that was the start of the band breaking up, because the gigs got less enjoyable then… When you play in those big auditoriums, you can hardly see the audience. You've got security guards and cops and echo and everything else. You play five or six nights a week in those places and it starts to get a bit more like work than playing. I think the whole band got disenchanted playing those giant places. Nobody wanted to tour after a while."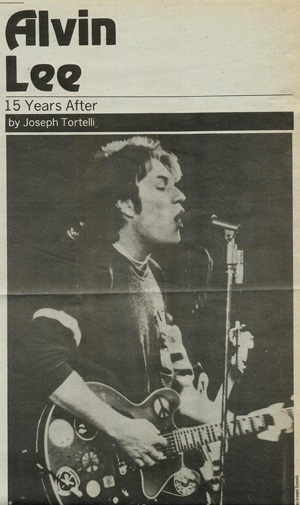 Though the seeds of disillusionment had been planted, the groups dissolution was not at hand. More triumphs awaited. In 1970, their contract with Deram expired after six albums. Many labels expressed interest, but Ten Years After was signed by America's leading record company, Columbia. "I think Columbia picked us because we were doing really well then," Lee suggest. "Clive Davis came to Madison Square Garden, and he saw 20,000 people screaming and yelling for us. He'd be pretty stupid not to sign us."
The Columbia contract resulted in the group's first gold album, "A Space In Time." From the fall of 1971, the LP included Ten Years After's only top 40 single, "I'd Love To Change the World." A Space In Time seemed to indicate a significant new phase of artistic growth for a band attempting to move beyond its blues rock roots. "It's probably my favourite album as far as the songs go," declares Lee. "I had about a year off to write those songs, which helps. You can't write a good song in three minutes."
But the commercial success did little to alleviate the band members personal dissatisfaction, "If touring isn't fun," the guitarist says, "no amount of money can make it worthwhile. You've got to have fun playing. If you did it for the money, you'd go crazy. If you don't enjoy it, no amount of money in the world would be worth it." Rumours abounded that Lee's superstar status caused tension within the Ten Years After entourage. It was the age of the guitar hero. And Alvin Lee took his place besides his countrymen : Eric Clapton, Jimmy Page, Jeff Beck. "It was a bit embarrassing in those days," Lee says. "People saying that I was "the fastest guitarist in the West." And I know that I wasn't. It was complimentary . Looking back on it, I was just a bit confused. I wasn't too sure about putting myself around like that . I was probably a little more modest than people made me out to be. But," he adds with a smile, "how can you be a modest, flashy rock `n´ roll guitar player?"
Through the years Ten Years After persisted, Lee pursued outside projects. "On the Road to Freedom". A duet with American vocalist Mylon LeFevre , was issued in December 1973. The record featured an array of British superstar sidemen, including George Harrison, Ron Wood, Steve Winwood and Mick Fleetwood. "That was a little idealistic side trip," says Lee of the album. "I met Mylon in Atlanta. We wrote a couple of songs together in a hotel room. And we had this long talk about making an album together. He had a band called Holy Smoke. I got them on the Ten Years After tour as the opening act. We wrote some more songs together, When I finished building a studio in England, he came over and we cut the record. It was all very homegrown and idealistic. It's still one of my favourites. Nice music." As for the supporting musicians, Lee says, "We had an all-star cast on that one. That was Mylon. He was a good hustler."
The scorching guitarist appeared to be heading in a more mellow direction on his own. He enjoyed listening to songwriters like Paul Simon, Jackson Browne and Lowell George. The blues rocker even aspired to be counted among them. Lee acknowledges that this was not a rewarding musical endeavour. "I enjoy the music, but I wouldn't want to play like that. I did once," he admits. "But then I realized, "who needs two Paul Simons?" I'd only be a second rate Paul Simon if I worked hard at it. So I do what I do best, which is rock `n´ roll and blues."
The guitar player's separation from Ten Years After, at first tentative, became definite and permanent in 1975. "When Ten Years After didn't work anymore, I took about six months off and sat at home and just really went crazy," he says. "I realized that I had to keep touring no matter what. I tried a few different things. I even had a seven piece band. For awhile, I refused to play any of the old Ten Years After songs. That was all part of living and learning. "Then on time I stopped by to see Jerry Lee Lewis. He didn't do "Whole Lotta Shakin." He did all country songs. I was really disappointed. Coming out of the club, I realized that when people came to see me and I didn't play "I'm Going Home" or "Little School Girl," they'd feel the same way.
"I grew out of wanting to be a musician's musician and playing for myself," Lee continues. "You can sit at home and play for yourself all you like. If you're going to play onstage, the idea is to get people off and give them a good time. I realized that I wanted to give them what they wanted to hear - within reason. So I play 60 to 70 percent of the good old songs now."
Alvin Lee's October 6, 1983, set at the Channel proved his point. Accompanied by former Crosby, Stills, and Nash bassist Fuzzy Samuels and drummer Tom Compton, Lee ripped through "Good Morning, Little Schoolgirl," "Choo Choo Mama," "I'm Going Home," and other Ten Years After memories. He also slipped in the rock chestnuts, "Sweet Little Sixteen," "Slow Down;" and "Hey Joe." A pounding drum solo and a surprisingly entertaining bass solo by the dreadlocked Samuels supplemented the expected guitar fireworks. It was the kind of performance which had fans - perhaps imagining it was 1969 again - screaming for more. The veteran guitarist expresses enthusiasm about such club appearances. "I like doing these clubs like we did tonight," he offers. "To me, that's the ideal gig, because the audience is right there and you can feel them. And the sound is tight."
Though Lee's career sputtered during the late 70's and early 80's he is prepared to continue working. "I got disenchanted with recording because of the record companies wanting commercial singles which has never been my bag. To be honest, I didn't even like the last couple of albums I did," he confesses. "I did them too rushed. So I've decided to take my time. I've been writing for about a year and a half. The next album is going to be a good one if it takes another year. At least I'm going to like it when it comes out. With a little luck I might have something out by summer. But no promises, it's got to be good."
Lee still plays with his Ten Years After mates occasionally, through a permanent reunion is unlikely. "We just did the Marquee Club, where we first started playing in London. The club had its 25th anniversary, and we got together for a couple of nights there. Then we did the Reading Festival," Lee adds. "But we decided just to do the odd festival here and there for a bit of fun. The other boys are still settled down and married. I'm just a rock `n´ roll gypsy. I love touring. Those guys like a little order in their lives."
The singer / guitarist expects to be on the scene for some time to come. "If I'm alive," Lee declares, "I'll be out there. Don't worry about that."