GOLDMINE MAGAZINE, FROM OCTOBER 6, 1989
ABOUT TIME

Although several of the reformed rock groups recording and touring the country in this reunion year also played at what has become 1989's big commemorative event, the 1969 Woodstock Music And Art Fair, only one remains primarily identified with the event. The Who and Jefferson Airplane both played there, but it is Ten Years After, a band that broke up fifteen years ago, that will always remain tied to its extended treatment of lead guitarist Alvin Lee's "I'm Going Home," as shown on the split screens of the Woodstock movie released a year after the event.
A closer examination of the band's career, however, reveals that that performance, while not unrepresentative of the group's music and concert work, gives us only a small reaction of Ten Years After's importance to rock history. And with a new album, aptly titled "About Time" and featuring the group's four original members, there may be some history yet to be written.
Ten Years After originally appeared in clubs in London as part of the ongoing blues revival that had already given birth to the Rolling Stones after having been founded by such figures as Alexis Korner and John Mayall.
Alvin Lee, born December 19, 1944 in Nottingham, and bassist Leo Lyons, born November 30, 1944, in Bedfordshire , were childhood friends who grew up together in Nottingham. Both were playing by their early teens, combining American blues and jazz influences, and Lee even backed John Lee Hooker at the Marquee Club in the early 60's.
In 1964, with Lyons playing drums, (not true at all according to Leo 2007) they performed in Hamburg, West Germany and elsewhere in Europe as "Britain's Largest Sounding Trio."
Back in Nottingham, under the name "The Jaybirds", they acquired Ric (no relation to Alvin) Lee, born October 20, 1945, Staffordshire as drummer, from "The Mansfield's" in August 1965. In 1966, they moved to London, where they picked up work in clubs as well as accompanying the play "Saturday Night and Sunday Morning" and touring as backup group to the Ivy League. By November, they had been taken on by manager Chris Wright, whose agency with Terry Ellis, named Chrysalis ( Chris / Ellis), would have a major impact on their career. They also acquired keyboard player Chick Churchill (born January 2, 1949, in Flintshire). (not true as Chick was born in…)
After a single gig under the name "The Blues Yard", they became "Ten Years After". In the spring of 1967, they were overheard by the Marquee Club's manager, John Gee, playing Woody Herman's "At The Woodchoppers Ball." This led to a residency at the influential club and to the band's signing to Decca Records, which would release their recordings on the new "Progressive" Deram label.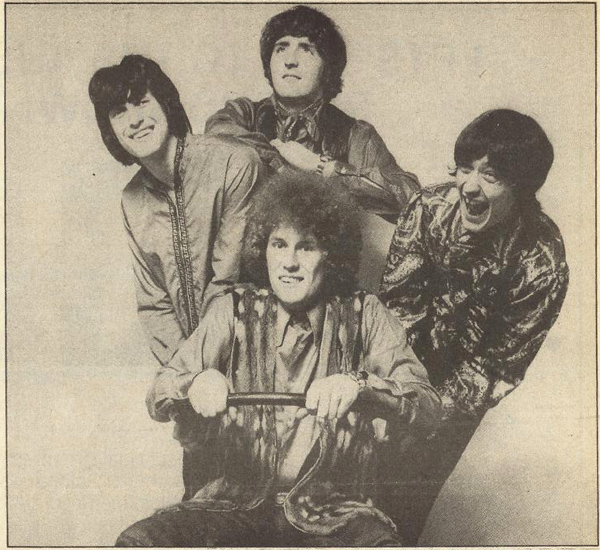 The group's first, eponymous album was released October 27, 1967, featuring both standards like Willie Dixon's "Spoonful" and originals by Alvin Lee. It didn't chart, and neither did a one-off single, "Portable People" and "The Sounds," issued in February.
For so active a road band, it was appropriate that their second album, "Undead", was recorded live, at Klooks Kleek Club. Featuring "At The Woodchoppers Ball," "Summertime" and "I'm Going Home," it was recorded August 16, 1968 and issued September 21. In Great Britain, the album reached number 26, while in the U.S. it got to number 115.
By this time, the band had begun to tour the U.S. at the behest of Bill Graham, who arranged gigs at his Fillmore clubs. By the time of their demise, they would claim to have done more U.S. tours – 28 – than any other British Invasion Group. Alvin Lee now claims more than fifty U.S. tours himself.
The touring would affect Ten Years After's U.S. popularity drastically, but the influence of America – especially the psychedelic influence which also had its impact on the band's music, as can be heard starting with their third album, "Stonedhenge", recorded from September 3rd to the 15th 1968 and released February 22, 1969. Continuing the group's gradual sales increase, it peaked at number 6 in the U.K. and rose to number 61 in the U.S.
A contract negotiation saw the group signed directly to Chrysalis, which licensed their records to Decca. In later years, when Chrysalis became a record company, many of Ten Years After's albums would be reissued on that label.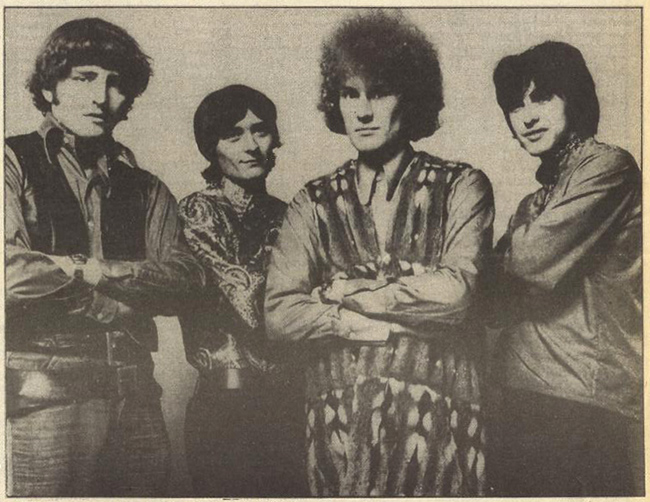 In June, the group recorded a new album, "Ssssh" and then returned to the U.S. to tour, hitting the festival circuit. They played on August 15th and Ssssh issued the same month became their biggest selling hit yet, reaching number 4 in the U.K. and number 20 in the U.S.
Their next album was "Cricklewood Green, a slight return to the blues, albeit psychedelic blues, which was issued in April of 1970, again going to number 4 in the U.K. and hitting number 14 in the U.S. with a single,
"Love Like A Man," which reached number 10 in the U.K. but only got to number 98 in America.
With the release of "Woodstock" the movie in August of 1970, Ten Years After became a major concert attraction, though its relentless schedule was beginning to hurt the quality of its record releases.
"Watt" was issued in December of 1970, and got to number 5 in the U.K. and to number 21 in the U.S. indicating that, despite Woodstock, the bands record sales were levelling off. The band then took three months off the road to prepare its next album, which would be its first under a new contract with Columbia Records.
"A Space In Time," featuring a more electronic sound and more reflective songs from Alvin Lee, was issued in August and became Ten Years After's biggest U.S. seller, going gold by December and producing the Top 40 hit "I'd Love To Change The World." It was to be, the band's commercial peak.
Deram picked this exact time to issue a compilation of unreleased British tracks, called "Alvin Lee & Company," which reached number 55 in 1972. The bands official follow up was "Rock & Roll Music To The World, and was issued in October of 1972 and only got to number 43 – followed closely by their "Recorded Live," album (known as the official Ten Years After "Bootleg") and was released in June of 1973 – it reached number 39.
At this point, the group took six months off for solo projects, among them Alvin Lee's album with Mylon LeFevre , entitled "On The Road To Freedom," which reached number 138 early in 1974. And by that point, Ten Years After was in the studio once again, but by the time they'd finished recording "Positive Vibrations," they had all decided to disband, playing a farewell gig on March 22, 1974, at the Rainbow Theatre in London.
Not surprisingly, their final album only reached number 81. The following year, Ten Years After reformed for a single lucrative U.S. tour in July and August, and that was it.
Most visible since the split has been Alvin Lee, whose bands, including one called "Ten Years Later," have put out albums periodically. There have also been periodic Ten Years After compilations, and in the last year Decca has issued the first three albums on CD, while Chrysalis has put out the rest, so that the band is one of the few 1960's acts to have its entire catalogue in print and on CD.
And now comes "About Time," which, on a July day in 1989, brought Ten Years After's four original members (plus their manager Derek Sutton) together to sit in a hotel room in front of "Goldmine's" tape recorder and talk about their past, present and future.
Goldmine: Let's start at the period in 1966-1967 at which the band got the name Ten Years After and signed to Decca Records.
Alvin Lee: Originally, it was the Jaybirds. That was the band with me and Leo. For a short period, we were called the Blues Yard, (for only one or a few gigs at that) then we decided that tied us down to one kind of music too much. The first happening thing in London was the Marquee residency and that's when we decided we needed a name to take us through into the 1970's as it were. Ten Years After has got no real meaning, it's just a nice phrase. It's not particularly 10 years after anything. We did realize that by accident it was 10 years after Elvis Presley became famous, to us in England, anyway. But we were nearly called "Life Without Mother". That was the second one / choice.
Ric Lee: Yeah, it could have been worse.
Alvin Lee: (no relation to Ric) I quite like that, actually . So, the name was picked and the Marquee residency led—it was the situation in those days where we were getting a good name on the club circuit in London and we got approached by Decca Records. Did we want to make an album? And I think we were one of the first bands to actually make an album first, because in those days you used to make a single and if it did any good then they'd let you make an album.
Ric Lee: (no relation to Alvin Lee) Funny thing about that was we did an audition for them a few weeks before, didn't we?
Alvin Lee: We actually did an audition for Decca and failed it, and then they called us up a few months later and said, "We want to make an album with you." We just got hooked up with the wrong A&R man when we did the audition.
Goldmine: Tell me about Mike Vernon, the producer of your first three albums.
Alvin Lee: He was kind of an in house producer, to be honest he wasn't that active. He turned up and helped out. He wasn't a great force. He admitted himself that he didn't really understand what we were trying to do.
Ric Lee: Mike was a very pure blues fanatic.
Alvin Lee: Yeah, he was a pure blues fanatic, and remember the "blues boom" that John Mayall started? That was probably the turn-around for Ten Years After to take off. Because I'd been brought – my father used to collect chain gang songs, very ethnic rural blues stuff, and of course, for the occasional one o' clock set in the morning when you do three sets a night, we'd do a bit of the blues and a bit of jazz; there was no real outlet for it. And then, when the blues boom happened, suddenly I had a whole list of, a repertoire of great blues songs which I could start putting in the set.
Ric Lee: Plus the rock `n´ roll, Little Richard stuff we've always loved.
Alvin Lee: Right, in other words, Chuck Berry, Jerry Lee Lewis, early Elvis, and blues.
Goldmine: The reputation of the band was always that it had a much more diverse set of styles than many of the blues bands of that time.
Ric Lee. I think that's the different people in the band. As Alvin just outlined his influences, mine were jazz, like Joe Morello, Buddy Rich, those types. Leo's were Scott La Faro in those days.
Alvin Lee: Bill Black and Scott La Faro!
Ric Lee: He was the bass player with Bill Evens. Scott was killed in an automobile accident very early on, unfortunately…and Chick Churchill's influences were, Oscar Peterson, and that area, and I think when you put those four influences together, that's why you get the amalgam you get.
Alvin Lee: I did used to like Count Basie quite a lot too, I think the swing thing we all came together on that.
Ric Lee: And George Benson, before anybody ever heard of him.
Alvin Lee: And Brother Jack McDuff. At that time, when we were teenagers in the 1950's there wasn't really that much, apart from the blues and very ethnic R&B, before we'd heard of Chuck Berry. We were mainly listening to American swing jazz for our inspirations. So we had a four-piece band and we were playing Count Basie numbers, which didn't sound much like Count Basie, but our own style came out of it. And "Woodchoppers Ball" was a Woody Herman song. In fact, we used to do backing work and back cabaret artists and when they went off waving, we used to play "Woodchoppers Ball." And sometimes we'd carry on for five minutes and go down better than the orchestra we were backing.
Ric Lee: We actually got two gigs out of that, on our own, just on the strength of doing that as a play-out song for another band. But we used to do it at a rate of noughts' as well. It was about fifteen times faster than Woody Herman!
Alvin Lee: I remember John Gee suggested that we do a concert with Woody Herman and play "Woodchoppers Ball" together. I said, "I don't think that'll work, somehow!"
Goldmine: Tell me about Ten Years After, the first album.
Alvin Lee: The first album was, in fact, basically our live set. We didn't have to think much or write anything. And the album, I think, was recorded in two days, one of those situations where you record the song, and say, "Thank you," and they don't even let you listen to it, and then you just went on to the next one.
Ric Lee: We had a problem with "Help Me," didn't we? We were trying to get the atmosphere of that onto the album. We did about three takes of it, and the third take was really happening. It's a very, very slow number. It's very difficult to get the feel of it in the studio as opposed to live. And we came back and the tape operator had wiped the first one clean – (erased it altogether).
Alvin Lee: I'll tell you, it was 10 minutes long; they weren't used to long numbers, and what they used to do was record one number on this side of the tape and turn it over, and record another number on the other side. And the two overlapped, because we used to do long numbers. We were the cause of them stopping that particular way of recording.
Goldmine: Did you have any problem moving from being exclusively a live band, to now doing studio recordings?
Alvin Lee: Oh, yeah. Straightaway, the technicians then weren't used to – you couldn't go in with four Marshalls. It was un-heard-of. They'd think you were a maniac and they'd always get you to play through smaller amps. So we had a hard time just getting our own sound happening, because they encouraged you to play quieter. Also, they want you to do the backing track and then they go back and you overdub the vocals. The first time I'd done that…lose a little of the feel by doing that, too.
Ric Lee: Also, drum-wise, you'd only have probably two mikes live, one overhead and one on the bass drum, which tends to get a better balance across the kit, on the top of the kit, on one mike, if you place it correctly. In fact, I found out, Terry Manning who was just on the new album, (Ten Years After – About Time – as the bands producer) was telling me that he engineered the Led Zeppelin 3 album, and John Bonham insisted on having two mikes on the kit when he recorded. He said, "I'll get the levels, you place the mikes to get it right." Which I think accounts for the drum sound he got on the albums.
Alvin Lee: That's right, you've got to control your own dynamics.
Goldmine: I assume, being in the studio for the first time, though, this was the sort of situation where, pretty much, the engineers were setting things up and more or less telling you.
Alvin Lee: Yeah, they just said, "You just play and leave the rest to us."
Ric Lee: Which is your first mistake.
Alvin Lee: And from doing that, then we started to experiment ourselves, and take more time and get more complicated , which finally leads up to the situation today where some bands take a year to make a record. We never got that bad. I think that eight weeks is a maximum. I've seen a lot of bands, you get through two albums and you're doing your live set, you record your live set, then you have to start writing new material and often you can see bands start to droop a little because you're playing stuff you've had in your set for five or six years, and it's very rehearsed and very tight, and basically you just play it and it's recorded as it is. But then you get to the point where you're writing material and you play and you want to hear it back and see how it sounds. It gets to the point some bands start writing in the studio, which is very dangerous, because it can go on for months, that way. The first two albums were easy, then you have to start thinking.
Goldmine: You had to go from being a band that played primarily cover material, to being one that played primarily original material. Was that a natural transition for you?
Alvin Lee: It was, really, but as I say, when you're on the third album and suddenly you need eight new or ten new songs, you can do a couple of covers and then try to write the rest yourself; that's a vast departure. I think on the first album I wrote about three or four, maybe five, (one of which was co-written by Chick Churchill, and one by engineer Gus Dudgeon), which is not to hard. When you have to come up with a whole album concept and everything else…
Ric Lee: It must also be difficult to get stuff with a band that's got as diverse influences as we had then, getting stuff that suits everybody to play.
Alvin Lee: It was trial and error, to be honest. We were experimenting a lot in the studio. We'd say, "Let's try a country-style number," "Let's try a slightly funky number." We weren't saying, "This is definitely our music." Was the second album Undead? (asked Alvin).
Ric Lee and Goldmine: Yes
Alvin Lee: That was recorded live at Klooks Kleek and I remember when it came out I was delighted. I heard it in L.A. when we came here on the first tour (1968 – Fillmore West) and I thought, "Well, that's it. What can we do? That's everything. That's probably as best as I'll ever play." I thought it really captured the band at its best. And I kind of had an inkling that there were going to be problems in the future recording, because what was on those two albums encompassed everything the band could do.
Goldmine: Up to that time
Alvin Lee: Yeah
Goldmine: The next album, "Stonedhenge," sounded like a movement in the band's sound to different kinds of things.
Alvin Lee: That was the first experimental album, and also the influence of the West Coast. The San Francisco thing, the Jefferson Airplane and the Grateful Dead, were already creeping in there, with the strange sound effects and oddities going on.
Ric Lee: That was the album, also, we all did a separate track, which was a bit of a giggle.
Leo Lyons: Twenty years later, perhaps, not so much of a giggle!
Goldmine: It was very much in keeping with the times.
Leo Lyons: Yes, it was
Alvin Lee: Absolutely.
Ric Lee: (speaking to Alvin) They tried to get you to do a mini-opera at one point, because the Who were doing it. Didn't they?
Alvin Lee: Yeah, it was mentioned. I think it was good that everybody had a little chance in those days to do something special, and different, as well. What we were doing with those albums, because of the psychedelic kind of influences, you record different songs, but then you try and tie it together and make a concept, so you make the whole album like a "trip". So that one side would be a twenty minute piece, although it may be five or six different songs in it, and we'd link them up with sound effects and try and make a little adventure out of it.
Goldmine: One of the things too, that was happening at this time, in a career sense, that I note, is that you finished a contract with those three albums.
Ric Lee: No, the contract was for six albums. The other three were on Decca, as well.
Leo Lyons: To a certain extent , you're right, because there was a production company that came in between, so it was the formation of Chrysalis Productions. When we got a production deal with Chrysalis between us and Decca, we were allowed to record whenever we wanted to, with a budget. Prior to that, we were told when to record, how long we were recording, and more or less we had to record at Decca studios. So we moved over then to an independent recording studio called Morgan Studios, and it's now called The Workhouse. And that was an eight track. So the "Ssssh" album was the first one that was done on the eight-track. So Ssssh for us was the turning point.
Goldmine: By this point, also, the band was growing in popularity. Did that put greater pressure on the band? Ssssh came out just after you played Woodstock.
Alvin Lee: Woodstock was not a particularly – it was an event, obviously, we were aware when we arrived. But we weren't ready for any event, it was just another name on the date sheet.
Ric Lee: We'd done a bunch of quite large festivals. It was just another festival.
Alvin Lee: In fact, we weren't even that aware that it was that different when we left there. Obviously, it was special, but we weren't aware that it was going to be remembered so strongly. Had it not been for the rain storm, we'd have probably flown in by helicopter, played, and gone out again within two hours and probably would never have even seen it. But we were about to go on and the rain storm broke. There was no way anybody could play with the sparks flying up on stage. The rain storm was actually the highlight of Woodstock for me. I thought it was better than all the bands. There's no way half a million people can run for shelter, so they just sat there and started singing, and I took a walk around the lake and kind of joined in with the audience and experienced it first hand, which was good.
But we didn't play that well at all, because when we finally did go on there was a lot of brouhaha, because nobody wanted to go on first due to the risk of shock, and I think we took the plunge eventually and said, "Oh, what the hell. If we get electrocuted, we'll get good publicity." And we went out and actually had to stop playing during "Good Morning Little School Girl" and re-tune because of the atmospherics. The storm had done so many changes in the atmosphere, the guitars went way out of tune. I actually had to say, "excuse us, but we've got to stop and re-tune." The audience didn't seem to mind; they were just having fun anyway. But it wasn't particularly a good gig, playing wise, we didn't rate it at the top. It's all in retrospect that it's such a huge event.
Goldmine: One of the things, obviously that had a big effect was when the Woodstock movie came out a year later.
Ric Lee: I think the pressure probably came then.
Goldmine: Was there a reaction immediately after the festival?
Alvin Lee: Not at all. We went on for a year playing the same three to five thousand seat venues. When the movie came out, we suddenly shot up from 5,000 seat venues to 20,000 seat venues.
Leo Lyons: I think what happened with the movie was, it opened up all the small towns in between the large towns we were already playing.
Alvin Lee: It crossed us over to the masses rather than a cult following thing. It was the end of the underground. A lot people say that Woodstock made Ten Years After, but it only catapulted us into that mass market and in a way it was the beginning of the end. Going into the ice hockey arenas, where you can't hear much, the sound's terrible, you can't see the audience, it wasn't that much fun and it was a decline of enjoying touring as much as we had done previously. Also, the sad thing about Woodstock it seemed it was the peace generation all coming together, and then they all went back home again, and never got together again, as it all dissipated afterwards.
Goldmine: By talking about Woodstock, we've skipped over the next album, Cricklewood Green, which almost shows a moving back towards blues or a more basic sound.
Alvin Lee: It was still experimenting, but I suppose we did start looking for our roots. We didn't want to get too far from the roots. Cricklewood Green had "Year 3,000 Blues." "I thought that was quite an innovative song at the time, a blues based on living in the year 3,000. Automatic bloodhounds chasing people.
Leo Lyons: I think by the time of Ssssh and Cricklewood Green we'd been exposed, quite overexposed, to the American drug culture of the time, too and I think that had an influence on the albums.
Alvin Lee: On Cricklewood Green, at one point, "Working On The Road," which is still one of my favourite songs, actually, the tape slurs. It slows. Somebody leaned on the tape machine when we were recording it, and nobody even noticed at the time! So that gives you a clue as to what state we were in. Producers, engineers and band, no one noticed it.
Goldmine: There's also a fair amount of quieter music that you play on these albums, Ssssh and Cricklewood Green, and the next one, "Watt", and in some cases slower music. I wondered if that was a reaction since there was so much writing about the speed at which you could play.
Alvin Lee: Yeah, I was kicking against that criticism. In retrospect, I shouldn't have done that, but in those days I hadn't quite got my professional opinions sorted out, my own attitudes. I was having a few personal problems. I was starting to become marketed, and I felt like a box of cornflakes, and I wanted to be known as a musician and not a pop star. Now you've brought that up, that's the first time I've realized that was the period that started. And probably I wasn't too aware of it at the time, but I was definitely having thoughts in that area.
Goldmine: Part of the effect of the Woodstock film was to separate you out as a celebrity apart from the group.
Alvin Lee: Yeah,, we had always been a communal band, and I was trying to kick against that to some degree. I was actually trying to de-escalate the "getting famous" aspect.
Leo Lyons: Which probably made it even worse.
Alvin Lee: Also, you've got to remember, for the idealistic 1960's, it was also very un-cool to be rich and famous. It wasn't one of the things we were striving to be. We were striving to be credible musicians, much more than trying to be pop stars. I've never wanted to be a pop star, it was never an ambition, and it seemed to be happening, and I was kicking against it. I was kicking against the criticism. People were saying I was just a flashy, fast guitarist that didn't really have any taste and couldn't really play, and that was upsetting me. So I suppose that was all coming into the music.
Goldmine: One album that stands out is "A Space In Time"
Leo Lyons: Well, that was a new contract. That had a lot to do with it.
Alvin Lee: Ah, but remember, we're talking of working on the road, which was the Ssssh album, "Working on the road for fifteen years, blowing my mind and blasting my ears" (Working on the road is from Cricklewood Green), and I was basically saying, "It's time to take a break." And I was campaigning for a break, because in those days, we would do like a ten week tour of America, come back to England for three days, then do a five week tour of Germany, then another three days off, then onto Scandinavia and Italy, and after that somebody say, "You're in the studio next week for the next album." And I was writing songs in the taxi on the way to the studio, and not really having any time. Watt was definitely suffering from no time to write. In fact, even the original title – was suppose to be called "WHAT" and not "WATT" – but it came out as the latter.
Leo Lyons: Ten Years After What, wasn't it?
Alvin Lee: I eventually dug my heals in and said, "I've just got to have some time." And I wanted six months off, which was ludicrous. I think it ended up being about three or four months off. It gave me time to sit down with the acoustic guitar and write some good songs, and I think "A SPACE IN TIME" was the culmination of that. A bit of time and there was the space to write A Space In Time !
Chick Churchill: That was why it was called that, is it? I never knew.
Alvin Lee: I think "A Space In Time" is still my favourite Ten Years After album, because we had time to work on it. "I'd Love To Change The World" was that on "A Space In Time?" asked Alvin.
Goldmine, Ric, Lyons, and Churchill: Yeah
Alvin Lee: I was embarrassed about that song because I don't like preaching in music. I like music to be apolitical and I thought I was maybe pushing my luck. To start off, I was criticizing freaks and hairies in the first line, and I thought, " I'm going upset a lot of people with this song," and I very nearly didn't even put the song forward. But it was a good song and it's a good job I did in the end. But I don't think it's a typical Ten Years After song. In fact, we never have played it live.
Sutton: Much to the management's disgust!
Alvin Lee: The record company would come to the gig and say "When are you doing your hit?" And I'd say, "We don't play it." "What? I said, "What's the point? It's a hit already." But, you know, it was evident that people didn't come to the concerts to hear us play the records, they come for the whole emersion in the live concert thing.
Goldmine: Is there a point here where there's a diversion between the albums and the live gigs?
Leo Lyons: Very much so, yes
Ric Lee: Yeah, Right
Alvin Lee: What album was "Choo Choo Mama" on ?
Leo Lyons: The live one.
Chick Churchill: Live.
Ric Lee: No, Rock and Roll Music To The World.
Alvin Lee: And that was the one after "A Space In Time" and after the "I'd Love To Change The World" and we didn't play it live. After that embarrassment, (Columbia Records president) (Clive Davis) actually picked a song, I don't know which one it was…
Chick Churchill: "Tomorrow I'll Be Out Of Town."
Leo Lyons: "The Positive Vibrations" album you mean. What a wonderful title.
Alvin Lee: A very inept title, in fact. That was the least positive thing we'd done.
Goldmine: I guess the band had broken up by then.
Ric Lee: It almost didn't get finished.
Alvin Lee: Of course we were also going through the Country House Syndrome there. We all had nice houses in the country and were starting families and things like that and there wasn't really that much will to go out and sit in the Holiday Inn for six months.
Leo Lyons: Funnily enough, there were one or two tracks on the "Positive Vibrations" album that I quite liked, some of the rocker tracks. The Little Richard number, "Going Back To Birmingham," I quite liked that and one or two others.
Alvin Lee: Also, the other syndrome of a band breaking up was that we were all building our own home recording studio's and nobody wanted to go out and play, we all wanted to stay in and make our own music. I think it's a natural thing to happen. I think we just weren't communicating. We'd just spent all those years working together and I think quite naturally we all just drifted apart a bit, and started to find other interest besides the band.
Sutton: That tour you did, that 1975 tour, was a very big tour, and then you just stopped touring.
Alvin Lee: We were just bribed into doing that tour. We had broken up by then, we were just bribed to go and do one more.
Sutton: But it was enormous and it was a huge tour, and then you stopped touring, and it was not like a lot of other bands, where it gets worse and the audiences get fewer and then suddenly it falls apart.
Alvin Lee: I think in a way, it was quite fitting that we finished then, because we were always very honest. It was a very honest band, there was no bullshit, no hyping, and really, the honesty was going out of it, and we got disenchanted with that. We were going out and playing automatically. I think I started quoting the band as being "a travelling jukebox."
Goldmine: I think "honesty" is a good word here, because it would be natural that there would have been pressure on you (Alvin) to hire some people and call it Ten Years After and go out there.
Alvin Lee: Yeah, it was suggested at the time.
Goldmine: You called the band Ten Years Later.
Alvin Lee: Yeah, but that was considerably later, anyway.
Ric Lee: That's because I sued him! (Laughter)
Goldmine: There's a long time between that break-up and now.
Leo Lyons: Fourteen years. The positive thing of Woodstock – we've talked about all the negative aspects of it – is, that is probably the reason why we've got the opportunity, in many respects, to be able to start all over again.
Goldmine: What brought about the reunion?
Alvin Lee: It was sparked off by a German promoter who called me up and said he'd like to book Ten Years After, the original band, for four festivals in Germany, which was last summer 1988, which then prompted me to call `round the guys, and say, "How about it!"
Goldmine: The new album, "About Time" came out on August 22, 1989. Is there a tour?
Alvin Lee: Yeah, it starts on October 1st U.S.A.
Article Written By William Ruhlmann