REPLAY Magazine 1992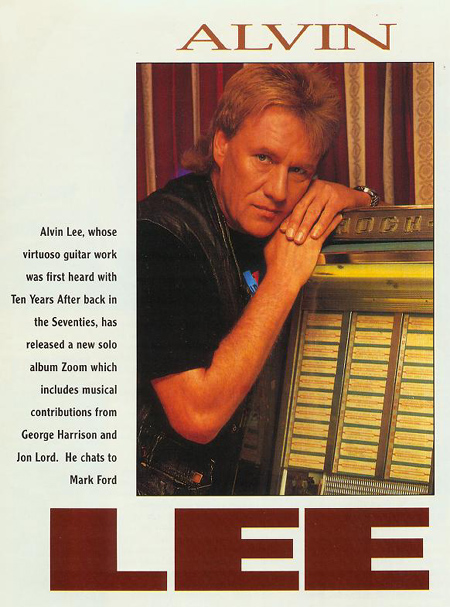 Alvin Lee, whose virtuoso guitar work was first heard with Ten Years After back in the nineteen seventies, has just released a brand new solo album called "Zoom", which includes musical contributions from George Harrison and Jon Lord. In this article he chats with
Mark Ford:
Alvin Lee is in a reflective mood, in London for a day of rare interviews, to promote his new Sequel Records album "Zoom", he's reminiscing about earlier days of rock stardom when, as front-man of "Ten Years After" he was one of the rock world's most revered guitarist, playing to audiences of many thousands, while the band's albums sold in their millions around the world. In the nineteen eighties, Alvin retired to his "rock-broker belt" mansion in Buckinghamshire, content to let his music take a backseat. "Until I heard Eddie Van Halen for the first time, and his guitar work made me sit up and listen, and I knew then that I had to start practising the guitar again".
The result was a return to solo recording, with several albums including "Free Fall, RX5 and Detroit Diesel, and even a brief re-union with his erstwhile Ten Years After colleagues, Ric Lee, Chick Churchill and Leo Lyons. His new album, "Zoom" is his first in the 90's, and is a great blend of goodtime blues and melodic rock which, if there's any justice in this world, it should sell like hot cakes, although Alvin himself takes more philosophical / realistic view about it. "There was a period not that long ago, when I went around various record companies, and was told that they just weren't interested in what I was doing. I'm not expecting to get into the top twenty, but it's better to be an active recording artists than someone just relying on back catalogue sales. At least people will know that I'm still alive" he says.
Alvin Lee has now been a professional guitarist for more than thirty years. In 1961, with his future Ten Years After musical colleague Leo Lyons, Alvin played the famous Star Club in Hamburg, Germany as a member of "The Jay Cats" They worked on the same bill as Liverpool's The Big Three, Cliff Bennett and the Rebel Rousers, Tony Sheridan who was the big rock and roll hero of the Hamburg scene. "The Beatles had just played there for the first time, they wore tight leather suits which was quite something for the time", Alvin recalls.
Alvin Lee's own interest in blues-based music had started years before then even, "My Dad (Sam) used to collect ethnic chain gang-type music, I remember he once brought the famous blues singer and guitarist, Big Bill Broonzy back to the house, when I was about twelve years old, just sitting there and watching him play was a big influence on me".
In 1965, Ric Lee teamed up with three other Nottingham musicians to form a local band that became the forerunner of Ten Years After. "We started playing venues like the "Speakeasy" in London, in fact we were signed up by Deram Records, Decca's Progressive rock label, after doing a Friday residency at the old Marquee Club. We were probably one of the first bands to start on an albums-only-deal. It was the start of underground music, and long guitar solos, and musicians being able to play what they wanted to play, and not having to think in "commercial" terms. "Even Mike Vernon, the A & R guy who signed us to Deram, after Decca itself had turned down the band, said at the time, that he didn't quite understand what we were trying to do, but thought that we were good?
"The States really opened things up for the band. We had done very well in Britain, but when the second album, "Undead" was released in the US we got a telegram from the top American Rock Promoter, Bill Graham, who said that he'd like to book us into the Fillmore West venue in San Francisco. Our first tour of the States, in fact it lasted ten weeks, and we lost thirty thousand pounds on it, but it did establish Ten Years After as a working band".
Alvin Lee and Ten Years After were among the bands who played the now legendary Woodstock Festival 1969. "Our appearance crossed us over into the mass market, but that was mainly due to the subsequent film of the event – "Woodstock". We started playing vast stadiums and a lot of people said that it made us as a band, but it was probably the beginning of the end, because that wasn't what we wanted to do. In stadiums the sound starts getting swallowed up, and we started thinking, "What's the hell are we doing here? No one's listening anyway? "Because I came from an underground blues music background, I always thought of myself as being a real musician, not a rock star, so I rebelled against it all. In retrospect, I was very naďve…I wasn't a businessman, so I didn't really grasp it all. At a time when I could have been earning millions of dollars, I just decided that I didn't want to work anymore!".
What particular memories does he have of Woodstock?
"They're very hazy, it was a long time ago, and it was the state of me in those days anyway! To us, it was just another big festival, but nothing too special at the time. It was only when the film came out that the whole event began to take on this legendary status, there were other, better festivals around the same time, but they weren't filmed for posterity. I do remember though, that we had to travel by helicopter in order to get through the huge crowd that was there, and there was this incredible smell of marijuana drifting up from about half a million people!".
Alvin recorded his new album at his home studio with guest musicians George Harrison, Alan Young, Jon Lord and Steve Gould. "When you live on the premises, you can choose the best time for recording! George Harrison had been a guest performer on my last solo album, he's a good mate, I just called and said, ""Any chance of you doing a little slide guitar?" It's like a rock-broker belt where I live, there are so many old rock stars with homes here!"
He formed his own label to release the new album, and then did a subsequent marketing and distribution deal with Sequel / Castle. "The label was born out of frustration, because no major record company would commit themselves to a worldwide release for the new album. If you sign with a major label, they also want to own the publishing rights, and God knows what else. All the options are on their side. I've found an alternative route to that which seems to be working well".