Guitar Techniques Magazine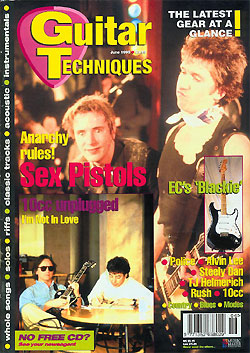 June 1995 – Alvin Lee
Face The Rack – "Alvin Lee; Is Still Going Home"
More than a quarter of a century has passed since Ten Years After took Woodstock by storm..
But, as Mark Cunningham discovers, Alvin Lee is back on the road, proving there's more life than ever in those lightning fingers.
"I Hear You Knocking" (similar to Dave Edmunds version) and The Beatles "I Want You" (she's so heavy); the latter featuring a guest appearance from Alvin's long-time mucker, George Harrison.
Alvin, 50, says: "My career has turned full circle now, and like a lot of my contemporaries, I've gone back to my musical roots. It's where I feel most comfortable. We even recorded "Nineteen – Ninety – Four like the old days – all in one room. With very few overdubs, to keep the whole thing sounding natural and raw".
As A Guitarist, Alvin's Influences Are As Diverse As They Come:
"Very much so" he agrees. "In my early days I listened to a lot of jazz because my parents were real jazz and blues fans. There was a great guitar player called Charlie Christian who worked with Benny Goodman, and a lot of those guys like Count Basie and Louis Jordan had a huge influence on the swing aspects of early rock `n´ roll. Then there's Chuck Berry, "Sun" period Elvis, Jerry Lee Lewis, Little Richard and the blues guys like Big Bill Broonzy, Muddy Waters and John Lee Hooker. Every time I hear those old records I smile".
"But there are other not so obvious influences at work in my guitar playing. I'd like to think I've learned a lot from listening to country man Merle Travis, Segovia's classical work and the great flamenco guitarist Juan Serano. I've certainly heard a lot more of that style since I moved to live in Barcelona, and I'm sure It's rubbing off on me, albeit subtly. Unfortunately, it's hard to transpose those flavours to the stage style of rock `n` roll , although I'm investigating flamenco as a hobby".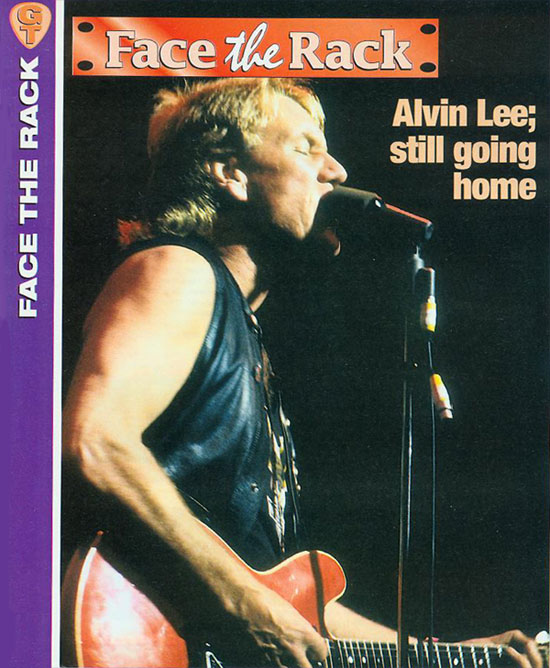 In The UK, Alvin On Stage Has Become A Rare Sight Over Recent Years:
"To be honest," he says, "The Ten Years After experience burned me out. We began as a great club act, playing at the Marquee and places where the sweat was literally dripping down the walls. That's what live music was about for me, but then after Woodstock things got out of control and we got catapulted into the American arena scene, where that interactive relationship with the audience just dissolved. It all became very false and I think we lost touch with the reality that playing in Britain gives you. The situation has turned around now because, due to a longstanding problem with the Internal Revenue Service (IRS) I don't feel inclined to tour the States. But this year will see me playing my first ever dates in Russia and Poland, which will be interesting, although very cold. "I know that people want to hear me play things like "Love Like A Man" and "I'm Going Home" and although I used to revolt against the idea, I don't have a problem with it now. I remember going to see Jerry Lee Lewis, and it was during his country period where he didn't even touch my favourites like "Great Balls Of Fire" I was sick as a pig, so I know not to neglect some of the more well known Ten Years After material".
Surprisingly, Alvin's Classic 1958 "Ban The Bomb" (Peace Sticker) Gibson ES-335
Is Absent On His Latest Live Trek:
"It's still my favourite guitar but it's become too valuable for me to risk taking it on the road, although I used it on quite a few of the tracks on "Nineteen-Ninety-Four". If anything happened to that it would be a disaster. These days I'm playing a red Heritage Alvin Lee 335 type model with a Kahler wang bar. In fact, an airline broke the neck a few months ago and they put a new one on, so now it's as good as new. But you couldn't risk that with my Gibson.
It wouldn't feel the same. Between the hum-buckers on the Heritage there are extra Stratocaster pickups with their own volume control. It was effectively built for me by the same people who made my famous 1958 Gibson 335. When Gibson left Kalamazoo and renamed the company Heritage".
Alvin Obviously Has Great Faith In His Strings; He Insists On Taking Only One Guitar On Stage With Him:
"I always go for broke! You can only play one guitar at a time, but I make sure I keep it in good order. Sometimes you get these bands who have so many guitars in reserve, that it looks like Manny's (Famous New York City Guitar Store) in the wings! It always seems like a lot of work for nothing. I don't have a guitar roadie; I look after all my gear myself, and change my own strings. I change a full set every other night, but I always refresh my top three strings before each gig. I use very light top strings .009 - .011 and .015 – and it gets quite heavy on the bottom end - .028 - .042 - .052. I like to be able to bend the G string on the second fret, up by a full tone; that's very important to me. Without a wang bar I tend to use .010 - .012 and .017, but with a wang I need lighter strings, because they give a bit more".
The Philosophy Behind The Lee Set-Up Is – "Keep It Simple".
"On this tour I've been altering between two Marshall amps, a very early 50 watt and a 100 watt 2550 Jubilee model, used in conjunction with a pair of 4 x 12 cabinets. For flexibility, I have my guitar running through a Nady wireless system. "I don't go in for effects on stage really, but I use an Ibanez analogue delay pedal. I find the digital units are too sharp, where as the analogue gives a nice delay to the repeat note. It's a throwback from my Scotty Moore days and I still like his guitar sound. In seated venues I've noticed that analogue delay adds a bit of life. I don't like reverb, but the slap-back echo provides a kind of spacious quality without interfering with the sound too much".
Considering The Impact Alvin Had On The Original Woodstock Festival. It Was Disappointing Not To See Him At Last Year's Controversial Woodstock 1994.
But He Was Keeping His Head Down:
"I was invited, but I passed on it. I got an inkling early on that it was just going to be a commercial enterprise, and not much to do with the music. And it turned out that I wasn't far wrong. Anyway I prefer to keep my original memories of Woodstock; you can't recreate an event like that era, because it's a different world today. The message back then was "Make Love, Not War", but at Woodstock 1994 it translated into "Make Money, Not Music" !