His music ought to be playing in the lobby of the Rock & Roll Hall Of Fame. He is Alvin Lee, formerly of Ten Years After, later of Ten Years Later, presently Alvin Lee again, someday to be enshrined.
Ten Years After came as close to being "underground" as a band could get in the late Sixties.
They were raw and scruffily flower-powered. Despite their down-the-road sound, they aspired to virtuosity and speedy delivery. It was a time when albums were becoming more important than specific songs (thanks to the FM radio revolution) and there was zero nostalgia in music marketing, the Blues being something new to the White market. Ten Years After, who cranked out unfolding jams for hours on end and mixed genres with ease, were perfect for the emerging expansion of styles and attention spans. They enjoyed substantial recognition due to the sophistication and curiosity of the day's audience. Lee's unique guitar frenzies demanded that often – very often – he was mentioned along with contemporaries Eric Clapton, Jeff Beck and Jimmy Page (after all, he was one of the fastest and most fluid guitarist in the business).
You've heard Lee do his thing as Ten Years After's big hit "I'd Love To Change The World" echoes Muzak – like over the drone of our planet, where no clatter can drown out his soaring post-Psychedelic guitar riffs that served as prototypes for many later mainstream Metal styling's. And you've heard Ten Years After_s Woodstock workout of "I'm Going Home", in which Alvin Lee lays down some of the fastest Blues in history. But, what else do you know?
Long Before Ten Years After's Woodstock Showcase, Alvin was a teenage Blues Wizard in early Sixties England, even playing with John Lee Hooker in London. Alvin paired up with bassist Leo Lyons for gigging in an array of groups such as The Jaybirds and Britain's Largest Sounding Trio. Drummer Ric Lee joined Alvin and Leo in 1965, after which they persued a sound with an emphasis on Hard Blues. Two years later, with keyboardist Chick Churchill in tow, the assemblage had released a self-titled album as Ten Years After on Deram Records.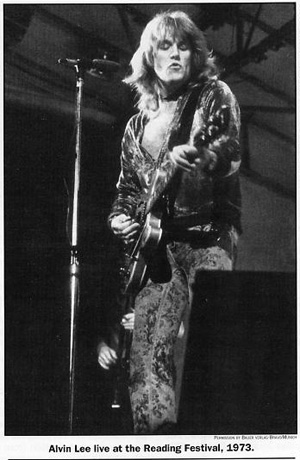 Subsequent recordings like Undead and Stonedhenge were not huge sellers but were highly regarded discs that established Ten Years After in the burgeoning Rock underground.
In the year prior to Woodstock, they wowed audiences at the Fillmore West and New York's (Steve Paul) Scene Club with a Hyper-Blues, that was equally kaleidoscopic and pyrotechnic.
Growing out of the underground, post-Woodstock Ten Years After became a marketable commodity and jumped from Deram Records to Columbia. After 1971's "A Space In Time" and 1972's "Rock and Roll Music To The World", Alvin and crew had moved up to headlining status in America's biggest venues. But Alvin was reluctant to assume
"Rock Star Stature". He instead built a studio in his home and with White Gospel Singer
Mylon LeFevre recorded an album entitled "On The Road To Freedom" (1973 – on which superstars such as Steve Winwood, George Harrison and Ron Wood guest-stared on).
By 1974, Alvin Lee had obviously enjoyed his time away from the Rock & Roll ruckus of Ten Years After – so much that he put together a nine piece band around Mel Collins and Ian Wallace (both of King Crimson). They recorded a Live Album of non Ten Years After material, and called themselves, "Alvin Lee and Company" and the album "In Flight".
However, while Alvin's solo adventures were taking place, managers, lawyers, booking agents, girlfriends, and of course his band-mates were consumed by thoughts of all the money that could be made by getting Alvin back into the lucrative American coliseum circuit, blazing through "Going Home" just one more time. So Ten Years After re-grouped and recorded one final record album called "Positive Vibrations". After a "farewell tour" at the beginning of 1975, Alvin started anew; the next six years saw The Alvin Lee Band release albums such as: Pump Iron, Free Fall and Rocket Fuel.
The Seventies turned into the Eighties and you know that story; Punk Rock, New Wave, Electro Pop, Rap and all the rest – but Alvin continued to boogie right through it all.
During that period, playing in Alvin Lee's group was one of the best gigs an old-school rocker could have. Down on their luck musicians like ex- Rolling Stones guitarist Mick Taylor and ex-Stephen Stills Manassas bassist Fuzzy Samuels found gainful employment with Alvin.
After 1981's RX5 album, Alvin was not ready to make the move into hi-tech AOR pabulum like so many of his English contemporaries – so he did nothing and passed his time at home.
If he had the urge for a jam session, he could always ring up old chums like George Harrison, who guessed on the sturdy Detroit Diesel album released in 1986.
1989 marked the return of the original Ten Years After line-up under the sardonic name
Ten Years Later for a reunion album on Chrysalis. (note from Dave – Ten Years Later was the name of Alvin's solo band and had nothing to do with Ten Years After).
About Time was the name of the new album and subsequent Ten Years After tour. It was a pleasant affair for those involved, but there was an apparent oldie-but-goodie "Remember Us?, look to it all. Not looking to go the eight shows at the amusement park route, Alvin detached himself from the Rock Conglomerates and joined up with the New York based label
Viceroy. Nineties recordings on Viceroy like "I Hear You Rockin" and "Zoom" rate among his strongest works.
Today you'll find Alvin touring the world not on the Rock Revival Circuit, but rather in small and sweaty Blues Clubs. Presently accompanied by fellow travellers Eric Burdon and Anysley Dunbar, Alvin plays good-time Rockabilly to an older but reverent and musically educated audience who are there, Not For Goin´Home – but to see Alvin Lee and his guitar roam the plains of the great American Blues.
The Interview With Alvin Lee:
Seconds: What aspect of your work do you recognize in music today?
Alvin: Licks and tricks, really. There's certain licks I play that I know I've developed that not many other people play. I never used to copy players. I was a big fan of Chuck Berry, but I never copied his solos. I'd emulate his style. Sometimes I hear my actual licks copied. I realize there are some young guys out there listening to me, like I listened to Chuck Berry. That's an on-going thing.
Seconds: You are particularly noted for playing fast.
Alvin: The original "Captain Speed-Fingers" yeah. That was something that just happened, actually. I never tried to play fast. If anything, I tried to slow it down a bit. With the adrenaline of live gigs, it just used to come out that way. I never acknowledged that "Fastest Guitarist In The West" and all that because it just isn't true. Django Reinhart was before us all and played much faster than anybody I've ever heard. A lot of Jazz players like Barney Kessel and John McLaughlin play much faster than me. I'll play light and shade, I'll play things slowly and then hit you with some rocket riffs. It's nothing I set out to do – it's quite the opposite; I always tried to hold it back a bit.
Seconds: What other qualities of your guitar playing would you like to be remembered for?
Alvin: I just play by feel," from the hip", as they say these days. I'm not musically trained. I've been asked to do one of these "Hot Licks" type tutor-videos and I'm not sure if I'm the right man for the job, because I never really know what I'm playing. I've developed a style where my fingers will do what my brain says, but I don't get in the middle of that. It's one of those things where I grit my teeth, dig in, and just play it. It's an automatic thing. It doesn't work slow; I forget where I'm going. I don't play scales or anything like that – in my mind, scales are a waste of time. You learn to play a major scale but you can't use it ! It doesn't sound nice. What's the point of learning to play something that doesn't sound nice? So I make my own scales up. I make scales that I want to hear. It sounds better and I can use it. I don't think about my playing too much. I don't sit down and practice this lick or that lick, I just play.
Seconds: What's the center of gravity, the thing you come back to the most?
Alvin: The center of gravity is the guitar and me.
Seconds: I hear the word Rockabilly in connection with you….
Alvin: Yeah, I was a big fan of Scotty Moore. I met Scotty in Nashville. I had to say to him, "That second solo in "Hound Dog" – how did you play that?" He said, "I just grabbed a handful. I'll tell you about another time I fucked up…." It was a mistake. That's what I like about Blues and Rock N´ Roll – sometimes the mistakes are the great bits. You make a mistake and it sounds good. That often happens when I'm playing live. I told Scotty a lot of us guitarist were trying to work out how he played this second solo to "Hound Dog," and it's a complete mystery, even to him.

Seconds: You don't like your music to be too polished.
Alvin: I'm kind of an amateur engineer. I've got my own twenty – four track studio and I've always fooled around and made demos. Over the last ten years, I've got more and more involved with drum computers and synthesizers and sequences. It's a lot of fun, but it led me astray a little bit. On the "Zoom" album, there's a song called "Jenny Jenny". It pleased me because it sounds like a Rock & Roll tune, but it was actually cut with a drum computer. On "I hear You Rockin;" I listened to some old Ten Years After songs and said, "How did we record then? How did the songs come about?" I remember sitting with the band in one room and playing tunes, so that's what I did on this last album. It's simple, but I clouded by technology. When I first started touring after I made the album, I did something I've always wanted to do. I went onstage and said, "I've just made a new album and now I'd like to play it for you". I played the whole album from start to finish and it was great. Now, I'm playing a mixture of old favourites because I think the audience would like to hear the classic cuts, as well as the new stuff.
Seconds: What do you regard as your classic stuff?
Alvin: "I'm Going Home" – "Love Like A Man" – "Good Morning Little Schoolgirl" – "Slow Blues In C" – I've just started doing "I Hear You Calling" again.
Seconds: How was Ten Years After different from other Blues Rock bands of that time?
Alvin: Ten Years After was never a very happy band. It was a constant war, which made the style what it was. I was playing rocket riffs, the bass player (Leo Lyons) was playing rocket riffs, the drummer, (Ric Lee) was playing a constant drum solo, and a lot of the time it was very frustrating. I wanted to hear a bit of backbeat, but the band was so busy – every-time I'd take a solo, everyone else would take a solo at the same time.

Seconds: But you had the final word, right?
Alvin: Yeah, to a point. I never told a musician what to play. It's far too corporate. If you want a happy musician, if you want a contribution from the guy, he's got to be playing what he likes.
Seconds: Yet you were together a long time….
Alvin: It was enjoyable, but I started to move toward solo projects because I wanted to move on and I to try other things. The first solo album I did was. "On The Road To Freedom" (1973) – which was a little statement in itself, and it was basically Country Music. It was a whole different feeling. I had Ian Wallace playing simple drums and Boz Burrell from (King Crimson and Bad Company), who was one of my favourite bass players. After playing with Ten Years After, where everything was a racket and solos, suddenly I was playing with Wallace and Burrell. I'd start a Rock n´ Roll song, and instead of them coming crashing like I was used to, they'd come in with a neat half-time feel. To me, that was great. I've always liked to do different things; I don't like to get stuck in a rut too much. I've always experimented with music. I hate the kind of person who sits down and says, "What's popular? What the people want to hear, I'll play that". That's too contrived. I always like the music I play. I've gone astray a few times, I must admit. Record companies say they want you to record something that's popular so it can get played on the radio – I tried it a few times and it never works. The radio stations say, "This isn't Alvin Lee's stuff. We want the real Alvin Lee. "I'll stick to my guns and play what I like and it's more rewarding. If you do have some success and it's come from your heart, it's much more rewarding.
Seconds: Ten Years After albums were very referential to Psychedelia, but they were also Blues albums.
Alvin: That was all part of that Sixties feel. On the second album, Ten Years After did, the live album called "Undead" we just played in a club and recorded it. I heard it back a couple of days later and thought, "This is great". This is the band playing the best they've played. Where do we go from here?"
I was quite worried, I thought I'd peaked. I didn't know what else to do. The way my mind went then was, "I've done that, so let's experiment in other regions". I suppose the Psychedelic era was on us and I was playing around with mind expansion as much as anyone else, and I guess it just came out in the music. I was always trying to not get tied down by any particular bag.
Seconds: Was the drug scene an integral part of the music?
Alvin: Not integral, but inspirational in a way.
Seconds: Did that all change?
Alvin: It has now for me – but not that recently! I've been a heavy user for a long time. I only cleaned up my act quite recently.
Seconds: An intoxication ritual is a great motivator for music.
Alvin: It is and it isn't. Inspiration is hard to get, and anywhere you can get it, you get it. I've never been into heavy drugs at all. I was a pot smoker, I took LSD, and I found LSD to be quite inspirational.
Seconds: Did you do it when playing live?
Alvin: I have, in the bad old days. Once at the Fillmore West, as I walked on stage, the chemicals took over. I hit a test note on my guitar and I heard it hit the back of the wall and hit everybody's head on the way back and bounce up. Most of what I remember about this gig is what people told me afterwards. I know I played "Slow Blues In C" and then said "Now I'd like to do Slow Blues In C and played it again. All the fans were giving me very strange looks. There was one point where I was playing this solo, finished the solo and thought, "What song is this?" I came back playing another song. I got away with it, nobody wanted their money back. Things like that tended to happen at the Fillmore West.
Seconds: Did drugs take a toll on your contemporaries?
Alvin: When people started to die, that was not funny. I've always been very against heavy drugs. I've never been in the same room as Heroin. If anybody ever started to strap their arm up, I'd make it known that I disapprove and walk out. I've seen too many go that way. But smoking pot is harmless. Acid's probably a bit risky, but you can't be too safe in this world, can you? I was quite a late starter in drugs. I never wanted to be reliant on anything. I liked the way I was going and didn't want to change anything. The first time somebody gave me some Speed Pills, I was so worried that I made myself sick and spewed them out.
Seconds: Do you consider Cocaine one of the heavy drugs?
Alvin: I don't consider it heavy, I consider it a waste of time and money.
Seconds: Did you see its effect on people around you?
Alvin: Yeah, I was a late starter on that too. I used to say, "How stupid putting white powder up your nose". Eventually, I started doing it myself, as well. That led to three day jam sessions, out of which nothing came except a lot of rubbish. There was a time where I thought, "I don't see the way out of this," and suddenly I got fed up with the stupid lifestyle and just stopped. I'm healthy, happy, and I've got something in the bank now, which I never did when I was into that stuff.
Seconds: Your sound became more complex with albums like "Watt" and "Cricklewood Green".
Alvin: I think an important part of music is evolving, and the band evolved, not necessarily for the good, but I think it's best that a band does evolve, rather than stand still. We could have played that same style and become a cardboard cut-out band and made enough money to live fine, but I wanted more than that. I wanted personal creative rewards; I wanted to feel I was doing something more important than making a living.
Seconds: And the offer to play Woodstock……
Alvin: That just came about in the middle of a tour. I didn't recognize it as anything different until I got there.
Seconds: It was a real demarcation point in your career.
Alvin: In retrospect, yes, but it was the movie that did that. The band was playing the Fillmore West, Fillmore East, Kinetic Playground, Boston Tea Party…..the underground. We'd play to 1,000 to 2,000 people at the most. They'd be right up front, sweat dripping down the walls. Some of the best gigs I've ever done were those kind of gigs.

We played the Woodstock Festival – great experience – but for a year we carried on playing club gigs. It wasn't till the movie came out – that silver screen, larger than life feeling, and suddenly I found we were playing basketball stadiums and ice hockey arenas. You'd think playing to 20,000 people in arenas is making it, but it was horrible, I hated it. Having played clubs all my life, I suddenly found myself in ice hockey arenas where you'd finish the number and the sound continued on for another thirty seconds – huge barriers, so you couldn't see the audience – and in those days, they didn't have security guys; they had real cops with guns and cotton wool in their ears. I was playing to the back of coppers heads and thinking, "What am I doing this for?" People were shouting for "Going Home" through every number, and I got very disenchanted with that.
Seconds: If you didn't enjoy playing the arenas, who was making you do it? Management and Record Companies?
Alvin: Pretty much. I wanted to do it at first. You think that's what you want; you have to actually get it to find out it isn't what you want. I used to walk onstage with everybody screaming and shouting – it didn't seem like I had to do anything. With everything I did, they weren't really listening to it. Nobody was picking on it. I'd play a rotten show, everybody would come back afterwards and say it was great. I'd play a good show, and everybody would say it was great. I don't think anybody really knew. Generally I wasn't getting any feedback. It's a very unreal situation. My hero's are Blues Musicians and I was becoming a Pop Star, which I didn't want. A lot of people will say Woodstock made Ten Years After, but in fact it was the beginning of the end. At that point, disenchantment went on. To me, it was a big trap. I was constantly plagued by media obligations; it was ridiculous. I was doing twenty interviews a day and by the time it came time for the gig, I didn't know where I was. I actually made the decision to de-escalate that thing. I stopped it. The managers, the record companies the agents, they all said, "Alvin, you can make millions of dollars". I said, "What's the point of having millions of dollars if I'm crazy?" I didn't want what was happening to me. I stepped out of it and there's no regrets. I'm playing a club tonight and that's what I love doing. I'm glad I'm not playing Madison Square Garden tonight.

Seconds: Tell us about "A Space In Time".
Alvin: A Space In Time was me making a break. After the Woodstock Movie, I had no time to write songs. I was writing songs in the taxi on the way to the studio. The band would say, "What do you got" and I'd make a song up right there. It worked; it was natural. I still write songs like that nowadays, but at the time I thought it ought to be harder than that. I wanted to struggle, I wanted to sit up all night writing. So I said, "I want six months off to write songs".
That was the first time I heard, "But Alvin, you could make a million dollars in the next six months". Nobody could understand I didn't want that.
Seconds: How was the band politics concerning money?
Alvin: Everybody was a bit burned out with these auditoriums, to be honest. I wasn't the only one. The other guys quite liked making lots of money, whereas I thought it was distasteful, I didn't think I deserved it. With A Space In Time, I said I was taking six months off. I wanted to be proud of the music I made. "I'd Love To Change The World" was one of the songs on that album I was really happy with.
Seconds: On The Road To Freedom with Mylon LeFevre was a real departure from the Ten Years After sound.
Alvin: I was trying to get back to some sanity and get away from Rock & Roll. When I did that, I realized that wasn't what I wanted either and I came back to Rock & Roll. I went to see Jerry Lee Lewis and he was playing Country & Western. He didn't play "Whole Lotta Shakin" or "Great Balls Of Fire" and I was really disappointed. I came out of that gig and I thought, "If people come to see me and I didn't play "I'm Going Home," they're going to come out of the gig feeling like I feel". It's ok being an artist and playing what you want, but if people are paying money to come and see you, then you've got to give them something of what they want. That night, I went back to my band with Ian Wallace and Boz Burrell and said, "We're doing I'm Going Home tonight". I finally came full circle and came back to Rock & Roll and found it's what I did best.
Seconds: It seems you've managed both your fame and your money pretty well.
Alvin: Yeah, by the skin of my teeth.
Seconds: You've probably had former millionaires looking to borrow ten bucks from you.
Alvin: It happens, sure. If you want security, there's no security in the world. If you've got a million pounds, somebody can steal it from you. The only security I've ever found as a musician is that I can sing for my supper. I can do a gig and make money to live.
Seconds: Did you have contemporaries that lost their resources and looked to you with resentment?
Alvin: Most of those guys didn't care. They were so out on a limb, they didn't realize what they had and when they lost it, they didn't realize it either. You make the best of what you've got, don't you? It's not so much the guys that made millions and lost millions , it's the guys that made millions and never got it. There's lots of that, guys that had hit records and never saw a penny because of their crooked manager. I was lucky, I had a manager who used to say he was ninety percent straight, so I figured I got ninety percent of the money coming to me.
Seconds: How about your subsequent band, Ten Years Later?
Alvin: The name in itself was an anniversary, it was ten years after, Ten Years After. There was a time around 1973 when I didn't have any interest in the band anymore and the manager said, "You could have any musicians you want, Just call it Ten Years After. Keep the trade name". To me that was very distasteful. I wanted to leave that and start again.
Seconds: I get the idea that you just considered yourself a guitar player in a group called Ten Years After, and were bothered by the fact that people fixated on you.
Alvin: It was never intended to be that way. It was a communal group, but obviously the singer and lead guitarist will be in the spotlight ninety percent of the time. I was getting bad vibes from the rest of the band. They were a bit miffed, that I was becoming the front man. That really started the rift within the band; they wanted to do interviews, too. So the manager would say, "Chick Churchill's going to do the interview instead of Alvin Lee," and the people would say, "We don't want him, we want Alvin," and the resentment built.
Seconds: In your current music, what do you look for?
Alvin: The feel. If it feels right, it's good.
Seconds: If you experience a huge resurgence of popularity and someone calls you up saying, "Alvin, we want you to play Madison Square Garden," what will you say?
Alvin: I'd probably do it. I've learned a lot of lessons. Now I've got control, I know what I'm doing. In those days, I didn't know what I was doing. I was pretty lost and the drug haze didn't help. When you get to my age, you learn to make things easier for yourself. When you're twenty three, you seem to be intent on making things hard for yourself – "How many drugs can I take and still play?" I'd give playing Madison Square Garden a whirl, I'd try and put over my music the way I want it to be. But I don't think there's too much danger of that happening.
| | |
| --- | --- |
| | #38 (September 1996) |