ALBUM REVIEWS
The British rock press never quite forgave Alvin Lee for his guitar pyrotechnics in the Woodstock movie, although any solo that inspired awe and even a little envy in Jimi Hendrix was good enough for me. Both with and without Ten Years After, Lee has been cutting blues and rock albums for three decades, but his media profile in this country isn't so much minimal as missing.
In Europe and South America, though, Lee is respected as one of British rock's finest ambassadors from the 1960's and rated alongside the likes of Eric Clapton, Jeff Beck and Peter Green as a guitar hero par excellence. "Stonedhenge" the bands third album from 1969, was their real commercial breakthrough, besides debuting a Ten Years After standard in "Hear Me Calling". Produced by Mike Vernon, it accentuated their blues roots but left plenty of space for Lee's eye-blurring fretwork.
"Ssssssh" may have featured a cover photograph by Graham Nash, but there was no sign of three part harmonies or odes to large sea mammals. Instead, Ten Years After kept up the diet of blues, slow in "I Woke Up This Morning" to the fast blues of "The Stomp". But "Bad Scene" opened the album with a metallic rush that suggested another horizon for the band to conquer in the decade to come.
The "A Space In Time", album number seven in the Ten Years After catalogue, released in 1971, certainly marked a change in direction, but not the way people might have expected.
With Del Newman's strings on "Over The Hill" and some wary experiments with a Moog Synthesiser. Ten Years After baffled some of their British fans, but helped by their constant touring schedule, it became their biggest-ever seller in the States.
The touring eventually took its toll, with the effect that "Rock & Roll Music To The World" became their final erratic, studio album – at least until 1989. Thereafter, Alvin Lee set out on a long, rambling solo career, that has veered between some degree of success and complete commercial indifference and back again.
The three Viceroy albums, imported from the States by Pinnacle, date from the last decade.
"Detroit Diesel" won more attention for it's George Harrison guest appearance than anything else, thought it did also reunite Lee with Ten Years After veteran Leo Lyons. More tracks from the Harrison collaboration belatedly appeared on Lee's 1994's release "I Hear You Rockin´" which ended with a faithful rendition of the Beatles – "I Want You" (She's so heavy) – not with George, of course, but "Live In Vienna" is the best hint of where Alvin is today – still playing "Hear Me Calling", "Love Like A Man", "Good Morning Little Schoolgirl" and, of course the obligatory "Going Home".
Article by PD - 1997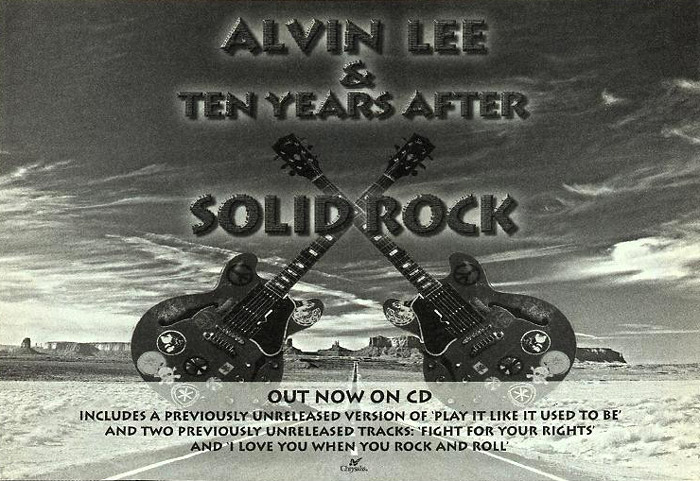 Solid Rock – Alvin Lee and Ten Years After – 1997
A Best Of Collection – Again
Mention the name Alvin Lee and most people will say what a wonderful blues guitarist the man is. Press it further, and the other half will respond with "I'm Going Home" Woodstock 1969 Ten Years After what fantastic rock and rollers they are. This Solid Rock edition is a rocking greatest hits kind of jam release, a good introduction for the rank amateur, just discovering the band and the time, that they were in their classic prime. You'll get to hear both sides of what the group was about. This includes Alvin with Ten Years After and also some tunes from Alvin Lee gone "solo". It should be known, that Alvin himself hand picked the songs presented here. So, you can be sure that he's giving you a little sneak peak as to what his personal taste consist of, and his most beloved rocking songs are.
"When I first heard "I'd Love To Change The World", my first impression of Ten Years After was, damn, who is that guy burning up the rosewood fret-board here? During that time, the two guitarist who were grabbing up almost all of the accolades were, Jimi Hendrix and Eric Clapton. While Alvin Lee's accomplishments greatly impressed me, and still do. Between the record companies, the music business and the sheer passage of time, all three have buried this guy in the forgotten pile. He's truly one of the unsung heroes of rock and blues.
This collection also includes two bonus tracks, both never before released.
"Fight For Your Rights" and "I Love You When You Rock and Roll". Judge for yourselves.
Martin Lake
Ten Years After were enticed by the opportunity to play a major Scandinavian Festival Tour in 1997. This was with all the original band members signing on in earnest. They wanted to "test the waters" to see if they enjoyed playing together once again. It also was their first time playing in South America.
Wednesday May 21, 1997 – Ten Years After played a rousing and triumphant concert in front of a sold-out audience in Sao-Paulo Brazil. The high energy show included some of the fans all time favourites: "Hear Me Calling" – "Good Morning Little Schoolgirl" – "Slow Blues In C" – "Help Me" – and an audience sing along of, "Johnny B. Goode" – Naturally the show wouldn't be complete without Alvin Lee's tour-de-force number; "I'm Going Home. The band encored with "Choo-Choo-Mama" – and "Sweet Little Sixteen".
Friday May 23, 1997 – finds Ten Years After in Porto Alegre Brazil. The reports and reviews confirm that the band is outstanding and positive with the audience there. As the media were actively pursuing the group. The members continue working together, but are still undecided about a long term commitment.
Saturday May 24, 1997 – This is the third concert in the series of Brazil, and just might be the highlight here. Three thousand fans came out to Belo Horiz and they refused to let the band leave the stage, bringing them back out for three extended encores.
Ten Years After then move onto Europe and agree to play Four Music Festivals there.
May 31, 1997 – The Esbjerg Rock Festival, in Esbjerg, Denmark which featured Ten Years After – Peter Green – Bachman Turner Overdrive – and Richie Blackmore's Rainbow.
Ten Years After – Set List Includes: "Rock and Roll Music To The World" – "Hear Me Calling" – "Help Me" – "Slow Blues In C" – "Good Morning Little Schoolgirl" – Love Like A Man" – "Victim Of Circumstance" – "Hobbit" – "Johnny B. Goode" – "Classical Thing" - "I'm Going Home" – "Choo-Choo-Mama" – "Sweet Little Sixteen" – "Rip It Up".
June 14, 1997 – Rock Festival, at Karlshamm, Sweden. Ten Years After once again headline the event, which also features: "Mick Taylor" – "Molly Hatchet" – "Simon Bolivar" and others on the same bill. About six thousand people were in attendance, in order to hear their favourite bands.
June 28, 1997 – Helsinki, Finland. Ten Years After perform in front of ten thousand music fans, who got to see and hear the band play live, many for the very first time. It's reported to be their "best ever" concert, this by the bands own tour manager John Hembrow.
The overly enthusiastic audience, gave them the longest standing ovation ever seen at that venue.
August 15, 1997 – Claremont, France – all reports and concert reviews were positive.