That's All Right

50 years of Rock 'n' Roll
with Alvin Lee
and Scotty Moore


Interview by Robert Silverstein

It was fifty years ago-on July 4, 1954 in Memphis, Tennessee to be exact-that guitarist Scotty Moore met a budding singer named Elvis Presley. The very next day, on July 5th 1954, Scotty and Elvis-with Bill Black on bass and Sun Records founder Sam Phillips in attendance-recorded "That's All Right" and the rest is rock 'n' roll history.
Celebrating 50 years since the first Sun Sessions and the birth of rock 'n' roll, RCA Records has released Elvis At Sun-a nineteen track 2004 CD containing some of the great tracks Elvis made with Scotty Moore and Bill Black at Sun including "That's All Right". Coinciding with Elvis At Sun, RCA has also released Memphis Celebrates 50 Years Of Rock 'N' Roll, a 21 track CD combining a range of early Sun classics from Elvis, Scotty & Bill, Carl Perkins, Johnny Cash, Roy Orbison, Jerry Lee Lewis.
Flash forward 50 years, from 1954 to 2004, and the release of a new recording celebrating the glory days of '50s rock 'n' roll. Released on Rainman Records, Alvin Lee In Tennessee features British blues-rock guitar icon Alvin Lee joined in a musical reunion with original Elvis band members Scotty Moore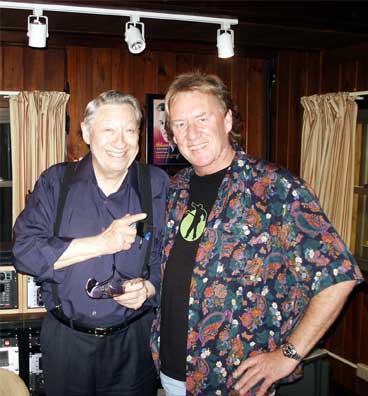 and drummer D.J. Fontana. Showcasing Alvin's songs and vocals—with key contributions from Scotty and D.J.—Alvin Lee In Tennessee merges the finest elements of '50s rockabilly with the blues-rock power Lee successfully brought to bear with his '60s band Ten Years After. Honoring the 50th anniversary of rock 'n' roll and the 2004 release of Alvin Lee In Tennessee, 20th Century Guitar and mwe3.com music editor Robert Silverstein spoke to both Scotty Moore and Alvin Lee in early June 2004 on a range of topics. Scotty spoke about recording with Elvis at Sun Records, Alvin's CD and the 2004 DVD reissue of the Elvis '68 Comeback Special. One of the original architects of '60s British blues-rock, Alvin Lee was eager to point out how influential Scotty and D.J. Fontana were during the making of Alvin Lee In Tennessee while also sharing musical memories of Ten Years After, the '69 Woodstock festival and much more.
RS: Hi Alvin, how are you doing?
AL: I'm doing fine, thank you!
RS: You're living in Spain?
AL: That's right.
RS: Do you still spend time back in England anymore?
AL: Oh yeah, I just did a huge tour in England. Well, huge for me anyway. (laughter)
RS: Spain has a rich guitar tradition.
AL: I know, the flamenco guitar is fantastic.
RS: I heard you were supposed to come over to the States for some shows this June but they got canceled because of work visa problems?
AL: Yeah that's right. I went to the American embassy for me work visa and it didn't pan out. My name wasn't on the list. It's getting tough these days.
RS: I spoke to Arnie Goodman and he said it's a sign of the times.
AL: Oh, yeah. I like Arnie. How's he doin'? I haven't spoke to Arnie Goodman for years!
RS: He's Mr. Blues Expert.
AL: Well, he always has been, yeah. (laughter)
RS: He's a nice guy...
AL: He's great, yeah...
RS: You're going on to tour in Italy and Sweden next summer?
AL: That's right, yeah. I did this seven week tour of the United Kingdom with Edgar Winter and Tony McPhee, which was great. I haven't done it in while and it's actually got me back into playing regularly again which is great.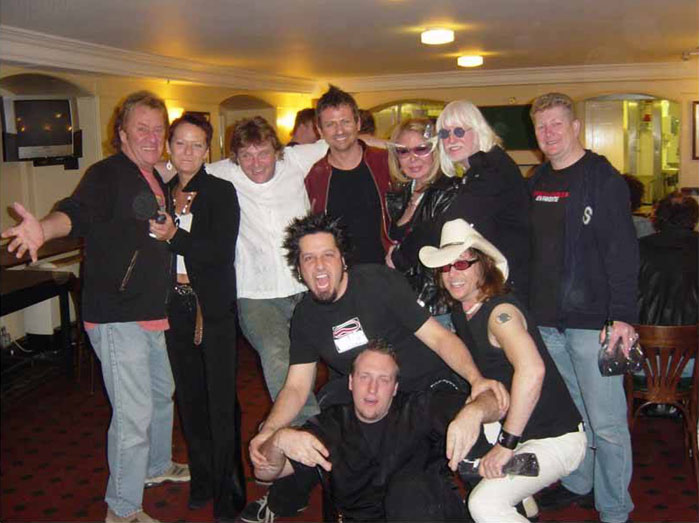 RS: You finished the UK tour with Edgar Winter on May 27 at the Royal Albert Hall? That's an amazing place...must have been a great show.
AL: That was a great night actually. It was a great end to the tour. We had a good time. We had a good party afterwards too! (laughter)
RS: Starting off asking some questions about the 2004 release of Alvin Lee In Tennessee, can you reflect back to when you were 14 and you joined the Elvis Presley fan club in order to get pictures of Scotty Moore and his guitars.
AL: That's right, yeah. I don't know what it was. I was just starting to pick up the guitar and fool around with it and I'd taken a few chords lessons. I'd been brought up on blues. My father was an avid blues collector and he had a 78 collection of some very ethnic chain gang songs and Big Bill Broonzy and the like so I was brought up on that music. I started off playing a clarinet when I was 12. And I heard Charlie Christian playing with Benny Goodman and thought, 'that's more what I'd like to do', so I swapped the clarinet for a guitar. And till I heard Chuck Berry I was kind of pretty much into jazz chords and things. I used to listen to Barney Kessel and Django Reinhardt and early George Benson. But I first heard Chuck Berry and I thought, 'this is the blues all rolled into rock and roll as well.' I loved the way Chuck Berry played two notes at a time when he solos. And of course, the other great guitarist was Scotty Moore. The "Heartbreak Hotel" solo was the first one I ever heard. And the second "Hound Dog" solo, which is a classic till this day. And just his talent and his style and the way he made things work. And I was just inspired by that. I never actually copied these guys. I used to copy their style but not their notes. You know what I mean? So I would play in their style...it's what kicked me off. D.J. Fontana too...who I think, still is one of the greatest drummers in the world.
RS: Can you recall the first time you met Scotty Moore and how that evolved into the making of Alvin Lee In Tennessee?
AL: I first met Scott, I was in Nashville as a fan in 1995. And somebody took me round to meet him. I got my photograph taken with him and got his autograph. All the fan stuff, y'know? Asked him all the fan questions and we kind of struck up there but it wasn't until four years later, 1999 it was that Scotty was launching his guitar for Gibson, the Scotty Moore model. And it was a jam on stage at the AIR studios in London. They invited me down and I got up and did a medley of Elvis songs with Scotty and D.J. I just loved it. I mean it was great. It was magic and I thought, 'I've got to take this further.' So I asked Scotty, 'Any chance getting you guys in the studio sometime?', and he said 'sure thing.' So the idea was born there and then.
RS: It's interesting that some of those early Elvis sides like "That's All Right" didn't even have drums on it!
AL: No drums. The very early first sessions had no drums at all, yeah.
RS: What was it about Scotty Moore's early rock and roll guitar style with Elvis that intrigued you most?
AL: It was a mixture of...he played melodies for solos rather than kind of noodling. I play from the hip generally. I play kind of stuff all over the place. But I've always admired guitarists, people like George Harrison too, they can construct a solo which is singable. But Scotty would do that too whilst exploring interesting runs and he had a little bit of jazz stuff going there, which is quite unique really.
RS: What did you think of Elvis as a guitarist?
AL: Didn't think of him as a guitar player. A damn good singer. (laughter) One thing I thought when I went to play with Scotty at that jam, I said, 'well look, I don't want to be up there as Elvis for the night, y'know? 'Cause that's a tough act to follow and I can't fill his blue suede shoes.' He said, 'oh, no...just get up and have a bit of fun.' And that was basically what it was about. But for the recording, I wanted to record original songs. I went over to Nashville. I had, I think twenty seven songs and I even had a stash of about fifteen songs...all Elvis like "Shake, Rattle & Roll", in case my songs didn't work. But fortunately I didn't have to use those. I went over to record for three weeks and in two days we got down eleven tracks. So, I had a lot of time to spare. Those guys are very good and know what they're doing in the studio. They go for the feel and the groove in the pocket. It was beautiful.
RS: You've called D.J. Fontana the best drummer in the world. How cool is that to have two key Elvis band members backing you up on the Alvin Lee In Tennessee album?
AL: (laughter) I know. It was great. I was still like a fan when I got there. You know what I mean? In Scotty's studio, he's got pictures of him with Elvis, trophies and gold guitars...stuff all around. I mean, like a school boys dream. It took me back to being a school boy. I felt like a young kid, but they made me feel like one of the boys, which is a great compliment. They could have kind of treated me like an upstart but they made feel really at home and like one of the boys, which was great.
RS: Interestingly, you've said about making the Alvin Lee In Tennessee that 'it was time to put the roll back in rock and roll'.
AL: That's right! It's been missing for a long time. The English style of rock music came from rock 'n' roll but it was always kind of done with kind of more aggression and more adrenaline.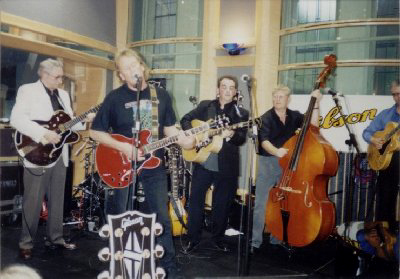 And of course the English rock music turned into the stadium rock, which became louder and even turned into heavy metal. So the 'roll' in rock 'n' roll, which D.J. Fontana is the master of, kind of got lost somewhere. And I thought it was possibly the best bit, 'cause it's the swing, it's the groove, it's the finesse. And when you hear those old Elvis records, which you think are really loud and raucous...they're not so loud and raucous. In fact, they're steady. They've just got that swing groove which makes them rock...and roll.
RS: Scotty only played guitar on a couple tracks, but you've said he kind of masterminded the sessions.

AL: Oh yeah. Well he put the band together to start with. He got Willie Rainsford on the keyboards. I didn't know Willie before then and he was perfect for the job. And the bass player, he brought in Pete Pritchard. He's actually from London. And I just used him on my last tour. He's great. He plays double bass and he plays electric bass as well. And Scotty brought him in from England so I figured he must be good, 'cause (laughter) there's a hundred bass players in Nashville! But this guy, he's kind of brought up on Bill Black. And he know all Bill Black licks and he can slap the bass just like that. He's great too. He's a great character. We put about four tracks down in the studio and Pete turned to D.J. and said, 'hey D.J., you're pretty good at this, have you ever thought of taking it up for a living!' (laughter)
RS: Pete at one time played with Chuck Berry and even Bill Haley.
AL: That's right. He's an English stand up bass player and he knows every American rock and roll star who's come over here. He used to get the gig.
RS: You've said that nothing comes close to your 'Big Red' Gibson 335. Did you mostly use the 335 on the Alvin Lee In Tennessee CD?
AL: No, I didn't use that one. Actually (laughter), I borrowed a guitar in Nashville. (laughter) I figured taking a guitar to Nashville is like taking, what we say, coals to Newcastle. I suppose you'd say, taking sand to the desert. Also, I got fed up with carrying guitars on airplanes these days. It's great if you can pick up a guitar and play it. I mean, it's a bit risky really. When I do my touring and stuff I take my own guitar but it's great when you can pick up one. And in Nashville, the guy at Valley Arts Guitars...he's got about six hundred Gibsons and just said, 'help yourself'.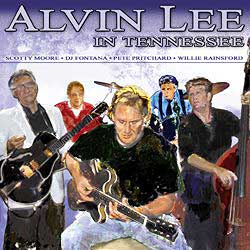 RS: So which guitars did you use on the album?
AL: It was a 335 type of guitar. It was a sunburst version. It was a prototype of a different pick-up situation, but it was pretty much a 335. I'm playing it on the album cover, you can see it so...the brown version.
RS: So you still have your original 335?
AL: Yeah, unfortunately that's got so valuable, I can't play it anymore, which is very sad. I mean the last thing I ever wanted was to have a guitar stuck in a vault somewhere. Some guy offered half a million dollars for it last year, which kind of makes me want to not take it on an airplane and not leave it in the back of a van. You know what I mean? I turned it down because I wrote this song once called, "There Once Was A Time"...an old Ten Year After song (with) 'I'd never sell my guitar because that would be a sin'. It's not the money, I mean it's a great guitar. The sad thing is, I'm not playing it. I just don't take it on the road. If it got broken or stolen I'd be...devastated.
RS: Are there any other vintage electrics or archtops you're using on the CD?
AL: I always use a 335 when I'm getting serious. I've got a nice Strat that I fool around with. I've got a Steinberger which I use for sessions. I'm jamming alot. We have these jam afternoons over in Morbello. Boz Burrell lives out here, Bad Company bass player. And Trevor Marais, he's got a studio here, which is where I actually mixed the album. He used to play with a band called The Peddlers in England and he went on to run professional studios all his life. He's a drummer, he's a great drummer so we have these jam sessions over there. In fact, I take this Steinberger and I take this tiny little box, called Pandora's Box and plug it straight into the desk and it's great, it's great for jams. It's a toy but it's great. You can get damn close to...it's like having about fifty amplifiers with you. So I enjoy mucking around with that. I'm doing another project with Trevor 'cause I think I can see Africa from where I am here. So we go over to Africa and we're recording with a load of African drums. So it's going to be like heavy rock guitar, full distorted rock guitar with stacks of Marshalls and stacks of African drummers. It's going to be a jungle-rock fusion. (laughter) It sounded very good. We've done a few runs, a few tests on it. It sounded great. 'Cause it lets me get back to my mad guitar style. 'Cause the style I play with Scotty on the In Tennessee, I'm kinda playing...when you play with D.J. Fontana and Scotty Moore, you play tidy, you know what I mean? And of course with the jungle drum project, then I just go mad. Just attack the guitar with fervor. I think I need to do that. That's the next thing I want to do. (laughter)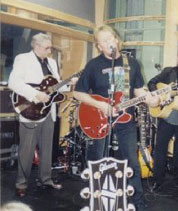 RS: So that style you're playing with Scotty you call 'keeping it in the pocket'... can you expound on the definition of that musicians term?
AL: That's right and I've adopted it for this album. I'm not going to follow that style from here on in. That's what I've pretty much always done on most of the albums that I've recorded. I play in the kind of the style of the year as it were. My own style is between blues and rock. Early on, I suppose I was a blues player with heavy metal leanings. I've always been trying to push the boundaries a bit and kind of get out of being ordinary and average. Not that there's anything wrong with that. B.B. King is good enough or Freddie King is good enough, so who needs two of them. I figure I should do something which comes from within me.
RS: Early Ten Years After albums like SHHH! and Cricklewood Green were ahead of their time.
AL: I thought so too! (laughter) They were great days. It was the time for breaking barriers in those days. I mean, if you made an album without breaking a few barriers then it was passe, wasn't it? I've got this anthology album out, it's called Alvin Lee Anthology and I did this interview which the guy used for the liner notes. I don't know if you heard that one 'cause it's a good mixture of all the stuff I've done over thirty years. It might only be out in Europe at the moment. I think it's due to be released in America this year, come to think of it. In the interview I said, 'those were the days when we thought we were changing the world', and I went on to say, and I'd forgotten I said this and when I read it I cracked up. I went on to say, 'in fact we did change the world back in those days, the only thing is, it changed back again while no one was looking.' And it's kinda true, y'know? It's like...all that, the underground, which was so great, I loved being part of the underground. We used to play Electric Factory and The Boston Tea Party and The Fillmores. Those kind of gigs with light shows and kind of very stoned audiences. And it was called music for heads in those days and it was called underground. And the early days of underground you know you'd do a show with a rock band, a poet and a string quartet or something. And it was really kind of arty. That was a great involvement. It was very bohemian and I really enjoyed being part of that. And that kind of evolved into what later became the peace generation I suppose.
RS: Before the '70s malaise? Sort of before punk and soon after MTV.
AL: It all kind of went inwards rather, didn't it? That was the thing.
RS: But some of the music you were making with Ten Years After back then...I call it baroque blues or something.
AL: That's an interesting description, yeah.
RS: The lead off track on the In Tennessee album, "Let's Boogie" kicks off the CD in style with it's Berry meets Elvis bounce. It sort of sets a solid tone for the album.
AL: Yeah, I like that one, yeah. That was the obvious direction because, I mean to me, that jump-jive stuff is where rock 'n' roll comes from. And I think that's what D.J. and Scotty were listening to when they were learning. This is what's great about music, 'cause every time you find an innovator of music, you find out what he was listening to. And rock 'n' roll goes back to the early 40's, or even earlier but if you go to the jump-jive bands in Harlem in the '40s? They're playing rock 'n' roll. With a lot of swing.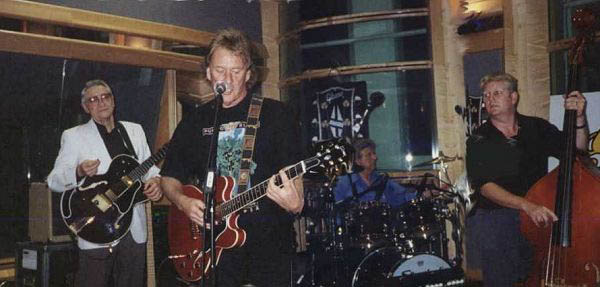 RS: The song "Tell Me Why" has a cool kind of Ten Years After feel.
AL: It does have a little bit, doesn't it? It's interesting you should notice that.
RS: Scotty played on only a couple of songs....
AL: He only played on the two...he had this ear problem. He actually went totally deaf in one ear, which was quite devastating and he was very worried if he was going to mess things up so he sat out on the others. But his input was phenomenal though. I mean, just him being there...he's a lovely man, a wonderful guy. He's been there and done everything I can think of.
RS: Another highlight on the new album featuring Scotty, "Let's Get It On" was reminiscent of the spirit of some of your work with George Harrison. Is that a valid comparison?
AL: I wouldn't have actually thought of that myself. George didn't do much boogie-woogie stuff. He was more of a chord man and a melodic man. When you get that anthology album, there's "The Bluest Blues" on there, which is one of George's best guitar solos ever. He plays this slide guitar solo, which just sends shivers down your spine. And he's great for that. He's just got the feel and the touch and the sensitivity. And he keeps me in line too, 'cause if I start to overplay, and then George comes in and he plays in such sweet, pure tones. And he brings me back down again to being melodic. That's one of my favorite tracks of all time, "The Bluest Blues".
RS: Can you remember the first time you met George?
AL: I met him through Mylon LeFevre. Mylon came over to record my first solo album in '72, which was On The Road To Freedom. Mylon came over, in fact Mylon came on a Ten Years After tour. We used to hang out together and write songs after the gigs and things and became kind of rock and roll buddies on the road. Then he came over to England and we wrote some more. And then I built my first studio, Space Studios, in England and Mylon said, 'I'm going to go out and get us a band now!', 'cause the studio was finished. He said, 'where do all the musicians hang out?' And I said, 'at the Speakeasy in London I think.' And Mylon went off. (laughter) And he came back about four hours later with George Harrison, Stevie Winwood, Jim Capaldi, Ronnie Wood...(laughter) He said, 'man, I've got us a band!' (laughter)
RS: Not a bad start!
AL: No, it was pretty good, yeah. Mylon was good at that. He was hustling everbody. He said, 'man, I just love your music.' He hustled George into... George had this song...Mylon said, 'any of your songs we could do George, on this album?' And George said, 'there's a lot of good songs on the albums, why don't you do one of those?' Mylon said, 'George, you do them so good, I would never try and follow you. We need a song you haven't recorded yet.' (laughter) So George said, 'there's this song called "So Sad", which I've been working on and I think it could be a hit actually.' Mylon said, 'I'll take it!' (laughter) It was all down to Mylon actually. He kind of got me in touch with George originally. Having a guy from Atlanta, Georgia in the Oxfordshire countryside was quite a trip. You take him round anywhere and as soon as he started talking, people just fell in love with his accent.
RS: You recorded a remake of the Lennon-composed Beatles song "I Want You" (She's So Heavy)
AL: That's right.
RS: And George played on it. How cool is that?
AL: That was very cool. Yeah. He played slide on that. And he told me, I didn't realize it, he played that with his fingers when he started on the original Beatles version by bending the notes, which sounds like a slide guitar. That was great yeah. That one and "Yer Blues" I think are two of the Beatles tracks which really rock.
RS: "Yer Blues" almost sounds like it could be a Ten Years After song.
AL: Yeah, it's kind of more my style. That's the kind of Beatles that I like. Strange enough, when The Beatles came out I wasn't a big fan, I'll tell you why. 'Cause I was going around doing Eddie Cochran and Chuck Berry songs in the early '60s and then when The Beatles came out people said, 'oh, I like that "Roll Over Beethoven, that Beatles song you did.' (laughter) I just said, 'that's not a Beatles song!' I suppose to my mind in the early days, The Beatles were considered a bit of a hype-y pop band, suits and haircuts and everything else. I was more into the blues and being a musician.
RS: The Beatles turned me on to Chuck Berry who was a few years before my time.
AL: That's right. First time I went to America...I told you my father brought me up on Muddy Waters and Big Bill Broonzy, so when I first went to America I assumed that everybody in America would be aware of Muddy Waters and Big Bill Broonzy and I was amazed to find they weren't. It was like their own musical heritage. They were into Jefferson Airplane and Woody Guthrie but the blues seemed to get left behind somewhere. So in fact, The Beatles did do a big favor, and The Rolling Stones for that matter of bringing awareness back to those guys.
RS: Especially in the early days. It was great hearing George singing "Roll Over Beethoven"
AL: (laughter) He had his own little version of that, didn't he?
RS: It's the 35th anniversary this summer of Woodstock.
AL: Is it? f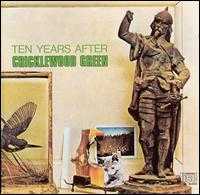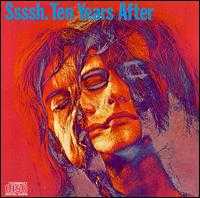 RS: 35 years ago, the Summer of '69 was a huge turning point for you and Ten Years After. The band released Shhh!, which next to Cricklewood Green is my favorite TYA album. In 1969 TYA played Woodstock. How's your memory of the '69 Woodstock festival?
AL: It's pretty....I've pieced it back together! (laughter) It was a very special event but at the time nobody really was sure about that. The first realization of it being anything other than another date on the list was when we were told we couldn't drive into the festival site 'cause the roads were all blocked and it had been declared a national disaster on the radio and we had to take a helicopter in. And to me, I thought 'well, this is going to be interesting.' (laughter) And it certainly was. Flying over the audience, a very strong smell of marijuana wafting through the roter-blades, was a good way to start the day! And had it been running to plan, which is wasn't, we'd have probably just flown in and played and gone again and been none the wiser but as it happened we got there and had to wait a long time and then the rain came down just as we were about to play. So, nobody could go on stage 'cause there were electric sparks jumping around and they wouldn't let anyone play so I said, 'C'mon, let's play! If we get struck by lightning, think how many records we'll sell.' At that age, who cared? (laughter) We couldn't play so I went out into the audience. I went out for a walk around the whole site. Went round the lake and I kind of joined in with the audience as it were. Nobody knew I was anybody in particular. I looked like just another freak. They were inviting me to have food with them and smoke drugs with them and everything. Anything that was going, was shared. It was a great vibe. So I got into the actual other side of it. 'Cause backstage, although it was supposed to be three days of peace and love, there was quite a bit of jostling and managers there saying, 'I want my band on next', all this stuff. And in fact, when I came back, (laughter) from my trek, Country Joe had set up his gear and had rushed on stage before me, so that they didn't have to go after Ten Years After, which was kind of funny. So it was even a longer delay. I actually went out into the audience to get some cigarettes. Backstage had run out of cigarettes. So I thought, 'I'll go and blag some.' I walked around there for two hours, came back with about sixteen joints but no cigarettes. In fact, they had to drop cigarettes in by helicopter. The only thing to smoke was grass. (laughter) It was funny, dropping food, blankets and cigarettes.
RS: Ten Years After played Woodstock on that final Sunday with Hendrix, The Band and CSNY on the bill too...
AL: I didn't say that, and I'm not sure what day we played. What day it was, I couldn't tell you. It's in a book somewhere. (laughter)
RS: Did you get to see Hendrix play there?
AL: No, he didn't play till like six in the morning. So had it been the same day, it would have been twelve hours later. I got to see Country Joe...who else did I get to see? I can't remember. There was a lot of purple haze there. Difficult to see through the purple haze. But I do remember my walk out. I don't remember much about playing but I obviously had a good time. (laughter)
RS: It's interesting to note that the same summer of '69, before Woodstock, TYA became one of the first rock bands to ever play the Newport Jazz Festival.
AL: Yeah, that's right. I think were the first band to play rock music at the jazz festival. I met Miles Davis there. He was a weirdo. I liked him.
RS: That confirms my belief that Ten Years After were one of the first bands to combine jazz influences.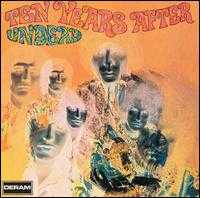 AL: I think so...the Undead album was very jazzy all the way through actually and that was the first live album of Ten Years After. And when I'd recorded that I thought, 'well what on earth can we do now?' 'cause that's what the band does, that's what it's good at. That says it all. So that's why I decided to go into the kind of experimental mode of Cricklewood Green. Well, Stonehenge I think was the next one which was quiet psychedelic and experimental and possibly drug influenced. (laughter) It was all cool then, wasn't it?... wait...I've been given a piece of paper here. We played Woodstock on Sunday, the 17th of August.
RS: Newport and Woodstock, how would you compare the two?
AL: There were tons of festivals around that year. I remember I did the Texas Pop Festival, the Atlanta Peace Festival...and to be honest, I thought they were actually better than Woodstock as far as an organized gig went. I mean Woodstock...having played Woodstock and moved on...the helicopter flight and the fact that it was the largest number of people was kind of cool but to be honest, you don't notice, you don't count the people when you're there. Any crowd over fifty thousand is big. If it's a hundred thousand, two hundred, three hundred...you don't really see that much difference. It's just that the sea of heads goes back a bit further. You know what I mean? When you're on stage, you tend to relate to the people who you can see around you. At least the faces. And the rest is like a mass that goes off in the distance. So, it wasn't that different. It was very unorganized. It didn't feel that big. And when we went on to play, we carried on playing the same kind of underground gigs for a year. It wasn't until the movie came out that it made all the difference. And the movie was the kind of hype and that's what caught people's attention and band crossed over to the other lot. (laughter) Woodstock/Newport I was keen to be kind of the rebel. There's enough jazz there already. It's funny, I've always found this about jazz festivals...if you go on late in the evening, when they've been listening to jazz all day. Boy, are the ready for some blues and rock 'n' roll. 'Cause sometimes the jazz gets a bit too much. Jazz is good, jazz is interesting but often, it doesn't have that flow. The flow of a good blues, so I think that audiences have been listening to jazz for three or four hours are wide open for some blues and rock. So, that's what I did. Still works today.
RS: In 1988 you recorded a track called "No Limit" for the Guitar Speak label headed up by Miles Copeland.
AL: Oh, that's right, yeah. It was my first trip into kind of electric drums and computerized rhythm sections. That was the forerunner of what was going to be an instrumental album. It just never came together because I ended up in the studio working with computers and to be honest after about three months of that I kind of disappeared up my own rear end! (laughter) It was fun but to me, it's not like playing live with a rhythm section. It's kind of interesting. I did similar stuff with the synth player from The Art Of Noise, J J. Jeczalik. That was around the same time, doing lots of instrumentals. It's sitting around in the vaults of Space Studios actually, I just never got around to finishing it.
RS: Does the new Alvin Lee Anthology feature Ten Years After stuff?
AL: No, no it's all my own personal stuff away from Ten Years After.
RS: Any other huge guitar or jazz influences?
AL: I could mention George Benson, Barney Kessel, Wes Montgomery and of course, Django Reinhardt 'cause I originally learned to play rhythm, Django Reinhardt style. That was when I was thirteen years old. 'Cause that's what I love. I even used to think of my original band, the Jaybirds, which was the forerunner of Ten Years After. And we used to do like swing, Count Basie swing stuff and stuff like that for a three piece band. And that was very intricate but it actually works but alot of it is that vamping guitar which George Benson does so well, and Charlie Christian. It's a little art to itself and it kind of disappeared after 1958. Vamping disappeared. Alot of guitarists today, and there's some great, young guitarists around but they don't put the time in on the chords and the rhythm. And I think rhythm is very, very important. I mean I enjoy playing rhythm guitar, or like chop rhythms, as much as playing lead guitar. That's where it all comes from and you've got to hear that before you can hear what notes you want to put in. Once you've got the dynamics of those rhythms, then your solo work just takes off in a world of it's own. And I think the rhythm is very important. I see alot of guitarists today, they play Eddie Van Halen lick and then I say play the chord of F! (laughter) and they sometimes struggle. Alot of motivation these days is to become a rock star, which I've always found a bit sad because...I was looking at some adverts in one of the guitar mags and it said, 'well, you've got the looks and you've got the right guitar and the right clothes and now you need the right sound', which is totally wrong, I mean you need the sound first. (laughter) That's the way to go. I think the motivation to be a musician is much wiser because it lasts much longer. I've been a professional musician now for, must be thirty five years now. And rock stars might last two or three or four years and if you're a serious musician you can make a career of it. And it's more rewarding. Actually the stuff I'm going on to play now to me, this thing with Scotty, the African drums...it's much more rewarding musically. I'm actually getting control of what I'm doing these days. I'm actually really enjoying what I'm doing and enjoying trying these projects and I have to make it a special project to keep me interested. Obviously after how many albums...I don't know, twenty five albums? You get a bit jaded. I'm not going to go into the studio and record another straight rock and roll album. It's got to have an angle for me. It's got to have an interest. It's got to be a project which has interest. And that's what Scotty and D.J. did for me. 'Cause they took me right back to my roots and made what was originally exciting to me to listen to, exciting to me to play. And it's a kind of a full circle. And I feel very honored and I thank Scotty and D.J. for doing that.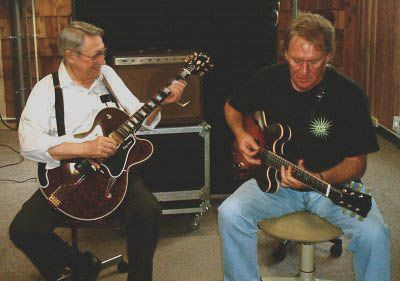 Photo by Pete Pritchard
RS: Too bad you didn't film the In Tennessee sessions.
AL: Not officially, no. Maybe a home movie of it, which is great fun. But nothing official.
RS: Any archival CD DVD releases planned?
AL: Alot of the old stuff comes out, but to be honest I find that it's fine for the fans and collectors but alot of it is not that good. Alot of it is taken from old video tapes. They remaster it on DVD and to my mind, I don't know...I don't think it's really worth it myself, some of those old things. Some of 'em are good, some of 'em are not. It seems to me there's no quality control on it. People get hold on...old TV shows I did in the '70s suddenly start turning up on DVD. They've got no contracts to release that stuff on DVD. (laughter) It gets done anyway. They do it and say, 'okay, well sue us.' And there's no quality at all. No matter how bad it is, they'll put it out. So I'm not that keen. The DVD market to me is...everybody's cashing in on a wave at the moment and there's alot of crap coming out. I could have recorded the Albert Hall live for DVD, but to be honest, when I do a gig to me, what's special about a gig is the notes I play, the songs I do, the feels I have...they're there for the moment and they're gone and that's special y'know? And once I'm aware that something's being taped or recorded, it's a whole different ball game. You're playing something that you're going to have to listen back to again and again. And so you play more safe and you play with a different attitude. I don't like that to get between me and the audience. I like to play to the audience. So I chose not to do that at the Albert Hall. It's kind of a shame we didn't get that gig on, 'cause it was really good, but I'm kind of a purist when it comes to gigs. I just want the gig for the gig's sake. I don't want the audience to have to sit there watching these guys with cameras squabbling around, the little guy following him holding the cable. That, to me is a bit of an insult to the audience. Also, when I play, as I say, I want to play live and it's there for the moment. And I hate these bootlegs. You go and do a show and you think, 'that was great' and then a bootleg of it turns up and it's not meant to listen to. It's a show, an experience that you actually are at. It's the audio of it only. It doesn't usually work as well.
RS: So Arnie says you're planning to come back to the East Coast?
AL: Oh yeah, I intend to move all over the States, when I get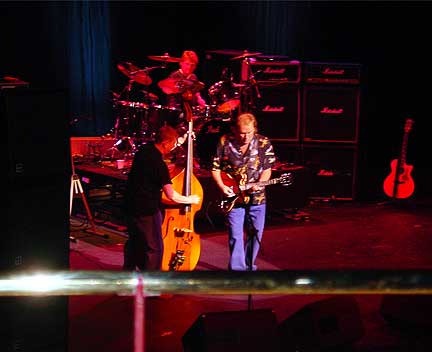 there.
RS: Who's in your band right now?
AL: Well, I've got this band I work with, which is Richard Newman on drums, which Tony Newman's son. He's a drummer in Nashville now but originally was with Sounds Incorporated in England. And of course Pete Pritchard on the bass, who was on the Scotty album. But I was going to play with The Blasters when I came to L.A. but that was just for these three club dates, just a little kind of adventure rather than a tour. I like The Blasters, they're a good band.


RS: Yeah, I can't wait to speak with Scotty about the album.
AL: It'd be nice to tie in Scotty's comments with mine about the album. Because I'm really proud of this album. To me, it's a rhythm section thing and I just love it as it is. It's natural, it's pure it's kind of minimalism and that's what I wanted to do.
RS: And it couldn't have come at a better time, with the 50th Anniversary of rock and roll.
AL: (laughter) I hadn't even thought about that! It just took me that long to get it together! (laughter) It's full circle for me, 'cause I'm back to my roots and kiss the ground I started on. And as I say, I really loved every minute of it.
RS: Scotty is one of the unsung heroes of rock and roll.
AL: Absolutely. Personally I think the Elvis Presley fans base should give him a million quid for every guitar solo he ever recorded. I think those guitar solos were as important as the songs. More important, some of them. Everybody's done "Rip It Up" and everybody's done "Shake, Rattle & Roll" but nobody'd done solos like that in them except Scotty. And if he never does anything else, that's good enough for me! (laughter)
RS: I guess the main thing is to keep it varied because you've done so many great things over the years.
AL: It's a matter of getting yourself motivated and excited. If somebody says, 'let's go make an album. I've got a few songs', I think 'no, not really' (laughter) but if somebody says, let's go to Peru and put a band together, I'll go 'Now, you're talking!' It's kind of getting yourself motivated. Getting to put my flamenco guitar down and go and do some real work!
RS: The flamenco thing still sounds interesting.
AL: There's alot of that happening here actually. It's strange enough that flamenco players can't play...I mean, I saw a flamenco band try and play blues the other night and it was pitiful! It's weird, they can't do it. It's strange, isn't it? They've got all that passion and all that feeling in their fingers for flamenco but when they put their acoustic guitars down and picked up the electrics (laughter) they played this dreadful blues. Sounded like a pop band.
RS: Actually I just wrote liner notes for a new DVD that's coming out from The Moody Blues.
AL: Oh, yeah. I remember, I used to do lots of gigs with The Moodies, around the '70s, yeah...
RS: 'Cause you guys were on the same label, Deram.
AL: That's right Deram, yeah.
RS: I was always interested in how Ten Years After got signed to Deram.


AL: It was just our very first record deal. I think it was actually Decca we were talking to. Decca had London Records, Deram Records...just kind of names within the Decca label. It was the first major record company that offered us a contract. It was very early days in those days. Those days, your first record deal, they said, 'you want to sign a record contract?' we said, 'Yes!' They said, 'wait a minute, we haven't told you what the deal is yet', we said, 'it doesn't matter!' (laughter) 'It' doesn't matter, we just wanna get our record out.' I think we were getting about six percent of the take on the earliest thing, but it got a bit better later on. The Stones and John Mayall were on London Records, weren't they? In America. But then again, so was Engelbert Humperdinck, Tom Jones and...Mantovani! (laughter)
RS: And also David Bowie was on Deram in the early days.
AL: That's right, yeah.
RS: And also Cat Stevens...
AL: It's funny, at Decca...and Deram Records...they kept having Mantovani months and things like that. And all the guys that worked at the record company, they were all in an older age bracket. We were like these young, rebellious, upstarts coming in making strange records and they didn't know quite what to make of us...till they started to move a few units, then they liked it. (laughter)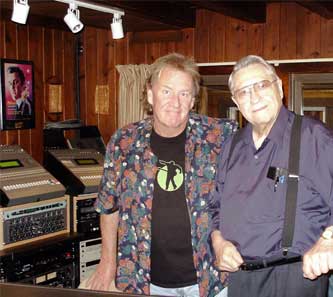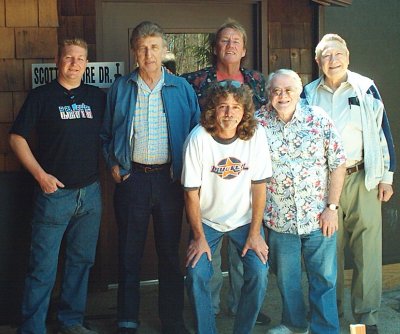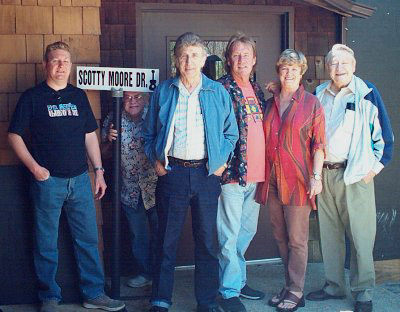 Pete Pritchard, Willie Rainsford, D.J. Fontana, Alvin Lee, Gail and Scotty
April 2003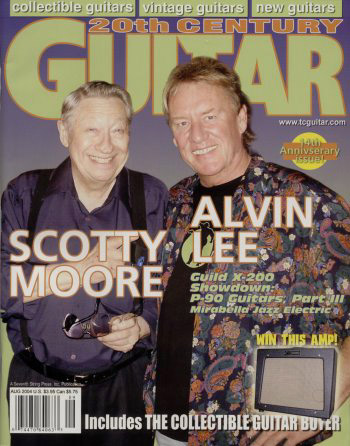 Alvin Lee 2004 – The Reclusive Legend Speaks Out – Excerpts:
"I did it my own way, and my take on it was that it was a cross between rock and roll, blues and even a bit of heavy metal thrown in. To me, blues music has always been the truth and that's what I have always tried to put over in my music".
"When I'm in a good mood, everybody knows it, and I share it, and put everybody else in a good mood, but if I'm not in a good mood, like if the bass is too loud and out of tune, I don't try to hide the fact that I'm not happy, I let people know. Some may say this isn't professional, but it's the truth and it's the way I am. As an artists, I'm a mirror of my environment and what goes on around me. If I can't do that honestly, then playing on stage just becomes bullshit and I won't allow that to happen".
"On my birthday, I wake up and play, "Whole Lotta Shakin´ Goin´ On". This is poetry to me, you can keep your Bob Dylan, as I prefer Jerry Lee Lewis any day".
Alvin, what do you do in your spare time?
"Mainly being creative, which is the legacy from the sixties. When I get bored I pick up a pen and draw something, or write something, or paint, or make music; I can't imagine a world without music". "I'm a big Salvador Dali fan". "I don't call myself a painter, but I love the involvement and the process".
Alvin On Music:
"I like Spike Milligan's song called, I told them I was ill".
Alvin On Death:
"I have got nothing to say when I'm dead, and to boil it all down to one little phrase, to put on a head stone, when you're dead, is a tough one. I think I will settle for, Bollocks".
Alvin On Freedom:
"I have always been On The Road To Freedom, and I have been searching for it all my life and when I think I've found it, I find that I haven't, and the road continues and that is what it's all about. I tell my friends, put me in the dust-bin when I die, because it's all over and I'm not interested about what the history books will say, because I live for the present. Enjoy life while you have it, as it's a very precious thing to have, waking up in your own body".
Alvin On The Early Days:
"I valued the early days, but it all got lost in egos and jealousy, as it sometimes does. Eventually, it got so painful and miserable, that I had to let it go and move on".
Alvin On His New Band:
"My next touring band was so much better, they appreciated the opportunity and we just had a great time, on and off stage. It was like a breath of fresh air, and it renewed my faith and enthusiasm for making music". "Ian Wallace and Mel Collins were fine musicians in the band who could play anything, but we played no Ten Years After songs at all in the set, and one night Ian said, "Come On Let's Play I'm Going Home, and it felt great, like finding an old friend".
Alvin On Confidence:
"I had an enormous amount of confidence, that I would land on my feet, no matter what I did. I decided in my early teens, that I was going to be a musician. School was just something to get out of the way, a waste of time, and not to bother with it. Not a very good role-model. Hey kids, ignore school and get out as quickly as you can".
Alvin On The Cover Of In Tennessee:
"Alvin Lee wishes it known, that at no time during the recording of this album did he sit down to play the guitar".
Alvin Lee On The More Apt Version:
"I prefer the decadent version of `I Woke Up This Morning´ which is ´I Woke Up This Afternoon`".
Alvin Lee Not On The Telly:
"When Love Like A Man got into the charts, I wouldn't go on Top Of The Pops, so they had to play the record and use a film. The rest of the band moaned about the fact that I wouldn't go on the telly. The record company called me, ""UNCO-OPERATIVE", but it was because my heroes were blues singers and that's what I wanted to be".
Alvin Lee – Alone:
"I have always been a solo performer, to be honest, even with Ten Years After".