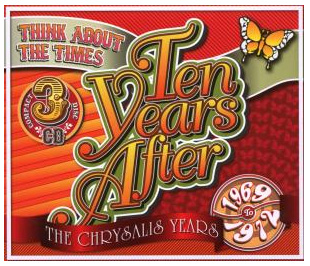 Ten Years After – "Think About The Times" – The Chrysalis Years – 1969 to 1972
A Box Set – Released 2010 – Pay Attention, This Is The One To Buy
Re-Mixed and Re-Mastered by Peter Mew who did the Beatles re-masters !
This three CD box set contains five albums with the re-mastering done by Peter Mew who also did the Beatles re-masters. The results are sonically magnificent. Contained in this set are the following: SSSSH – Cricklewood Green – Watt – A Space In Time and Rock and Roll Music To The World. There are also single edits that were previously unreleased / unavailable on cd format. Simply put, Ten Years After have never sounded better than this, and it's excellently sequenced so that disc one has the first two albums, disc two contains Watt and A Space In Time, and disc three is devoted to Rock and Roll Music To The World.
It doesn't get any better than this.
This set represents Ten Years After's fourth through their eighth album in their catalogue.
This covers the high water mark for Ten Years After as their SSSSH album was released the same month that the band took to the stage at Woodstock and put on a performance that would see the quartet catapulted into the realm of super-stardom. All the tracks in this edition are of incredible quality, the sound being clear which really helps let the music take centre stage. Also included here are five single edit versions at the tail end of the albums that they originated from. These singles include: "If You Should Love Me" – "Love Like A Man" - "I'd Love To Change The World" – "Choo-Choo-Mama" and a live version of "Love Like A Man". It's also great to hear the evolution in the bands sound as they progressed during this period. As a group, they were way overlooked much too often, this set now allows someone to gather the band's best four albums in a one shot deal. This will really allow someone unfamiliar, or who wants to upgrade their collection, to really engage the music from this legendary rock group. Alvin Lee is an incredibly talented guitarist, that when backed up by Ric Lee, Leo Lyons and Chick Churchill, is virtually like a steamroller coming through your speakers. I truly enjoyed listening to all the music that this box-set offers. I believe that any fan of Ten Years After, or rock music from that period in general would be overjoyed with this fantastic collection.
This collection offers up the meat and potatoes of Ten Years After's onslaught. The re-mixing and re-mastering job here is excellent. If its been awhile since you've listened to this classic material, it's refreshing to once again hear a great British Rock and Roll band playing at full throttle, with a little psychedelia, and recording experimentation of the day added. The fact remains, that if you're a die hard fan of lead guitar work, then Alvin Lee during this period is just straight ahead shredding, with simple classic fundamentals, played at blinding speed.
This is the one for you.
Alvin Lee / Ten Years After is such a great unheralded band, that is only now starting to get their do. This set gets it and there is so much more to the Ten Years After / Alvin Lee catalogue, I recommend that you examine their history and check them out for yourself.