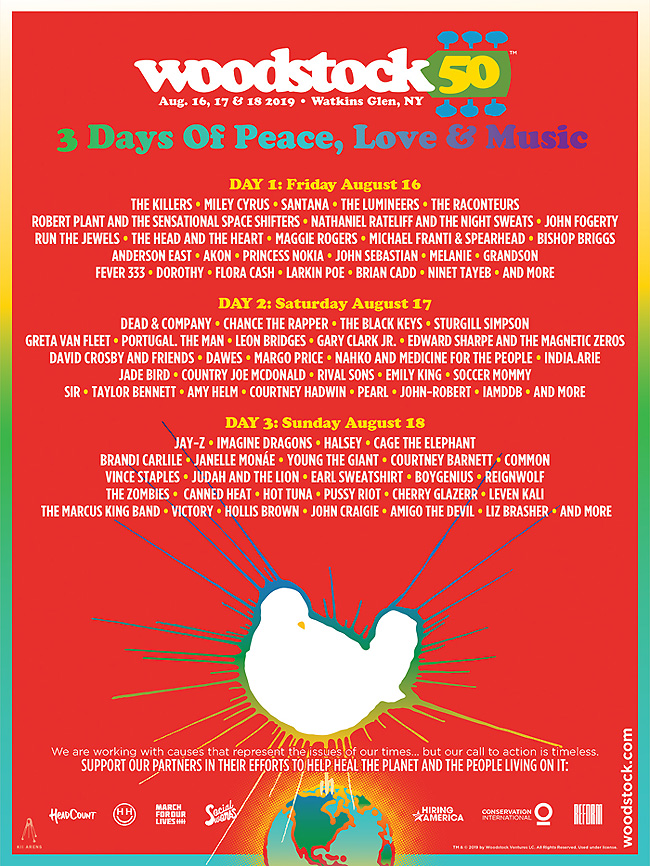 WOODSTOCK 50TH Anniversary Festival:

Re-incarnation of the Original from 1969. Peace, Love and Music, For The Planet.
Friday August 16, 2019 - Sunday August 18, 2019
by Dave Willey
It's Offical, On March 20, 2019 – Michael Lang and the Woodstock Ventures LC announced the 2019 line-up featuring Jay-Z (Cancelled) The Black Keys, Miley Cyrus and others known in Hip Hop, Rock and Pop, as well as many original acts, namely Dead and Company, John Fogerty, Santana, John Sebastian, Country Joe McDonald, Canned Heat, and Hot Tuna.
The original incarnation of Woodstock occurred on August 15th through August 18th 1969 in Bethel, New York, and featured more than 30 acts performing for more than half a million people. (500,000).
In August of 1969, the Woodstock Music and Art Fair, took place on Max Yasgur's dairy farm in Bethel, New York. Over half a million people came to a 600 – acre farm just to hear 32 acts (leading and emerging performers at that time) came to play over the course of three days, from August 15, 16th and 17th. Jefferson Airplane, Jimi Hendrix, The Grateful Dead, The Who, Janis Joplin, Crosby, Stills, Nash and Young, were among the line up. Woodstock is known as one of the greatest happenings of all time, and perhaps the most pivotal moment in music and cultural history, affecting the entire world.
There was also the 1994 – 3rd Woodstock Incarnation…and the 1999 – 4th Incarnation of the Summer of Woodstock 1969 Event. Which makes this the 5th Woodstock Incarnation Summer of 1969 – 50th Anniversary!!! Woodstock Music and Arts Fair 2019. August 16, 17, and 18. At Watkins Glen, New York. Three Days of Peace, Love and Music.

The Reality Check; Cancellation Rumours:
"Jay Z" was just reported on CNN to have cancelled, I just read the crawl – July 27, 2019
Reported on the website, "The Black Keys" cancelled. This from Pitchfork, reports the The Black Keys won't be performing: "Due to a scheduling conflict, The Black Keys will unfortunately need to cancel their set at Woodstock" they write.
Cancellation Rumour's:
Billboard publishes a statement from Amplifi Live, that says, that the Woodstock partner has decided to cancel the festival, referencing health and safety concerns. According to NPR Woodstock 50, meanwhile vehemently denies the claims and is seeking legal remedy against the comments. Stay tuned, we'll provide you updates on the rumours as they roll in!
Ticket Sales Postponed:
CoS – (Consequence of Sound) and Billboard report that the ticket sales will be postponed.
RSVP or Subscribe to the mailing list to get notified when the ticket sales open.
Line-Up Rumours:
Variety claims to have learned of more than 20 acts are set to hit the stage at Woodstock 50.
Headliners include Jay-Z (Cancelled) Dead and Company, The Black Keys (Cancelled). And Chance the Rapper.
The Location:
The festival will be held on a 1,000 acre greenfield site in rural Upstate New York, around 150 miles from the former home at Bethel.

A Little Woodstock History:
Joni Mitchell said, "Woodstock was a spark of beauty" where half-a-million kids "saw that they were part of a greater organism." According to Michael Lang, one of four young men who formed Woodstock Ventures to produce the festival, "That's what means the most to me, the connection to one another felt by all of us who worked on the festival, all those who came to it, and the millions who couldn't be there, but were touched by it."
By Wednesday, August 13, 1969 – some 60,000 people had already arrived and set up camp. On Friday, the roads were so clogged with cars that performing artists had to arrive by helicopter. Though over 100,000 tickets were sold prior to the festival weekend, they became unnecessary as swarms of people descended on the concert grounds, to take part in this historic and peaceful happening. Three days of music…half a million people…the rain, and the rest is history.

Question:
Woodstock 50, Why Was The Ticket Sale Postponed, and Are The Cancellation Rumours True?
Answer:
The official organisers deny any cancellation rumours and claim that the delay is solely due to changes and delays in the organisation schedule. It seems that the interest for Woodstock 50 is beyond all expectations, and right now we don't see a reason why the festival would be cancelled.

The Original Woodstock 1969 Promoters and Producers:
Artie Kornfeld
Michael Lang
John Roberts
Joel Rosenman

Note:
Bethel Woods Music and Culture Festival – Thursday August 15, 2019 Music Festival 10:00
50th Anniversary of 1969 Music Festival – Smith Center, Kansas – USA
Friday August 16, 2019 – 22:14
Note:
From January 21, 2019 – Rolling Stone:
"The Two Woodstock Anniversary Festivals; What Legacy Acts Might Return" ?
Thank You Woodstock Nation !
To the more than 100,000 of you who have responded to our situation with support and solidarity…a heartfelt "thank you." Our intention holds firm. To deliver a world class, once in a lifetime festival to celebrate the 50th Anniversary of Woodstock. To honor a cultural icon that changed the way we think about music and togetherness…and will do so again. We're in this together, as reflected by your words of support:
"Thank you and good luck! My wife and I went to the original Woodstock concert as our first date. We are very excited and plan to attend the 50th reunion concert as well."
"I am excited and hopeful that Woodstock's 50th Anniversary Celebration will all work out!
"A lot of people are counting on coming."
"We're with you Michael. Good luck in getting us back to the garden."
"May the Great Spirit of Woodstock Guide you on this 50th Anniversary."
"Just as in the past, you will prevail and history will remember you for that."
"We Love You Woodstock!! We will continue to support this and we will find a way. Thank you for your perseverance and dedication to peace, love, and music."
"Keep driving and make it happen. If you do, I will come."
"I'm so glad that Woodstock is still going to happen. As you said, it belongs to the people and you're just the man to make it happen."
"Woodstock will always be important to me and I am 21 years old."
"My parents took a Woodstock banner and hung it over my crib as a baby. I feel a connection with this festival and want to see it be a success! Let me know what we can do."
"Sure hope it can go on and be the greatest, safest, peaceful and most moving event of all time!"
"Woodstock 50 is needed so desperately at this time in our history. Keep the faith!"
"I'm with you. I've been to all three Woodstock's and really want to be a part of this one."
"I am a modern day hippie and Woodstock has been a dream of mine since I was a little girl; I HAVE FAITH!!! My flights are already booked; can't wait to be there in August!"
"You got this! I believe that Woodstock 50 WILL happen!"
"Never give up!!! WE WANT WOODSTOCK!!!!!!!!!!"
"We're out here in California and are excited that this is still in the works. Keep up the good fight! We are excited for Woodstock 50!"
"Stay the course! I believe these things happen for a reason and it will be better than you can imagine at this point. We are going to have one damn fine music festival, aren't we!"
"Sending all the positivity and support that my heart, soul, and brain can!! Good Luck Guys!
"I hope a solution is reached."

Troubled Woodstock 50th Anniversary Festival:
As Jay-Z and The Black Keys both headliners pull out of festival, and John Fogerty also.
"Woodstock Festival Now Moved To Maryland" as the festival has been faced with a series of setbacks. It remains unclear whether the festival, scheduled for August 16 to 18, will go on as planned. Tickets have not been made available for sale.
Because the organizers have decided to change venues, from New York to The Merriweather Post Pavillion in Maryland. John Fogerty said on Friday, "He Knows Where He'll Be For The Anniversary Weekend of Woodstock, At Only One Site…At The Original One, The Bethel Woods Center For The Arts."
CNN reached out to the festival organizers for comment. The festival has been plagued by one issue after another. In April, a marketing firm that was financing the festival opted to pull out, with the executives telling festival organizers that they were canceling the event.
But organizers, including promoter Michael Lang, one of the creators of the original festival in 1969, said it wasn't up to the firm to cancel the festival, and that they trudged on.
Last month, festival officials announced that the scheduled venue for Woodstock 50, at Watkins Glen International, had also pulled out of the festival. Gregory Peck is a managing organizer of the festival, and is in discussions with another venue to host the festival.
The festival forges ahead despite another series of road-blocks. Money problems legal set backs, venue and artists pull-outs….and only three weeks left.

Problems With No Solutions:
This isn't August of 1969 – It's August of 2019:
Music festivals have evolved into a multimillion-dollar-business-supported by corporate sponsors, extensive planning and reliable venues – that allows less room for the free spirited spontaneity of the Flower Power Days. "You just can't do these things overnight anymore, said Andy Zax, a Grammy-Nominated Music Producer and Historian Who Has Reconstructed The Audio From The Inaugural Woodstock Festival.
Montali, who said that his Bob Dylan – Inspired Folk Rock Group has already been contractually paid in full, feels stuck in limbo. "We remain hopeful for it, but it honestly doesn't seem too possible. It's a real bummer, because we had a desire to fucking rock it."
Let's Just Re-Brand Woodstock 50 as – "Upstate Fyre Festival" and be done with it.
Chris Baker – April 29, 2019.
Sex, Drugs and Permits; Here's How It Went Down:
1. January 2019 – Michael Lang – Sets Things Into Motion – Looking Promising.
2. April, The Trouble Appears To Have Started Late In The Month. Dentsu Aegis Network Amplifi Live, A Wing Of The Japanese Advertising Behemoth Dentsu and Woodstock 50's Chief Financial Supporter, Abruptly Announced That The Event Was Canceled.
Concerned About Health and Safety For Performers and Audience Ticket Holders.
A Legal Drama Ensued.
3. In Another Road-Block, An Influential Creative Partner, Superfly, A Marketing And Event Company That Co-Produces The Bonnaroo Music Festival, Also Dropped Out. This Leads Us To Richard Branson's Virgin Produced, A Company That Had Been Reportedly Consulting On The New Venture, Recently Cut Ties, Too.
4. The Organizers Nonetheless Vowed To Forge Ahead. But Then, In June, Another Major Blow; Watkins Glenn, The Venue, Called The Arrangement Off Because The Organizers Reportedly Failed To Make The Final Payment Of $150,000 Dollars.
5. That's When Organizers, Undeterred, Took Their Case To The Town Of Vernon, Population Of Just Over 5,000 People In Oneida County in Upstate New York. They Set Their Sights On Vernon Downs, With An Entertainment Venue And "Racino" A Combined Horse Racing Track And Casino, That Had Previously Hosted Bands Like Phish.
But, The Bad Luck And Trouble That Had Trailed The Organizers Did Not Relent. As Their Permit Applications Were Repeatedly Turned Down Amid Public Safety And Health Concerns, Including Their Reservations About Traffic And Parking Plans. In The Most Recent Development, Vernon's Planning Board On Tuesday Voted Unanimously To Uphold It's Application Rejection. Anthony J. Picente Jr. Who Is The Oneida County Executive, Took A Cheap-Shot At Michael Lang Saying, "The Only Thing Michael Lang Has Retained From His Original Woodstock Is The Hallucinogenic Effect."
6. History Repeats Itself Again:
In The Weeks Just Before The Original Woodstock Festival, Their Plans To Hold The Festival In Walkill, New York Also Fell Through, And They Had To Scramble At The Very Last Minute In Order To Find A Substitute. "The Town Authorities Essentially Said, "We Don't Want You And Your Hippie Festival Here, And They Tossed Them Out," Said Zax, The Music Historian. The Promoters Found Refuge At A 600 Acre Dairy Farm In Bethel, New York. A Bucolic Setting That Ultimately Became The Backdrop For The Defining Counterculture Landmark Of The Late 1960's. It Was Mostly Thanks To Old Fashioned Luck and Faith. "I Think The Memory Of How The Original Came Together, Might Inform Today's Attitude Of; "We Did It Once, Why Can't We Do It Again?" Zax Said, Adding That He Thinks That Michael Lang Is Hoping For Lightning To Strike Twice. It's Just Really Hard."
7. Several more Alums of The Original Woodstock Festival Who Were Booked To Play Woodstock 50, Have Decided To Pull Out. On July 29, 2019 came the news that John Sebastian and Country Joe McDonald, both of whom played the original 1969 festival, had decided to bow out of the 50th Anniversary Event. "I'm not interested in getting on a ship that's sinking," McDonald told the Baltimore Sun. This follows John Fogerty's announcement, stating that he would no longer be playing at the commemorative concerts.
NOTE: The 2019 Woodstock Festival Will Be Held August 16 to 18 at the Merriweather Post Pavilion, An Outdoor Amphitheater in Columbia, Maryland.
8. Related, John Fogerty, Santana, Arlo Guthrie, Country Joe McDonald…and Others, Will Perform At The Bethel Woods Event.
9. Today Is August 1, 2019 – It's Now Official, That The 2019 Three Days of Woodstock Festival 50th Celebration Has Been Cancelled. Woodstock Ventures Too Little Too Late !!!
10. Proud that we took the time to follow this "on again /off again" story of Woodstock at 50. It's been one hell of an emotional roller-coaster ride, from January 1, 2019 to August 1, 2019.
Let's Hope and Pray This Will Allow Woodstock 1969 To Rest In Peace.
Remembering Woodstock 1994 In Saugerties, New York.
To Commemorate The 25th Anniversary of the Original Woodstock Festival of 1969.
It Was Promoted As "2 More Days of Peace and Music." It was Scheduled For Saturday and Sunday August 13th and 14th – With A Third Day Friday August 12, 1994 Added Later.
Festival Tickets Sold For $135.00 Each. The Weather Was Rainy That Weekend, And By Saturday Much Of The Field Had Turned Into Mud. The Event Took Place On Winston Farm In Saugerties, New York, About 100 Miles (160km) North of New York City. The Site is
70 Miles (110km) Northeast Of The Original 1969 Festival Site. Though Only 164,000 Tickets Were Sold, The Crowd At Woodstock "94" Was Estimated To Be 550,000.
The official concert food-beverage policy initially restricting attendees from entering with supplies of food, drinks and above all alcohol. Says Steven Tyler, "It Rained Like A Cow Pissing On A Flat Rock". Known As "Mud-Stock 94"… People shared their food, water and dope, with no big problems, except for the rain and mud!!! It wasn't a bad compliment to the spirit of 1969 overall. It was a great mix of great bands in all genres in 94, that seemingly got along and it went smooth.
The Death Of Woodstock Spirit, Came In 1999:
The Woodstock Brand Name Took A Major Hit After This Festival, When It Developed Into A Debacle – I Say Riot…Goin' On. The Price Of A Hot Dog or Soda Was $5.00 – It Was Hotter Than Hell In Rome, New York And This Was The 30th Anniversary Of Woodstock.
The Event Was Dogged By Violence, Looting and Numerous Sexual Assaults. Food Venders Shacks Were Set On Fire – Because Of Their High Prices…And As I Remember It, They Were Charging $4.00 / $5.00 - For A Paper Cup, Or Bottle Of Water. It Was Also Commercally Sponsored. The Corporate Empires Had Completely Taken Over The Music Concerts and Gouged The Public Without Mercy. It Was A Riot And Rape Storm Waiting To Happen !
Those days of love, peace, and brotherhood were now just an echo of what used to be, in a purple haze memory so long ago. July 22, 1999 to July 25, 1999 – Attendance 400,000.
Organizers trying to wring every last dollar from the festival-goers. From exorbitant ticket prices, costly water bottles, a festival site built on a scorching tarmac in the middle of July heat – upper 80's to 100 degrees if you factor in the "Heat Index" – An Angry and Very Aggressive Crowd That Left A Charred Festival Site. At Griffiss Air Force Base In Rome, New York. "More Than 700 Had Been Treated For Heat Exhaustion and Dehydration."
By the way – Personal pan pizza's were selling for $12.00 each. The band Parliament / Funkadelic were the first to incite the audience, by throwing $100.00 bills into the crowd.
Just to watch the fans scrounge, dive and fight for them. Then Kid Rock did his part to incited the crowd even more. He demanded the audience throw their high priced water bottles onto the stage…in revolt and protest at the price gouging going on, with no relief for the loyal fans.
Then there was the constant shout of "Show Your Tits" to every woman to hit the stage.
Rage Against The Machine set an American Flag on Fire, that was somehow patriotic, they think. Throwing rock and bottles, cranking up the audience's anger another notch or three.
The Price For A Weekend Pass Went From: $157.00 to $180.00 / 250,000 Tickets Were Sold.
The Red Hot Chili Peppers played FIRE By Hendrix – which launched, cars to be overturned, venders booths set on fire, merchindise tents set ablaze – everything found was used as fuel. The New York State Troopers stopped the riots in the end, but The Air Force Base Still Looks Like A Bomb Hit It, Even Today.

From Dave:
In my opinion Woodstock 1969 was no less than a "Miracle" and a "Cosmic - Spiritual Thank You" – for us being on the right path to Love. The 1994 Woodstock had the basic spirit of Woodstock, the audience was well aware that it was a new age, and 1969 was a loving memory. The 1999 Woodstock Event had all the makings of another Altamont 1969, right from the start, and the audience wasn't going to take it. It ended as it should have, after all the audience had to endure that unbearable weekend. The Theme For "99" - "Gold Over Love" and "Greed Rules All" and Their Mantra Was "Hurray For Me and Fuck You." It was the audience against the corporate powers that be. It was a real pressure cooker / time bomb, right from the start.
That being said, here's my views on Woodstock 50:
No one is going to be happy. It's now a forced event. Try as we might, it's getting harder to whip up that loving feeling these days. Our Ten Years After Website is where our passion resides, and where we keep the spirit alive. That's our own Woodstock Nation In Action.
Nostalgia by Definition: 1. The State of Being Homesick – Homesickness. 2. A wistful or excessively sentimental yearning for return to or of some past period of irrecoverable condition also: Something that evokes nostalgia. Is a warm fuzzy longing for the past.
And it turns out that nostalgia can be a big help if you're feeling sad, lonely or cold !
Doctors actually considered it a brain disease until the early 1800's – These Days, it's a perfectly normal feeling.
Personally, music isn't the number one factor. I don't want to hear any bands play. Sit the artists down on stage, the ones who lived to tell about the event first hand, take as many intelligent questions as possible and leave it at that. That's what I would like to have happen.
That's the real deal. Learn something, and share the experience with friends and family.
The Woodstock Death Toll – From August 1969 – August 2019:
1.Alvin Lee – December 19, 1944 – March 6, 2013 – Age 68 – Woodstock 1969 (Spain)
2.Jimi Hendrix – November 27, 1942 – September 18, 1970 – Age 27 – Woodstock 1969
3.Janis Joplin – January 19, 1943 – October 4, 1970 – Age 27 – Woodstock 1969
4.Bob "The Bear" Hite - February 26, 1943 – April 5, 1981 – Age 38 – Woodstock 1969
5.Alan "Blind Owl" Wilson – July 4, 1943 – September 3, 1970 – Age 27 – Woodstock 1969
6.Larry "The Mole" Taylor June 26, 1942 – Age 77 – Alive – Woodstock 1969
7.Henry "The Sunflower" Vestine – December 25, 1944 – October 20, 1997 Age 52 Woodstock
8.Jerry Garcia – August 1, 1942 – August 9, 1995 – Age 53 – Woodstock 1969
9.Ron "Pig Pen" McKernan – September 8, 1945 – March 8, 1973 – Age 27 Woodstock 1969
10. Mitch Mitchell – July 9, 1946 – November 12, 2008 – Age 62 (Jimi Hendrix Experience)
11.Tom Fogerty – November 9, 1941 – September 6, 1990 – Age 48 – Woodstock 1969
12. Richie Havens – January 21, 1941 – April 22, 2013 – Age 72 – Woodstock 1969
13. Noel Redding – December 25, 1945 – May 11, 2003 – Age 57 – (Jimi Hendrix Experience)
14. Keith "The Loon" Moon – August 23, 1946 – September 7, 1978 – Age 34 -Woodstock 1969
15. Paul Kantner – March 17, 1941 – January 28, 2016 – Age 74) He died on the exact same day as original singer Signe Toly Anderson – September 15, 1941 – January 28, 2016
Age 74 - Kantner Played Woodstock 1969 - With Grace Slick – Jefferson Airplane.
16. Marty Balin – January 30, 1942 – September 27, 2018 – Age 76 – Woodstock 1969
Spencer Dryden – April 7, 1938 – January 11, 2005 – Age 66 – Woodstock 1969 - Cancer
17. Felix Pappalardi – December 30, 1939 – April 17, 1983 – Age 43 – Woodstock 1969
18. John Entwhistle – October 9, 1944 – June 27, 2002 – Woodstock 1969 – Age 57
19. Joe Cocker – May 20, 1944 – December 22, 2014 – Woodstock 1969 – Grease Band - 70
20. Paul Butterfield – December 17, 1942 – May 4, 1987 – Age 44 – Heart Attack
21. Johnny Winter – February 23, 1944 – July 16, 2014
22. Ravi Shankar – April 7, 1920 – December 11, 2012 – Age 92 – Woodstock 1969
23. Tim Harden – December 23, 1941 – December 29, 1980 – Age 39 – Woodstock 1969
24 Levon Helm – May 26, 1940 – Age 71 - April 19, 2012 – Woodstock 1969 – The Band
25. Sha-Na-Na – Saxophonist Lennie Baker – Age 69
26. August Burns – Sweet Water -
27. Alan Malarowitz – Sweet Water
28. Albert Moore – Sweet Water
29 Bert Sommer – Age 41 – Died In Troy, New York – Last Performance Troy June 11, 1990
30. Gary Thain – Keef Hartley Band – May 15, 1948 – December 8, 1975 – Age 27 (Drugs)
31. David Brown – Santana – February 15, 1947 – September 4, 2000 – Woodstock 1969
32. Nickey Hopkins – Jefferson Airplane – February 24, 1944 – September 6, 1994 – Age 50
33. Rick Danko – The Band – December 29, 1942 – December 10, 1999 – Woodstock 1969
34 Richard Manuel – The Band – April 3, 1943 – March 4, 1986 – Woodstock 1969
35. Phillip Wilson – Paul Butterfield Band – Sepember 8, 1941 – March 25, 1992 Woodstock
36. Gene Dinwiddie –Paul Butterfield Band – September 19, 1936 -
37. Steve Knight – Mountain – January 19, 2013 – Parkinson's – Age -
38. Rod Hicks – Paul Butterfield Band – January 2, 2013 - Cancer
39. Lew Soloff – March 2015 – Heart Attack
40. Dennis Greene – Sha-Na-Na- 2014 – Age 66
41. Scott Hansen – Run Over By A Tractor At Woodstock 1969 – While Sleeping Under The Tractor, The Tractor Driver Ran Him Over Accidentlly.
42. Dave "Chico" Ryan (Bass Player)
43. Larry Lee – The Bands Second Guitarist Played With (Jimi Hendrix).
44. Mitch Mitchell A Holdover From The Experience, Died November 12, 2008.
45. Singer Marty Balin, Died In September 2018.
46. Cynthia Robinson, Sly and the Family Stone – Died November 23, 2015 – Woodstock 69
47. Max Yasgur (Who's Farm You're On) Died February 9, 1973 Woodstock Took Its Toll.
48. Paul Krassner, April 9, 1932 – July 21, 2019 – Age 87
49. Abbie Hoffman – November 30, 1936 – April 12, 1989 – Woodstock 1969 – Hit Over The Head With Pete Townsend's Guitar, For Walking Up On Stage, During The Who's Set !!!
50. Timothy Leary – October 22, 1920 – May 31, 1996 "Turn On, Tune In and Drop Out." 75
The Youngest Performer at Woodstock Was Santana Drummer – Michael Shrieve Age 19.
The Doors Soft Parade Album Released 50 years ago – July 18, 1969.
51. Ken Kesey – September 17, 1935 – November 10, 2001 – "One Flew Over The Cuckoo's Nest." (1962) Further Down The Road – "BUS FURTHER" The Merry Pranksters !
"Man, When You Lose Your Laugh, You Lose Your Footing"
"People Think Love Is An Emotion. Love Is Good Sense"
But It's The Truth, Even If It Didn't Happen"…
Ken Died From A Liver Tumor. Timothy Leary Died of Prostate Cancer. Abbie Hoffman Died of Suicide – Taking A Massive Overdose of Phenobarbital.
The "Yippies" Were Founded On December 31, 1967.
Open Letter To The Youth of the World:
If you'd like to follow the progression as I did…start with the gangsters in the 1920,
"The Flappers" and so on. Into the Big Band Swing of the 1940's. Then into the 1950's where the roots really came in to play. Be-Bop – Charlie Parker – Lester Young and The Beatniks.
The Beatniks were a small group that was centered around art and artists. Like poets such as Jack Kerouac and Allen Ginsberg. The Hippies that followed them, were more aggressively political and public. The "Beat Generation" 1950's into the 1960's…The Hippies came a little later, and dumped the Beatnik – Hipsters Like A Bad Case Of Fleas – As They Became Laughable – Laughed-At – and Diluted in the Secoand Half of the 1960's. The Beat culture lost respect in cartoon characters….the Counter-Culture Took Over…never looking back.
But You Should!
From there, it's all 1950's Music you should soak up into your head and emotions.
Rock and Blues Raw and Real ! Just follow the music, and it will lead you from the "Rebels" of the 1950's right into the "Counter Culture" of the 1960's. If you think it was an easy transition, you're not paying attention. Woodstock Was Our Child and Born On That Three Day Weekend in August – The Woodstock Nation Was Also Born. It represents the good in all of us. Love, Peace, Music and Respect Brothers and Sisters. 1969 – 2019.
My Conclusion Today, Is An Introduction For What's Happening Right Now.
This my friends if from my heart and soul. Very short and to the point.
The new battle started long ago, but this battle throughout history has been well recorded.
It's a "Spiritual Battle For Your Soul" Evil Forces Want Your Soul. You're born with "Free-Will" and if you willingly give up that right, you have given your soul to the Devil. You have invited the Evil Forces in, they can not enter your body without your permission.
That is a fact. The Bible is a Cosmic History Book – That Mankind Corrupted To Suit Their Needs for Greed, Control, and Power. Let's Pray That "On Earth as it is in Heaven" is another lie.
I recommend Bob Dylan's 1977 Recording "Slow Train Coming".
Gotta Serve Somebody: "You've got to serve somebody, well it maybe the Devil or it may be the Lord, but you're gonna have to serve somebody."
Learn to Understand the Bible – Little by Little. Not word by word – but take the goodness it has to offer – peace of mind. There is a God and a Devil and you have to choose.
It's that simple my friends. I'd like you to save your own souls. That's all.
Part Two: Dead Musicians We Love and Remember, Never To Be Forgotten:
Duane Allman
Gregg Allman
Berry Oakley
Butch Trucks
John Lennon
George Harrison
...
Stuart Sutcliffe – Wanted it to be "Beatals" but John insisted on "Beatles" – The 5th Beatle. He was born in Edinburgh, Scotland in 1940, Stuart Fergusson Victor Sutcliffe grew up in Liverpool, England. His artistic career was cut short, however, when after a series of increasingly severe headaches, he died of a sudden cerebral hemorrhage on April 10, 1962.
"Not long before he died, he showed up in Liverpool and he went around and hung out with us – almost as if he's had a premonition that he wasn't going to see us again." Says George Harrison. Astrid Kirchherr and Stuart Sutcliffe pose together in Hamburg 1961, black / white. He died age 21. He said, "I'm out of the band, lads, I'm going to stay in Hamburg with Astrid.
George Martin – Sir George Henry Martin, January 3, 1926 – March 8, 2016.
Brian Epstein – Sepember 19, 1934 – August 27, 1967
Eddie Cochran – October 3, 1938 – April 17, 1960
Johnny Horton – April 30, 1925 – November 5, 1960
Scott LaFaro – April 3, 1936 – July 6, 1961
Scrapper Blackwell – February 21, 1903 – October 7, 1962
Rudy Toombs – Born 1914 – Died November 28, 1962 – Wrote, "One Scotch, One Bourbon, One Beer" and "Nip-Sip"
Patsy Cline – September 8, 1932 – March 5, 1963
Elmore James – January 27, 1918 – May 24, 1963
Edith Piaf – December 19, 1915 – October 10, 1963
Cyril Davies – Born 1933 – January 7, 1964
Meade Lux Lewis – September 4, 1905 – June 7, 1964 Wrote "Honky Tonk Train"
Johnny Burnette – March 28, 1934 – August 14, 1964
Bo Carter – March 21, 1893 – September 21, 1964 – "Sitting On Top of the World / Corrine Corrina."
Cole Porter – June 9, 1891 – October 15, 1964 – "I Get A Kick Out of You"
Alan Freed – December 15, 1922 – January 20, 1965 – "Coining The Expression Rock and Roll."
Sonny Boy Williamson II (Aleck "Rice" Miller and "Willie Williamson".
March 11, 1908 – June 23, 1965 – "All My Love In Vain" and "Don't Send Me No Flowers"
Spencer Williams – October 14, 1889 – July 14, 1965 – "I Ain't Gonna Give Nobody None of My Jelly Roll"
Freddie Slack – August 7, 1910 – August 10, 1965 – "Cow Cow Boogie"and Worked With
Will Bradley's Orchestra – They Did "Beat Me Daddy, Eight To The Bar"
Bill Black – September 17, 1926 – October 21, 1955 – Played Bass For Elvis.
Sophie Tucker – January 13, 1884 – February 9, 1966 – She Did – "Some of These Days"
Lenny Bruce – October 13, 1925 – August 3, 1966
Bobby Fuller – October 22, 1942 – July 18, 1966 – "I Fought The Law – and The Law One"
Helen Kane – August 4, 1903 – September 26, 1966 – She Did "I Wanna Be Loved ByYou"
Smiley Lewis – July 5, 1913 – October 7, 1966 – Recorded The Original "I Hear You Knocking."
Washboard Sam – July 15, 1910 – November 6, 1966 – He is the Half Brother of Big Bill Broonzy – "Mama Don't Allow."
Joe Meek – Apirl 5, 1929 – February 3, 1967 – Record Producer
LaVerne Andrews – July 6, 1911 – May 8, 1967 – She Did, "Boogie Woogie Boy."
Henry Red Allen – January 7, 1908 – April 17, 1967 – Jazz Trumpet Player.
John Coltrane – September 23, 1926 – July 17, 1967 – Jazz Avant Garde – Saxophonist,
He Recorded "Around Midnight" and "My Favorite Things."
Rex Stewart (William Stewart Jr.) – February 22, 1907 – September 7, 1967
Dan Picket (James Founty) – August 31, 1907 – August 16, 1967 – He Did The Song, "Baby How Long" ?
Stuff Smith (Hezekiah Leroy Gordon Smith) Auguat 14, 1909 – September 25, 1967.
Woody Guthrie (Woodrow Wilson Guthrie) July 14, 1912 – October 3, 1967.
Otis Redding –
Lucky Roberts (Charles Luckeyeth Roberts) August 7, 1887 – February 5, 1968.
Stride Piano.
Little Walter (Marion Walter Jacobs Sr.) May 1, 1930 – February 15, 1968 – "My Babe".
Little Willie John (William Edward John) The First To Record, "Fever" (1956) and
"Need Your Love So Bad" (1956) – "I'm Shakin'" – (William Edward John) Fever was covered by Peggy Lee in (1958) "You Hurt Me" – "All Round The World" – "Tell It Like It Is"
George Wetting (George Godfrey Wetting) November 28, 1907 – June 6, 1968.
Wes Montgomery (John Leslie Montgomery) March 6, 1923 – June 15, 1968
Jim Morrison – July 3, 1971 – December 8, 1943
Johnny Burnette – March 28, 1934 – August 14, 1964 – "Train Kept A Rolling" and "You're Sixteen"
Sam Cooke – January 22, 1931 – December 11, 1924 – "You Send Me" and "Bring It On Home To Me"
Terry Thompson – Born 1941 – Died 1965 – He Wrote, "A Shot of Rhythm and Blues".
Alan Freed – December 15, 1922 – January 20, 1965 – AKA – "The Moondog".
Johnny Kidd – (Frederick Albert Heath) November 23, 1935 – October 7, 1966 (Car Accident) Singer for Johnny Kid and the Pirates – "Shakin' All Over".
Kokomo Arnold – February 15, 1901 – November 8, 1968 – "Milk Cow Blues"
Pee Wee Russell (Charles Ellsworth Russell) – March 27, 1906 – February 15, 1969 played Violin and Clarinet Jazz.
Martin Lamble – August 28, 1949 – May 14, 1969 – Fairport Convention – "Who Knows Where The Time Goes". (Car Accident). Violinist and Drummer.
Coleman Hawkins (Coleman Randoph Hawkins) – November 21, 1901 – May 19, 1969 "Body and Soul".
Wynonie Harris – August 24, 1915 – June 14, 1969 – Wrote "Good Rockin' Tonight".
Jeanne "Genie The Taylor" Franklin.
Clothes Designer for Jimi Hendrix, Lovin' Spoonful,

Jefferson Airplane, Donovan, Eric Burdon and The Animals and many more.

Brian Jones (Lewis Brian Hopkin Jones) February 28, 1942 – July 3, 1969 – Rolling Stones.

Jim Morrison died on the same day July 3, 1971 – just two years later.

Shorty Long (Frederick Earl Long) – May 20, 1940 – June 29, 1969 – He did "Devil With A Blue Dress" and "Here Comes The Judge".

Josh White – "No More Ball and Chain Blues" (1936) and "Can't Help But Crying Sometimes" (1934) February 11, 1914 – September 6, 1969 – "House of the Risin' Sun"

"Rising Sun Blues"

The Best of the Piedmont Blues.

"Hard Time Killin' Floor Blues" – Skip James and "Catfish Blues" – "Look Down The Road"

Cover By Joan Crane – Excellent.

"Skip James – How Long Blues" – "Keep Your Lamps Trimmed and Burning"

"Baby What You Want Me To Do" – Jimmy Reed

"Nobody's Fault But Mine" – Blind Willie Johnson – Led Zeppelin Covered This and also

"In My Time Of Dying"

"Lord I Just Can't Keep From Crying Sometimes" – Blind Willie Johnson –January 22, 1897

September 18, 1945.

The Barr Brothers – Lord I Just Can't Keep From Cryin' Sometimes.

Peter, Paul and Mary – "I Dig Rock and Roll Music" (1967 – 1968)

The Mamas and the Papas – "Creeque Alley" (1967) – Is an autobiographical hit single written by John and Michelle Philips – how the group formed and their early years.

It peaked at number 5, on the U.S. Billboard Charts. Released Late April 1967. Lou Adler.

Henry Clay Work – April 25, 1817 – April 26, 1879 – Composed "My Grandfather's Clock".

Patrick S. Gilmore – Wrote "When Johnny Comes Marching Home" – December 25, 1829

J.S.Pierpont – Wrote "Jingle Bells" – April 25, 1822 – August 5, 1893.

Adolf Sax – The Inventor of the Saxophone – November 6, 1814 in Dinant, Belgium.

February 4, 1894. (Antoine Joseph Sax) – Died in Paris, France.

Septimus Winner – AKA – Alice Hawthorne – May 11, 1827 – November 22, 1902 and wrote "Ten Little Injuns" and "Listen to the Mocking Bird".

Dan Emmett – Wrote "Turkey in the Straw".

Ernest Hogan is the father of "Ragtime Music" – April 17, 1865 – May 20, 1909 – KY.

Get Your Habits On – Paul Sarebresole (1898) New Orleans Jazz.

Jazzin' The Blues – Inst. – 1921 Ragtime Piano By Reginald Stonemam.

Scott Joplin – Ragtime – "Winnin Boy Blues" – "Maple Leaf Rag"

"Jubillee Stomp" By Stephanie Trick and "Troublesome Ivories" – Inst. "Harlem Strut"

Pete Johnson"Death Ray Boogie" by Stephanie Trick also – "Boogie Woogie Stomp".

July 28, 2012. "Honky Tonk Train Blues" and "Dive Bomber" (Pete Johnson) Excellent !!! She also does, "Maple Leaf Stride" – "Keep Your Temper" – "Truckin'" On stage with her husband Paolo Alderighi – 2016.

Keith Emerson and Oscar Peterson – "Honky Tonk Train" Excellent !!!

"Handful Of Keys" By Fats Waller – Stride Piano – Cover By Trick and "The Trolley Song".

Walace Hartley – June 6, 1878 – April 14, 1912 aboard the Titanic – Froze or Drowned To Death. Band Leader on the "Titanic."

Mildred Hill, (Mildred Jane Hill) Famous for writing "Happy Birthday To You".

Orville H. Gibson – Born 1856 Chateaugay, New York – August 21, 1918 in Ogdensburg, New York – He was the founder of "Gibson Guitars" .

Manuel Nunes – Invented The "Ukulele".

Thomas Million Turpin – The Father of St. Louis Ragtime – November 18, 1871 – August 13, 1922. He Wrote "Harlem Rag" and "Bowery Buck".

Edna Hicks (Landreaux) 1895 – 1925 Wrote, "Hard Luck Blues" and "Poor Me Blues" Her half sister was Lizzie Miles was a Creole Blues Singer Lived In California – Very Famous.

Leon Bix Beiderbecke – March 10, 1903 – August 6, 1931 – Singing The Blues – In A Mist.

Thomas Alva Edison – He was the first to record and playback the human voice,

"Mary Had A Little Lamb". February 11, 1847 in Ohio – October 18, 1931 In West Orange, New Jersey.

Buddy Bolden (Charles Joseph Bolden) September 6, 1877 – November 4, 1931 – Jazz Music

He was a Cornet Player A Pioneer of Jazz Music.

Laura Smith – She Did – "Gonna Put You Right In Jail" and "Don't You Leave Me Here"

Laura Smith and her "Wild Cats" (From the album "Cool Can Blues". Collection

1924 – 1927. She was from Indiana. She was a very obscure blues atrists. Also by Jelly Roll Morton The Original Song 1939.

Louis Prima "Just A Gigolo, I Ain't Got Nobody" – Cover By – David Lee Roth / Van Halen.

Dave Brubeck – "Take Five"

Keely Smith – Jazz Singer and in the movie, "Thunder Road" ((1958) - March 9, 1928 - December 16, 2017. (Dorothy Jacqueline Keely) Her husband was Louis Prima. She Died of Congestive Heart Failure she was 89. She comes from Cherokee and Irish Stock.

Her name Keely comes from the Gaelic "Cadhla" meaning "Beautiful – Graceful" but mostly in the sense of a rare beauty, as in girl "so beautiful that only poets can describe her."

Louis Prima, suffered a heart attack in 1973 and he never recovered – four years later he died of a Cerebral Hemorrhage. Her and Louis Divorced in 1961. Then was with Jimmy Bowen in 1965 and divorced 1969 … and then with singer Bobby Milano (real name Charles Caci) in 1975 in Palm Springs, Frank Sinatra gave the bride away.

Louis Prima – December 7, 1910 – August 24, 1978 – Age 67.

Band-Leader / Entertainer / Trumpet – He helped to support the new "Jump Blues" of the 1940's and 1950's. "Louis Was The King of Swing" – Keely Smith was 20 when she met Louis in August of 1948. Keely got the singing position, in his band replacing Lily Ann Carol, and he wanted to make Keely a star. Prima was against Rock 'n' Roll like some other artists, such as Frank Sinatra and Jackie Gleason. "Just A Gigolo" and "I Ain't Got Nobody".

Keely won a grammy in 1958 for her album "I Wish You Love".

Joseph Kekuku – 1874 – January 16, 1932 – Invented The Steel Guitar.

Blind Blake (Arthur Phelps or Arthur Blake) He died between 1933 – 1940 – born in the early 1890's in Jackson, Florida…He recorded "West Coast Blues" and "Police Dog Blues".

Eddie Lang – October 25, 1902 – March 26, 1933 – Philadelphia – Pioneer of the "Plectrum Guitar Playing" GUITAR PICK. He did, "Eddie's Twister" and "Church Street Sobbin'".

Charles H. Gabriel – Wrote "Will The Circle Be Unbroken" and 7,000 other gospel songs. Born August 18, 1965 – Died September 14, 1932.

Jimmie Rodgers (James Charles Rodgers) "The Singing Brakeman, The Father of Country Music". September 8, 1897 – May 26, 1933 – "The Blue Yodel" and "Waitin' For A Train".

Charley Patton – April 1, 1891 – April 28, 1934.

Leroy Carr – March 27, 1905 – April 29, 1935.

Sonny Boy Williamson (John Lee Williamson) "Good Morning Little School Girl" March 30, 1914 – June 1, 1948.

James Baskett – "Zip-A-Dee-Doo-Dah" – Uncle Remus – In Disney Film.

Kurt Weill – "Alabama Song" – "Whiskey Bar". 3/ 2/ 1900 – 4/3/1950

Hal Blaine – Drummer For John Lennon, Elvis Presley, Frank Sinatra and The Beach Boys.Dead Age 90.

Ted McKenna – Was A Drummer For Michael Schenker, Ian Gillian, Rory Gallagher and the Alex Harvey Band. He died on January 8, 2019. 68 Years Old.

Paul Whaley – Was the Drummer on Blue Cheer's First Three Albums. He died on January 28, 2019 – Age 72. Heart Attack.

Doug Sandom – Was the WHO's first Drummer when the Pre-Who were known as "The Detours" and he stayed with them for two years. Replaced by Keith Moon. He died on February 27, 2019 – Age 89.

Stephan Ellis – He played Bass in "Survivor" – He died on February 28, 2019.

Dick Dale – "King of the Surf Guitar" – "Pipeline" – Died on March 16, 2019 – Age 81.

Bernie Torme – Replaced Randy Rhoads after his death. He also played with Ian Gillian of Deep Purple. He died on March 17, 2019. Age 67.

Scott Walker – "The Walker Brothers" – Hit – "The Sun Ain't Gonna Shine Anymore." He died on March 25, 2019 – Age 76.

Lyle Tuttle – Tattoo Artists – He inked – Janis Joplin – Paul Stanley, Cher and members of the Allman Brothers Band. He died on March 29, 2019 – Age 87.

Paul Raymond – Savoy Brown – U.F.O. – Michael Schenker's Group. He died on April 13, 2019 – Heart Attack – only a few days after UFO concluded dates in the U.K. and Ireland as part of their farewell tour. Age 73.

Phil McCormack – Began fronting Molly Hatchet from 1995 and appeared on four albums.He died on April 26, 2019 – Age 58.

Russ Gibb – On October 12, 1969, Russ was a D.J. in the Detroit area and began the rumor that Paul McCartney had died in a car crash and had been replaced by a Beatles look-alike. Russ died on April 30, 2019 – Age 87.

Leon Redbone – Died on April 30, 2019.

Roky Erickson – 13 Floor Elevators 1966's – "You're Gonna Miss Me"- He died on May 31, 2019 – Hometown Austin, Texas. Age 71.

Dr. John – "Right Place – Wrong Time" – "Such A Night". Died on June 6, 2019, Age 77.

Philomena Lynott – The mother of Phil Lynott of "Thin Lizzy" fame. She had a statue of him errected in Dublin. She died on June 12, 2019 at the age of 88.

Elliot Roberts – Manager for Neil Young since 1967 – and also worked with Joni Mitchell,

Crosby, Stills and Nash – The Eagles and Jackson Brown. He was with David Geffen, he founded Asylum Records. He died on June 21, 2019. Age 76. Cause Unknown.

Dave Bartholomew – Helped create Rock 'n' Roll. He was 100 years old when he died on June 24, 2019. He found "Fats Domino" – worked with, Smiley Lewis, Huey "Piano" Smith.

Gary Duncan – Quicksilver Messanger Service. He and drummer Greg Elmore were the only two left in the band (Original). Died June 29, 2019. Age 72.

Artie Johnson – Laugh-In – 90 Years Old.

Beth Chapman Husband Dog – June 26, 2019 – Age 51.

Tim Conway – Age 85.

Doris Day – Age 97.

Peggy Lipton "Mod Squad" – Age 72.

Charles Van Doren – Died April 9, 2019. Age 93.

Seymour Cassel – California Dreaming 1978. Died Age 84.

Jan Michael Vincent – Died February 10, 2019 – Age 73.

Julie Adams – "Creature From The Black Lagoon" 1954. Died February 3, 2019. Age 92.

Kaye Ballard – January 21, 2019. Age 93.

Carol Channing – January 15, 2019. Age 97.

Hundred Seventy Split New CD Release – Woodstock 69 Live:

Amazon Review Number One By – Senfdeckelplektum71 / Back To Woodstock – Incredibly Impressive Live Performance of H.S.S. In 2019 / August 12, 2019 / Format Audio CD.

Leo Lyons, The One and Only Bass Player and Founding Member of The Legendary Ten Years After, Now 50 Years After The Actual Historic Event. Are Offering Here, What Would Have Been The Set List Played On That Date, Now Played By Hundred Seventy Split In Order To Set The Record Straight and Patch The Unfortunate Gap In Ten Years After's Performance. This Due To Inclement Weather Conditions. A Violent Downpour, Extremely High Humidity, That Played Havoc With Keeping Their Instruments In Tune. Be Thankful That We Have The Footage of Ten Years After Performing "I'm Going Home" Because Without That, We Would Have Nothing To Sink Our Teeth Into. Performing The Un-played Original Set List At This Point In Time, Is A Brilliant Idea. Better Late Than Never.

Love Like A Man, Spoonful, I Can't Keep From Crying Sometimes, Help Me Baby, Good Morning Little Schoolgirl, and The World Famous I'm Going Home Really Have It In Itself.

These Are So Well Played In This Live Performance. It Should Be Noted That Joe Gooch, (Ex-Ten Years After Frontman) Possesses An Insane Guitar Technique, As He Blazes Right Through The Setlist With Precision and Passion Like No Other. Playing As Though There Was No Tomorrow – Delivering Unbelievably Laser Driven Guitar Runs Which Will Stun Your Eyes and Overall Senses.

With A Heart Full of Passion and Pride, Leo Lyons Plays His Massive Fat Bass Runs, A Total Pleasure To Hear Them In Combination With Joe, The String Runner, The Whole Thing Is Simply Breathtaking. Damon Sawyer Is A First Class Drummer, Having Been With Bill Wyman's Rhythm Kings, and Worked With Mike Vernon Who With Gus Dudgeon Produced Ten Years After's First Album – Recorded In September 1967 Decca Studios.

It Was Released October 27, 1967. Damon Is A Powerhouse In His Own Rite, On An Equal Playing Field With Leo and Joe, Makes All The Difference In The World. Damon Shares The Joy of Playing and The Three of Them Skillfully Drive The Emotional Passages Right Up To Their Explosive Improvisations.

For The Ten Years After Woodstock 69 Live Set, There Is Also The Bands Huge Hit, "I'd Love To Change The World" The Bands Only Top 40 Hit, Peaking At Number 40 In 1971, On The Billboard Top 100 and Their Most Popular Single. It's A True Hippie Hymn, From The Flower Power Era. Then There Are Two Hundred Seventy Split Additions To The Live Performance, "The Smoke" and "Do You Wish You Were At Woodstock"!

The Latter Title Has A Lot of Elaborate Passages In The Joe Gooch Solo Part, and This Is When Leo Lyons Heads Over For His Jazzy "Walking Bass" After That There Was Nothing Left To Be Desired. Oh, Guys, You Guys Managed To Kick Me Off The Stool Again.

See You On Your Autumn Tour 2019, I Can't Wait Anymore. (Five Star Review).

Review 2 – By Andy Arbeit – From August 17, 2019 – Format Vinyl – Five Star Review.

Leo Lyons Was On The Woodstock Stage On August 17, 1969, 50 Years Ago As A Bassist of Ten Years After, and Now Played The Set List Live With His Current Band Called

Hundred Seventy Split. The Set List At That Time Included Spoonful, Good Morning Little School Girl, Hobbit, I Can't Keep From Crying Sometimes, Help Me, I'm Going Home.

The Recordings Were Released As LP and CD. I Decided For The CD, As This Release Contains Some More Songs, But First I Had To Answer The Question Whether Someone Wants To Get A Little Bit of The Cake In The Current Woodstock Boom. For This Reason,

I Started An Intensive Audio Sample Before Buying, But I Must Realize That I Was Absolutely Enthusiastic After The First Listening of "Spoonful" and "I Can't Keep From Crying Sometimes." In 1969 Leo Lyons (Bass) Was On Stage With Alvin Lee (Guitar), Chick Churchill (Keyboards) and Ric Lee (Drums). Lyons Was Supported By Joe Gooch Who Succeeded Alvin Lee At Ten Years After in 2003. His Guitar Playing Is Already Extremely Spectacular and Absolutely Worth Listening To. Leo Lyons Now Played The Set List Live With His Band Hundred Seventy Split. Every Single Song Of These Ten Recordings Is Absolutely Worth Listening.

Amazon Review 3. From Felix Müller – A Four Star Review – Good Disc – Good Disc - August 15, 2019 – Format Audio CD.

Musically, of Course, A Force. Wonderfully Fast Expert Playing, of All Ten Years After Songs Covered Here. Somehow This Disc Has Its Appeal. Of Course, The Songs Are Well Known In Many Different Versions. I Felt Cheated Though, That These Songs Were Not Played At The Woodstock Festival. It's Missing Hobbit, Love Like A Man and I'd Love To Change The World Weren't Played. The Last Hundred Seventy Split Songs Were Added.

I Find The Versions With Alvin Lee More Compelling, Maybe As A Fan It's Up To The Voice I Associate With It Musically.

From Dave:

As The Original Reviews Were In German, and There Were Some Errors In English, I Have Corrected Them. I Also Have Taken The Time To Make Some Parts A Little More Coherent.

I Am Confused By Review 3 – A Space In Time Was Released After Woodstock As Was Cricklewood Green. Maybe I Missed Something Here. Thank You Fans For Your Reviews.