Alvin's Solo Music Reissues--From Billboard Magazine: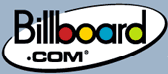 In Flight
Reviewed 12/21/74
Apparently departed from Ten Years After, the group's lead singer / guitarist Lee comes up with a live set featuring some of the good old rock and roll he's always loved so much, with a fine sprinkling of soul and some originals thrown in.
Lee seems far more at home with this material than he did during his last few efforts with the group going easier on the "mile a minute" guitar solos he became known for (there are still some here) and concentrating more on his singing, which is excellent. Something here for all the Ten Years After fans and some new things for those that never got involved with the band.
Sax and flute in the band are put to good use, as are the backup vocalists. Lots of AM potential here, and Lee's strong FM following should also be happy.
Pump Iron
Reviewed 5/6/78


A bit less frenetic than the Lee efforts with Ten Years After and a bit mellower than his live solo set of several months ago. Less emphasis on the mile a minute guitar style he trademarked near the end of the '60s and more emphasis on tasteful, apparently more carefully chosen licks. Several instrumentals highlighted by Lee's guitar and the organ work of Ronnie Leahy are standouts, as are the cuts where Lee uses his basically good voice to handle slower material. A couple of good acoustic cuts here as well.
Musicians include Boz of Bad Company, Mel Collins on Sax and production comes from Lee. Mix of rock, country and basic blues offers Lee's most versatile showing to date.
Rocket Fuel
Date Reviewed 5/6/78


One of the fastest and accomplished of rock guitarsts, Lee returns with a new band that captures the progressive vision that Ten Years After did in the late 60s. Lee's rifling guitar is the albums centerpiece with its energized, stinging riffs standing out over the rhythm section.
The music is a fusion of solid rock and blues that reflects the cream of 60s and 70s blues rock influences, and also reinforces Lee's prominence among virtuoso rock guitarists.
Comprising Ten Years Later is Tom Compton on drums, Mick Hawksworth on bass, Bernie Clarke and Mick Weaver on keyboards.
Ride On
Date Reviewed 5/5/79


Second RSO LP for Lee, the heart of Ten Years After, returns here with drummer Tom Compton and bassist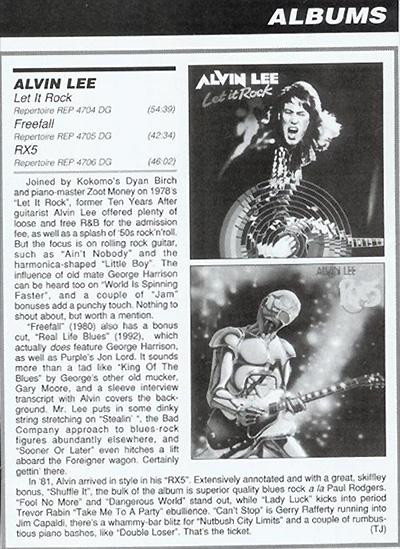 Mick Hawksworth. Supplying his own dynamic guitar and vocals Lee does what he does best--plays and sings moving blues rock. Interestingly, side one was recorded without overdubs live on stage, while side two is in the studio.
The classic "Going Home" is on the first side with the overall package a blues rock tour de force.
Free Fall
Date Reviewed 11/22/80


This LP of smooth rockers fares best when Lee is at the helm; writing, singing and dominating the lead spots. Backed by bassist Micky Feat and drummer Tom Compton, and sharing guitar and vocal chores with Steve Gould, Lee all too often fades into the background and fails to insert his unique presence and style into the music. Best cuts: "Ridin Truckin," Sooner Or Later."
RX5
Date Reviewed 10/17/81


Less than 10 years after Ten Years After, Alvin Lee is still proving he knows how to rock and roll. Guitar playing, on which Lee receives an assist from Steve Gould, is outstanding. The energy level remains high from first cut to last. A strong effort. Best cuts: All.
---
Dave's CD Reviews: Alvin's Solo Years
1973 On the Road to Freedom:

Was a breath of fresh air back in 1973 and continues to remain so to this day. Light and fresh but should have been a double album as it was an inspired period of time for everyone involved. Mylon was trying to get the drug monkey off of his back and Alvin was trying to shake off every other monkey from his back as it related to Ten Years After, his personal problem with stardom / fame and playing I'm Going Home any longer on stage.

About the music there's not one weak or bad song on the album, it flows, it sways and it rocks to the finish. The best thing is that you either love it or hate it as no one is indifferent. Considering it was Alvin's very first solo attempt and it was a whole new direction from what we all were expecting, be sure it was made from the heart of every member involved and destened to be a true classic, as it turned out to be.

Bonus Track: So Sad (single version) the long version is already on the album, it serves no purpose to offer this dried up bone as if it's a new gift.
1974 In Flight:

Alvin's second solo effort and only Alvin could make the magic happen on this recording. It was one Hell of a spectacular event, not only because of the gathering of the all star supporting players, but because for the first time Alvin became just one of the boys in the band. With nothing to prove he was playing for the love of playing and that's what becomes apparent to the listener, it was a triumph of discipline over stardom.

A two record set and it also has stood the test of time as with OTRTF.

For Alvin to sing Don't Be Cruel and really do it justice is a prime example of his true talent. He plays his Gibson like a stradivarius and the notes and phrasing flow like silk and honey all over this recording, nothing hectic or over done, it's all in good taste without the usual Alvin Lee haste.

When Alvin learned to control his guitar and caress the numbers being played instead of his usual flying fingers assult that he has been known for over the years, that is what has propelled him into a higher artistic status. As the Billboard review has stated, his voice became just as important an instrument as the notes he was playing.

Bonus Tracks: Sombody Callin' Me and Put It In A Box. Now here is something different and interesting and worthy of being included on this cd release.
1975 Pump Iron:

For me this album is a total enigma. To start with I expected the music contained within the cover to be a bombastic heavy metal explosion as the title implies, PUMP IRON an electric Gibson extravaganza, but what is presented is nothing of the sort. The cover should have been of sunflowers, love beads, a feather bed and a baggie of grannola with the words "too much time and space between us".

Secondly, it took little or no time for this recording to hit the bargain basement discount bin, never before or since have I seen an Alvin Lee album for ninty nine cents as was the case with this one. I got the impression that I wasn't the only one dissatisfied with this solo project because it didn't sell very well for whatever reason.

With all that being said I really love the damn thing, because after the high expectations I had I also learned to accept and appreciate it for what it was, a continuation of the In Flight recording series with many of the same musicians. This could've been the third record in the In Flight set because that's exactly where it belongs.

Bonus tracks: Track 12, called Madness is a total throw away unless you're angry and even if you're not you will be, one minute fifty seconds of chaos.

Track 13 is the exact opposite and well worth the price of this cd alone, and here is how it came to be in Alvin's own words:

"I recently did a bonus track called "Midnight Special" for the "Pump Iron" CD. I actually recorded the track in 1997, it was a big jam at Hookend with Mick Ralphs, Boz Burrell and Tim Hinkley. I came across the multi track seven years later and put a vocal on it which sounded great. In the summer of 1988, I dug it out again, decided that the guitar solos were a bit weak and put new guitar solos on. So that track took 21 years to record! I did it with Stuart Epps as the engineer and it sounds great-like it was all done at the same time".
1975 One More Chance:

There are four records associated with the In Flight period, In Flight two record set, Pump Iron and One More Chance. One More Chance is a wonderful bootleg cd and while we don't normally recommend bootlegs to fans this one is special case.

Here are the facts: It was Recorded Live in Europe in 1975, and made by Oh Boy Records (the same bootleg company that released Ten Years After Live at the Texas International Pop Festival) and the song list: Let the Sun Burn Down (it should be Let the Sea Burn Down) You Told Me, How Many Times,Going Through the Door, I've Got Eyes for you Baby, Ride My Train, Julian Rice, One More Chance, Rock and Roll and Johnny B. Goode.

The funny part is the insert photo is of Alvin, Mick and Tom from Ten Years Later (wrong band guys) it is from the In Flight sessons and the quality is excellent when compared to any other bootleg recording. It seems that this material came from the sound mixing board. All I can say is it's worth searching out if you loved In Flight and Pump Iron this will make your set complete.
1978 Rocket Fuel:

This was as close to a Ten Years After Album—without Ten Years After that Alvin Lee would ever get. It is a fantastic recording from start to finish, high energy, passion and just plain Kick-Ass Rock and Roll. This was the album that Pump Iron should have been, but better late than never. Every record collection should contain this recording, it's an eleven on a scale of ten. Hats off to Tom Compton and Mick Hawksworth for giving Alvin a much needed boost and support to get him started playing Rock and Roll again, or at least playing it as it was intended to be played. Before this album was released I was afraid Mr.Lee was going to come out with Alvin plays Karen Carpenter greatest hits compilation, or another version of Diamonds and Rust from the Joan Baez collectors series. Tom and Mick you just didn't get enough credit for your contribution but it is very apparent to any Alvin Lee fan just what you two did for him.
1978 Let It Rock

Best tracks are Little Boy, Let It Rock and Through With Your Lovin'

Bonus Tracks: Snake Jam and Break Jam: Nothing to write home about but interesting just the same, well worth a listen they'll grow on you, Break Jam will have you tapping your feet very enjoyable. This was Alvin's first solo effort for Chrysalis and his fifth overall. Remastered by Jon Astley. Just enjoyable fluff, like going to Mc Donalds it fills you up but nothing really substancial here.
1979 Ride On:

This could've been another Rocket Fuel but it fell way short. There is nothing wrong with side one it is perfect 110%, Ain't Nothin' Shakin' is a real non-stop rocking workout, Hey Joe is almost better than what Jimi himself did with it as Alvin sets that song on overdrive, and Going Home you just can't miss and it comes off with flying colors again.

Side two: My opinion, is either make one good Live Album or one good studio album but never mix the two together. The songs are good, the lyrics are good, the music is good, so what the Hell's wrong? The sound is muffled, dirty, mucky, it's like listening to a $10,000 stereo system through a pair of $20.00 K-Mart speakers, if it wasn't for this Ride On would've been rated over the top, another eleven like Rocket Fuel but overall it gets a five.
1980 Free Fall:

I totally disagree with the Billboard assesment of this album (opinions vary). To me it is one of Alvin's proudest moments because as with In Flight he has no trouble being just one of the boys in the band. Imagine someone put this record on for you and you didn't have a clue it was Alvin Lee it would strike you as being an outstanding achievement on any level. I can judge a record or cd by how fast or how slow it takes to end, if I get the impression that it flies by then it was interesting and enjoyable, but if I can't wait for it to finish it has little to offer.

Free Fall flows, one song leads into another seemlessly and it ends too soon. The perfect Alvin Lee vehicle - an eleven rating once again.

Bonus track: Real Life Blues nice song but doesn't belong on this collection, it seems that it came about nine years later than this 1980 release, the guitar work has all the ear-marks of the About Time release or later recordings.
1981 RX5:

I give it an overall grade of eight all the way through, except for the nonsense robot cover and the RX5 title, X file, X factor, Triumph RX7—XR7 or Max Factor who cares the cover damn well sucks. Alvin only wrote three songs on this outing and in Alvin's own words: " I was actually not writing much at the time, I was letting these other guys come up with the ideas. "Can't stop" was an idea that just came to me one night, it was one of those songs that just appears in your head. It's funny, we had practically finished the album and I came in the next morning and told them I'd written this song. Everybody was saying "Well, it's a bit late now! Well, I said, This is my studio, we are doing it anyway!

Bonus Track: Shuffle It –a very nice lively track indeed a good instrumental and a great addition to this recording. In my collection I moved the bonus track into the first song position rather than the last, great music to open up the album with and great segway into "Hang On". The song runs 6:05 and is a real treat.

In Conclusion: Burn the bloody cover, make up your own and enjoy the music presented inside. Play it for your friends and don't tell them who it is and see what they think. It is one good piece of music that has long since been overlooked and basicly forgotten. Dig it out of the Dust-Bin and give it a little spin just for fun because it is just good.
1992 Zoom

Overall everything about this CD is Alvin Lee and it is a very good representation of his talent in many areas, the down side is it has all been heard before. Jenny Jenny, Real Life Blues and It Don't Come Easy are the stand out songs and the hard to forget A Little Bit of Love.

You have to be in the mood to listen to this all the way through and if the song Use That Power was meant to be the next version of I'd Love to Change the World - it didn't come close.

I loved it when it was first released but it got old very fast.

Give it a ten for effort, a five for sound and a two for rehashed overkill.
gggggg

1994 Live In Vienna

Alvin is always good live and on stage, he is a great talent, performer and entertainer, Live In Vienna is a Tribute to him and Ten Years Later. All I can say is if he wanted to keep performing Ten Years After songs he should have stayed with Ten Years After in the first place, just check the song list.

I would rather listen to Live at the Fillmore East or Ten Years After Recorded Live from 1973.

Although Steve Gould, Alan Young and Steve Grant are all very capable players I'd rather have Ric, Leo and Chick.

While this is a good if not great recording it does capture a moment in time while there was still some excitement and energy left.

John Hembrow (as always) was the tour manager:

Good-Bye John Hembrow (Retired)


Photo courtesy of Sandye

According to our sources John Hembrow has been the one person who has been with Ten Years After, Ten Years Later, The Alvin Lee Band and Ten Years After back again. John started working for Ten Years After in May of 1968 when the band was ready to embark on their very first American tour.

Apparently John has the ability to "read minds" and do everything that needs to be done and keep things running smoothly he will be missed. It is a well known fact that Alvin defended Andy Jaworski and John when Chrysalis wanted to discharge both of them and thus became the reason for Alvin himself leaving the record label.

Over the years John called Alvin "Guv'nor' so this kind of respect has kept him in good standing.

John Hembrow and Lloyd Murray

Cheers John, good luck and thanks for everything you've done over the years to support Ten Years After and Alvin Lee.

From Brigitte and Dave
1987 Detroit Diesel

I had the record and loved it but trying to find the cd in the 1990's was difficult to say the least, I finally had to order it as an import from Germany at the total cost of $35.00 it was well worth the money and effort. If I had to hand someone one of my favorite Alvin Lee CD's it would be Detroit Diesel, Rocket Fuel or Free Fall. This is one recording that I never got tired of and I really can't put my finger on exactly why but it does work.

There is only one gripe that I do have about this release and no it's not the sound this time, it is the song Let's Go. It's listed as a Lee / Gould composition but damn if it doesn't sound like a cross between The Bay City Rollers Saturday Night (1976) and the Beastie Boys, (You've Gotta Fight) for your right (to Party) 1987. Let's go to my house, have a party at my house……..a perfect album up to that point, I have no love loss for this song but your opinion may be different.
Alvin Lee wurde 1944 in Nottingham, England geboren. Seine Eltern, beide Jazz – und Bluesfans, zogen ihn mit musikalischen Vorbildern, wie z.B. Ralph Willis. Lonni Johnson, Blind Lemon Jefferson und Big Bill Broonzy auf. Obwohl immer eine Gitarre im Hause war, wurde eine Klarinette Alvins erstes Instrument. Mit 15 Jahren spielte Alvin bereits hervorragend Gitarre, stiess auf den Bassisten Leo Lyons und stieg bei den "Yardbirds" ein. Der erste internationale Auftritt war drei Jahre später im legendären Hamburger "Star–Club".
Wieder in England, nahmen Alvin und Leo den Schlagzeuger Ric Lee in die Gruppe auf, gleich darauf folgte der Keyboarder Chick Churchill. Jetzt zog es die Gruppe nach London, wo 1967 die legendären "Ten Years After" entstanden. Den ersten großen Erfolg verbuchte die Gruppe 1968 beim "Windsor Festival". 1969 beim "Woodstock Festival" gelang der grosse internationale Durchbruch. "Ten Years After" wurde ein Rock`n´Roll Vorbild und Alvin Lee der schnellste Gitarrist im Westen. 1977 löste sich Ten Years After auf. Alvin suchte nach neuen Ideen für sich und seine Musik, ging 1979 mit einer Band in die USA und tourte dort, bevor er nach Europa kam und ein Comeback mit seiner Band "Ten Years Later" feierte. Höhepunkt war der Auftritt in der Fernsehrockshow "Rockpalast" 1978. 25.000.000 Musikfans hörten den neuen Alvin Lee bei dieser Eurovision – Rock –Nacht. Geboren war die "Alvin Lee Band". Es erschienen "Free Fall" 1980 und "RX5" aus 1981. Danach machte Alvin Lee eine lange Platten-Pause, tourte aber ständig weiter durch die Welt.
Fünf Jahre später - 1986 – produzierte Alvin Lee ein neues sensationelles Album, "Detroit Diesel," mit Musikern, die sich wie das Einmaleins der Rockgeschichte lesen, alles enge Freunde von Alvin Lee. Auf "Detroit Diesel" wirkten unter anderem mit: Ex-Beatle George Harrison (Slide Guitar) – Jon Lord von Deep Purple (Hammond Organ) -Leo Lyons von Ten Years After (Bass Guitar) – Alan Young von Alvin Lee Band (Drums) – Tim Hinckley – Roger Chapman – Chris Farlowe – Alvin Lee (Keyboards) – Mick Feat – Van Morrison (Bass – Backing Vocals) – Boz Burell – Steve Miller – Alvin Lee (Bass Guitar) – und viele andere mehr.
Kurzum: "Detroit Diesel" ein Album, von dem man noch sprechen wird.
1994 I Hear You Rockin':

Skip… Long Legs (who cares) we heard enough about your baby in I'm Going Home!

Skip… Play It Like It Used To Be…Madonna don't do nothin' for me crap song, crap lyrics!

Skip…Boogie All Day—Listen to Boogie On instead!

Skip…My Baby's Come Back To Me (who cares) Alvin get over it—women may come women may go remember!

Skip…Give Me Your Love, Take It Easy, Ain't Nobody's Business and the old cover of I Hear You Knockin' sounds like a 45 record played at 33 …none of these are really bad just lack-luster and boring as Hell!.

Now that leaves a Beatles tune (I Want You), Keep On Rockin' (by King / Batholomew) The Bluest Blues (best on this recording) and I Don't Give A Damn---there's the entire album. Alvin does a great job on I Want You, it was a good song to begin with and with the old Alvin touch he has made it his own and more enjoyable than the Beatles version ever was. This is in part due to the fact that Alvin had the good sense to give the song a proper ending that it was lacking before.
..
2003 Alvin Lee in Tennessee

"Disappointed in Alvin Lee's Tennessee"

With Scotty Moore - DJ Fontana - Pete Pritchard - Willie Rainsford and Tim Hinkley

There's too much Alvin to suit my personal taste.

That's the basic problem with this recording. It's all Alvin Lee, it would have been a much better effort if Alvin had taken to laying low and took a more comfortable back seat to become just one of the boys in the band. It worked for him back in 1974 on his "In Flight" album, and it would've served him just as well here. By placing Scotty Moore and D.J. Fontana in the spotlight it may have provided some real balance and enjoyable nostalgia for the fans and band alike.

With this being said, I get the distinct impression that Elvis's boys would rather play a submissive role and let the King be King. Although in this case a collective effort would've been much more enjoyable for this listener. This cd by no means lacks any talent, in fact there is an over abundance of talent provided on here. All that is really missing is the fundamental ingredient called democracy, that one aspect could've produced a much more positive outcome.

There are two other inherent flaws is this release. The first is it's way under produced, it's sound is lacklustre, flat, bland and that diminishes the overall effect that the recording process should've provided. The second flaw is in the choice of material, this means lyrics and the music used. For me personally I would've preferred the band of this calibre to do some better guitar picking, playing and jams. Elvis, Chuck Berry or Buddy Holly tunes would've worked perfectly in this situation.

Below is my assessment of the songs, they include the reason for my overall disappointment:

1. Let's Boogie 3:33 A very nice little bouncy tune, but would've been much better as an 8:00 instrumental. The start of the song fades in as though it's already in progress, which it most certainly is, and that's annoying. Not a bad song really, it just sounds run of the mill.

2. Rock and Roll Girls 3:38 Yea, Yea, Yea, another Chuck Berry and Jerry Lee Lewis "Riff-Off" the old block. Nice little bouncy song again, but should've been called "Every Imaginable Rock 'n' Roll cliché that you've ever heard, in just under three minutes and forty seconds".

3. Take My Time 4:45 If this band were to go on the road, they could get a permanent residency at the local Days Inn. Three fifteen minute breaks, free coffee and buffet included. It picks up where that other lame song "Long Legs" leaves off.

4. I'm Gonna Make It 6:10 I can tell you that this song is about four minutes too long. Grace Slick has a great line for a performance like this "shave and go home" meaning just going through all the motions with no soul or passion behind the action is worthless. Take the lead guitar out of the mix, crank up the keyboards and it would've been better by a long shot. This song has been bothering me for a long time, because I've heard it before but I just could never place where it was from—then I remembered—Hank Williams Jr. that's right folks. It's a Hank William's Jr. song called
"If It Will It Will and If It Won't It Won't" from his "Pure Hank" album released in 1991. Just as George Harrison stole "He's So Fine" from "The Chiffons" that was written by Ronald Mack, Alvin lifted this song from Hank Williams Jr. as well. I'm far from impressed.

5. Something's Gonna Get You 4:47 Alright, now that I'm through track four lets see where has this song been before. It isn't new, it's another has been-retread, oh yea-the About Time album "All Shook Up" and Zoom and….you get the idea?

6. Why Did You Do It 5:00 This is another song that should've been a 10:00 instrumental.

7. Getting No Where Fast 4:40 Should've been called "Going Nowhere At All". Lame rhyming, uninspired little riff from the "About Time" album again, another retread from the past. Unadulterated fluff, remove Alvin's vocals and guitar and it would be closer to a perfect number.

8. How Do You Do It 5:00 Here we have the first taste of the cd and the band getting ready for the final dirt nap.

The song is really called "Baby Won't you Let Me Rock 'n' Roll you" from the "Space In Time Album" released in 1971. Re-hashed-Re-Tread- once again.

Alvin throws in some old "Slow Down" some Chuck Berry fills, and some Jerry Lee Lewis chomp chomp - look for the kitchen sink while you're in here.

The song is three minutes too long.

9. Let's Get It On 5:25

Isn't this a song title from Edgar Winter's White Trash, featuring Jerry La Croix from 1971? The purpose of this song is two fold. First it's a stepping stone to get to "I'm Going Home" and second it's so bad it's suppose to make you forget all about your disgust that "I'm Going Home" is even on this recording.

10. Tell Me Why 5:52 More fluff to set up for the finish. Every time I hear crows in the corn field across the street going caw, caw, caw or a baby with a cry of wah, wha, wha, this song comes to mind, with Alvin whining out why, why, why and it reminds me just how much I despise this recording.

11. I'm Going Home 6:13 Can you believe this song showed up yet again? So what is there to say?

In Conclusion: Scotty has seen better days and we'll remember him for his contribution to Rock 'n' Roll and the memory of Elvis Presley. Thank You for everything Mr. Moore! D.J. Fontana, nice job, thanks to you also for your contribution to the history of Rock 'n' Roll. Elvis thanks you and 50,000 fans can't be wrong, and they weren't! As for Alvin Lee, there is no doubt his heart was in it, but it didn't come through on this CD. If you listenend to the first song you'll know the rest of it. It is just the same over and over again. Some people put on their dancing shoes, to us it is better than Sominex. YAWN.

Dave and Brigitte
2007 SAGUITAR

Sagittarius Guitar Music

Released Friday September 21, 2007
This can be defined simply as the official "Alvin Lee Sampler"

Overview:
Saguitar is: One step up from "Alvin Lee in Tennessee".
Fans are voicing their opinions, that the majority of the material presented on this new release is very old and very little of anything new is represented here. "When it comes to writing endings to his songs on Saguitar, sometimes it's just like he lost interest mid-song, which is a shame really!" The fans report.

Little if anything has changed from his last release called Alvin Lee "In Tennessee". The songs on Alvin's new effort are just rearranged, the lyrics slightly changed, and thinly veiled with an embarrassing transparently that brings forth the same predictable results.This outing of Alvin's is still not up to expectations, as many would like.
A MIXED BAG OLD RETREADS:
While his vocals are strong, and his playing is well within the normal speed limits these days, it's tasty, respectable but also boringly predictable. He plays fast and clean, but that's never been the issue. The trouble is, this old horse (meaning lyrics, riffs and music) has been beaten to death so many times, that it's now pushed itself well beyond the point of mere fatigue and exhaustion. That's what makes this new cd very hard to enjoy with any heartfelt positive enthusiasm.
Another weak spot, is in its lack of cohesive production, as it's so under produced in spots as to make it not only distracting but downright annoying. This, along with the sudden endings to songs, the laughing at the end or in between songs, along with the support contributions and backing vocals that come across as half-baked-after-thoughts that were put together in such a hodgepodge way as to make it sound amateurish at the least and sophomoric at best.
According to Alvin himself, it took him two years to put this cd together.Also, let's not forget Alvin has a chronic habit of nicking bits and pieces from other recording artists (including his own stash of old tapes and recordings) for his material, which makes it even more suspect. It's like being promised a hot home cooked meal, but when you arrive, you're served up a T.V. dinner instead. Little substance or real inspiration.
Only four tracks out of a possible fourteen songs are worth honourable mention, the rest fail on their own merits for one reason or another.
THE EASY WAY OUT: Recording History Note:
Some of the material he took from the original Saguitar album, that was never released back in the mid to late 1970's, and has since shown up on other releases such as:
"Let It Rock" from 1978 – "Rocket Fuel" from 1978 and "Ride On" from 1979.
MUSIC REVIEW:
Anytime U Want Me - 4:50
"anytime that you, anytime that you, any time that you want me…… chomp chomp – formula little rocker but well done….until the 4:42 mark where you'll hear the ending of the song…a jagged cut and fill-in, so unprofessional and annoying. Sounds like a leftover from the Hear Me Rockin' sessions.
The Squeeze – 4:07
This is a thinly veiled, flimsy rendition, of "I've Been There Too" from Ten Years After's "A Space In Time" album from 1971. With the old familiar chorus of "Wake Up Shake Up You've Got A Lot To Give" being replaced by "It's A Hard World, It's A Hard Life and It's Up To You, But It's Our World, It's Our Life and You Can Make It Through".
The guitar solo is the same as used on the "Free Fall ( One Lonely Hour) and Rocket Fuel" (Somebody Callin') albums.
It's Time To Play – 4:23
"It's been a long time a commin' I've been a long time away" is the original line from the Rocket Fuel album and now replaced by the line "it's been a long time a commin' seems I've been waiting here for years, on this guitar I've keep strummin', smokin' pot and drinkin' beers" and he continues " everyday it's getting better, working hard on my trade, and now it's all come together it seems that I've got it made" "I've been waiting, waiting for the day, to play my blues now there's nothin' in the way, once there was a time I had nothing left to say, but now it's come together and its time to play." My choice for favourite song on this collection – even with its apologetic ending. This is also the equivalent of the other autobiographic song called "Little Boy" from the "Let It Rock" album of 1978.
Midnite Train – 2:17
Sounds like an old Elvis song, complete with train song lyrics, what else? Another misguided ending – that just ran out of steam.
Motel Blues
Is done to the tune of "The Bluest Blues" from Alvin's "Hear Me Rockin" cd and offering nothing new here. Which begs the question – when was Alvin on the road for such an extended period of time? That little U.K. tour a few years ago? Or are we digging back twenty plus years or more?
Only Here For The Ride – 2:47
From the "Free Fall" era we get a refried version of his 1980's "Dustbin City" the same song with different lyrics – with terrible backing vocals to boot..
Memphis – 2:02
Yes sir, instead of "Going To Chicago" direct from the Ten Years After "About Time" album from 1989, we get "Going To Memphis".
Got A Lot Of Living To Do – 3:05
Tim Hinkley's excellent keyboard work is buried under Alvin's guitar and rhythm section. Don't take me yet St. Peter……
Blues Has Got A Hold Of Me – 3:23 (Title Lifted From Peter Green).
It's All Good – 4:20
Well folks, Alvin seems to have been influenced by another 1980's band called "The Godz" something from an obscure source. Have you ever heard of the "Godz" ? The riff and chords fit perfectly with their song called "He's A Fool" from their 1980 album entitled "Nothing Scared".
Education – 4:30
"It all goes by a different name" this line is reminiscent of "Standing At The Station" "as the one I left behind me, though it has a different name". As you live you learn a more important lessons than the jive they filled your head with back in school. Look for yourself, learn for yourself and don't be a fool.
The Rapper – 3:27
You can't blame me says Alvin… you try, try try…"stroke my face and stab my back".
It would be very easy to blow this song off as fluff and a waste of time…..but…..I'm not going in that direction.
The song is unique and the drum pattern is extremely interesting. Alvin's anger is minimal at best and never really hits it's target with any real conviction. His words ring hollow and sound more like acting….but it makes for good amusement and speculation anyways. Who's the message for? "Wham Rap" meets the same chord progression as 50,000 Miles Beneath My Brain – the Ten Years After Classics are never far off in his playing.
Smoking Rope – 4:38
I like this tune, Alvin's vocals, slide guitar work and harmonica playing are exceptionally tasty and well done. This is my second favourite song on this collection, and finally a proper ending to go with it.
Rocking Rendezvous – 4:38
Another rehashed riff lifted from "Let It Rock" 1978
The exact song being "Break Jam". At the beginning of the song I thought Michael Jackson stopped by for a guest appearance, but no, its Alvin and his high pitched vocals once again. This track in general is the clone of the B52's "Love Shack" baby. Now this song is definitely filler / fluff / stuff, but worth while in its own right. The keyboards of Tim Hinkley are more aggressive here and never back down. The song itself is really good until the 2:35 point, then it becomes just a case of overkill.
2012 - Still On The Way To Freedom

Released August 2012
An Open Letter To Alvin:
Hello Alvin, I really like your brand new album, it really holds up and is consistently excellent. It flows, in a natural progression and Rocks On, in a positive forward motion. All the songs are strong, the message is clear and you should be very proud of this accomplishment.
It appears that you're comfortable on this musical effort. You're guitar is rationed out very methodically, emotionally and hydraulically driven. Your vocals are within a comfortable range, and Tim Hinkley's fills are delightfully - tasteful, far from being over done. Track four is a refreshing return to your excellent harmonica playing from the days of old, when men we're told, not to be so bold.
You're a very lucky man Alvin, just being alive is a true blessing.
Down Line Rock is a nice little funky-number, as is Rock You (Baby).
Love Like A Man – Part Two….not bad at all, it's Rock and Roll as it should be played, and it does no injustice to the original version. It also has an under-current of Let's Work Together, come on come on…..excellent job. Been listening to Bob Dylan lately Alvin? Walk On, Walk Tall sounds exactly like Dylan's "Don't Think Twice It's Alright". Blues Got Me So Bad (count the days I'm gone) is Sleepy John Estes. Over all, this recording is a pleasure to listen to, glad you had a good time making it.
Songs Include:
Still On The Road To Freedom – 4:22

Listen To Your Radio Station – 2:20

Midnight Creeper – 4:09

Save My Stuff - 4:01

I'm A Lucky Man – 3:24

Walk On, Walk Tall – 3:15

Blues Got Me So Bad – 2:08

Song Of The Red Rock Mountain – 2:03

Nice and Easy – 3:06

Back In 69 – 2:35

Down Line Rock – 2:28

Rock You – 1:32
13. Love Like A Man 2 – 4:32