ALVIN LEE Biography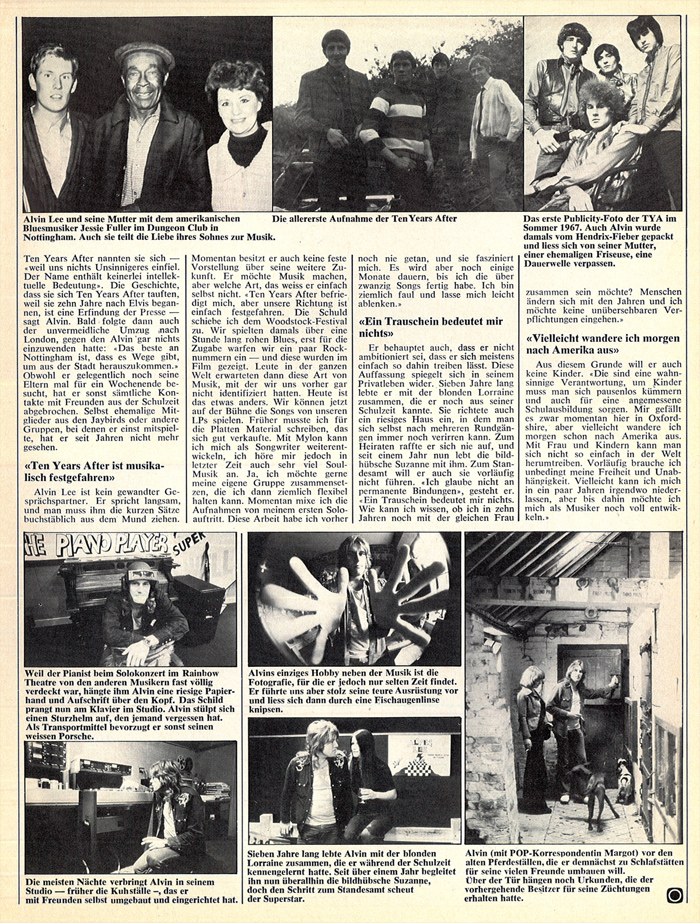 ---
click pictures to enlarge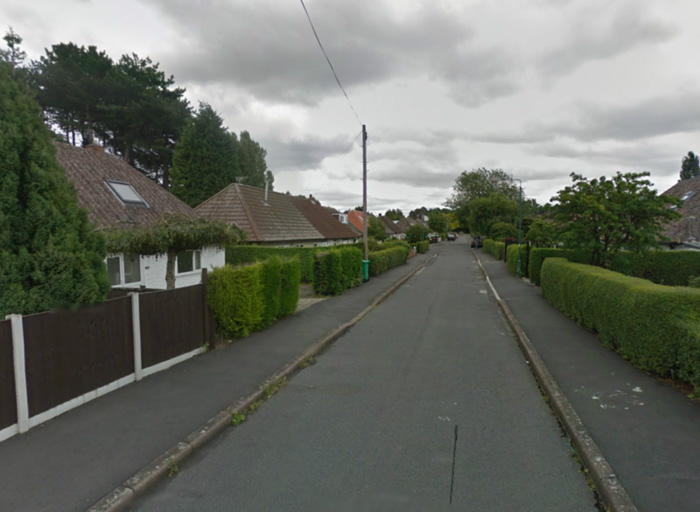 Toston Drive, Nottingham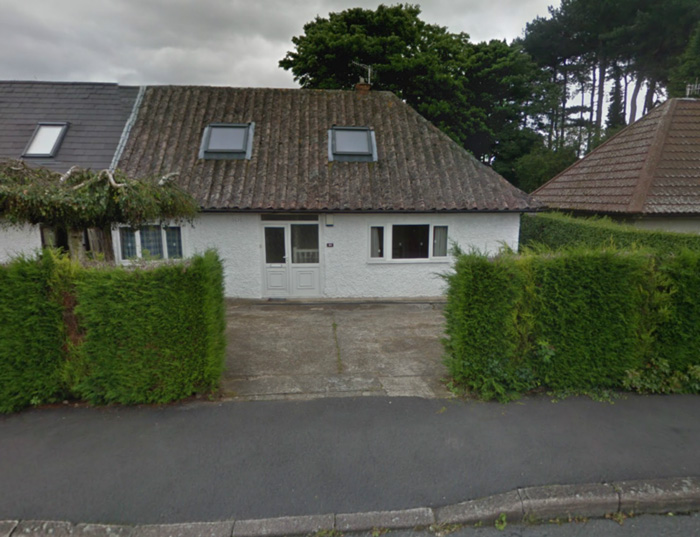 46 Toston Drive, Nottingham - Graham Barnes' homestead
Many Thanks to Martin Crich for sharing his photos with us
Fair Thee Well – As Margaret Glen-Bott-Secondary School Closes It's Doors
Which is Graham Barnes, as he was affectingly known back in his youth, before changing his name to Alvin Lee, went to school for a short period of time. His old alma-mater has now closed its doors for good, but two of its most famous pupils will always be associated with this fine institution. Alvin Lee of course and Richard Beckinsale.
Alvin was one of the very first pupils to attend Margaret Glen Bott where he was something of a "Rebel" as he was often being sent back home after just arriving at school, for wearing unsuitable for proper education – "Rock `n´ Roll" clothing. (way to go Alvin). As if this wasn't enough, the head teacher at the time, one Miss Lovatt, gave Mr. Barnes a good dusting down, by spewing this good advice to our soon to be guitar hero, "Smarten up and get rid of that guitar, as you'll never make a living out of it". This was most likely the only time that she was so very wrong ! Although Alvin's favourite teacher was a chemistry teacher whose lessons he enjoyed so very much, that he held the top grades in his class. But behaving nicely in a smart new school in Wollaton Park didn't sit very well with him either.
Alvin kept his guitar hidden under his desk and used to practice his chord shapes, patterns and structures whenever he was bored. He left school at age fifteen, with no personal regret at all, as he was already proficient enough playing guitar since the age of twelve, to comfortably able to move on. As you can see for yourself in the photos above on this page, an early Alvin Lee playing in "The Jaycats" with Ivan Jaye Harrison as their lead singer, Leo Lyons on bass guitar and Pete Evens on drums". Later on in the official press / publicity photos as the "Jaybirds" it's Alvin Lee, Leo Lyons and Dave Quickmire as a working trio. With the final line up becoming, Alvin Lee on guitar and vocals, Leo Lyons on bass guitar, Ric Lee on drums, (pulled away from the very popular Mainsfield's ) and Chick Churchill on keyboards, "Ten Years After" was formed. The not yet famous foursome would, in a few years hit the big time playing the now historic "Woodstock" music festival in August of 1969. The group would also be featured in the classic documentary "Woodstock Movie" that was released about one year after the actual event in 1970. It's also been fiercely rumoured, that Ten Years After did more tours of America, than any other British band, before or since, a grand total of twenty eight, in a seven year period. It still stands as a record if true.
Alvin Lee is regarded as one of the most technically advanced and brilliant guitarist in the history of Rock and Roll, although he later became just as distinguished and respected for his rhythm and blues, country rock and rock and roll, having release roughly twenty five albums to date, in his vast career. Alvin now enjoys life in Spain, though his beloved mother continued to live near Margaret Glen-Bott School until the end of her life. She passed away in May of 2004. Alvin toured the U.K. for the first time in nine years, which included a prestigious concert in Nottingham at the Royal Concert Hall. The tour was in support of his brand new album release called, "Alvin Lee In Tennessee".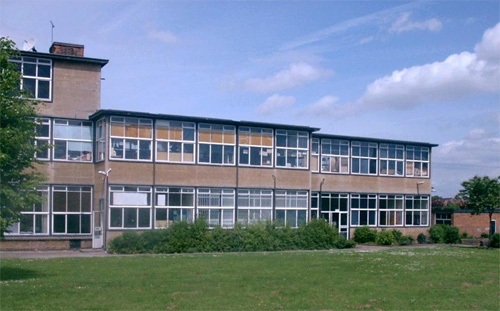 Front View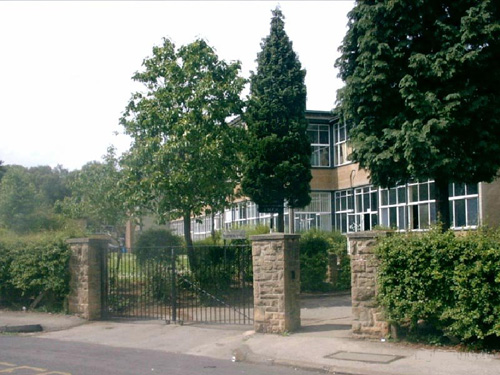 Main Entrance
What follows, is Alvin's own recollections of his time at Margret Glen–Bott Secondary School:
"I was a rebel at school and I suffered the consequences because of it."
I was a big fan of James Dean, who was always the rebel and got the blame for everything, every time. My teacher, Miss Lovett said that I wouldn't amount to much if anything at all. Whenever something bad happened or went wrong at school, I was brought in and questioned as to where I was during that time period. I was always the number one suspect, that was until I could prove otherwise, which made the situation even more difficult for me. I had a brand new school, while the other local ones were very nasty and that was not about to happen at Wollaton School, they would see to that. Apparently, if someone was at all acting original, or just thinking out of the ordinary, so called normal, status quo, had to be kept a very close eye on. It just so happened, that a brand new teacher arrived at school, then called my name to stand at attention, then very sternly announced to the entire class of my mates, "Yes, you are under my suspicion young man, so be careful" which was not at all conducive to my education at all. Just maybe I could've tried to impress him, but he had already killed my spirit straight off. So then, if that's your bloody attitude, I'll do something just so you'll never forget me. Most of my formal education involved remembering certain important history dates. I don't have a clue or really care at all about dates, although one always sticks in my mind it was 1066 and the Hastings Battle I believe it was. And the only time that it came in handy was playing a board game with my family. The funny thing is that I don't know the names of all the countries around the world, although I have visited a great many of them and enjoyed it. Wherever you travel around the world, that's what makes it memorable, and not what books tell you its like. Many teachers in school were busy concentrating on making students obey and pull their own weight rather than bringing out the positive that's in people. Really, there's only one woman, who was teaching science, that inspired me to became first in her class, just because I found her interesting and excelled to her teaching style straight away. It was the headmaster who had doubts to my honesty, as to how I came to be at the top of my class, so they changed teachers and presented me with a real ignoramus, who just insisted on putting chemical formulas on paper, to which I had no desire to do at all. No surprise, my grades fell back once again. Teachers are a little better these days intelligent now and observe what motivates students in the best possible way, and work on their positive parts. Trapped within a substandard flow was a total dead-end for me. I mean I like music, but the music teacher's idea of a music class was to write down the lyrics of hymns. We were so unruly, that the teacher made everyone write out the same hymn a dozen times, I got around this by inserting a piece of carbon copy paper, to which I made a little book out of it. My reasoning being, there was such a lack of good hymns this year that I had decided to copy the same one twelve times. The teacher was very amused and actually thought that was very funny he kept the book for a long time. I went to see my vocational administrator and told him I wanted to be a musician and the reply came back, you're kidding correct? The closest thing we have for you, is military life, which isn't at all what I had in mind !
The second famous Nottingham resident to attend the same school as Alvin Lee was, Richard Beckinsale. Who, like Alvin, packed up his belongings and left school at fifteen years old as well. He took on many different jobs while studying at Clarendon Collage to acquire further qualifications, and won a place at R.A.D.A. He broke into Television with a small role in Coronation Street, but he is probably best known and remembered for his outstanding performance in "Raising Damp and Porridge". Richard had a daughter, Samantha, who also became an actress, with his first wife Margaret. Later on he married Judy Loe with whom he had another daughter, Kate, who is now a top screen actress.
Richard died tragically young, the victim of a massive heart attack in 1978, at the early age of 31.
By Helen Whitehead – Editor of Fair-well To Margaret Glen School.
ALVIN LEE - In his own words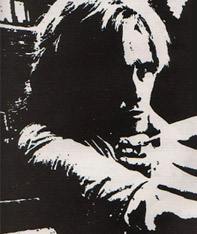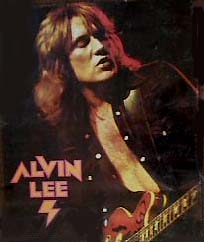 From The Ten Years After Songbook Volume 1,
Thoughts from Alvin Lee himself on the meaning behind twelve of his songs:
1. Rock and Roll Music to the World
The magic invocations, the wish of me to play anyone, music, for the sake of music, because music is a true essence.
I realized that the T.V. was wasting my creative time and I was becoming aware of too many unpleasent or useless events, which in previous generations was not the case. After suffering from an overload of inputs to the brain (Lane's theory) I cut myself from all entertainment and news media as an experiment. Creation improved, but I noticed definite T.V. withdrawl symptoms, as usual compromise was the solution.
Strange words that wrote themselves and do not relate to me in anyway (in this life).
I decided to indicate that I was not involved in hard drugs. Many people were assuming that I was into heavy dope and I did not wish to contribute to the increasing use of bad medicine.
5. I'd Love to Change the World:
On the news media again. I realized that the world was definitely not living up to my hopes, I find it difficult enough to control my own life. Yes the world could use some changes, but who can make decisions for other people's lives, only the ignorant I fear.
So many stars, so many solar systems, so many galaxies and so much time, one day we will be contacted.
I have the ability to associate with any emotion imaginable, I call this song "Caucasion Spiritual" to indicate my sympathy with the suppressed Negro work songs that I grew up with.
A despairing song brought on by a godless cosmic revelation.
An invitation to suppressed females to get it on, it liberated me.
This is the equivalent to a chain gang work song, only as I envision it could be in the future.
Shortly after this song was written I dropped out for three months to recover from an outburst of lethargy.
I wish to encourage all individuals to explore their individuality, break the umbilical cord and try it your way, it's the only way.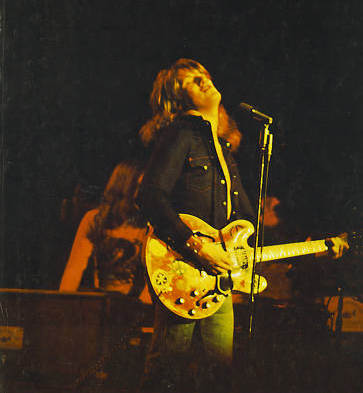 Ten Years After Songbook Vol. 1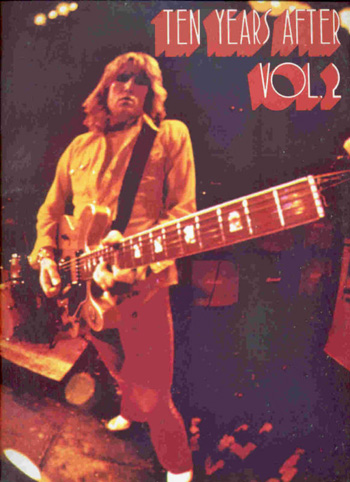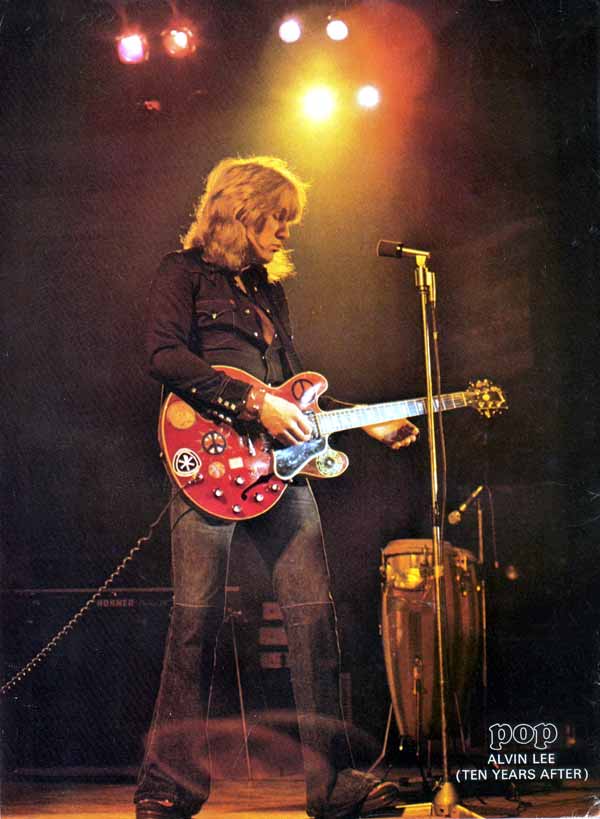 Many Thanks to TYA Fan JOHN TSAGAS for contributing this picture to our website
Alvin Lee's Guitars and Setup: "I'm just a curly lead into the amp kind of bloke" says Alvin.
Alvin Lee's famous cherry red ES-335 Gibson guitar, is his one and only stage guitar.
In his own words: "Nothing else has ever come close", Alvin's very unique sound is the result of the installation of some single coil pickups, along with the ever familiar hum-buckers along with his trademark Marshall combo. It was a match made in heaven, as far as the Ten Years After front-man was concerned. Although in the true musicians style, he's constantly on the lookout for that elusive combination that just might prove to be one notch better.
"My style comes from experimentation, the more you do, the longer you jam a solo, the more inventive you get". "The ES-335 came from Chuck Berry really. But I found that if you cranked the ES-335 up loud, you just make it uncontrollable, and the Les Paul was too heavy, while the Stratocaster was too thin sounding. The way I play, my little finger sort of floats over the strings and below. When I'd solo on the Stratocaster, I found I used to turn the volume down by accident, until you couldn't hear me. I thought it was my amp, or just my hearing that was going for awhile".
"My ES-335 is a 1958 model that I bought for 45 pounds, including the carrying case. Until recently I only used it with my Marshall 50 watt combo, the output of my guitar, matched the input of my amp perfectly, and if you ever find a combination like that, you have to stick with it. I also avoid effects. I think the only one that I use is an Ibanez Tube Screamer in the studio for a little presence".
"I recently got into the Marshall Jubilees. They're the only one's that I've found that do the job as well as my 50 watt. I used to take it down there, because I've known Jim Marshall a while, and do comparisons. Finally, one came up that I liked".
"My soloing has that jazz sensibility to it, where I bring down and bring it back up again, to return to the main themes and stuff. My style comes from experimentation, the more you do, the longer you jam a solo, the more inventive you get".
Alvin's Guitar Collection…
From Alvin's personal guitar collection, he has a rare non-tremolo, maple neck, two tone, Sunburst Fender Stratocaster that he bought from a young lady in Texas. It came complete with matching tweed covered Fender Deluxe amplifier. To which Alvin paid exactly $400.00 for the entire lot. The girl owner bought them, then took one week of guitar lessons, and then put them away in the attic. This guitar is particularly unusual (rare), due to the fact that it is serial numbered and dated to the late 1960's – which by this time Fender Stratocasters had changed to slab rosewood fingerboards and three tone sunburst. It's presumed, that due to the lack of demand for non-tremolo models, Fender assembled this guitar from older parts which they had laying around on the shelf.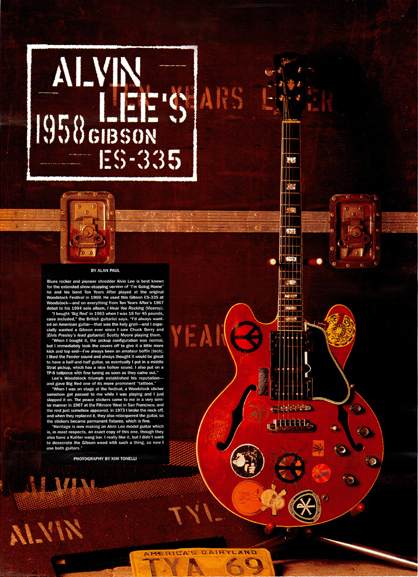 ALVIN LEE'S 1958 GIBSON ES-335
By Alan Paul
Blues rocker and pioneer shredder Alvin Lee is best known for the extended show – stopping version of
"I'm Going Home" he and his band Ten Years After played at the original Woodstock Festival in 1969.
He used this Gibson ES-335 at Woodstock and on everything from Ten Years After's 1967 debut, to his 1994 solo album, "I Hear You Rocking" (Viceroy). "I bought "Big Red" in 1963 when I was 18 for 45 pounds, case included," the British guitarist says. "I always wanted an American guitar, that was the holy grail, and I especially wanted a Gibson ever since I saw Chuck Berry and Elvis Presley's head guitarist – Scotty Moore playing them. "When I bought it, the pickup configuration was normal, but I immediately took the covers off to give it a little more kick and top end. I've always been an amateur boffin (tech). I liked the Fender sound and always thought it would be great to have a half and half guitar, so eventually I put in a middle Strat pick-up, which has a nice hollow sound. I also put on a TP-6 tailpiece with fine tuning as soon as they came out."
Lee's Woodstock triumph established his reputation and gave Big Red one of its more prominent "tattoos".
"When I was on stage at the festival, a Woodstock sticker somehow got passed to me while I was playing, and I just slapped it on. The peace stickers came to me in a very similar manner in 1967 at the Fillmore West in San Francisco, and the rest just somehow appeared. In 1973 I broke the neck off, and when they replaced it, they re-lacquered the guitar, so the stickers became permanent fixtures, which is fine. "Heritage is now making an Alvin Lee model guitar which is, in most respects, an exact copy of this one, though they also have a Kahler wang bar. I really like it, but I didn't want to desecrate the Gibson wood with such a thing, so now I use both guitars".
Photograph By Kim Tonelli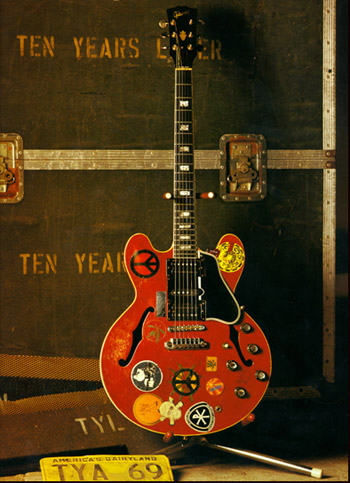 Alvin's "Big Red" Today
The fact is, that Alvin no longer does extended tours, but only the rare gig here and there, thus his prized instrument "Big Red" has been retired. Although the Gibson Guitar Company has gone out of their way to produce a copy of his treasure, (but nowhere like the original one played at Woodstock) the famous Big Red is now too valuable to take on the road, and much to costly to insure. Rumour has it, that Alvin has been offered in excess of half a million dollars for it. If true, not bad for a ninety dollar guitar purchase.