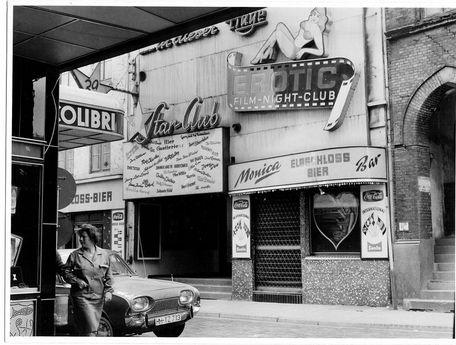 Pre -Ten Years After:
1956 – Alvin Lee switches from clarinet to guitar after listening to Charlie Christen. His mother Doris recalls, "he (Alvin) practiced every minute he could and got on like crazy with it, so quickly, we knew the talent was there, and nothing could stop him".
1957 – Alvin Lee joins his first band, "Vince Marshall and the Square Caps", with Alvin playing rhythm guitar.
1958 – Alvin Lee is lead guitarist with "Alan Upton and the Jail-Breakers".
1960 – Alvin Lee and Leo Lyons find themselves playing together in the "Atomites". Leo joining one week previous to Alvin. This is with drummer Pete Evens and recruiting singer Ivan Jay – becoming "Ivan Jay and the Jaymen".
1962 – The "Jaymen" become the "Jaycats" and then the "Jaybirds". They spend five weeks playing "The Star Club" in Hamburg, Germany – just one week after the Beatles played there. Pete Evens is replaced by Dave Quickmire.
1963 – The "Jaybirds" return to Nottingham as local heroes and have new found success in the Nottingham / Mansfield area.
1964 – Encouraged by their local success, the Jaybirds move to London, but after "nearly starving to death" they return home to Nottingham.
1965 – Ric Lee is the leader and drummer for a band called "The Mansfields" and as soon as the Jaybirds come to an end, he will be invited to join Leo and Alvin in their new band.
1966 – The Jaybirds head for London and work as a backing band to support "The Ivy League".
In November, they sign up with Chris Wright, with the name "Blues Trip" – then play one concert at the Marquee using the name, "Blues Yard". Then, in a Radio Times Magazine Listing, Leo Lyons came up with a name for the band that would in no way tie them down to any one musical style - "Ten Years After". Ten Years After what is the question? "Anything we can get" says Alvin Lee in an interview on Radio Caroline.
1967 - "Ten Years After" is founded.
"I remained a fan of this guy since I first saw young Alvin, 16 or 17 years old in his band "The Jaybirds" in the early 1960's here in England. This band had a weekly slot at a pub called "The Cocked Hat" in Aspley, Nottingham. You had to be in the concert room of this pub by 7:00 or you would lose out – it would be full, everyone came to hear original R & B played at it's very best".
Derek Smith – Nottingham, England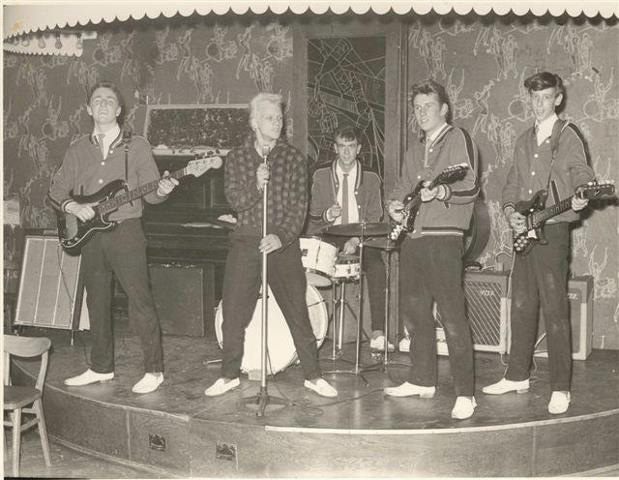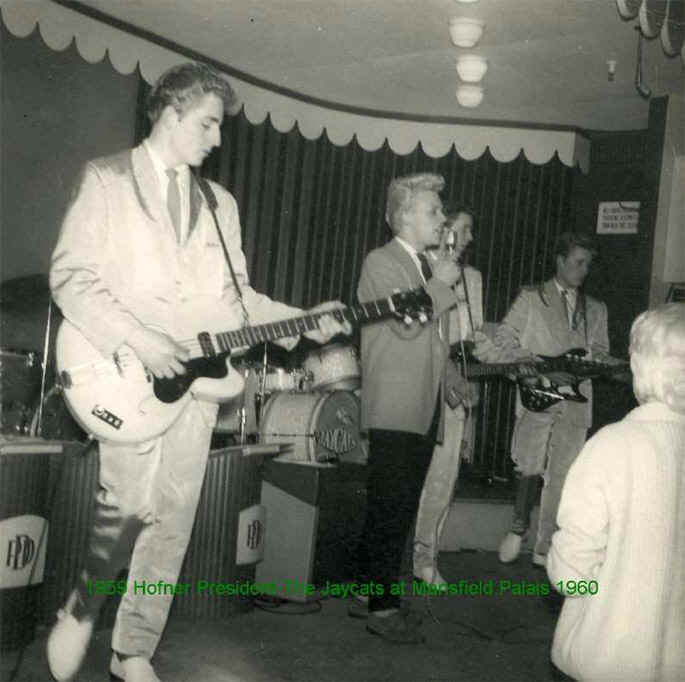 The "JayCats" 1960
With Ivan Jay on Vocals - Leo Lyons left on Bass - and Alvin Lee far right on Guitar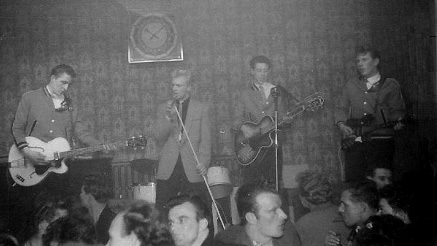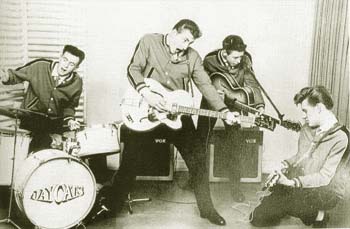 "The JayCats" 1961
Leo Lyons (standing front) - Alvin Lee (on his knee) Pete Evens (on drums) is replaced by Dave Quickmire and then replaced by Ric Lee.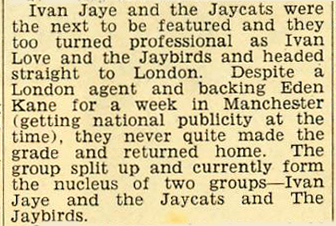 (Concert at The Mansfield Palais, 1964)
| | |
| --- | --- |
| | |
| 1962 | 1962 |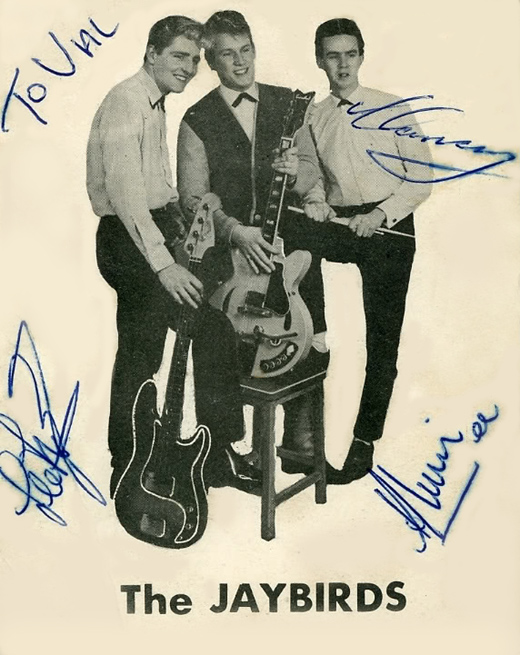 To VAL (Taylor)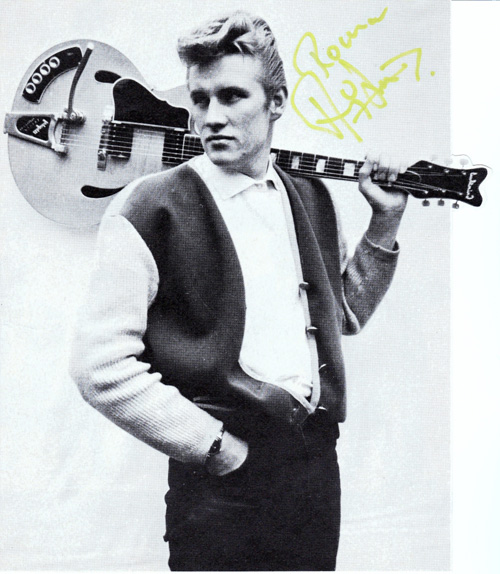 Alvin Lee 1962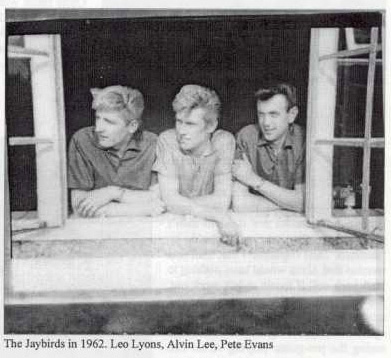 Alvin Lee 1963

"The Jaybirds used to play at the YMCA in Nottingham when Alvin was seventeen or eighteen years old. They played for years with no recognition.

Then one day, I went to see the movie Woodstock and there Alvin was. Richard (Rock) Wheatley – second only to you in early 1960's Nottingham.

Remember your old school in Bramcote!"
Alvin Lee says, that when he hears "That'll Be The Day" by Buddy Holly, it takes him back to riding on the Waltzer at the Goose Fun Fair in Nottingham when he was a teenager.
"I remember the diesel fumes from the fairground engines, the coloured lights and smell of hot dogs and onions…it all comes flooding back !"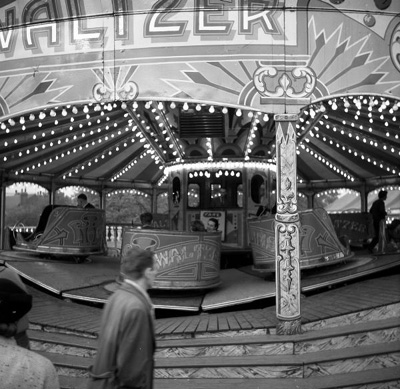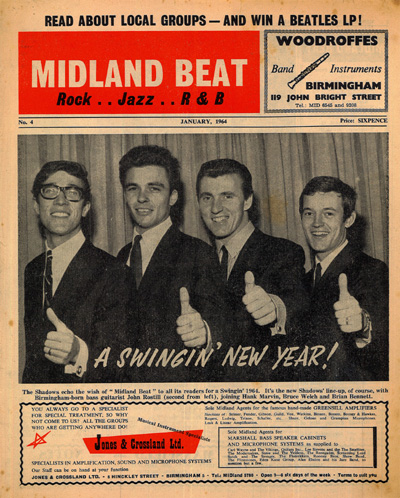 MIDLAND BEAT - January, 1964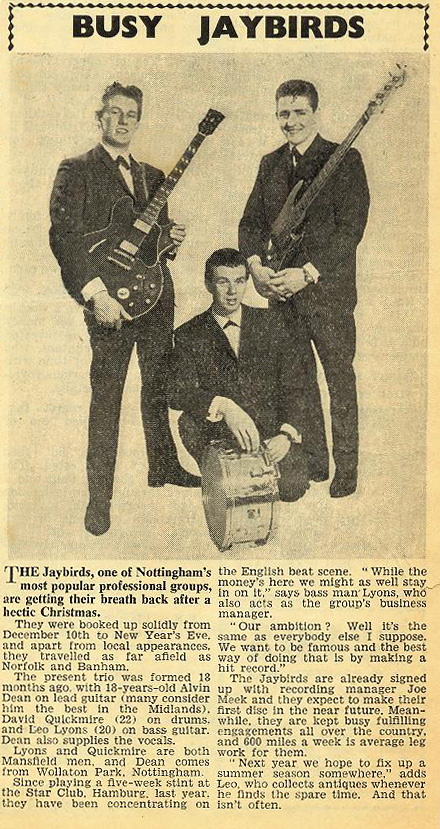 Alvin Lee in this article is referred to as Alvin Dean
Question: You were the entrepreneur in "The Jaycats and The Jaybirds". Is it true that you almost starved to death in London?
Leo Lyons: Our first manager was a business man named Philip Smith of Mansfield, but things did not work out with him. Not that it was someone else's fault specifically, all tried to perform a series of tasks at the time. We tried to find another entrepreneur, but in the absence of someone, I became the manager of the Jaybirds from 1962 until 1967, when we became Ten Years After and signed a contract with Chris Wright of Chrysalis Records.
When we moved to London for the first time in 1961, it was all very difficult. We shared a single room and all cooked our dinner in a sort of make-shift stove. We had no money and it was a real struggle to pay the rent every month. After some bad experiences, Ivan Jaye and Roy Cooper, who were the original members of the band, decided to leave because they were completely disillusioned with the music world.
Alvin and I stayed, along with drummer Pete Evans and we worked as a trio until 1966.
Pete left in 1963 and was replaced by drummer Dave Quickmire. It was around this time in 1965, that Ric Lee came into the group, and Chick Churchill came a little later. It was not until our third attempt in London, that something started working for us.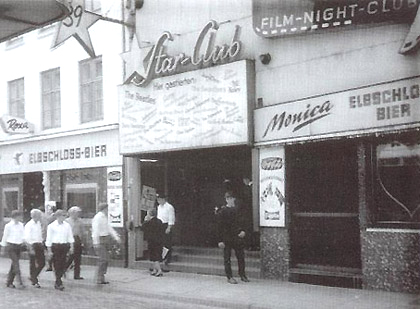 Young Herb Staehr standing in front of the Star Club - dressed in black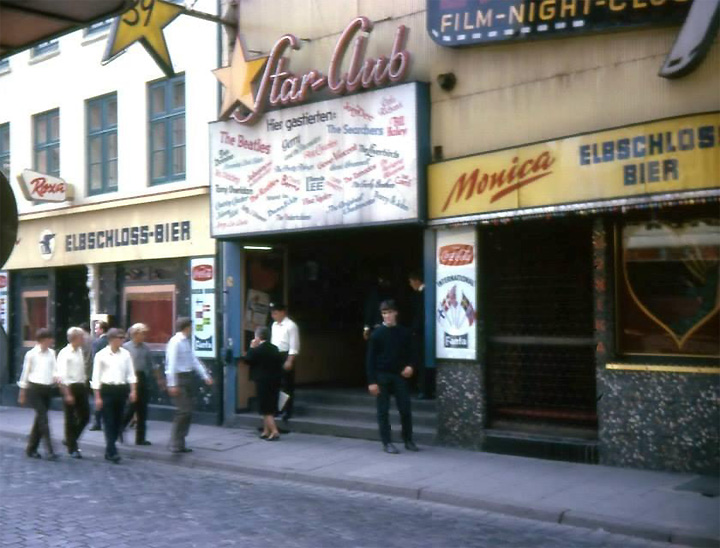 Photo of the late Herb Staehr - Courtesy of Claudia Staehr
The "Star Club"
Hamburg
The Star Club, was a famous music club located in Hamburg, Germany. It opened on Friday April 13, 1962 and was initially operated by Manfred Weisslieder and Horst Fascher. In the 1960's, many giants of rock played at the club. The club closed down on December 31, 1969 and the building it occupied was destroyed by a fire in 1987.
The club achieved worldwide renown through the famous performances of the following acts:
The Beatles – The Rolling Stones – Billy J. Kramer – Black Sabbath (known back then as "Earth") – Cliff Bennett and the Rebel Rousers – The Londoners (known in England as "The Knack") - Cream – Dave Dee, Dozy, Beaky, Mick and Tich – The Graduates – The Jaybirds (later known as Ten Years After) The Remo Four – The Searchers – Richard Thomson – The Soft Machine….and American Musicians including: Ray Charles – Bo Diddley – Fats Domino – The Every Brothers – Jimi Hendrix – Johnny and the Hurricanes – Brenda Lee - Jerry Lee Lewis and Little Richard with Billy Preston in his band.
Note: The Jaybirds played there the following week right after The Beatles successful stay at the club. Leo Lyons also played with Tony Sheridan while there.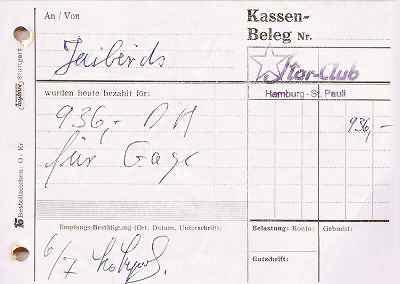 Special Note:
Does anyone remember the bands that played at the "Wharncliffe" in the 1960's? I personally remember, and got a photo and autographs from Alvin Lee and the "Jaybirds", later on they became "Ten Years After".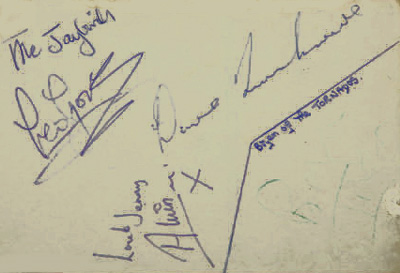 "The Jaybirds" Leo Lyons - Dave Quickmire - Love To Jenny from Alvin Lee
Bryan of the "Tornadoes" - Brian Gregg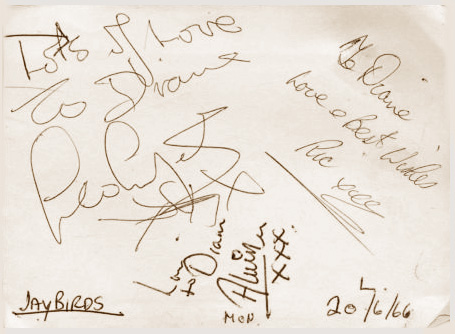 The Jaybirds From A 1966 Article:
When Alvin Lee was a member of "The Jaybirds" he was breaking new ground when he was forced to play a lashing, stinging five minute solo introduction to "Money" (that's what I want) as chairs and fists flew dangerously close to the stage. But, in those days Alvin had quite a reputation as an innovator. Many have still never recovered from the traumatic effects of the time that he tottered into the concert hall, with the first pair of Cuban Heel Boots ever seen in Sutton…but Alvin had a certain polish even then. The group's version of "Poison Ivy" was thought by many to be an improvement on the Rolling Stones EP version and nobody could change from rhythm to lead guitar with quite the same smooth panache as Alvin.
The Jaybirds:
There's a bit of confusion about The Jaybirds on the Embassy Record Label, but reliable sources confirm that this was the combo with Alvin Lee and Leo Lyons. They recorded cover versions of the top twenty hits for Woolworth's Cheapo Label.
Juliet / Here I Go Again – Embassy WB635 – 1964 British Charts Only

All Day And All Of The Night – Embassy WB663

Good Golly Miss Molly / A World – Embassy WB626

Can't Buy Me Love / I Love You – Embassy WB625
Juliet was a hit for "The Four Pennies" – "Until It's Time For You To Go"
All Day And All Of The Night – was a great hit for The Kinks, reaching number two on the charts in 1964
The Jaybirds also backed The Ivy League – Dave Quickmire photo here.
"The Dancing Slipper Ballroom" also known as "The Nottingham Jazz Club"
Memories by Gregory Dix (Drummer with "The Hoodoos")
"I was in a Nottingham band called "The Hoodoos" circa 1963 or so. We opened once for "The Jaybirds" at the old "Dancing Slipper Ballroom" in West Bridgford. It also went under the name "The Nottingham Jazz Club". We played at the end stage and they were on in the middle. Their stage was barely big enough for them, and our stage was half the size, and there were five of us! The place stank of beer and cider, and there was often violence as the "Teddy Boys" used to come and pick fights all the time. Very interesting times. But the Jaybirds were amazing, we all loved them and Alvin's playing was something else. He drove a yellow Bedford Dormobile with a black-bird logo on it. He had a great looking blonde girlfriend at the time too. Anyway, I got to see Ten Years After a few times in the past couple of decades, and he (Alvin) hasn't lost his magic. Glad to see the memory of the Jaybirds lives on".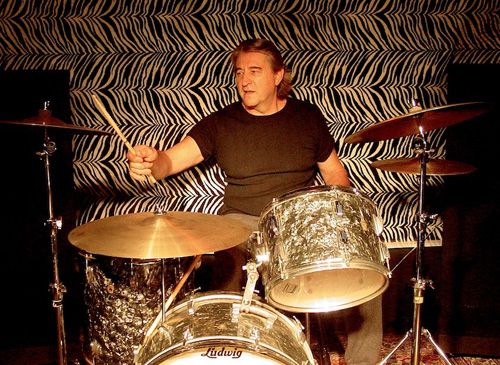 Regards, Greg Dix (drummer with "The Hoodoos")
"The Hoodoo's " are listed there along with "The Jaybirds" and a Who's – Who of bands from the day. I recently caught Savoy Brown in Dallas, Texas and was razzing on Kim Simmons after the show, about the time I went to see them at "The Boat Club" – it's the social room and bar above a university rowing club-house on the banks of the river Trent.
Everyone played there and the floor used to feel like it was going to give way with the amount of people they crammed in. The stage was tiny, there was no head room but the atmosphere was brilliant. It's still going and I hope it can maintain, as so many have fallen (Like CB-GB'S) taking with them so much history. They protect some second rate house for it's so called historic value, but not a music club that has been like a "Church" to so many lovers of live music.
"We used to go to the "Dancing Slipper / Nottingham Jazz Club to catch the "Jaybirds" whenever they played there, we were maybe 15 years old and too young to buy cider, but we did anyway. Back then there was no such thing as I.D. checks, and the barman used to say, "are you 18?" and that was that. The last time I was back in Nottingham I went by the place that used to be The Dancing Slipper, it's now a restaurant, and of course the old garage that used to be below, it's now a store front. The Nottingham Jazz Club, which was what the Dancing Slipper turned into on Saturday nights in the early 1960's used to get amazing acts.
In fact, my band "The Hoodoo's" opened for visiting headliners a few times. Including for "Long John Baldry" and the "Hoochie Coochie Men" once, and that was when Rod Stewart was his lead singer.
There was a fish and chip shop across the road and on cold foggy nights there was nothing like standing outside with a bag of piping hot chips before riding home on our bikes.
Yes, the Jays (Jaybirds) were certainly a class act, even when they were probably all only 17 or 18 years old. We knew they would be big someday"!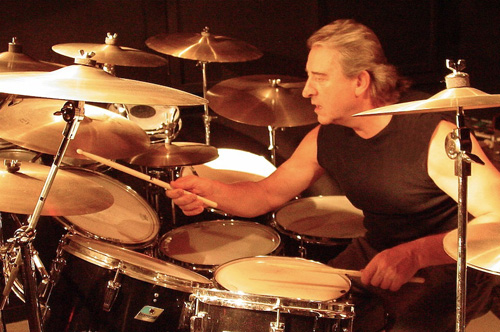 Regards, Greg Dix - (Drummer with "The Hoodoo's")
---
The Dancing Slipper – is located in West Bridgford which is a suburb of Nottingham
(which incidentally is where I grew up) and while I couldn't find any images of the interior during it's hay-day, there were a couple of recent photos of its exterior, so that you can get the general idea of the place.
The room was above what are now shops, but it was a car repair garage back then. There wasn't a stage door and everyone went in and up the stairs, (those double white doors that say "West End" on it now). So dragging amps, drums etc. up stairs is never fun, but I remember one Saturday when we (The Hoodoo's) opened for The John Mayall Band, I think it was, or maybe it was Georgie Fame, I can't remember exactly, but I do know that it was a headliner from London, so it was a very big deal. We helped them lift the Hammond B3 in, if you've ever lifted a Hammond B3, you'll know why it takes ten gorillas to haul it up a full flight of stairs. It's amazing that bands still use them (the B3 that is, not the stairs) in live shows, even though there are "synthesised modules" that will make almost the same sound.
My band "The Hoodoo's" did three or maybe four gigs here at the "Dancing Slipper / Nottingham Jazz Club" – As I have mentioned previously, The Hoodoo's opened the show for
"The Jaybirds" but I think the three of them, being Alvin Lee, Leo Lyons, and not Ric Lee in 1962, but with another drummer, Pete Evens (Greg wasn't exactly sure of the line up - Dave) and they definitely didn't have keyboards at that time. A couple of gigs at the "Boat" located at the University "Boat House", on the river under the Nottingham Forest grand stand and one I think at "The Rainbow Rooms" in the city. Other venues too, local pubs etc. but I can't recall the names at the moment. We did a bunch of gigs at "The West Bridgford Parochial Hall"
(The Church Hall) and we had two "Guards" who were both "Teds" (Teddy Boys) who stood at the front of the stage and kept trouble at bay. They were both hard lads, but for some reason felt an affinity to our silly band, and as we were decent to them, they took it on themselves to be our de-facto body guards and this was long before bands had such a thing – I'm laughing to myself, just recalling those times so long ago. Our guitarist had to hit people a fair bit, so his brand new white Stratocaster guitar had quite a few dings and dents in it. I'm sure that every band from that era had to defend themselves, at every gig, so it was just standard operating procedure back then. England in the early 1960's was pretty violent, but no guns!
Anyway, one night I did my usual party piece at the end of the drum solo, (Yes, back then drummers did stupid, really naff (lame) drum solos, it was kind of expected, just ask Ric Lee about it, and I'll bet he hated them too) although I really hated doing one and ended with a flourish by grabbing the crash cymbal stand and pulling the cymbal to the stationary stick.
(usually you hit the cymbal with the stick, and not the other way around) – I was told it was visually exciting. The long and short of it was that, as I basically threw the cymbal and stand back into its place after the finale crash, the cymbal came off (probably due to the excessive beating it had been taking, and yes, Buddy Holly and Chuck Berry covers could do that, laughing my ass off just thinking about it) and it flew out into the crowd, well the twenty or thirty attendees who were there, just feet from my drum kit. My precious 18" crash cymbal basically decapitated this one poor bloke, who fortunately was drunk, despite there being no bar at the Church Hall (Wollaton) and perhaps he didn't feel very much. There was a lot of blood, screaming and jostling but our two guys maintained peace and I didn't get into a fight, which was good, although at age 16 and a rugby player, I was pretty fit and could fight OK, as we had to do quite often back then. Today of course, the venue and band would all be sued for millions and I would have been beaten up no doubt by the wounded chaps friends. It was extremely violent and very rough back in the early 1960's. The "Teds" were the main problem and anyone who wasn't a Ted pretty much feared them. Many were coal miners, so you can imagine their fighting ability was fierce and unrelenting. Many carried knives and one "Ted" leader who frequented our gigs, for some reason (maybe because we played a lot of Buddy Holly stuff – and Buddy was idolised by the Ted's – they took him as their own) he is rumoured to have killed more than one person. Looking back, our little band, (actually their were five of us) so logistically it was awkward) could have been at the right place at just the right time, and we might have made the big time had we all stuck with it, but my mother was consistently nagging me to finish my schooling and stupidly, I respected her wishes and resented her for this for the rest of her life. Ah Well !
---
Yep, I can definitely imagine Alvin's ego going across the red line zone on occasion, and that he was a pretty high maintenance person. Leo on the other hand always seemed like a big teddy bear in comparison to the very high-strung Alvin. As I do recall one of the guys in our band, when we were opening for the "Jaybirds at the Dancing Slipper" saying, what an arrogant person Alvin is. I mean, Alvin did have a rock-star persona, even back in 1962.
He even went so far as to legally change his given birth name of Graham Barnes (which to him was not memorable enough) to Alvin Lee. Even driving around in the bands van, he definitely had an unbecoming arrogance about him that rubbed people the wrong way.
There are so many bands that have toxic scenes when the ego's and creative powers clash.
Or the members are not synchronised, but that same unwanted constant friction in turn, sometime becomes a powerful creative force. A grain of sand, irritates the oyster and the oyster creates the pearl !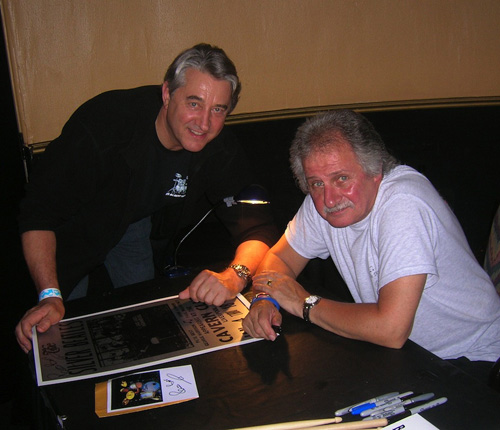 Greg Dix and Pete Best - after Pete's show in Dallas, August 2008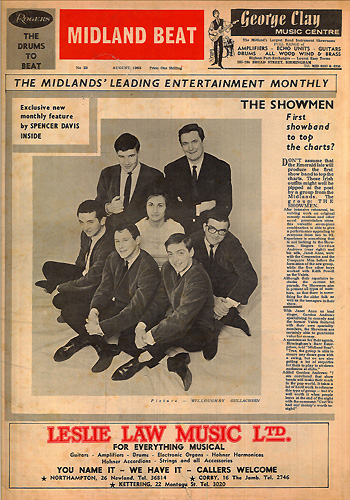 MIDLAND BEAT - August 1965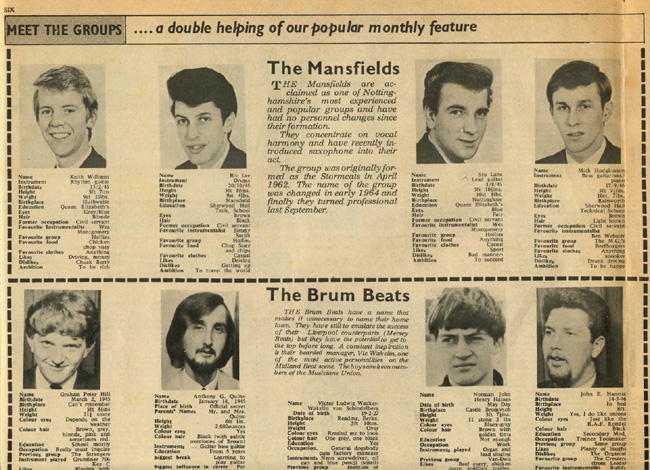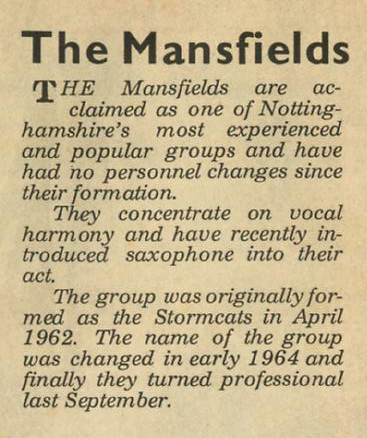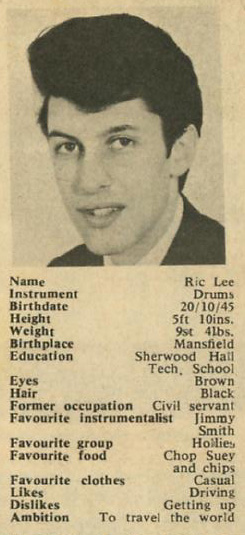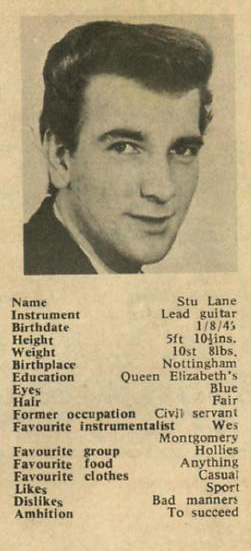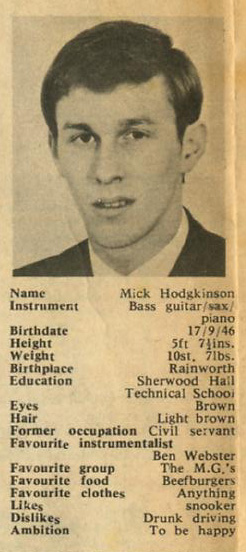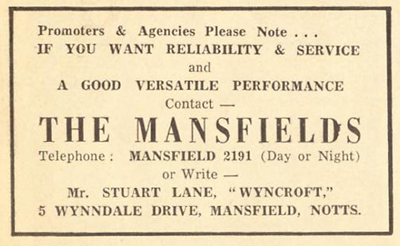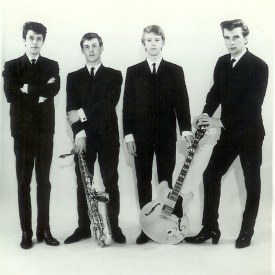 Ricky Storm and The Storm Cats - 1965

Ric Lee and the Original "Storm Cats" - Who Later Became "The Mansfields" - Ric Lee went on to become one of the original members of TEN YEARS AFTER

In the above photo are: Ric Lee, Mick Hodgkinson, Keith Williams and Stuart Lane

Ric Lee began playing drums and percussion instruments at school, and joined two other classmates to form a three piece band called "The Falcons". After only a short amount of time, with The Falcons, Ric was asked to join a very promising local band called "Ricky Storm and the Stormcats". This band then transmogrified into "The Mansfields".

The Mansfields consisted of: Stuart Lane on Guitar, Mick Hodgkinson on bass guitar, Keith Williams on vocals, and Ric Lee on drums. After this outfit, Ric met and studied with drummer Dave Quickmire who had one of the hottest bands in the Nottingham area, called "The Jaybirds". The bands guitarist was Alvin Lee, the bassist was Leo Lyons. Dave left the Jaybirds in August of 1965 to get married, he then insisted that Ric audition for his position in the band. That same month, Ric was hired to take over the drumming duties. The Jaybirds line-up of Alvin Lee, Leo Lyons, and Ric Lee was formed. They began performing all over the East Midlands and North of England, billed as "The Biggest Sounding Trio in the Country", and backed it up by playing hard, guitar based rhythm and blues.

The Finishing Touch:

The band was now convinced of their ability and potential. In the Spring of 1967, "The Jaybirds" – decided it was time to contact Chris Wright who was becoming well known as an agent and manager in the North of England. Says Alvin Lee: " We were getting a free meal and twenty four quid a week, which was good money, but the only gigs we were getting were in Wales and they were terrible. Although we could still get the backing jobs and do the odd session, everybody was very downhearted indeed.

Says Chris Wright: "Leo Lyons, bass player and organizer for a London-based blues band called "The Jaybirds", called and asked for a weekend of work in the North. They were really good and asked me to manage them straight away. I wanted to, but I thought it would be tough getting work over the summer. They still had the odd gig backing "The Ivy League" and "The Flower Pot Men", but I managed to start getting them dates in their own rite.

The band went down well wherever it played and dates at some of London's famous clubs were coming our way". It was right after Chris Wright signed on the "Jaybirds" that they added keyboard player Chick Churchill to broaden the bands sound. According to Leo Lyons, "Chick's jazz influenced – blues- rock – playing added a strong rhythmic and harmonic foundation to the band".

The Name:

With their brand new four piece line-up, "The Jaybirds" became "The Jaybird" dropping off the "S" to be a bit more trendy. Then we changed to "The Blues Trip" and then "Bluesyard".

Leo Lyons got the band an audition and their first gig at London's legendary "Marquee Club".

Says Alvin Lee: "Of all the clubs in London, in those days, the Marquee was the most important. We managed to build a small following among the blues freaks and got a residency. I was quite in awe of that place, I remember going to see groups there before we started, people like Peter Green and John Mayall.

It was following their Marquee Club debut that the band decided that their current name placed a limitation on their music, so after that one gig as "The Bluesyard" they selected the new name of Ten Years After. It had other connotations, because our music was a cross between "Muddy Waters" – "Chuck Berry" and "Elvis Presley".

Leo Lyons chose this name out of "The Radio Times Magazine".

That is all the basics that you need to know. Now you're ready. You have the band members in place, the name in order and now you just follow the bands history.

Notes

Chick Churchill joined a band called "The Sons of Adam" The band was from Nottingham and they played at the California Ballroom on May 8, 1965 – says drummer Mick Franks.

The Members Include: Paddy Flynn – Vocal / Lead Guitar – Roger Lymn – Vocals / Guitar – Harry Hopewell – Vocals / Bass Guitar – Mick Franks – Vocals / Drums – Troy Wayne – Lead Vocals

The Band "Killing Floor"

Edward booked the band for Dunstable's California Ballroom and so gave Killing Floor support slots to the likes of Ten Years After, Jethro Tull, Chicken Shack, The Heard, The Casuals and Junior Walker and the All-Stars.

Notes ...

"The Jaybirds, Nottingham, The Dancing Slipper, Elizabethan Rooms, Sherwood Rooms, they were great times! The van we had was a "Commer" and the bird painted on the side was supposed to be a Jaybird". Leo Lyons

A fan writes, "The Sherwood Rooms in Nottingham have now been converted to a big Disco club called "Oceanic".

"Alvin Lee was from Sutton Passeys Crescent Wallaton. Chick Churchill was from Beeston where his folks had a sweets shop".

"I used to see "The Jaybirds" regularly at the Gaumont on Saturday mornings. On the corner of Wollaton and Goldsmith street".

The YMCA – Venue was on Arkwright – and the "Rainbow Rooms" were at the bottom of Broad Street.

Does anybody remember the YM opposite the fire station on Goldsmith street? I saw Alvin Lee with The Jaybirds there one night. (1964 ?) No booze, but a fight broke out anyway!

Alvin Lee, as I remember it, was with the Jaybirds? Though he was part of another band earlier, maybe called The Jaycats? I do know later (less Alvin) that band supported Herman's Hermits.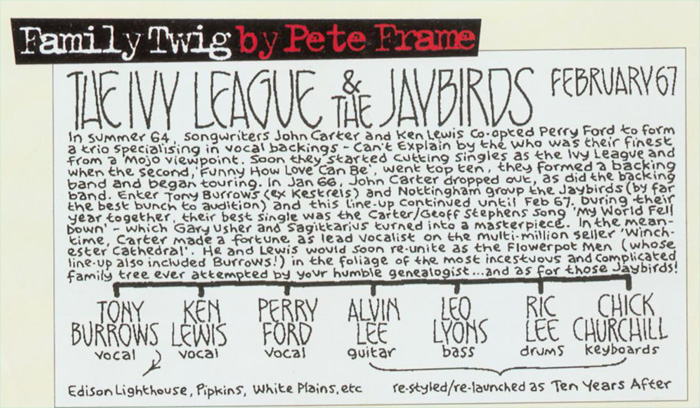 Please find below, the deciphered text from the article above:

FAMILY TWIG – BY PETE FRAME

- who founded "Zig-Zag" magazine.

FROM - FEBRUARY OF 1967

"THE IVY LEAGUE" AND THE "JAYBIRDS"

In the summer of 1964, song writers John Carter and Ken Lewis Co-Opted Perry Ford to form a trio specialising in vocal backings – "Can't Explain" by the WHO (November 1964) was their finest, from a Mojo viewpoint. Soon they started cutting singles as the "Ivy League" (1964) and when the second, "Funny How Love Can Be", went top ten, they formed a backing band, and began touring.

In January of 1966, John Carter dropped out as did the backing band. Enter Tony Burrows (ex Kestrels ) and Nottingham group "The Jay-Birds" (by far the best bunch to audition) and this line-up continued until February of 1967. During their year together, their best single was the Carter / Geoff song "My World Fell Down", in which Gary Usher and Sagittarius turned into a masterpiece. In the meantime, Carter went on to make a fortune as lead vocalist on the multi-million seller – "Winchester Cathedral". He and Lewis would soon re-unite as the –

"Flower Pot Men" (whose line-up also included Burrows!) in the foliage of the most incestuous and complicated family tree ever attempted by your humble genealogist…. And as for those "Jay-Birds", they re-styled and were re-launched as "Ten Years After".

Alvin Lee – Guitar – Leo Lyons – Bass – Ric Lee – Drums – Chick Churchill – Keyboards.

More About:

Tony Burrows
Edison Lighthouse - "Love Grows Where My Rosemary Goes" (1970)
Pipkins – "Gimme Dat Ding" (Sung by Tony Burrows – 1970)
White Plains – "My Baby Loves Lovin´" (June of 1970)
The Brotherhood Of Man – "United We Stand" (1970)
Flying Machine – "Smile A Little Smile For Me Rosemarie" (1969 went to number five in the US)

Ivy League:
Tony Burrows – Vocal
Ken Lewis – Vocal
Perry Ford – Vocal
Neil Landon - Vocal

They were mainly popular in the 1960's – Carter's craftsmanship can be heard at work on the following songs:
Carter Lewis and the Southerners

The Ivy League – "Funny How Love Can Be" (1965 reached number 8)

– "That's Why I'm Crying" (1965 reached number 22) – Willow Tree (1966 reached number 50) and "Tossing and Turning" (reached number three in the top ten charts).

Herman's Hermits – "Can't You Hear My Heart Beat" 1965 – Which went to number one in the UK and number two in the USA.

Brenda Lee – "Is It True" (Became a gold record in 1964)

The Music Explosion "Little Bit O´ Soul" (From the Ohio Band – 1967 – the song peaked at number two on the US charts)

Peter and Gordon – "Sunday For Tea" (1967)

The Flower Pot Men – "Let's Go To San Francisco" (1967) (Neil Landon and Tony Burrows)

First Class – "Beach Baby" (1974 and made it into the US top five – sung by Tony Burrows)

Mary Hopkin – "Knock- Knock Who's There" (Released March 23, 1970 on Apple Records)

Kincade – "Dreams Are Ten A Penny" (Released in 1972) Germany
Neil joined "Folkestone" group the "Brunettes" (1962-1965)
Neil Landon was invited to join "The Ivy League" By Carter, Lewis and Perry.
He was born Patrick Cahill on July 26, 1941 in Kirdford, Sussex, England. A singer who has been credited with singing on a number of hits in the UK singles chart. In addition, he is notable as being the lead singer and a principle songwriter with the band "Fat Mattress" which he co-founded with Noel Redding, bassist of the Jimi Hendrix Experience. Fat Mattress recorded two albums and were working on a third, but due to lack of commercial success, they decided to disband at the end of 1970. Their highlight came when playing The Isle Of Wight Festival 1969.
In 1974 Neil relocated to Hamburg, Germany.
In 2001, Landon's solo show, "Musical Highlights" was a big success with audiences, and in the summer of that year, he appeared with his own new "Neil Landon Band".
As an aside: I got to meet Neil Landon at the Hamburg Blues Festival. He was having an intense chat with Leo Lyons. From the body language, they were reminiscing about old days and catching up on new things. It was the type of conversation where a fan like me, keeps his distance so as not to interfere until their finished. After they parted I asked Leo who he was talking with – Neil Landon he replied, it didn't ring a bell and it must have shown on my face, where by Leo helped by saying that Neil was in the "Ivy League". Later on I crossed paths with Neil and introduced myself, shook his hand and nothing more. I know more about him now then I did back then. He didn't know me at all. The next time it'll be very different, and I'm looking forward to it.
About Alvin Lee:
"I used to know Alvin and Leo Lyons, from The Outer Limits days when we used to go see them at The Cro-Magnon in Leeds, England, when they were part of "The Jaybirds". They were a great Blues and Rock three-piece, mid 1960's band and we had lots of laughs with them. "There were two London brothers, called Cyril and Arnold Entin who had this coffee bar called the "Cyrano" and after moving around the corner in the early 1960's – it evolved into the "Cro-Magnon". Which became a great club for groups from all over the country.
"We played there often, as did the "Jaybirds" from Nottingham, and a kind if friendship developed between the two bands: We used to have water-pistol fights in the club, after all the punters had gone home, around two or three in the morning – with Arnold and Leo. They both had a limp and ended up getting soaked because they couldn't run as fast as everyone else.
"Strangely enough, I never ever came across Alvin Lee, Leo Lyons or Chick Churchill once they or I became widely successful". Cyril had a heart attack and died in 1990, and a benefit gig for him took place at a venue in Leeds. The Outer Limits reformed for that gig, as a one-off and it helped kick-start my own restart of "Christie Mark Two", with the first gigs later that year".
Note: Christie and Ten Years After did appear on the same concert bill at least once.
Hank Marvin, lives only ten minutes away from (this webmaster) of the "Shadows" and Alvin Lee of Ten Years After.
Jeff Christie – Lead Guitar – Keyboards and Vocals
Clem Cattini – Drummer with "The Tornados"
Hugh Grundy – from "The Zombies"
The Very Early "Marquee Club" Years:
"I mean, the Marquee was bleeding square, with a capital S". The only people who went there were beatniks looking for a bit of jazz, and really out-of-touch geezers who couldn't tell the difference between a Vespa GS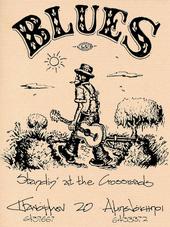 and a Harley Davidson. The bands that played there, apart from a very small exception, were completely off the wall.
From Irish Jack – The original Mod from the Goldhawk Social Club.
At the end of the Marquee's 1963 news letter, John Gee, the club's secretary, closed with this premonition line: "Massive Swing To The Blues".
Roll Over Beatniks, Poetry and Jazz:
The last night at the Oxford Street Marquee Club, on Sunday March 5, 1964 featured the Jazz Saxophonist Stan Getz, along with a new rhythm and blues band that was revolutionizing the London music scene. They had started a Thursday night residency at the Marquee about a month before, and they were called, "The Yardbirds". The band featured the ultimate sensation on the London music scene, the guitarist was Eric Clapton.
The original Marquee Club, located at 165 Oxford Street was regrettably demolished.
On Friday March 13, 1964 the venue was relocated to its most famous location in London's Soho district at 90 Wardour Street, to become a legend in the history of pop and rock music. The new Marquee Club, was a replica of the old one, including Angus McBean's Circus decorations and large mirror panels were placed all around the main room, in order to provide a feeling of space.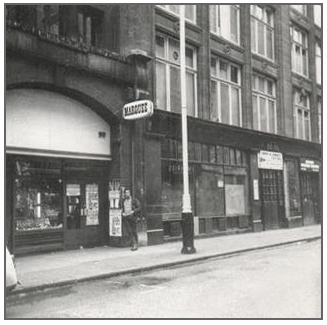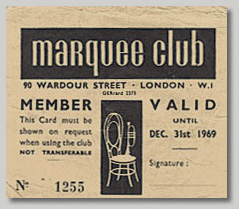 New Music – New Problem - Noise:
"We had done such a great impersonation of the original location that people thought they were in the same building. The main problem now was the noise. When playing jazz, the sound doesn't carry very far, or bother anyone outside the venue. But when you amplify equipment, starting with 30 watts, then 50 watts, 100 and 1,000 – you need a lot of heavy duty soundproofing, which in this case means losing some stage space", says Harold Pendleton.
John Gee:
John Gee, was the club's secretary from 1968 until 1970. He describes the opening night at 90 Wardour Street, New Marquee location in a newsletter that was published in the "Jazzbeat" magazine newsletter: "Thanks to the valiant efforts of builders, electricians, caterers and 101 other sundry characters, the New Marquee Club opened dead on time at 7:30 pm, on Friday March 13, 1964. By that time, an absolutely fantastic queue had assembled and most regretfully we had to turn some 600 patrons away from the door, this after the "Full House" notice went up. Sonny Boy Williamson really made Wardour Street wail that night, and took his farewell bow in a magnificent fireman's helmet, that was presented to him by Mr. Coombs, our club manager, who held that position until his retirement, Chief Fire Officer of Richmond. In April we hope to have the main club area completely finished".
Long Live Rock – The Destructive Side:
It was during the last few months of 1964, that "The Who" started their long residency at the Marquee, bringing with them the winds of musical change and attitude, that were just starting to invade the British - London scene. The "Who" presented their powerful / explosive brand of Rock `n ´ Soul music that spearheaded the 1960's music front for the "Mods" in London.
During those days, the band had just started becoming famous and notorious for its legendary smashing their equipment during their on stage performance. "My most memorable moment at the Marquee, was when Pete Townshend started smashing up his guitar. Really, you should have seen the audience, mouths open, great rows of teeth showing, you could almost count the cavities"… says Keith Moon, in Beat Instrumental magazine, June 1968.
Before They Were A Progressive Band:
During this same time period, a promising new band arrived on the scene. Their name, "The Moody Blues". Within one year, they had a number one hit single in the Melody Maker Charts – called "Go Now"– which was also recorded at the Marquee Studios.
The Moody Blues also began their long residency at the club.
More New Blood:
In 1965, two future legends in the history of pop music got their start at the Marquee.
David Bowie and Spencer Davis Group featuring Steve Winwood.
LEO LYONS - TODAY - 1967-2010 - 43 Years Later and Still Leading TYA Into The Future!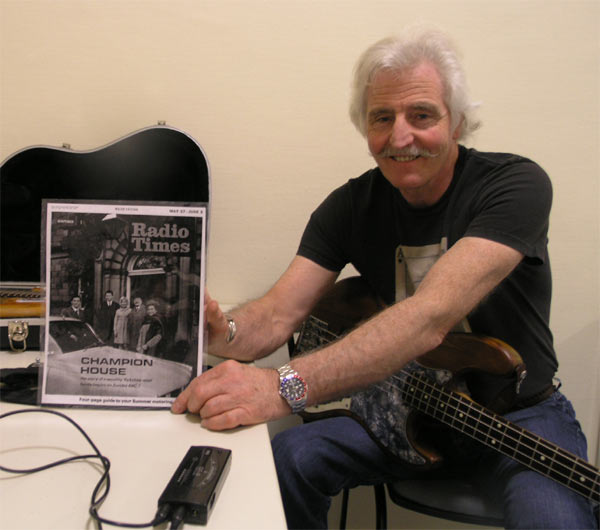 In an interview with Leo Lyons, founder and leader of "Ten Years After" for the last 43 years, comes the most frequently asked question about the band. Where did the name Ten Years After come from?
Leo Lyons - Answers This Question:
I was looking through a newspaper that advertised radio programs it was called "Radio Times", there was an advertisement for a book…called Suez…you know, the Suez Canal? And the book was called "Suez Ten Years After". We were looking for a name (For The Band) and I thought, well, Ten Years After would be very interesting, because for the next forty years, people are going to be asking me, where did the name for the band come from? It's an interesting name, in as much as the number ten is an interesting number, alpha and omega, the beginning and the end, and it's an important number in the Tarot…yes there's a lot of things you could say about it, and over the years I guess I have!
From Alvin Lee:
"Ivan Jay, and The Jay-cats". "Ivan is living in San Diego, California now. He's a car racer and one of my heroes. He was a bit older than us, and we all looked up to him. He had bright blond hair and my mum (a hair-dresser) dyed his hair pink and blue on the sides, and he had to go home on the 39 bus".
"The Dancing Slipper" – "The Carousel" – "The Cocked Hat and "The Regal – that was located in Ripley. Alvin's first official gig was with the "Jailbreakers". He then formed a band with singer Ivan Jaye Harrison they called the "Jaycats" says Alvin Lee, "we did a rock ´n` roll set together. Those were my formative years".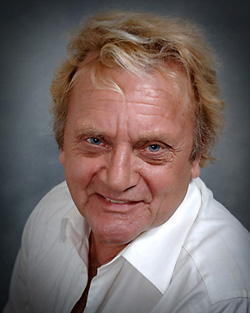 Ivan Jay Harrison
IVAN JAYE – Pre Ten Years After:
" Ivan was a few years older than me and I really looked up to him. As my old friend says, he had his hair bleached white blonde. One time he decided he wanted it blue on top and pink on the sides, which my mom (the hairdresser) did for him. He went home on the bus and got some very strange looks. This was 1960".
"I was hanging around with Ivan when I discovered sex and rock `n´ roll (no drugs in those days). He used to have girls chasing him down the street and I was impressed".
"The Jaycats was one of my favourite periods. We started as "Ivan Jay and The Jay Men", and moved to the "Jaycats" which was a great name. Later it became "The Jaybirds" but that was after Ivan".
"Ivan had this dodgy old car, a Wolsey I think (they were built like army tanks). He'd just bought it and even in those days he was a good driver and he liked to race around Nottingham. On this one particular occasion we were driving down Arkwright street and Ivan said, "I'm going to test the brakes" he slammed them on and only the front right was working which caused the car to swerve violently across the on coming traffic and straight through some gates on the other side of the road. As the car skidded to a halt, amid the dust, I looked up and saw a sign in front of us, it read – "J. Pownell Scrap Metal Merchant". Ivan looked across and said, "Looks like we've come to the right place".
Alvin Lee
Ivan was born and raised in Nottingham, then moved to 9112 North Cote Road, Santee California where he and his wife lived for 28 years. He drove stock cars under the NASCAR banner for 20 years at the Cajon Motor Speedway. He drove a 2000 Ford on the track, stock car circuit. Congratulations go out to Ivan and Rosemary Harrison, whose racing team just completed 17 years of 100% participation in racing. To tie Mark Norris for the record, for most consecutive years of showing up to compete every single race night. In the end,
The Cajon Speedway property at Gillespie Field, El Cajon - was reverted back to San Diego County.
In his youth, Ivan was the lead singer for "Ivan and the Jay-cats" from 1960 to 1962, with Leo Lyons on bass guitar, Alvin Lee on lead guitar, Pete Evens on drums and ----on rhythm guitar. During his time in the "Jay-Cats" he performed well over two thousand concerts throughout Europe.
Notice of his passing, from "The Coronado Playhouse" to the memory of Ivan J. Harrison.
This show (The Spiders Web) is dedicated to the memory of Ivan Jay Harrison, who was a beloved friend, board member, actor and technician at the Coronado Playhouse, who recently died of cancer. This announcement was from April 17, 2009