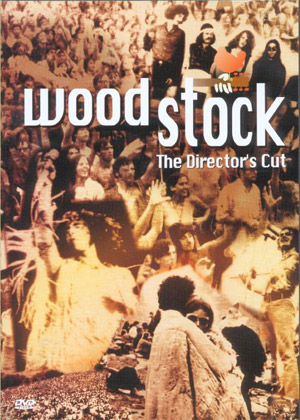 TYA History of the Band, Their Place in Music History:
Depending on whether you like the film or not, there's no doubt that Woodstock was a seminal rock movie. It featured a host of late 1960's superstars including Jimi Hendrix, Crosby, Stills, Nash and Young, Santana, Country Joe and the Fish, The Who, Sly and the Family Stone and many others who performed at the gigantic 1969 festival, the film is a valuable and interesting record of what was going on in the international rock scene at the time.
For one British band, however, the film was to kick open the door to America. For Ten Years After, their featured, frenetic, twelve minute version of 'Goin Home' brought them immense attention from the media and also from the concert promoters as well. It was the prelude to an almost permanent touring schedule, during which it had the band in perpetual motion criss-crossing the USA throughout the 1970's. However, Ten Years After's roots lay deeply imbedded in the heartland of England.
Alvin Lee, who was co-founder and focal centre of the band, was born in 1944 in Nottingham. He became interested in music at an early age, but soon dropped his first choice of the clarinet in favour of a guitar in 1957, when the first exciting sounds of blues and rock 'n' roll could be heard on the AFN (Allied Force Network) and Radio Luxembourg. He found out very quickly that other enthusiasts lived in Nottingham, and he soon joined two local bands the Square Caps and Jail Breakers, who were bashing out the Top 40 hits of the day with more passion and energy than skill. In 1961 he met up with bass player Leo Lyons, with whom he was to enjoy a long musical partnership that would last for the better part of four decades.
The boys, still both only teenagers, took off for Germany for a spell working at the famous Star Club, just a few weeks after the Beatles made their historic appearance there, and upon their return to Britain Alvin and Leo were determined to capitalise on their new experience.
They enlisted the services of Dave Quickmire on drums, and called themselves the Jaybirds, they took a deep breath and plunged themselves into the uncertain world of the fully professional music business. The line-up was to remain stable for four years, and the young trio built up a respectable local reputation as a dependable and often very exciting rock 'n' roll band.
They frequently returned to Hamburg, which is well known to all, for its dubious pleasures and relatively high wages, and it was under these conditions that Alvin Lee began to establish himself as an extroverted guitar player. That line-up never recorded, and initially were hesitant about moving to London, the acknowledged centre of the British music scene.
By August 1965, Dave Quickmire had decided he'd had enough and quit the band, as they didn't seem to be getting anywhere. Nottingham had spawned several bands in the early 1960's, one of them being Ricky Storm and the Storm Cats which had transmogrified into the Mansfields, which featured Stuart Lane on guitar, Mick Hodgkinson on bass and vocals, Keith Williams on guitar and vocals and Ric Lee on drums.
When Quickmire left, Alvin and Leo wasted no time in wheeling Ric into the Jaybirds, and for the next eighteen months, the powerful trio took their rock 'n' roll all over the East Midlands and onto the North of England.
However, it became obvious that if they were to move many more rungs up the ladder of success, like it or not, they had to move to London, where there could be found a huge concentration of record companies and publishers. Thus in 1966 the Jaybirds set off for the big city. They landed the job of providing the music for a London stage play called Saturday Night and Sunday Morning, which later turned into a hugely successful film starring the one and only Albert Finney. Southern Music, a Denmark Street song publisher, needed musicians to record demos, and the band willingly provided the simple backing required for dozens of potential hits. Through the Southern contract, they met the Ivy League, who out of the ashes of Carter Lewis and the Southerners, were formed to cash in on the Beach Boys / Flower Power era. John Shakespeare (Carter's real name), James Lewis and Brian Pugh, all songwriters and session singers, decided to tap a rich vein in the shape of their close-harmony, high pitched vocal style (sounding like the "Four Seasons" in America). For a while, the Jaybirds toured as backing musicians with the Ivy League.
However, Alvin, Leo and Ric soon grew tired of the rather empty, shallow role they found themselves playing and decided to contact the powerful London agent and manager, Chris Wright. In retrospect, little could the Jaybirds or Wright have ever imagined just how successful the partnership would become, but the relationship started out modestly enough for sure.
By the middle of 1966, Alvin, Leo and Ric had decided that the name Jaybirds was beginning to sound distinctly dated and it certainly didn't seem to match the band's growing preference for hard-driving rhythm and blues. They searched around for a suitable change of name, and briefly worked as the Bluesyard (for one or two gigs) which sounded much more appropriate. As that name didn't last long, Alvin, Leo and Ric decided to honour the music era that they had all found so stimulating by calling themselves Ten Years After (ten years after the start of rock 'n' roll with Elvis, Jerry Lee Lewis, Little Richard, Chuck Berry…also (a name Leo Lyons read in the print media, is the official story, as to where the name came from, and it was perfect because the name (they all thought) didn't tie them down to anything musically).
At around the same time, they decided that the trio format, though exciting and ever dominated by Alvin's increasingly flashy and impressive guitar playing, was musically limiting. They needed to expand the band's sound and did this by adding Chick Churchill on keyboards in late 1966.
Chris Wright's management soon led them into the recording studio of Deram Records, which is a subsidiary of the British Decca record company. Their first album, simply titled TEN YEARS AFTER was released in 1967, and was followed in 1968 by the live UNDEAD album, which was also on Deram. The band was by now falling into the routine which would set the pattern for eight busy and very successful years. Alvin for one loved to tour and play, as he always dominated the show with his extremely fast, note-on-top-of-note style. It is arguable that he often sacrificed feel and emotion in his playing for sheer speed and technique, as he has been called "Mr. Speed Fingers" and his playing said to be a case of "All Haste and No Taste" over the years, along with the title "The Fastest Guitar In The West". All things being considered , it has been his Nordic good looks, adequate voice and his extrovert style that seemed to be the most appealing factor to the audiences all over Europe.
The one concert and historic event that changed the course for Ten Years After forever, happened in August 1969 when they were invited to play at the "Woodstock" festival. Their song "Goin Home" proved to be one of the most potent rock anthems of the late 1960's, although to be honest, they must have become very weary of playing it. As for the film "Woodstock", it was a huge success in the United States, and the band's appearance propelled them into super-stardom and made them high profile from that moment onwards. Life for them became almost literally one long never-ending tour. The band seemed to almost never be off the road in America, and the high earnings that were there to be made, kept Ten Years After firmly entrenched in the country. Between all the extensive touring and their life on the road, the band regularly buried themselves in the recording studios and Ric, Leo, Alvin and Chick produced "STONEDHENGE" in 1969 and Ssssssh was released later in the same year, which was followed by "CRICKLEWOOD GREEN" released in April of 1970.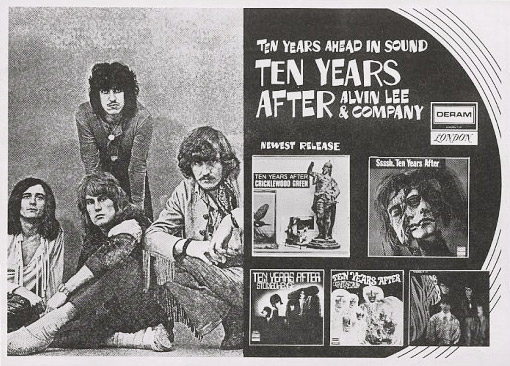 The touring schedule was gruelling to say the least, although Alvin loved it, living only for the pleasure of life on the road. The band endlessly toured America, visiting and playing in virtually every major city in the entire USA during their eight year existence. They were a sure fire draw for any festival promoter and Alvin's extravagant and explosive playing, including dragging numbers out to last half an hour at a time, could be seen at dozens of open-air concerts. More albums followed, including 'WATT' released in January of 1971, 'Alvin Lee and Company' released in 1972, and followed by 'Rock And Roll Music To The World' released later in the same year (recorded in France).
In September 1973, saw the release of TYA 'Recorded Live' which was their fifth album for Chrysalis. (The label was formed by their management team and played on the names of Chris Wright and Terry Ellis.)
But the end was now in sight for the "Classic Ten Years After" line-up, and just a few months later, in March of 1974 the band called it a day, and folded.
Alvin felt, that the possibilities afforded by the line-up, by now nearly a decade old, were very limited. Constant touring had drained them of ideas, and the image of Alvin playing guitar a hundred miles an hour backed by Leo, Chick and Ric was becoming tarnished, so the boys decided to take the most honourable way out and quite while they were ahead of the game.
However, the lure of the dollar meant that the combination of Lee, Churchill, Lyons and Lee was not quite so ready to lie down and die just yet.
After a brief venture with Mel Collins on sax, Ian Wallace on drums, Steve Thompson on bass and keyboard player Ronnie Leahy to promote his "In Flight" L.P., Alvin called the boys in the band to do a final 'final' tour of the USA which took the band all over North America in 1975.
Leo, Ric and Chick, who were exhausted from over a decade of continually traipsing all over the world, moved out of the performing arena and into the rather more sedate side of the music world, involving themselves in various recording, publishing and producing ventures.
For Alvin Lee, however, the lure of the road never lost its appeal, and 1976 saw a new band featuring Bryson Graham on drums, Tim Hinkley on keyboards (from the original Bo Street Runners) and Andy Pyle on bass. This line-up produced an album which never saw the light of day and folded.
Undaunted, Alvin launched the aptly-named band Ten Years Later, which against all odds lasted over two years. The members consisted of workaholic Alvin, along with Tom Compton on drums and Mick Hawksworth on bass and the outfit produced two outstanding albums which were released on Polydor, 'Rocket Fuel' and 'Ride On'.
By June 1980 Mick Hawksworth had left the group and was replaced by Micky Feat on bass and vocals and Steve Gould on guitar and vocals. This change of line-up also prompted another name change, which also seemed to finally acknowledge the fact that all of Alvin's bands had only really existed to provide a superficial backdrop to showcase his up-front, superstar image.
The Alvin Lee Band produced two more albums, 'FREEFALL and RX5 in 1980 and 1981 respectively, though Alvin's record sales were producing a poor showing, and his material was also very pale by comparison, from his out-put with his years with Ten Years After, Alvin kept trying, but he also had trouble keeping musicians working for him, for wages.
By November 1981 even the word "Band" had been dropped from the title, and so too had musicians Feat and Gould, to be replaced by the ex-Stones and John Mayall guitarist Mick Taylor, who was also joined by Fuzzy Samuels on bass, as both went along with Alvin on his endless touring schedule.
Alvin Lee, will never be revered as R & B's or R & R most subtle or emotional player by a long shot, but his head-down, straight-ahead approach to his beloved music has these days found him a small but ineffective handful of followers. He is the epitome of the working musician for whom getting out and playing to live audiences is the most important part of the music business.
In an interview in England, with Paul Flame, Alvin said "I never want to stop being a working musician. I look at Muddy Waters and John Lee Hooker and say to myself, "Yeah, they are still at it"…and that's the life for me as well. Now I've decided that touring is the natural life for me…and I intend doing it when I'm forty, sixty, or eighty years old."