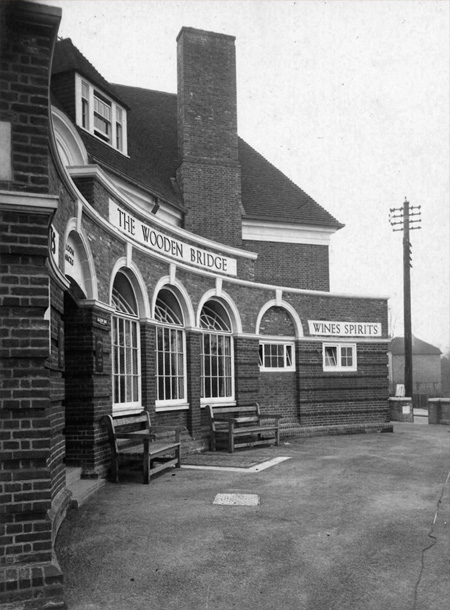 TEN YEARS AFTER at the "WOODEN BRIDGE HOTEL"
December 10th, 1967 / March 10th, 1968

Many Thanks to Lionel Webb for these rare memorabilia
click pictures to enlarge
| | |
| --- | --- |
| | |
The town of Guildford, England dates back to AD-885 in a reference from then King Alfred The Great. Jump forward to 1968 and the worst recorded flood was recorded on Saturday September 14, 1968, when a heavy persistent rain fell upon the Guildford area of Surrey.
By the evening of September 15th - the news was spreading that the river Wey had burst its banks, washing away the bridge on the Horsham Road between Shalford and Bramley.
The lower lying parts of Guildford Town were severely flooded, rising over six feet in some places. This was a flood that is only expected to occur once every thousand years.
This was September and Ten Years After played at the Wooden Bridge Hotel on March 10, 1968 as well as a year before on December 10, 1967. Now, the story that I heard from the band, was that Guildford was still so flooded, that they could only reach the venue by the use of a moving truck type vehicle, with high wheels. I believe this was for the 1968 concert date.
Apparently, this historic flood was so bad that the effects of it were still causing problems months later. A very memorable experience for the band, trying to get to their gig on time.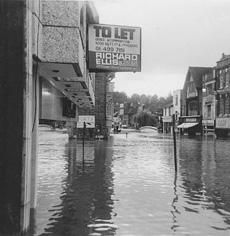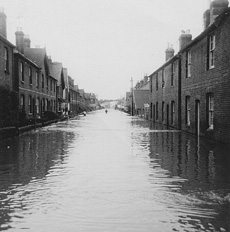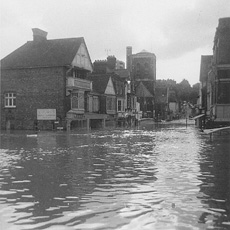 The Wooden Bridge Public House Guildford - Pub / Bar / Hotel
The following excerpt is from Mod's Generation Magazine and it's writer David Birchall who holds the copyright. Our thanks to him for allowing us to use excerpts of his article on this page.
The link to David Birchall's full article in Mod Generation is here:
http://www.themodgeneration.co.uk/2011/01/south-london-mods.html
Dave Else was the DJ at the Wooden Bridge and also wrote an article-in three parts that can be found here:
http://themodgeneration.com/profiles/blog/a-suburban-mod-s-forgotten-story-part-1
The Early 1960's – The Mod's Generation – Known As The Society of Cool
The South London Mod's – The Mod Scene in Guildford, England started in the summer of 1964. They travelled on very smart Italian Lambretta scooters, with modest accessories such as added lights stolen from Honda 50's. They wore parkas that were basically worthless in wind, rain and cold, with trilby hats – and soft animal hide shoes.
Violence was a major part of the Mod's Scene, and there was no getting away from it.
One night at the Wooden Bridge Pub, there was a confrontation between us and the Guildford mod's. At that time I was mouthy, but I was no fighter. I listened to their plans to come into town the following Tuesday and kick ass. I returned to my group and told them exactly what I had heard. On the following Tuesday, we were more than ready to rumble with them. We had increased our numbers so much, that when they rolled into town they took one look and kept on going. We made up the Guildford Boys after that. We saw very few "Rockers" as they stopped going to the resort towns after 1964 because they were vastly out numbered.
We would go to dances at the "Wooden Bridge Pub" in Guildford when The Rolling Stones played there. The dances at the main dance ballroom in Guildford that they named "The Ricky Tick Club" but it was Mickey Mouse (with a smile). The "Crawdaddy Club" – Eel Pie Island on occasion and the "Harvest Moon Club" also in Guildford.
We would get to see: Georgie Fame, Chris Farlowe, Long John Baldry, Spencer Davis and of course John Mayall. We also hung out at "The Disc" on Wardour Street.
At The Wooden Bridge Hotel – Brian Jones fathered a child. In November of 1959 he went there to see a band, he met a married woman named Angeline. The two had a one night affair that resulted in a pregnancy. Angeline and her husband decided to raise the baby named Belinda together. As for Brian, he always wanted to be a Pop Star, the minute he saw The Beatles. The Rolling Stones Played at the Wooden Bridge Hotel on March 30, 1963, April 19, 1963 - June 7, 1963 and - August 7, 1963

click picture for the PDF file


click picture for the PDF file
Ten Years After Concert List For 1968:
January 5, 1968 – The Marquee Club – London, England
January 12, 1968 – The Manor House – London, England
January 13, 1968 – The School Of Economics – London, England
January 19, 1968 – The Marquee Club – London, England
January 23, 1968 – Klooks Kleek – London England
January 30, 1968 – Fishmongers Arms / Wood Green, London
February 1968 – Kultuuritalo – Helsinki, Finland
February 2, 1968 – Lorensberg Circus – Gothenborg, Sweden
February 6, 1968 – The Marquee Club – London
February 9, 1968 – "Bluesville 68" – Hormsey Wood Tavern – Manor House – London
February 10, 1968 - The Gladsaxe Teen Club – Denmark
February 1968 – Pop Club – Brondby, Denmark
| | |
| --- | --- |
| Record Mirror January 20, 1968 | |
Record Mirror February 3, 1968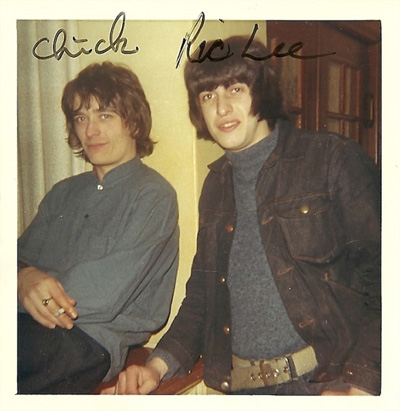 Photos Courtesy of Pieter Kentrop
Photos taken 17 February 1968 - the same time period as their concert at the "Teen Club"
The following photos were taken by JØRGEN ANGEL at the "Teen Club", Denmark
10th February, 1968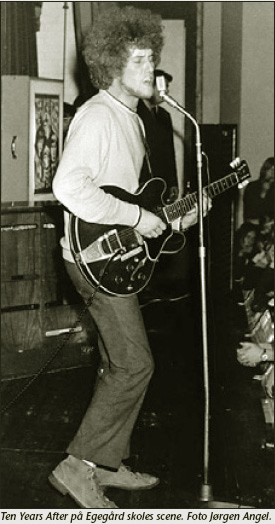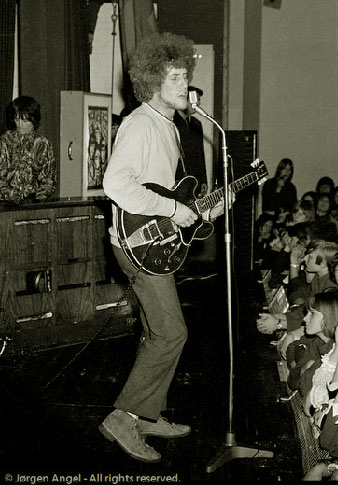 both photos are the same, but the one on the right gives more valuable detail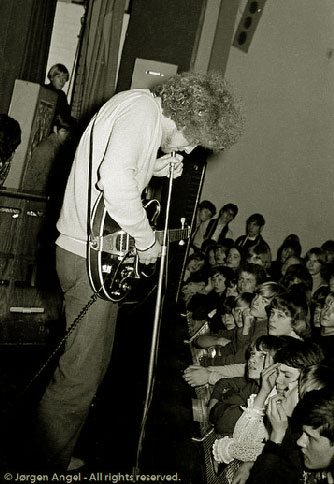 The youth of Denmark - spellbound or just wondering what to make of it all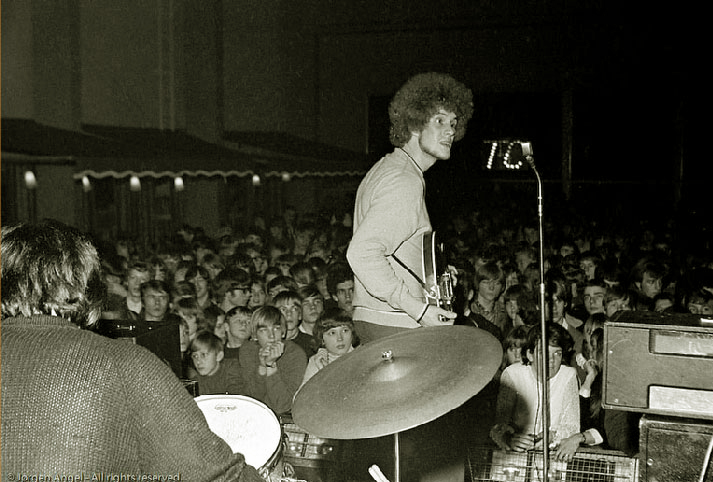 Photo Showing the audience in between songs. Alvin's asking Leo Lyons (on bass) What's the next song on their Set List !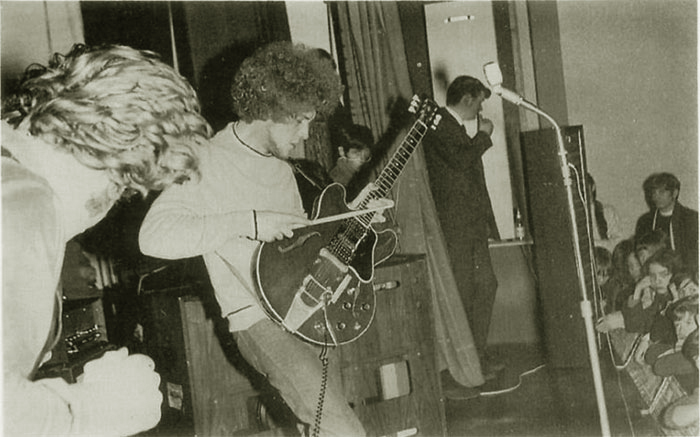 Leo Lyons and Alvin Lee with a nice shot of the front row audience - does she look bored?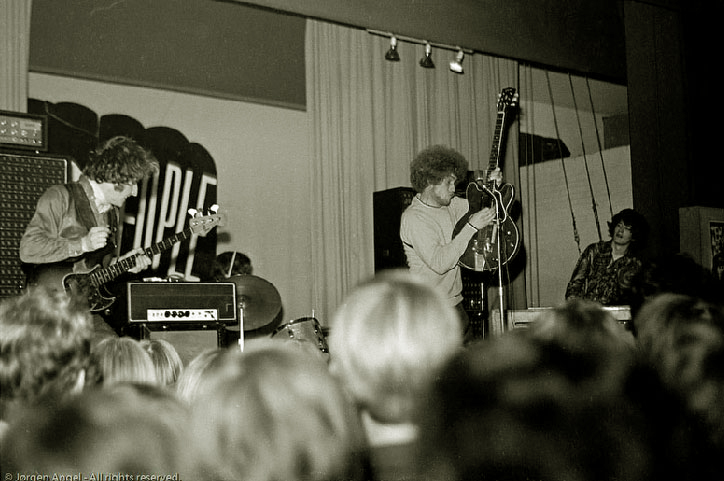 Leo Lyons (left side) Ric Lee (with drum stick on the kit) Alvin Lee (third from left) and Chick Churchill on keyboards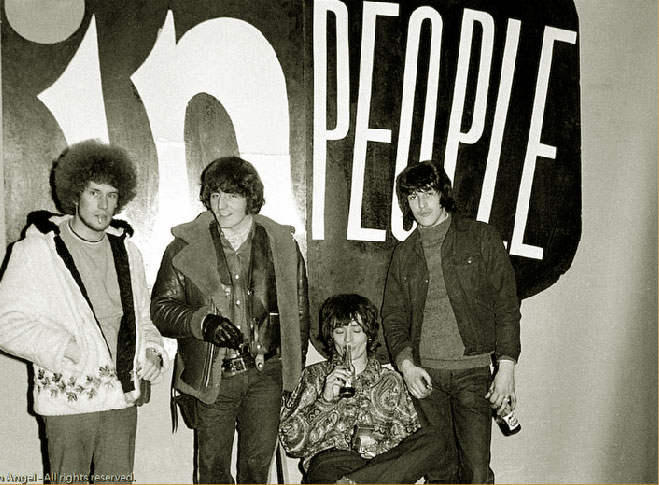 "In People" Ten Years After were following no trend - in fact, they were the brand new trend setters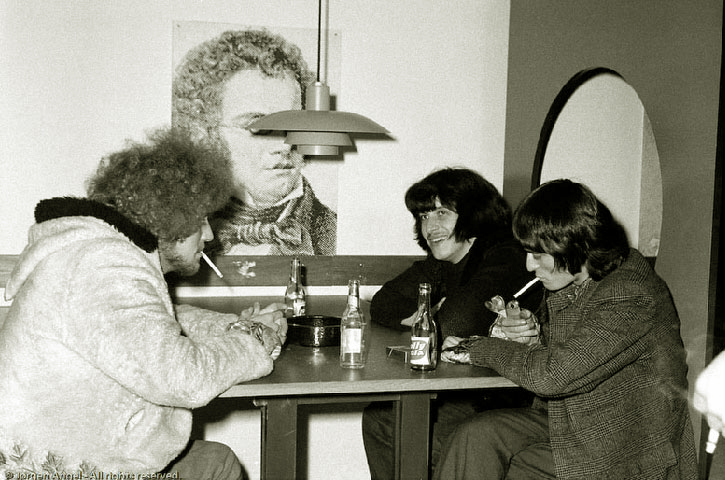 Alvin Lee (left) Ric Lee (middle) and Chick Churchill (far right) backstage area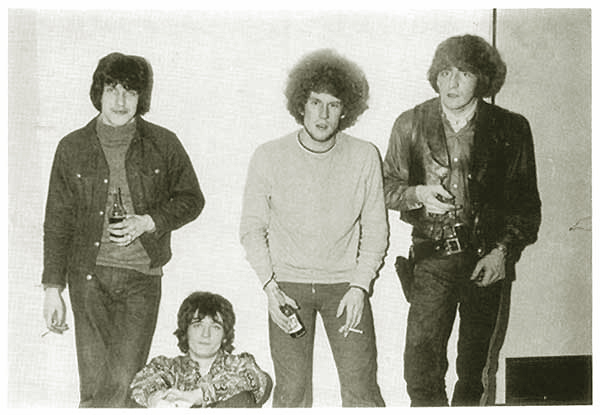 Special Section of Interest / Gladsaxe Teen Club, Denmark:
Ten Years After to me always seemed to be the under-dog band, they were separated from many of the most popular rock acts, as Ten Years After were better known for playing excellent jazz and then progressed into the experimental progressive category, which buried them even further. Their performance at Woodstock 1969 set the record straight, and proved them to be a stellar rock `n´ rock and roll band of the highest calibre. They established themselves as a rock and roll pedigree. Thus sealing their position.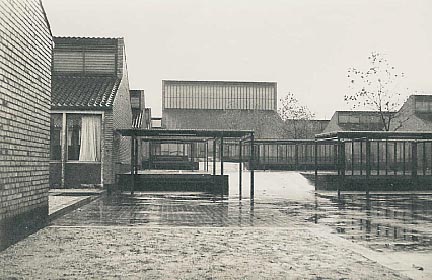 In my research, I was really stunned to learn that Ten Years After was on equal footing with the likes of Led Zeppelin, Deep Purple, The Nice, John Mayall, Black Sabbath, Cream and all the other superstars of the day.
1968 and the "Teen Club" became an epiphany for me, to learn that Ten Years After were even greater than I could ever have imagined them to be, and believe me when I tell you, I always had the highest respect for the musicians and the Ten Years After name.
Please, take a little time here and learn how, where and why it was, that Ten Years After got another valuable leg up on the fame and fortune that was heading their way.
Why this is called a special section, is because we are also including a general overview of Led Zeppelin's gig at the "Teen Club" in 1968-1969 and this section also features the band "Earth" as well. Earth soon changed their name to "Black Sabbath" and their connection to Ten Years After is invaluable knowledge in the school of rock and roll.
Once you have soaked in the time frame, the feel of the venue and the times that were definitely changing, you'll be better prepared to move forward with a brand new and better understanding.
From Dave.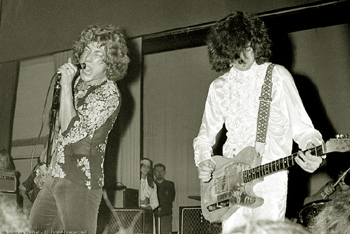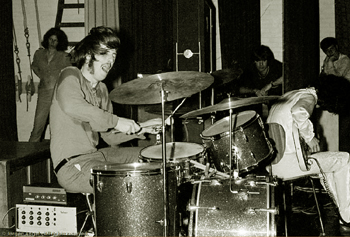 Robert Plant - Jimmy Page and John "Bonzo" Bonham - Jimmy Page sitting and playing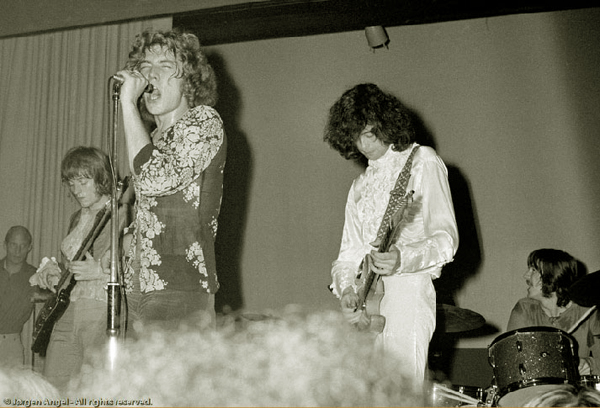 Robert Plant (center) Jimmy Page (to his left) John Paul Jones (to his right) and far right on drums is John Bonham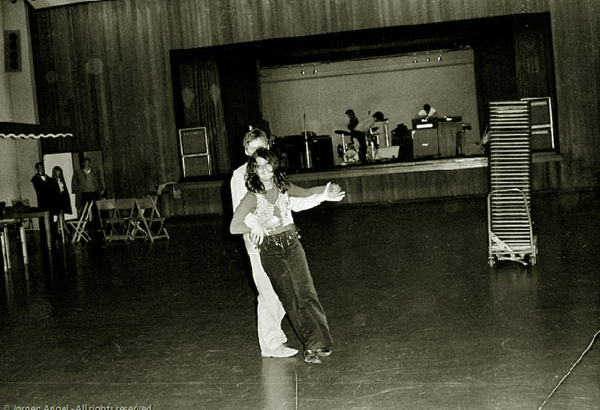 The last dance - maybe the last time - in a short amount of time dancing would be replaced by sitting on the floor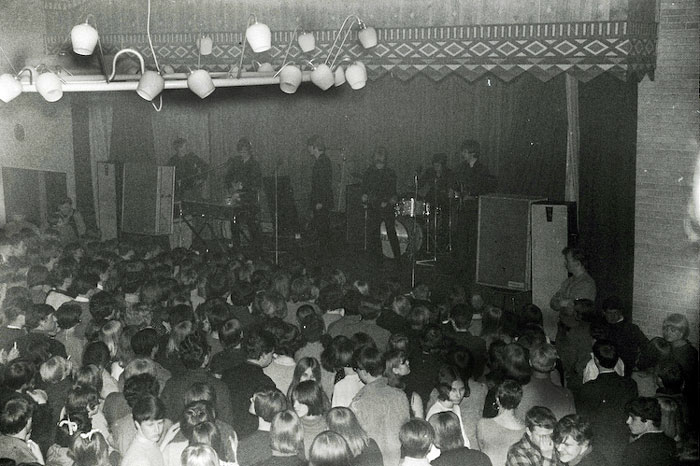 A great overview of the "Gladsaxe Teen Club" venue - with so many young faces


Record Mirror February 17, 1968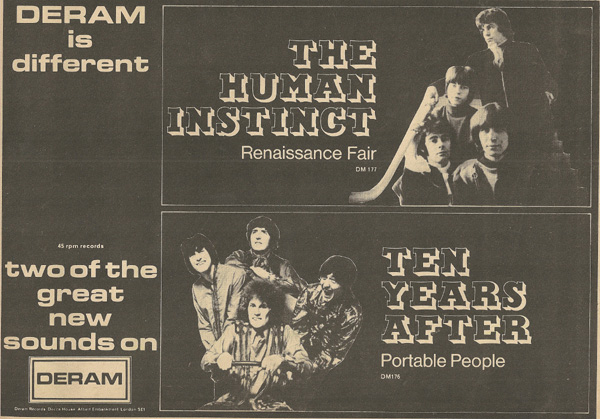 Record Mirror February 24, 1968
Ten Years After March 2, 1968
Self Titled Album
While not especially different from other electric blues groups, Ten Years After do rank with the more talented ones. Their sound is exciting; their music has texture. Ten Years After has the potential of a hot new group on the horizon.
Bill Board Magazine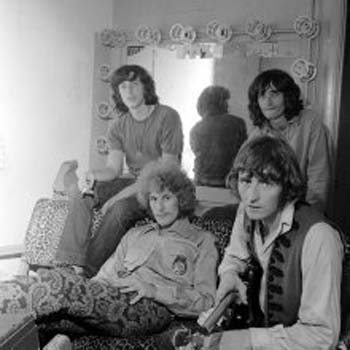 Ten Years After – Record Mirror – March 2, 1968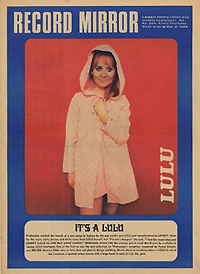 Ten Years After have a single out at the moment – their first – that could well be a hit. It's called "Portable People".
"We've all got a lot of confidence in it," said Ric, the group's drummer. It's not really our style of music – though it's still "us". If you see what I mean. It's a very commercial sound, but even if it's a hit, I don't think we'll ever record such a commercial number again – not that it's bad or anything. It's just that we prefer to record what we like, and not what's necessarily hit material. What pleases us the most is that we've been accepted as a group for playing the sort of music that we like – which is basically blues. So we haven't had to make too many concessions. "And if "Portable People" does get into the charts, we'd never change our stage act or anything, and become more "pop". We've got a lot going for us as we are – it's very bewildering, really, because suddenly it all seems to be happening for us. And it wasn't so long ago that we were having a very rough time – in fact we haven't quite caught up with ourselves as yet".
Which isn't surprising, because apart from playing their particular brand of blues, in a million and one different countries, they're also involved in a film and lecture tour!
By Derek Boltwood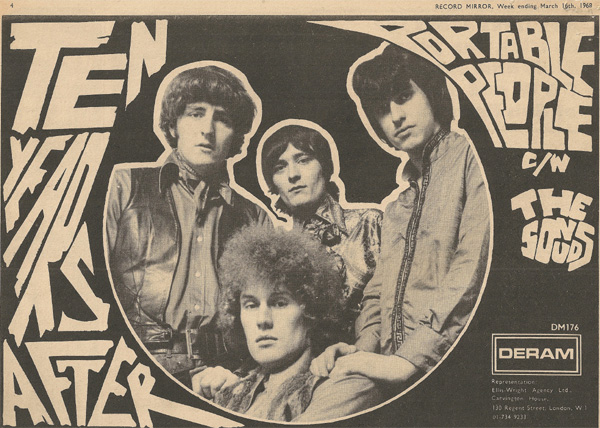 Record Mirror March 16, 1968
Tour Dates Continued:

March 10, 1968 – The Wooden Bridge Hotel, Guildford

March 15, 1968 – "Bluesville 68" Homsey Wood Tavern - Manor House

March 18, 1968 – The Cromwellian, London

March 20, 1968 - The Grafton Rooms, Liverpool

March 22, 1968 – The Marquee Club, London

March 23, 1968 – The Corn Exchange, Chelmsford

March 28, 1968 - The Zodiac Club, Beckenham
On Wednesday March 20, 1968 – Pink Floyd – Ten Years After and The Almost Blues played at the Grafton Rooms. Located on West Derby Road in Liverpool, England.
On Thursday January 10, 1963 the Beatles played here. At different times, Joe Loss – Victor Silvestre – Henry Hall and Duke Ellington also performed at this venue.
History: The Grafton Ballroom was an entertainment centre in Liverpool, England that opened on February 2, 1924. It was a purpose-built hall that was able to accommodate a band and 1,200 dancers. It was built next to the Locarno Ballroom which is known as the Liverpool Olympia. It has for several years been under the same ownership as the Olympia.
Update: In late 2008 the Grafton closed as a dance venue, It's to be refurbished and reopened once again, this time as a Comedy Club.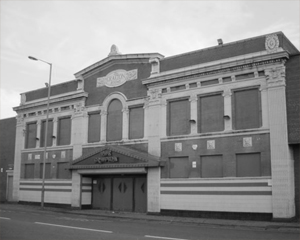 The Grafton is as well known in Liverpool, as the Moulin Rouge is in Paris. It started life as a dance hall, then later a night club, it's more of an institution. Friday evening was "Grab A Granny Night," which involved having an older woman as your date and swinging or rocking to the music all night long. An Ode to the Grafton Rooms: Grab a granny, grab a gran, do the business if you can. Down a cold alcoholic drink, down a few, anything in a skirt will do.
Hit the dance floor, hit it fast, don't know how long the band will last. One more dance, one more beer, kicking out times nearly here. Out the night club, drunk out of your head, donna-kabob, taxi and home to bed. Grab a granny, grab a gran – do the business, kick out the jams.
By Mike Dainty – Edited by Dave
Many Thanks to RON FRASER
for this rare ticket stub

and sharing his memories

"I remember having a really great night…If my memory serves me correctly, there was a scaffold erected in the middle of the dance floor projecting psychedelic pictures on a back drop. I also remember the smell of hash…hmmmm…I wonder why, I think I helped contribute J ! My wife used to see the Ten Years After band members at "Nobody's on Bleaker Street in New York City, and had drinks with them a few times. The boys will tell you that "Nobody's" was a safe hangout, free from paparazzi and the press. Jimi Hendrix,

The Kinks and Eric Clapton, to name but a few, would go there after gigs. The head dancer at the world famous "Peppermint Lounge" on 45th street danced with entertainers such as

James Brown, Carlos Santana and Joey Dee & The Starlighters of "Peppermint Twist" fame. She always went to "Nobody's" after work and met almost everyone who was anybody in those days. Her stage name was "Mite" or Mighty Mite" back then."
A big Thank You to ELLEN FRASER for sharing her memories about Jimi Hendrix:
Thank you so much for your e-mail, and please feel free to add any of our anecdotes to your site as you think fit ... we trust you. This is Ellen writing and I would like to tell you just a tiny bit more info ....Steve Pauls's Scene was one of my favorite places. Jimi Hendrix and I were very good friends and he treated me like a baby sister. I originally met him at the Cafe Wha on Macdougle st. in the west Village when I was just 12 yrs. old (and was not suppose to be there even tho they didn't serve booze). When I got older, I very rarely had the $2.50 to get in so Jimi would pay for me.
Here is an interesting event that may interest you, but concerning Jimi Hendrix ...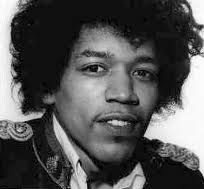 One night there was a band playing that were very nerdish but thought they were great. Jimi felt like jamming so he asked the guitarist if he could sit in and use his guitar. Well, they didn't have a clue who he was and said no amateur could sit in with them. The boys will tell you that Jimi was always a gentleman and would never say anything. He just told them that he just felt like playing but he understood. He never told them who he was. The bass player felt bad and said that he could use his bass if he knew how to play it and Jimi said yes. Mitch Mitchell was with all of us and he asked the drummer if he could use his drums and the answer was yes. All that was left was the snotty guitar player who hadn't a clue. Well, they started playing and Jimi played the bass like it was a lead guitar and Mitch was drumming like mad when all of a sudden
the hick band member shouted "holy shit it's Jimi Hendix. With that he turned to Jimi and begged him to use his guitar :-)
Jimi and his girlfriend and Mitch took me there for my 19th birthday to hear BB King. It just so happened that it was BB's birthday too. Jimi surprised us with a cake and BB took me on stage with him to sing me Happy Birthday.!
| | |
| --- | --- |
| | Record Mirror March 23, 1968 |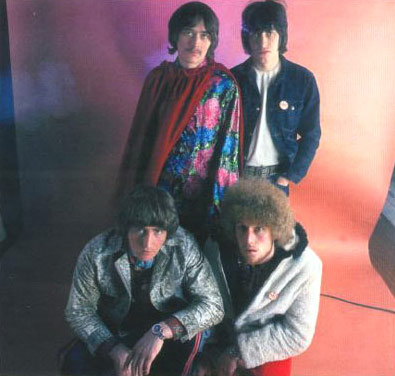 30th of March 1968 - Ten Years After on the French TV show "BOUTON ROUGE"
Their set included: Rock Your Mama, Portable People, Hear Me Calling, I May Be Wrong, But I Won't Be Wrong Always
These songs were from the groups second and third albums. The color and sound from their recorded performance is excellent. The above photo is from that show.
From Record Mirror March 30, 1968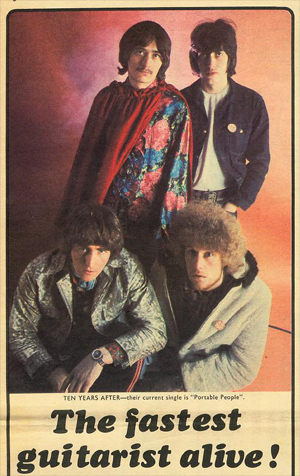 THE FASTEST GUITARIST ALIVE !
I've reckoned Ten Years After since I first saw them, months ago, down at the Marquee club, where they were busy playing their own kind of blues, and building up their large fan-following, and they were about to release an LP. And that LP has been released, and has given them a great reputation. In fact, on the strength of it, the group have received a letter from the Fillmore Auditorium in San Francisco, asking them to give a concert there when they go over to the States later this year. "We were all knocked out by that," said Lee. "We hadn't approached them or anything, the letter just arrived out of the blue, and when we got it, our manager framed it, and it's up on the wall of our office now! I think he's even more knocked out than we are.
"Too Seriously:"
"I like the way things are going for the group, because we've made our reputation so far by playing our sort of music, and we're being taken seriously. But I'm a bit worried in case we start taking ourselves too seriously, you know, with things like this lecture tour of colleges and universities that we'll be doing shortly, people might start saying that we're getting a bit above ourselves. Most people only see us when we're on stage, and we're very serious then, knocking ourselves out to try and play better each time. And perhaps they don't realise that there's another less-serious side to us. Another thing that worries me slightly, is that I think we might be getting a bit too freaky on stage, Sometimes when we're playing, I go into a guitar solo that last about twenty minutes, and although the group's enjoying themselves, we tend to forget about the audience. If they don't understand what's going on, they might get very bored and they sometimes do.
"Most of our numbers are very long, some of them go on for sixteen minutes or so, and we're having a bit of a problem trying to re-organize our stage act to get some new numbers in, we really ought to play "Portable People" which is our new single, but it's difficult, because it's not particularly suited to what we do on stage."
While we were talking Eric Burdon walked into the room, he's in the country on a short visit in the middle of his American tour, and shouted across to Alvin that the Ten Years After LP is doing very well over in the States. "It's very close to the sound they're making over on the West Coast at the moment," said Eric, "and everyone's playing it and talking about it." "That's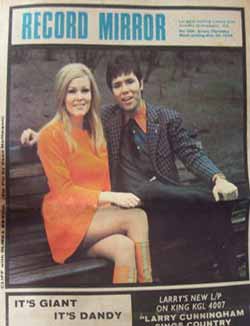 very pleasing news," said Alvin, "but it's funny that we seem to be meeting with more success in other countries than we are over here. When we go to some places there are crowds to meet us at the airport, and all that sort of thing. When we were over in Denmark recently, I was interviewed by a newspaper and I started talking about the Vietnam war, and apparently the article has caused an enormous amount of interest and controversy over there, and the paper has asked all the group to write controversial articles for them!
"Our Next Move"
"The group is very busy thinking about policy at the moment, having come so far, it's difficult to know in which direction to go next. We'd planned this far ahead, now we've got to start thinking about our next move." Perhaps Ten Years After, haven't got a widespread reputation in this country, but the reputation they have is excellent, and I don't think they have to worry too much about the future, because I'm convinced their music is going to be appreciated by an ever-widening circle of people.
Article by Derek Boltwood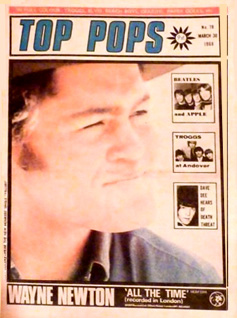 March 30, 1968
Early Alvin Lee interview
April 5, 1968 – The Marquee Club – London, England
April 13, 1968 – Gladsaxe Teen Club, Denmark
April 20, 1968 – Pop Club Brondby, Denmark – also featuring The Baronets – Tages and the Jeff Beck Group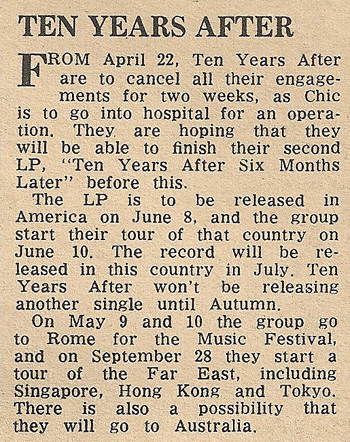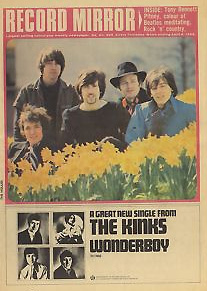 Record Mirror April 6, 1968
The following photos were taken by JØRGEN ANGEL at the "Teen Club", Denmark
13th April, 1968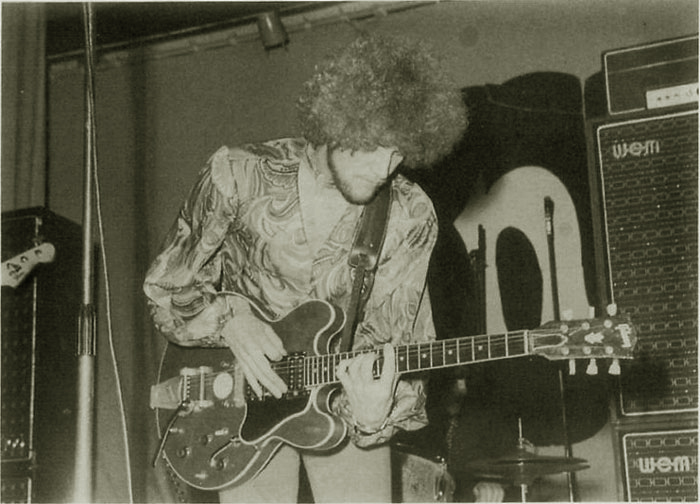 Guitarist Alvin Lee in action - big hands make it easy to handle his "Big Red" Gibson - ES-335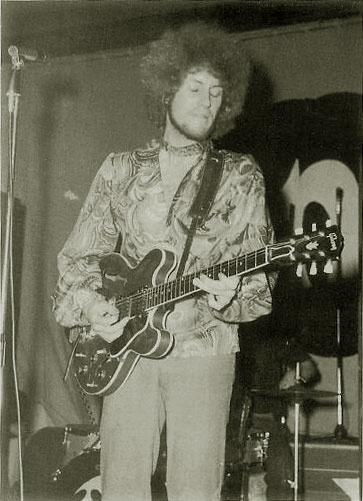 Loose attire - eyes closed and totally in control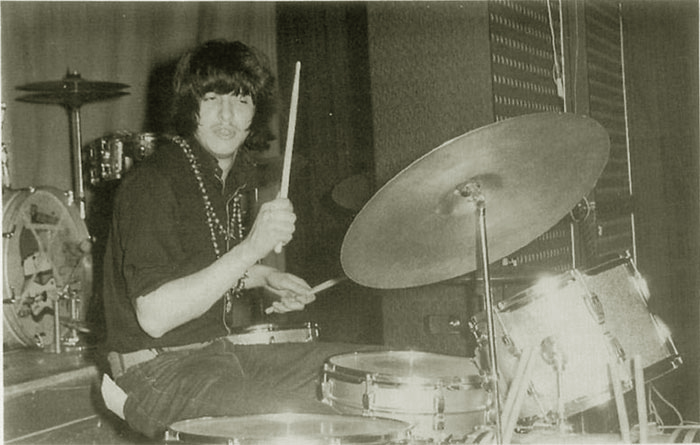 Ric Lee on the drum kit, his solo's were much shorter and much more intresting than Ginger Baker's. Ginger's drum solo was called "Toad" from the main character in the book " The Wind In The Willows" by Kenneth Grahame. While Ric's later claim to fame was his famous drum solo called "Hobbit" from J.R.R. Tolkin's trilogy "Lord Of The Rings". But during this time period, Ric's drum solo was called - "Shantung Cabbage".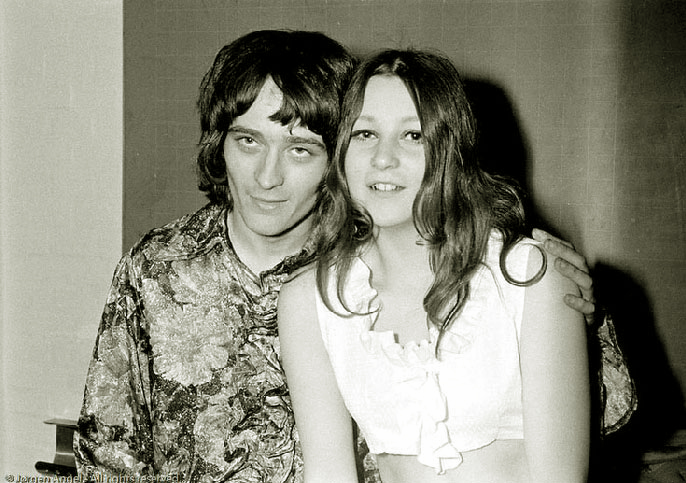 A very young Chick Churchill and an equally young looking lady friend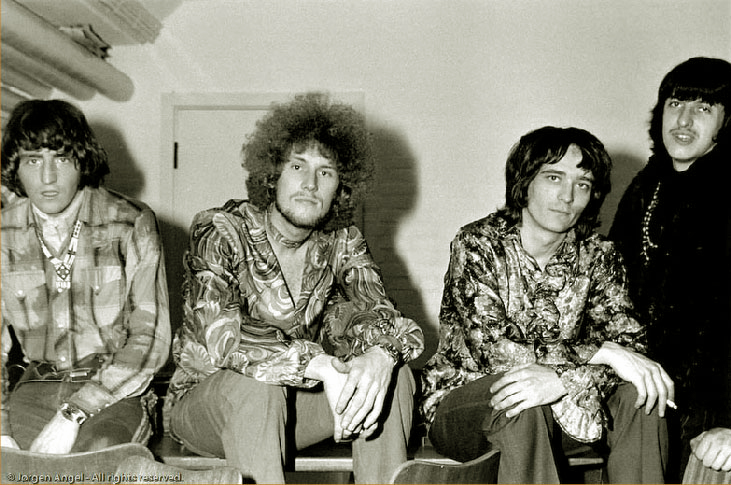 The photo above and the one below are very much alike. Yet different enough to be of interest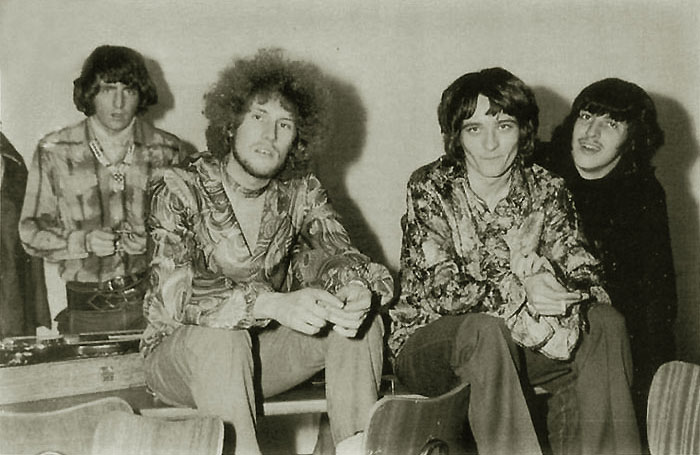 SMILE BOYS - it's a long way to the top if you want to Rock `n´ Roll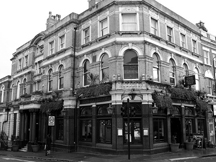 West Hampstead Railway Station - The Home of Klook's Kleek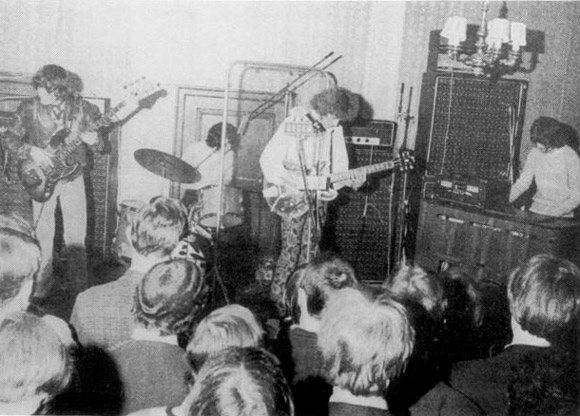 Recording "Undead" at Klook's Kleek, 1968. A packed little room with sweat dripping down the walls and sound pounding off of them too, just the way the band likes to perform, with everyone listening and being a part of it all. As you can see from this photo, Ric Lee's back was to the wall, how he could play drums that way is beyond me, and that little screen guard had to be placed between him and Alvin Lee for the recording.
Note from Dick Weindling:
TYA played four gigs at Klooks all during 1968. As you know, the session on 14 May was recorded live with cables running out of the door of the upstairs room of the Railway Hotel, and into the Decca Studios which were next door. This was the excellent 'Undead' album.

May 2, 1968 – Metro, Birmingham, England
May 4, 1968 – The University of Norwich, England
May 5, 1968 – Palazzo Dello Sport – Rome Italy
May 7, 1968 – Falconer Theater Copenhagen, Denmark – The set list included the following songs: Rock Your Mama, Spoonful, I May Be Wrong, But I Won't Be Wrong Always, Help Me and I'm Going Home – Also on the concert bill were, Fleetwood Mac and The Fugs
May 9, 1968 – Gothenburg, Sweden
May 10, 1968 – Stockholm, Sweden
May 12, 1968 – Cat Balou Club – Grantham, England
May 14, 1968 – Klooks – Kleek Railway Hotel, West Hempstead - London, England
Ten Years After recorded their historic "Undead" album on this night.
May 22, 1968 – Wigan Technical College – England
May 23, 1968 – St. Michael's Hall – Oxford, England
May 24, 1968 – The Marquee Club - London, England
May 25, 1968 – Redditch College Worcestshire
May 26, 1968 – The Wooden Bridge Hotel – Guildford, England
June 3, 1968 – Belfast, Ireland – (The band plays on the roof-top of a school)
June 7, 1968 – The Marquee Club – London, England
June 3, 1968 - The little known Belfast (NI) gig
From Gary Moore: "Garry y McAvoy is an old friend of mine. In his book he mentions a lot of gigs, for example, like seeing Ten Years After playing on the roof of a school building, and I was also there that night. Gary and I went to a lot of the same gigs in Belfast. It's pretty strange. Gary Moore and Rory Gallagher were in the audience, in the play-ground area". (Continued) "I saw Ten Years After in 1968. They were amazing! They were playing on the flat roof of a school on Belfast's Grosvenor Road. They basically did the entire set that you can hear on the "Undead" album.
I always thought what a shame that Alvin Lee and the band, including Leo Lyons, Ric Lee and Chick Churchill were equally the best there was in Britain at the time. They should have been recognised in their own rights. I also think that they were far better back in 1966, than they were years later
Question to Gary Moore: Gary, you've championed many blues greats, but what is your honest opinion of Alvin Lee? "I was very impressed with all that Ten Years After stuff, "Hear Me Calling", etc. So I went to see him playing this weird roof-top gig in Belfast.
"Re the roof top gig. It was not the LSE. The gig was on a school roof in Belfast played June 3rd 1968. So far as I recall, Schoolboy Rory Gallagher's band supported us. To my knowledge it's the only Time TYA have played in Ireland and the only time we've played on a roof."
This from Leo Lyons when asked about this unique concert.t.
June 13, 1968 – Ten Years After arrive in America
for their very first visit, at the personal request of concert promoter Bill Graham. It will be a seven week tour.
June 14th to the 16th – 1968 – Ten Years After is booked at The Cheetah Club in Venice, California
June 24, 1968 – The Band Plays At – The Whiskey A – Go-Go – In Hollywood, California The Opening Act Is Alice Cooper
June 25, 1968 – The Golden Bear, Huntington Beach, California
June 28th to the 30th 1968 – The Fillmore Auditorium – San Francisco, California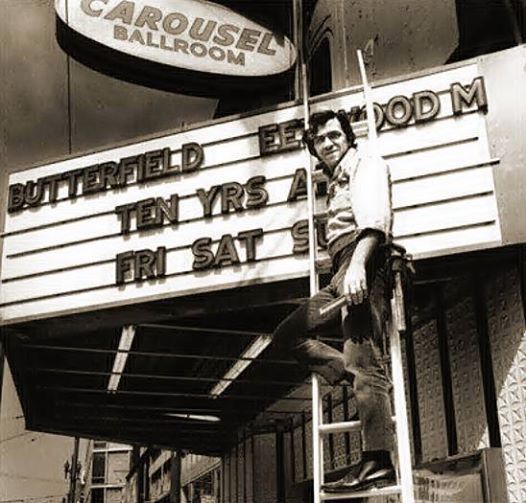 According to Christopher Hjort: Bill Graham asked Michael Bloomfield and others to join the Paul Butterfield Blues Band and Ten Years After with Alvin Lee - along with other guest artists on this special occassion. The opening of the Fillmore West in San Francisco, California - it was formerly known as the "Carousel Ballroom".
July 5th, 6th and 7th 1968 – At The Fillmore West – San Francisco, California
July 10, 1968 – Los Angels, California – Ten Years After performs "I Want To Know" for the "Groovy Show" a television program.
July 12th through the 21st 1968 – At The Golden Bear, Huntington Beach California
July 26th to the 28th 1968 - At The Cheetah Club in Los Angels, California – with special guest, Jose Feliciano
August 2nd and 3rd 1968 – At The Newly Opened Fillmore East – New York City – New York
Featuring Big Brother and the Holding Company with Janis Joplin also appearing, The Staple Singers.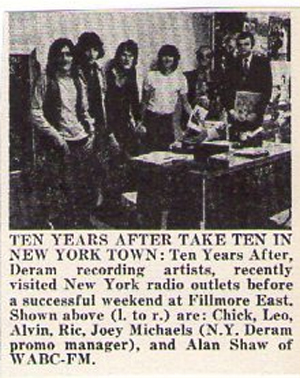 August 4th through the 6th 1968 – At Steve Paul's "Scene Club" New York City, New York
August 5, 1968 – Ten Years After spend the entire day in the recording studio, backing the very talented Guitar Crusher (Vocals) and Jimmy Spruill (Lead Guitar) on the song "Hambone Blues". Then backing Garfield Love (Vocals) and Jimmy Spruill on "Part Time Love". While in their evening hours, Ten Years After are playing at the "Scene Club" when big surprise happens, Jimi Hendrix, Mitch Mitchell and Larry Coryell join them on stage for a joyfully extended jam session.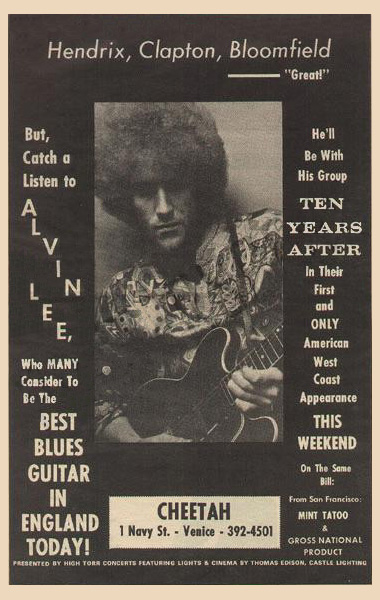 June 14, 1968 - "Cheetah" Venice, California
Close to Santa Monica - The Cheetah Club, 1 Navy Street Venice, California
was previously known as the Aragon Ballroom until February of 1967 and located at the Pacific Ocean Park Amusement Pier. Everybody who was anybody has played there. The venue was closed down after July of 1968. As the town officials we deciding what to do with the vacant structures, a massive fire broke out and answered that question for them… nothing remains of the historic park that was built in the 1920's except the beach front. (The photo with people standing in front of the Cheetah Club was taken on August 20, 1967)
"Ten Years After, when Alvin Lee had an afro and a moustache"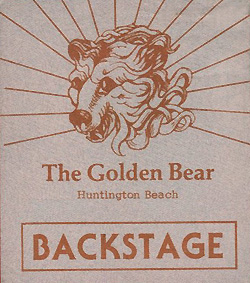 "The Golden Bear Club" was founded by Harry Bakre in 1923 and located in Huntington Beach, California – Orange County at 306 Ocean Avenue and now called The Pacific Coast Highway and Main Street. It was a very famous venue for anyone on their way up in the music business or on their way back down.
In the 1960's the club was revered by musicians for being one of the best sounding rooms in the country. "It was a great place for musicians who wanted their music to sound right and who wanted to be able to hear it right" says Chris Hillman of the Byrds. Les Baxter's Balladeers featuring a young David Crosby, played there. Hoyt Axton, The Lovin´ Spoonful and The Buffalo Springfield – 1963 to 1966. Peter Tork of the Monkees worked as a dishwasher at the club before becoming a famous musician.
1966 to 1974 – Jimi Hendrix – Janis Joplin – Neil Young – The Flying Burrito Brothers – Jimmy Reed – Seals and Crofts and Richie Havens all played there.
Ten Years After played here June 25th through the 29th 1968. The Golden Bear was really a roadhouse and the band stayed in cabins which, to be fair, were sub-standard housing to say the least – complete with bugs of all sorts and cock-roaches scattering when lights were turned on.
1974 to 1986 – Muddy Waters – Jerry Garcia – Patti Smith – Agent Orange – Arlo Guthrie – Maria Muldaur and Peter Gabriel played here. The last band to perform at the Golden Bear was Robin Trower.
The entire structure was demolished in 1986 and going with it, the memories of B.B. King,
The Doors, Bob Dylan and countless others who had the pleasure of playing there.
The Bands and Musicians:
Robin Trower – Chris Hillman – David Crosby – The Byrds – John Kay and Steppenwolf - The Paul Butterfield Blues Band – Country Joe and the Fish – Jimi Hendrix – Janis Joplin - The Flying Burrito Brothers – Jimmy Reed – Arlo Guthrie – Agent Orange – Patti Smith - Maria Muldaur – Muddy Waters – Peter Gabriel – Seals and Crofts – Richie Havens – Jerry Garcia – Hoyt Axton – The Lovin´ Spoonful – The Buffalo Springfield – Peter Tork – Phobe Snow – Shakti featuring Billy Cobham – George Duke – Stanley Clark (what a great fusion band that was) – Tower of Power – Taj Mahal – Jessie Colin Young – The Mamas and the Papas – The Manhatten Transfer – Ike and Tina Turner – The Steve Morse Band – The Dixie Dregs – Cecillio and Kapono – Seawind – Poco – Steve Gillette – Hedge and Donna – Doug Kershaw – John Hartford, Emmylou Harris and the Hot Band – David Lindley and El Rayo X – Tracy Nelson and Mother Earth – Spirit – Jimmy Witherspoon – Robben Ford – Chris Isaak – The Beau Brommels – Leon Redbone – Huey Lewis and the News – Charlie Musselwhite - Popa John Creach – The Sir Douglas Quintet – The Chili Peppers – Dire Straits - Elvin Bishop – Nicolette Larson – Gary Busey playing with Paul Butterfield – Rick Danko – The New Riders of the Purple Sage – Peter Tosh – Brian Auger – Allan Holdsworth – Jimmy Smith – Fishbone - Captain Beefheart – Al Stewart – Lee Ritinour – Stephen Bishop – Albert King – B.B. King - Strange Daze – Dan Hicks – Rick Derringer – Tommy Tutone – The Ramones – The Ventures – Tim Morgon – Jessie Winchester – The Spinners – Joe and Eddy – Dave Myers and the Surftones (House Band) – The Guess Who – The Strawberry Alarm Clock – Mark Turnbull – Charles Bukowski – The Average White Band – Kris Kristofferson – Chicago - Carly Simon – Ivan and Sylvia – England Dan and John Ford Coley – Flow and Eddie – Dave Mason – Ken Rhoads – Neil Diamond – Honk (Band) – Steve Goodman – Billy Boy Arnold - Joan Baez – Bob Dylan – Wet Willie – The Mitchell Trio – John Denver – Albert Collins - The Pointer Sisters – Van Halen – The Busboys – Jose Feliciano – Crosby, Stills and Nash - Jefferson Airplane – Gordon Lightfoot – Moby Grape – Junior Wells – Buddy Guy - Les Dudek….One (Local Band) – The United States Of America – Joe Byrd.
Comedians:
Steve Martian – Lenny Bruce – Howie Mandel – Bob Duback – Cheech and Chong - Pat Paulson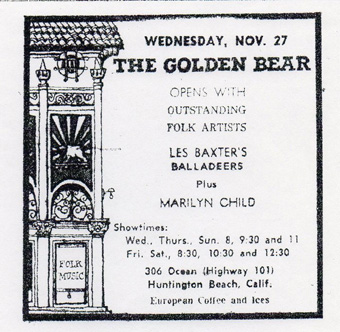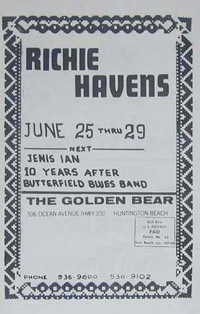 ---
Personal Memories:
"I loved the Golden Bear years ago, I saw some of the best groups there, the venue was small and the talent was huge".
"Great memories live on".
"My girlfriend and I snuck in one night and saw Canned Heat".
"Hunting Beach back in the 1960's and 1970's was filled with surfers and hippies".
"The Golden Bear was an institution of Hunting Beach. Small venues like that made you feel so invested in the performers and their music".
"I remember how everyone reacted to the loudness of the bands, it was a great time for music. For the musicians and audience. Now, there are just too many people, it was a more intimate thing back then".
"I used to work at the Golden Bear from 1969 to 1970 it was so much fun, I miss those days so much. Janis Joplin with Big Brother and the Holding Company. Steve Martin, so many cool people used to warm up there before playing the Los Angeles Forum".
"It was a great place, I heard "America" there … what a great night".
"Cecllio and Kapono, Seawind made me feel like I was back home in Hawaii".
"Steve Gillette, Hedge and Donna, Richie Havens, Poco the best venue ever".
"Randy Hansen, Dick Dale and Dire Straights are the shows I remember".
---
Update on the Golden Bear 2011:
There is a movement on to reinvent the past into the future. In a reincarnation / resurrection of the old / historic Golden Bear Club. A brand new building was to be built on the exact same spot where the old venue once stood in Hunting Beach, California. This was to be completed by early to mid 2011. It's now October 16, 2011 and this dream has not yet materialized.
Their have been some construction photos released of the area, but now there is apparently a large black cloud impeding its progress. Romantic Nostalgia has collided head on with our Modern Bureaucratic Reality, as is stated here in a current update about the situation: "Unfortunately, the city of Huntington Beach was not economically supportive of a new venue opening in their area, and the Golden Bear project is on hold until further notice".
Jon Reiser, one of the club developers explained in a short email: "The city passed several ordinances restricting new bars and clubs from opening in the downtown area. The project is on hold until it can go through the "Conditional Use" permit process successfully".
This after the announcements were made that they were already accepting resumes to fill the following positions: Bartenders, Servers, Hostess and Security Guards. The newly planned venue is designed to accommodate up to 600 people. Featuring live entertainment of all kinds.
The Telegraph, "From 1968 Disc Desk".
Ten Years After – Or How To Stay Alive Underground:
The Words "Ten Years After" were chalked in bold capital letters across the window of the recording studio's control room. Record producer Mike Vernon sat tensely on a stool and talked into a hand-mike, like a flight control officer bringing an aircraft in for a perfect landing. Indeed it sounded as difficult. "I think we need to have more echo from the guitar, instructed Mike Vernon. "Not again !" Pleaded a voice from the studio, writes Stylus.
An understandable reaction. For four young musicians, who call themselves "Ten Years After", were nearing their eighth hour in the basement studio. Ten Years After may mean nothing to the viewers of television's "Top of the Pops" and listeners to Tony Blackburn's breakfast show, but in other less publicised circles, they are big business. For Ten Years After are Britian's top underground groups, they are not consumed with making three minute hit tunes.
Taking a short break from the session, the group's drummer, Ric Lee explained:
"At first we planned to make three minute singles, tailored for the radio and television, but we found that our audience liked our longer material, and we were far happier playing it."
Ten Years After stuck to their go-it-alone musicial policy, in a business that was notoriously unsympathetic to groups who cock-a-snoot at the Top Ten. While most groups hope to make an L.P. after several hit singles, Ten Years After kicked their recording career with an album.
And within nine months of forming the group, they were flying to America for a two week promotional tour. This month they have had a new album, "Ten Years After – Undead" released and they leave again shortly for a two month tour of North America.
Outlets:
Underground music according to Ric Lee, was played by bands who did not necessarily follow the Tin-Pan-Alley blueprint for a hit record. Ten Years After's road to uncrowned stardom began, like so many other underground groups, at the National Jazz and Blues Festival last year (1967). But it was the American Trip and their first L.P. which really established Ten Years After. Said Ric: "In America there is a far bigger audience for underground music." There were more outlets. Certain radio stations played nothing but underground music. Disc Jockeys would play a group's entire album. Ten Years After themselves had issued only one single against two albums. "A record in the Top Twenty means a group becomes nationally known, and they get more money for appearances.
But it is not always the best thing that can happen to a group, said Ric Lee.


Record Mirror July 20, 1968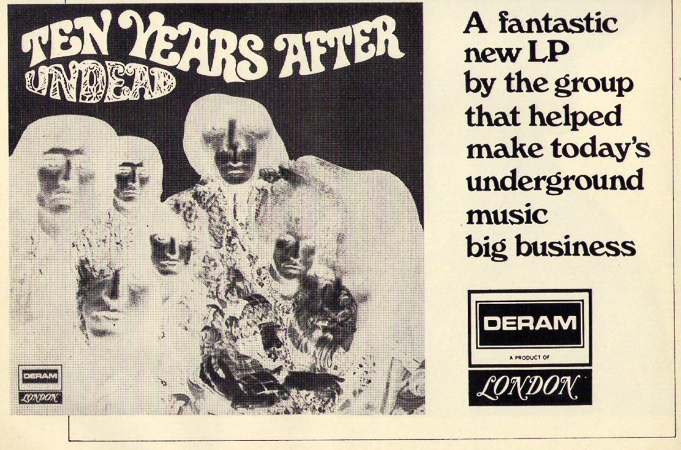 Cash Box - July 20, 1968
The following contribution is by GARY HOLDINGHAUSEN
to whom we respectfully thank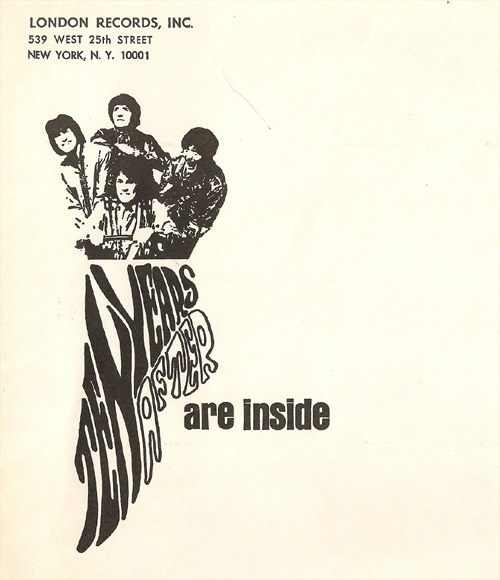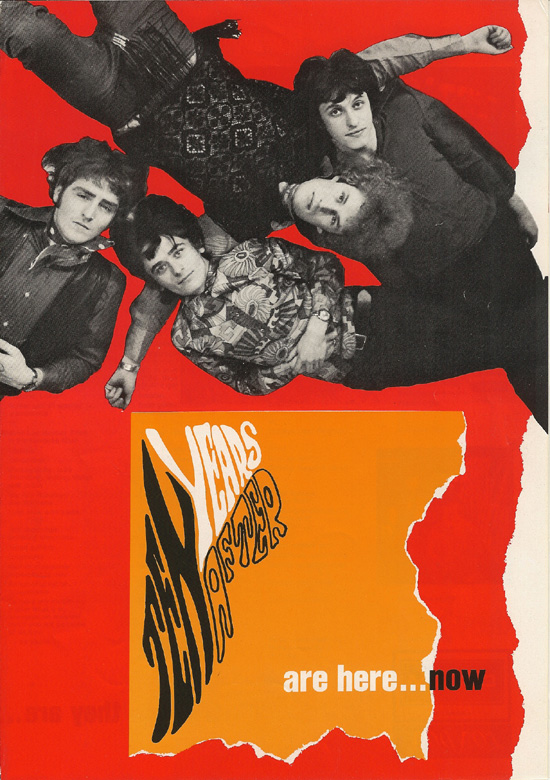 | | |
| --- | --- |
| click picture to read the PDF file | click picture to read the PDF file |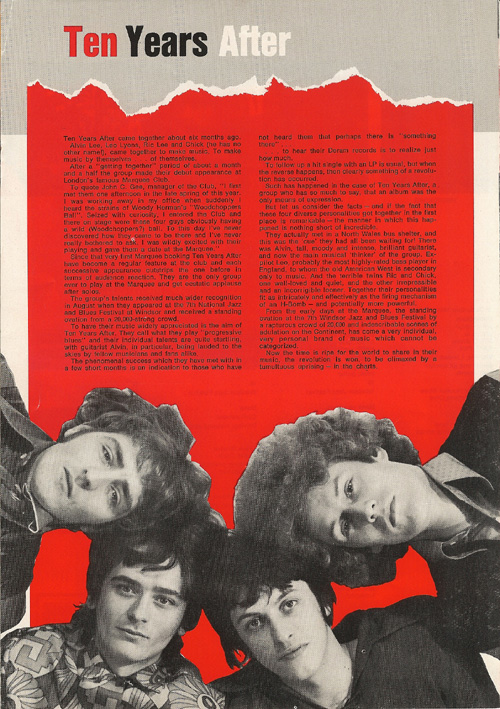 click picture to read the text
The English Band "Ten Years After" Turned Loose On America
From June 13 to August 7, 1968 - Journal Report by Drummer Ric Lee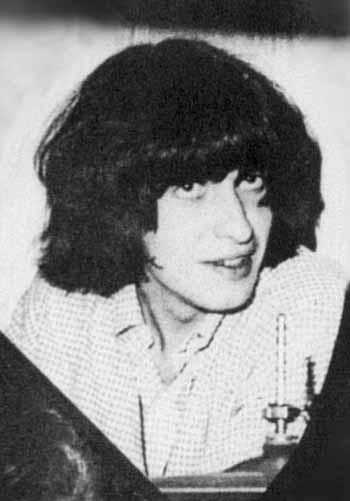 June 13, 1968
We arrived at Los Angeles airport after a two day journey across the Atlantic Ocean. I say two days because that was the time it had taken! The flight was scheduled to take between ten to twelve hours, but after stopping in Winnipeg, Canada to re-fuel, the starter motor on the number four engine would not work, so we had to stay there overnight while it was being repaired. We were met at the airport by London Records represenitive Gerry Hof, who had a Cadillac Limousine and taken us directly to the hotel.
June 14, 1968
We arrived at The Cheetah Club, located in Santa Monica California. The agency had agreed to supply the equipment needed, but hence, no drum kit and no leads, that are necessary for the Chick's organ to work. It was panic until it was time to go on stage, then suddenly, a drum kit appeared and a very grim looking one at that, and the organ worked as well. Thanks to our amazing Road Manager that "Andy". Anyway, in the words of the famous song, "Things Get Better Baby", as you'll see.
June 15th and 16th
We're still playing at The Cheetah Club.
June 17th through the 20th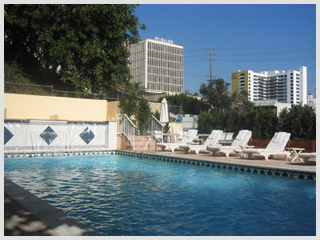 You'll find me lazing in the Summertime sun at pool-side at the hotel, and trying desperately to get tanned, in order to cause jealousy upon my return to dreary old England. (ha-ha).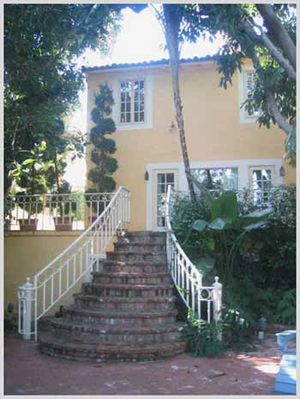 By the way, we stayed at the "Sunset Marquis" which is just off the famous Sunset Strip.
All members of the group are going off with various odd people, on short sight-seeing trips and some other activities.
Chick Churchill was booked by local Police for "Jay Walking". Although he pleaded ignorance of the law to the court, it was of no use, (as it also states the following: "Ignorance of the Law is no Excuse"). Ric Lee, I met Tiny Tim and was given a present, his brand new record album. He's a tremendous, sincere and honest character and you won't believe it when you see him in person this coming September.
June 21st and 22nd 1968
We set out at approximately 3:00 PM this afternoon, heading for Phoenix, Arizona, which is about 300 miles east from Los Angeles. We stopped on the way, at a place called Indio, this was at about 9:00 PM in the evening, and the current temperature was at 100 degrees. Logically, everybody bought ice-cold-beer…and it's not at all like the English variety mates! We arrived in Phoenix at about 12:00 midnight or a little later. On the way, our car was very nearly run off of the road by a load of rowdy / noisy cowboys – real ones – in another car.
June 22, 1968
We left Phoenix to go sight seeing at the famous Grand Canyon. "It's a bloody big hole in the ground that they've got there. Chris Wright, our faithful manager was running around with his movie camera, looking a lot like Walt Disney himself.
June 24, 1968
At approximately 6:00 AM, we arrived back in Los Angeles. That night we played at "The Whiskey – A – Go-Go". Very blasé audience there, not really a good scene. However, after our appearance there, the record shop across the street sold out of our "Undead" L.P. All weird hippy types were sitting on the pavement, outside of the "Whiskey", while getting quietly stoned, and becoming a tourist attraction for "Normies" the normal people who came passing by in their cars to take a look.
June 25th and 26th 1968
More lazing in the sun for me. There's a special trip in the works for Leo today. He's going to "Nudie's" which is a Clothiers shop that specializes in Western Clothes, holsters and jackets and accessories of all kinds. By the way: Nudie's is the name of the guy who owns the store.
June 27, 1968
Flew from Los Angeles to San Francisco. I soon learned that there was a sudden and unexpected drop in air temperature. It went from 90 degrees down to 54 degrees.
June 28, 1968 to the 30th
We opened at The Fillmore West along with "Canned Heat" on the same concert bill. They are a tremendous group and we all became firm friends right away. They are much better live on stage than on their L.P.'s – There was a tremendous reception for Ten Years After at the Fillmore, we played to a full house every night.
July 1, 1968 through the 4th
I spent the time seeing and meeting people in San Francisco and did radio interviews on "Underground" radio stations.
July 5, 1968 through the 7th
At the new Fillmore West, which was formally known as "The Carousel Ballroom" and taken over by Bill Graham and then made into the Fillmore Auditorium – was closed in part to building political pressures. We played with The Paul Butterfield Blues Band and with dear old Peter Green. There was a tremendous reception for everyone. On the opening night Bill Graham invited all of his old friends to come down and Jam together.
This included Electric Flag with Mike Bloomfield, which also included Buddy Miles on drums for Electric Flag – Elvin Bishop who is now ex - Paul Butterfield Blues Band and Big Brother and The Holding Company featuring Janis Joplin.
However, as the champagne was provided in the dressing rooms, everyone was too drunk to jam at all. Janis went on stage, got to the microphone and proceeded to collapse. A good time was had by all. I found The Paul Butterfield Band to be very, very good. There's also a big jazz influence in San Francisco.
Manager Chris Wright was taken to the hospital suffering with acute appendicitis.
July 8, 1968 through the 11th
Got back into Los Angeles, on the 10th, then we did a colour T.V. show called, "Groovy Show" we performed a track from our first L.P. – "I Want To Know".
July 12, 1968 through the 21st
We opened at "The Golden Bear" located at Huntington Beach California. On the first day we indulged in the sun, sand and surfing. On the second day, everyone was complaining of sunburn. The Golden Bear is a small club that holds a maximum of 200 people, but with very good audiences. All of the other placed that we played at, held from 1,000 to 2,000 people maximum.
Three girls arrived one day to do an interview for a "Teeny Bopper" magazine, and we somehow ended up……censored ! (use your imagination).
August 7, 1968
Returned home – We'll probably do it all again in September, when we make our second and more extensive tour of America.
My View Of America - 1968 - By Leo Lyons
America was I think, the best thing that could've happened to us as a band, and also as individual musicians. The musical feel of the States, and the change of environment has really instilled in us an added enthusiasm, new ideas, and made us a much tighter working unit. We've got our heads together so to speak.
As a band that relies on the audience in order to play at our best, as no doubt some of you will have noticed if you've seen us on a bad gig, it was great to find American audiences as good as our best British ones. One thing we did in America that we haven't done so much here in England is long jamming. Everyone gets up and has a blow with everyone else until it's difficult to tell who's entertaining who.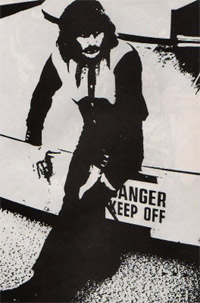 On one particular evening in New York City, there were about eight of us up on stage, included were Jimi Hendrix, along with Mitch Mitchell, with Larry Coryell, Janis Joplin, an unknown flute player, and two other guitarist I didn't recognize at all. We all ended up doing a two and a half hour set, that was really just one long number.
No one seemed to mind in the least if the show runs over time, as we did a gig at the Fillmore West in San Francisco with Peter Green and Paul Butterfield. We all ran over our allotted time slots, and the show that was suppose to end at 2:00 AM still had Paul Butterfield raving away at 4:45 AM in the morning. That's the Fillmore for you, I only wish that sort of thing would start catching on over here in England.
Everything being considered, it was a terrific trip, and the fact that our "Undead" album has made it into the American Music Charts, has just added icing to the cake!
My View of America – The First Tour 1968 For Ten Years After
By Chick Churchill
I think the first thing that struck me about the U.S.A. was, that the ideas I had formulated and my opinions about it before I arrived there, were completely wrong. That is to say, the people weren't ignorant, nor were they self-appointed intellectuals, which were the two images that most American's conveyed to me when I met them here in England. The people in the States can either be warm and friendly, or very hostile, depending on their age, upbringing or whether they know if you're English or not. In fact, an Englishman's biggest asset in the States, is being English, this is not a general feature of the U.S.A. but is concerned mostly with the younger generation.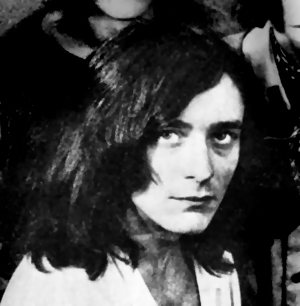 While in Phoenix, Arizona, we seemed to accumulate three, short-haired, Stetson – Cowboy's who seemed to take offence that we had long hair and let us know it by yelling abuse and oaths from their adjacent car. Apart from that, we had very little trouble and spent most of our time pulling funny faces at pornographic looking women, taking photos, who I'm sure must have thought we were extras for a film about vagrancy, by the looks on their faces.
On the music side, the U.S.A. has boundless opportunities because the American youth gets itself so involved with what's happening on stage. After awhile you find yourself getting much more involved with what you're playing, and after eight weeks, I found myself returning to England with many more contemporary views on my own playing and I am now trying to get my thoughts from my head to my fingers, instead of vice-versa. I other words, I'm now not following certain patterns which my fingers have been wandering over since the beginning of Chick Churchill being an organist and not a bank clerk.
All in all, America has been a great inspiration to all of us, and we all look forward to the musical developments which could happen in the future. Chick is using a Hammond M.2. at the present time, but hopes to eventually replace it with a Hammond C.
August 1, 1968 – Ten Years After at Queens College Colden Auditorium – Flushing, New York
From Cousin Steve
I was still in high school when some of my friends from the Queens neighbourhood, that I grew up in had scored tickets to see Ten Years After at Queens College's Colden Auditorium.
At the time, in the USA, Ten Years After had two LP's out, the big one being Undead, the live at Klooks Kleek album that first gave us "I'm Going Home," and later immortalized at Woodstock when Alvin said, "I'm Going Home by Helicopter". Slack jawed by Alvin Lee's guitar work, I thought I'd never pick up a guitar again. I remember saying that when an older guy from the neighbourhood drove us home that night. The name Ten Years After, back in the early years seemed to refer to the bands ability to handle old rock and roll songs like "Blue Suede Shoes" and other songs that rocked the charts ten years earlier. Later on in their career, the band covered Little Richard's hard to find song, "Going Back To Birmingham".
The bands first LP was the self titled Ten Years After, seemed to have been modelled after the Elektra LP called, "What's Shaking" picking many of the same songs like "I Can't Keep From Crying" – "Spoonful" and "I Want To Know". The LP also included the blues song, "Help Me" and I recall Alvin smoking his cigarette during the introduction, and then placing it in the head of the guitar, so that he could sing. I saw the band many times, even after they started to become more famous, but the Undead LP is still a scorcher. The circle of friends from the block would play this along with LP's of the day like, "Blood Sweat and Tears" "The Who" and the first Crosby, Stills and Nash" album. At the Fillmore East, when Alvin Lee screamed, "I want to ball you"…. One of the kids from our block, S.K. fell off his chair.
Also at this concert was Dan Axelrod – he reports the concert took place on August 1, 1968
TYA back in the UK
August 7, 1968 – Toby Blues Club – Tolworth, Surrey, England
August 9th through the 11th 1968 – Kempton Park – Sunbury Middlesex, England
August 12, 1968 – Cooks Ferry Inn – London, England
August 16, 1968 – The Marquee Club, London England
August 17, 1968 – Klooks Kleek – West Hempstead – London, England
August 23, 1968 – The "California Ballroom", Dunstable, Scotland
August 24, 1968 – A Free Concert In "Hyde Park" – London; England
August 27, 1968 – Klooks Kleek – West Hempstead - London, England
August 30, 1968 – The Marquee Club – London, England
August 31, 1968 – At The "Middle Earth Club" – At The "Roundhouse" – London, England
| | |
| --- | --- |
| 2nd August, 1968 | 3rd August, 1968 |
7th August, 1968 - "Just back from their very successful American Tour"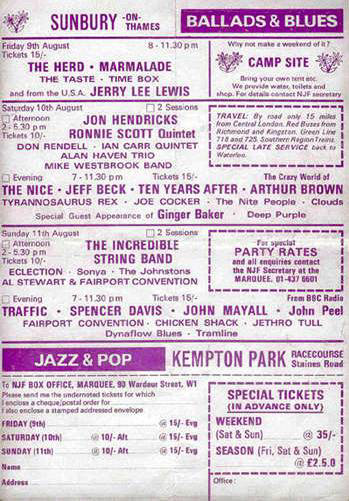 9th - 10th - 11th August 1968
August 10, 1968
If you haven't heard Ten Years After on the radio, don't be surprised, said Alvin Lee.
The trouble is that the B.B.C. won't play our material, because the numbers are too long. Forget about the B.B.C. go and buy their new LP Issued this Friday called Ten Years After "Undead" – A Live Album.
After Ten Years After's recent success at the Fillmore East in New York. It was interesting to see if they could emulate their success at Sunbury. Before their spot, guitarist Alvin Lee confided in me: "I'm a bit worried about tonight. Audiences in America, are used to groups like us playing one song for three quarters of an hour or more. But I don't know if they are ready for it tonight !" Alvin need not have worried. Ten Years After got a tremendous ovation at the end of their one number. Yes, one number folks! Called "Spider In My Web" it started off as a slow, funky, blues and picked up tempo to a medium groove.
Then came a series of startilingly inventive solos from each of the boys and each unaccompanied. Chick Churchill played a great solo on organ. Leo Lyons showed us what it was all about on bass. Drummer Ric Lee played an incredible solo, using a mike as a drum stick which gave a great variety of sounds. Alvin lee's guitar solo was a beautiful mixture of blues, Spanish style, and sound effects. After each solo, it went back to that rockin' rhythm.
The audience really responded when the group went into their final part – a storming boogie tempo which grabbed everyone.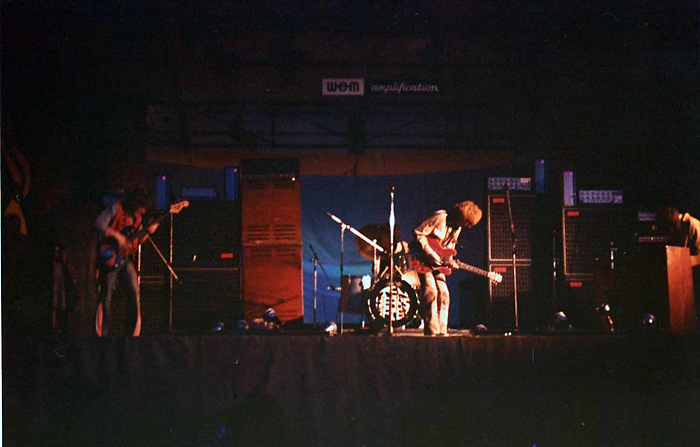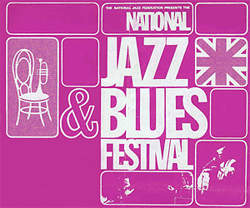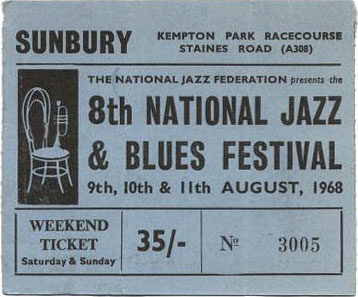 Sunbury Festival 1968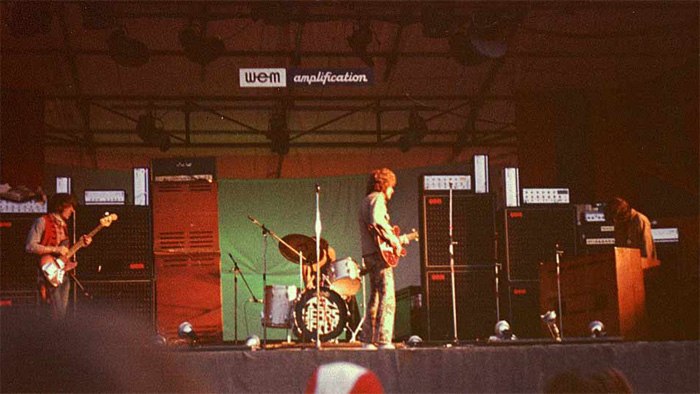 Back In Those Early Days - It Was Cooperation Over Competition:
"When The WHO came up with a 1000W sound system, The Pink Floyd wanted a 2000W system. It went a bit mad". "For The Rolling Stones In The Hyde Park Concert, in the summer of 1969, Watkins had to borrow back some of the equipment that he had sold to other groups". "I didn't have all that many columns, but I wanted to put up a 1500W system for that event. I borrowed some from T-Rex. They all chipped in, that's what we used to do. It was quite a family, if anyone had a big gig, they would all pool their gear".
12th August 1968 - The Cook's Ferry Inn – Jazz Club
Edmonton – Near London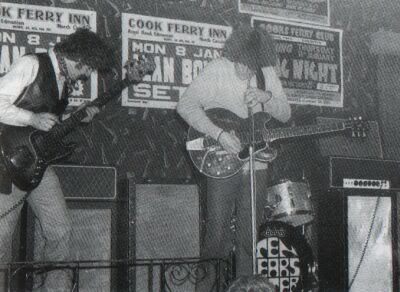 The jazz club at Cook's Ferry Inn was started by Harry Randall who is the brother of jazzman Freddy Randall. The music was played in a large hall attached to the pub. b.
Ten Years After played there on August 12, 1968< – It was not just jazz that was played at Cook's Ferry, many other famous rock names have appeared there too. Bands such as The Graham Bond Organisation – The Who – The Animals – Alexis Korner – Spencer Davis and many more played there.
Graham Bond was there almost every week and he played Jazz and Rhythm and Blues on a Hammond B-3 organ, his bass player was Jack Bruce and his drummer was Ginger Baker, both of whom went on to form "The Cream" with Eric Clapton. n.
Back in those days I used to smoke. The only place on a bus to smoke was on top and a couple of times I rode sitting next to Ginger Baker and we talked about music, but don't ask me why he travelled by bus, I don't know.
Back to Cook's Ferry Inn, it was normally quite "roomy" except when The Animals played there and we were stacked like sardines. As I mentioned before, Ginger Baker and Jack Bruce used to play with Graham Bond and I saw them many times at this venue. I used to get there fairly early and many a time I saw all three lugging a Hammond organ from the back of their van. During one of the Graham Bond sessions, Eric Clapton jammed with them, so that would be where the first "Cream" number was ever played.
Story by George Welsh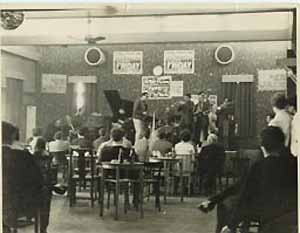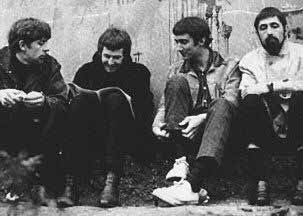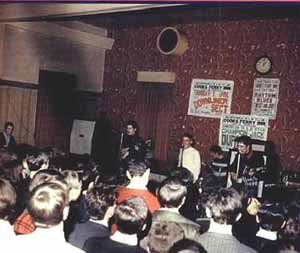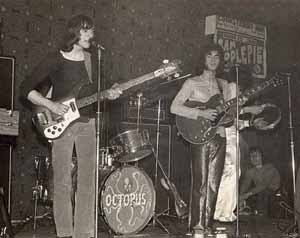 ---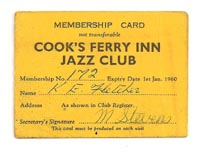 Cooks Ferry Inn – Angel Road – Upper Edmonton N18
In the 1960's and 1970's this venue hosted many world famous rock music acts before they were famous. The venue was demolished to make way for the enlarged North Circular Road, and now this hugely important building, is just going to disappear from the public knowledge and be totally forgotten as if it never existed at all.
The Yardbirds – John Mayall's Bluesbreakers - Nic Pickett and also The Savoy Brown Blues Band, this group can rightly take credit for cutting the farewell anthem of the 1960's British Blues Boom.
This in the form of a modern blues aptly titled "Train To Nowhere". Historically, as well as musically, this song remains a sad reminder that by the time of its 1969 release as a single, most original blues were no longer commercially viable in Britain, as more and more blues clubs closed their doors forever. Within four years of Savoy Brown's formation, however, they had become a major league live act in America, while on their home turf in Britain, the band couldn't get arrested or break out of the club scene. Savoy Brown backed, Champion Jack Dupree and John Lee Hooker. Record Mirror Magazine praised Savoy Brown as playing "a style of Chicago Blues which is both commercial and authentic, and observed that Youlden was often rated in the same breath as Long John Baldry and Rod Stewart".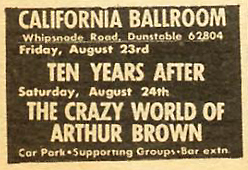 California Ballroom - Friday, August 23rd

(Melody Maker, 24 August 1968)
August 24, 1968 - MELODY MAKER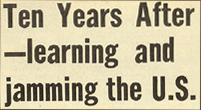 Ten Years After – Learning and Jamming the U.S.
By Tony Wilson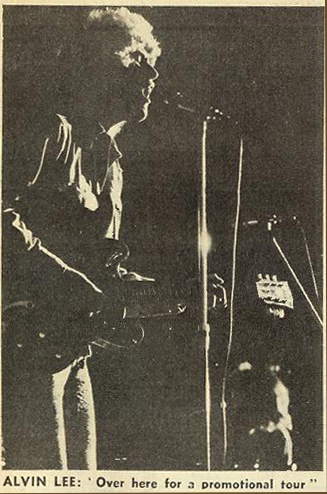 "The best thing about the trip was that from all points of view, we learnt so much," said a sun tanned Leo Lyons, bass guitarist with Ten Years After. The group has just returned from a highly successful American tour and Leo, later joined by Alvin Lee, guitarist and singer, dropped into the Melody Maker to chat about their visit. "I don't know whether it was the audiences or the change of environment," he continued. "The audiences are very very musically aware, particularly in San Francisco. They are really into what we are doing.
"But jamming is the big thing over there. Sometimes we'd do only one number in a set. From a bass-playing point of view, I've got a new concept in playing. I got in a rut and began to anticipate what I was going to do. It came out sounding corny then one day I woke up and got a lot of new ideas. Possibly, this has come from jamming. But I think we all feel as if we have improved a tremendous amount." The jamming scene, where musicians just get up and sit in with who ever is playing seems to have made a big impression on both Leo and Alvin. "What we'd like to do, is to incorporate jamming into what we do over here. (England). It's really a big thing in America."
Smashed:
Among the people Leo and Alvin found themselves playing with, were Jimi Hendrix and Larry Coryell, Janis Joplin of Big Brother and the Holding Company and Graham Bond.
"We jammed with Graham at the Scene club in New York," said Alvin. "Everyone was smashed at the party after the show, Janis Joplin put four bottles of "Southern Comfort" on the stage and everyone just played. Janice is like a female Mick Jagger. People throw bottles of "Southern Comfort" at her, like they throw jelly-babies at other people." Alvin said that now he feels musical freer and that his opinion of the music scene in Britain had changed, and that now he had lost the feeling of playing against people, but was now playing with them. The jamming scene certainly seems to have opened up new paths for Ten Years After, and Alvin commented, "The thing with jamming is that you're not expected to be brilliant. It's just experimenting."
Touring:
Alvin recalled the night that Larry Coryell and Jimi Hendrix sat in with the group, "It was just one number, in the end they had to turn the power off to stop us," he said. "In the small clubs over there it's all jam things. You learn a hell of a lot more, and we want to do that over here." At the end of September, Ten Years After return to the States for another couple of months touring. Said Leo with a touch of dry humour, "We're only over here for a promotional tour."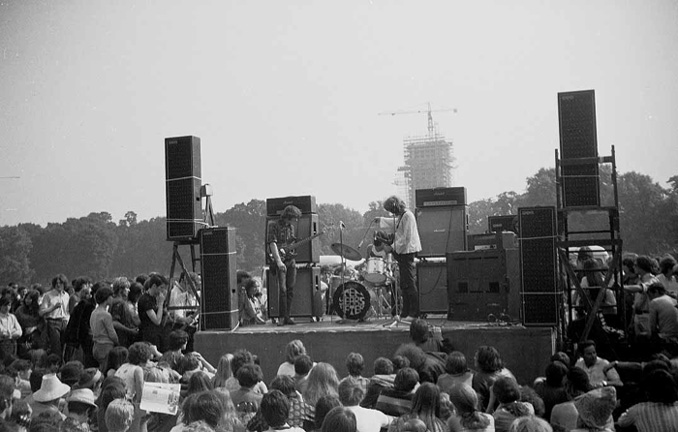 Free Concert at Hyde Park, London - August 24, 1968
(Photos by Alan Grange)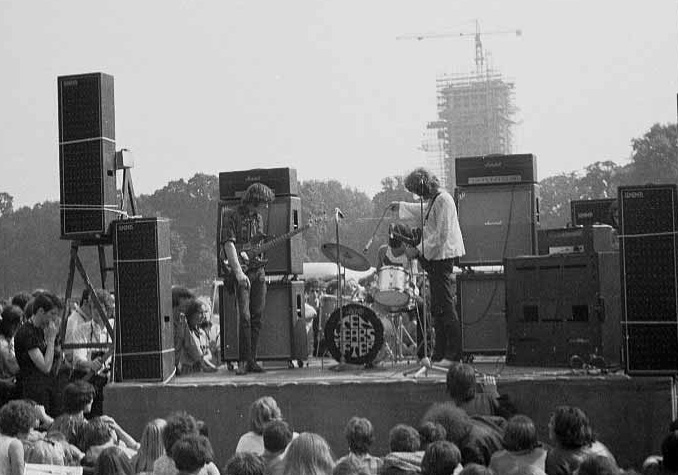 Alvin Lee dangling the microphone for Ric Lee's drum solo as Leo Lyons looks on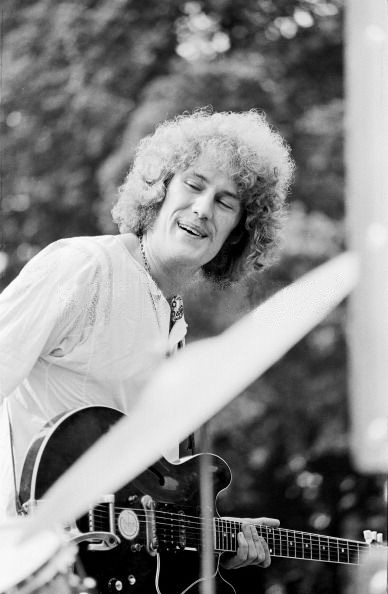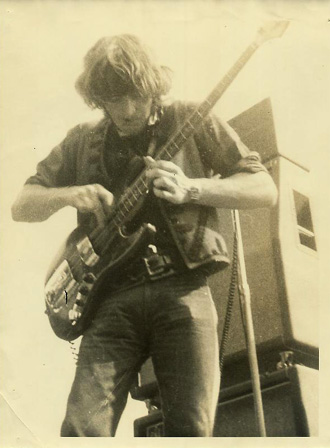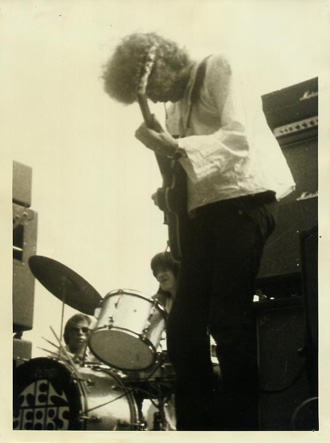 We really like these original photos from this concert, when they arrived there was no hint of a date or place where they were taken from, we matched the clothes and that gave us a time frame and which concert. We continue to put the pieces together.
Ten Years After Play Hyde Park – Free Concerts - Dear Diary – Fans Remember – August 24, 1968
"A very beautiful afternoon, started by Ten Years After, with some really mind-bending instrumental work, original lead guitar playing by Alvin Lee. In one number he ran through excerpts from half a dozen blues classics, with a different voice for every one". Pete Collins
"I saw Ten Years After, the audience was relaxed, music great and the afternoon was generally imbued with 1967's love and peace, really fantastic and enjoyable. I'm so glad things like this can happen". Chris Marshall
"My recollection, is that Ten Years After came on and did a John Mayall number (?) Which lasted for their whole set, with the obligatory solos". Allan Warfield
"I remember attending this concert, clutching my brand new copy of "Undead" by Ten Years After, which had just been released. As it was one of the earlier concerts that was held in the cockpit, the view was pretty good from wherever you were seated and it was a sunny day as well, what more could you ask. Ten Years After played first as they had to get away early to reach another gig on time. I don't remember what they played, only that it was good".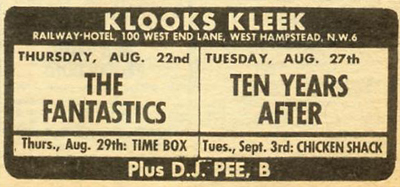 Melody Maker, 24 August 1968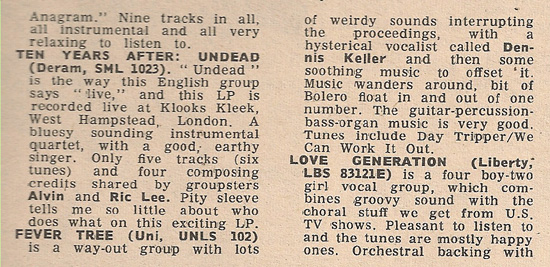 New Musical Express August 31, 1968
September 3rd through the 12th 1968 – Ten Years After are at the West Hempstead Studios in London, England. The band is laying down tracks for their upcoming album entitled "Stonedhenge"
September 13, 1968 – "Bluesville 68" – Manor House – London, England
September 14, 1968 - Tofts Folkestone, England
September 15, 1968 – Black Prince Hotel – Bexley, England
September 18, 1968 – Toby Jug – Tolworth, England
September 19, 1968 – Le Metro Birmingham, England
September 21, 1968 – The Alex Discotheque Salisbury, England
September 22, 1968 – The Boat Club – Nottingham, England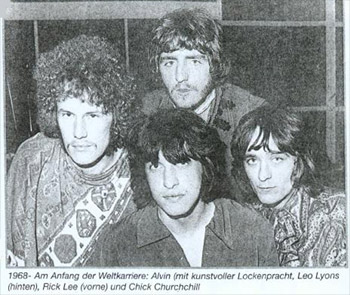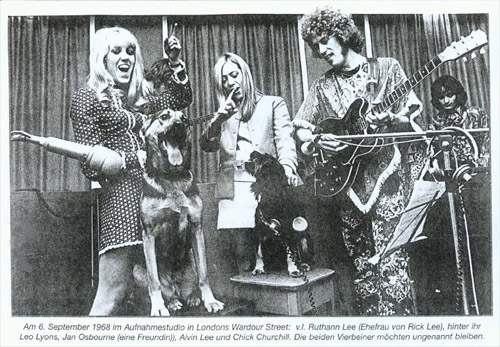 6th September 1968 - in the recording studio on Wardour Street, London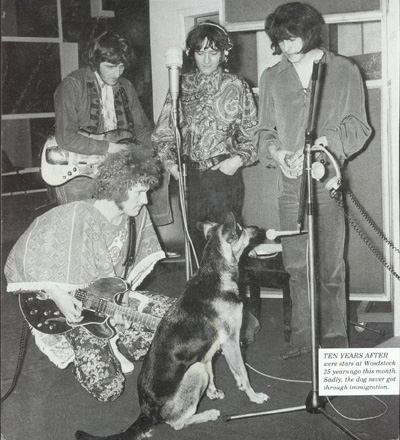 Ric Lee's dog "Nicky" has been getting her share of publicity attention lately, due to her singing. If the band are able to record her in action, she just may end up on their next record album. She's in the recording studio right now laying down some tracks. This event would make Nicky the very first canine blues singer in recording history.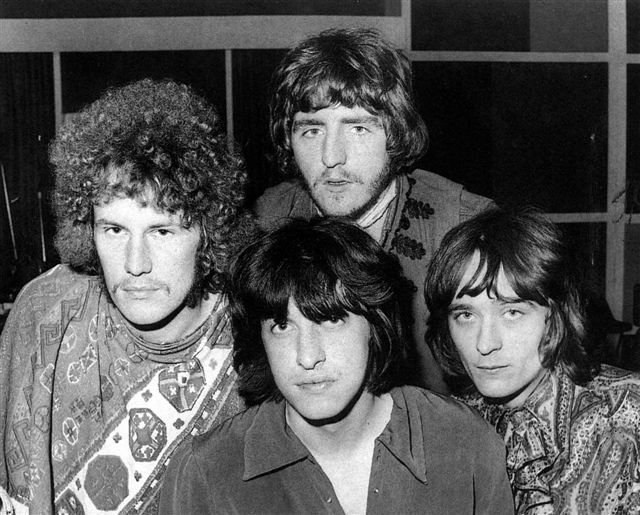 Many Thanks to Claudia Staehr (Herb Staehr) for this beautiful photo



LEO LYONS INTERVIEW:

From The Record Mirror - From the week ending September 14, 1968

(Upon Ten Years After's return from their very first American tour)
Many people will now be familiar with the combination of Leo Lyons, Alvin Lee, Ric Lee (No Relation) and Chick Churchill, the four members of Ten Years After who have recently returned from a highly successful American tour. Fewer people, however, are fully aware of their activities. I spoke to Leo Lyons, bass player with the group:
"Since we've returned home it's been tremendous", he enthused. "Every gig has been a full house. We now find people in England will accept the lengthy numbers we like to play. We start our act by doing a set number, you know, and take it right from there as the audience responds. The better the audience, the better we play."
Leo also seemed very impressed with the reception the group received from American audiences, and he continued: "Ten Years After really have a small minority appeal, but the small minority in America is vast! Even the large places we played there had a very good atmosphere because the audience were like a very large club audience.
"Commerciality doesn't necessarily matter. One of the barriers here is that a lot of young people like Dave Dee, for example, and just will not accept any other music. In America you get people who like blues, who like jazz, who like progressive rock. You even get a blues group playing soul – as long as it's good music the audience like it."
The group really enjoyed a massive jam session at the Scene Club in New York, when such artists as Larry Coryell, Janis Joplin and Graham Bond joined them on stage. In fact this so impressed them, that on their return to Hampstead's Klooks Kleek club, Ten Years After invited many other musicians to join them during their second set. Among those who obliged were Roger Chapman of Family, Paul Williams, Alan Price and John Mayall.
In America, Leo informed me, Ten Years After are considered to be "a progressive rock" group. I was interested to find out how he felt about being categorised here as an "underground" group, and if he thought this trend might die as flower-power did. He replied:
"I suppose that is the label of our stuff over here. I don't think it's the same type of label as flower-power though, and I don't think it will die. I wouldn't like to be in a pop group where the main thing was not the music. I'm quite happy to have just that." To accentuate this point Leo continued: "We don't get the girls screaming and I wouldn't like to. When the Beatles used to do a concert it wouldn't really have mattered if their amplifiers were switched off!
I like people to hear what we're playing – I wouldn't like to be a pop star in that respect."
Before Ten Years After return to America in September they will be disappearing into the recording studios to cut some tracks for a new LP and follow-up single to "Portable People".
(Note: The album mentioned here will be "Stonedhenge").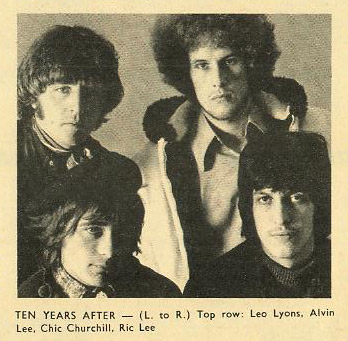 All the numbers will be originals penned by group member Alvin Lee. They hope to record at least twelve tracks, one of which will then be selected for the new single.
I asked Leo how he regarded the singles market, considering that the group are far more noted for their LP's "Undead" and "Ten Years After" than their single: "Singles give you a lot of scope to get across to more people, but it's just something that sells commercially. We won't actually try to make a single, we don't really know what is a commercial single. It is looking up here, but generally they want two and a half minute recordings, which wouldn't be sufficient for us. For this reason we like to make LP's.
The fact that Ten Years After like to play very lengthy numbers, sometimes lasting at least thirty minutes, also affects their attitude to television appearances. "We couldn't represent what we want to do in one short appearance," said Leo. "If they let us go on and do what we want to do it would be fine. It would be nice to do, say, a half-hour show like they have on BBC2." The group have, however, made television appearances in Sweden, Denmark and France, and feel that in the longer time allotted to them they can achieve what they are aiming for.
Said Leo: "After guitar, I took up bass and learnt more by listening to records and reading various books. I listened to a lot of jazz as I think it's the most technical and gives the most scope.
I particularly like Scott LaFaro, Richard Davis and Charles Mingus." Leo Lyons and Alvin Lee also gained their knowledge on guitar by playing at sessions for various bands for about nine years prior to the formation of Ten Years After. (For those who are now in the process of quick mental calculation , the group's ages range from 22-24 years!)
"I imagine record production would be interesting, though playing is the main thing. I wouldn't really like to make films, it would be just a giggle. All we want to do is play."
Leo does have another hobby though, which he took full advantage of while in America. "I like horse riding," he told me. "Any chance I got, I used to rent a horse for the day. Get away from civilisation and be very, very relaxed. Sometimes I'd like to have been born 150 years ago. I sometimes fancy being a hermit."
There is little chance of this happening for a while, for Ten Years After have an even more extensive tour on their hands when they return to America. They are also to make their fourth visit to Scandinavia in January (Note: This would've taken place in 1969).
As Leo says: "Things are pretty rosy for us now, but maybe a couple of years ago I could have made money doing something else. I would have been satisfied to work in a pit orchestra," he continued, "even though no one sees you. I just wouldn't like to play anything that didn't make me feel emotional. We play how we feel emotionally and physically."
Interview with Leo Lyons written by,
Valerie Mabbs for,
Record Mirror Newspaper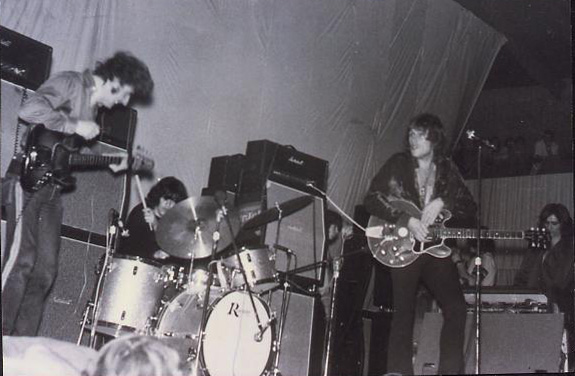 Bass Notes

By Leo Lyons 1968

I've been asked to recommend some records which I have been influenced by and that form the basis of my roots as a musician.

Ten Years After have been described by one person as a Blues Based, Jazz Orientated, West Coast-ish Rock Group, playing Free Form Symphony Music, and I only heard half of the sentence.

It's true I do have a wide taste in music, necessarily, inside and outside of what we play, and music doesn't have to be clever to provide me with enjoyment. However, Jazz Bass Playing provides a great scope for inventiveness and it's from listening to Jazz that I have formulated most of my playing ideas.

I listened to records by bassists like Ray Brown, Charles Mingus, Percy Heath, Red Mitchell and the father of them all Jimmy Blanton. As these are comparatively well known artists I will pass them over with just a mention.

A bassist most people will not have heard of and one of my greatest influences is Rocco Scott La Faro. "Scotty" lived a very short life, he was killed in a motor car accident back in 1963 at the young age of 25. He made ten record albums as far as I know, nine of which are in my personal collection.

His style was something completely different, although he did admit in his early years to having been influenced by Charles Mingus. Jazz critics liken his playing to that of Django Rheinhardt which is an incredible feat on Double Bass.

His speed and intonation are nothing short of a miracle, and in his solos his phrasing is akin to that of a good tenor player. He never however lets his technique run wild, and I consider him to be one of the most tasteful players I've ever heard. I could write for hours about "Scotty's" playing, but I feel it would be better to listen for yourself, and form your own opinions.

"Scotty" was a strongly featured solo man, and can be heard playing at his best with The Bill Evans Trio, with whom he did most of his recorded work.

Albums with Bill Evans include:

Portrait of Jazz (on Riverside Records)
Waltz For Debby (on Riverside Records)
Bill Evens at the Village Vanguard (which was Scotty's last recording)

Other albums featuring Scotty are as follows:

The Arrival of Victor Fieldman (which is a must have for every collector)
Hampton Hawes For Real
Jazz Abstractions
Free Jazz, by the Ornette Coleman Double Quartet
Ornette

A few of the other bass players that I recommend listening to are:

Eddie Gomez, Charlie Hayden, and the man who is said to have taken over where Scotty left off is Richard Davies. He can be heard on the record album called "Thad Jones-Mel Lewis Solid State".
The Boat Club, Nottingham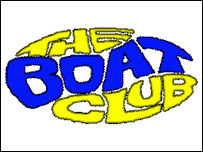 Originally it became a live music venue in 1962. It has a capacity of 250 people.
Downstairs, you'll find room to chill-out with the Heavenly Jukebox.
Name Dropping:
Sits quietly by the banks of the River Trent and is overwhelmed by the dwarfing city ground in its shadow, The Boat Club remains virtually unknown to many. Ten Years After played there on September 22, 1968 and others who have played there are Rod Stewart, Elton John and The Sex Pistols to name but a few. Continue by naming Led Zeppelin and Black Sabbath have both graced these hallowed walls and we have just upped the anti by half more.
This place sounds like it should be home to the green polo and golf sweater set, as a country pub for the quiet set of respectable elders. Showing fox hunting photos is not what this venue is about at all. The Boat Club in name is an oxy- moron – oddity in itself. It's really an illustrious array of rock and roll luminaries running free.
The Boat Club Layout:
The Boat Club is divided into two main parts. The function room with the main stage being at the front, and a large lounge area with its seating around the walls. Its design evokes memories of school discos, with the main dance floor in one area and then the surrounds where the dateless and the broken hearted go to sink into their own personal misery. But it's really not as depressing as all that – it just sounds like Heartbreak Hotel is all.
The Rooms:
The two rooms work in harmony and the main bar runs adjacent to both. One offers calm conversation and sit-down drunks and the other the other offers more atmosphere and life. The lounge area is decorated with displays of The Boat Club's achievements along with framed photographs of previous and current personal provide a sense of belonging and homeliness to the venue. Tables, Stools and in – wall seats are dotted around the spacious interior, helping the lounge to stand alone as a pub unto itself.
The Stage:
The centre-piece of this venue and the main reason it has been such a success, is its own performance hall. Wooden floor, boarding underneath and an elevated main stage at the front provides the key features to a cosy but not under sized room. The acoustics here, although obviously under the direction of volume control, dissipate through the entire venue, so that the band playing on the main stage are a pleasant background noise to the beer drinkers in the bar, at the back. But the main focus of attention to those main function room.
The Nottingham Boat Club has everything, from glamour to glitz and atmosphere that has made it famous for the last 40 years.
Ten Years After at the "Wood Green Jazz Club London"
September 24, 1968 – Members of the Promoters Association. The British Jazz Society and Associate Members of Haringey Borough Council Arts and Civic – The Nice Club – For Nice People. The Fishmongers Arms and Bourne Hall. September 24, 1968. Ten Years After played there in the early part of 1968, as with the Marquee Club, Jazz was fading out and Rhythm and Blues were coming in. The Graham Bond Organisation with Jack Bruce, Eric Clapton and Ginger Backer – Jethro Tull – Fairport Convention all played there among others
---
The Wood Green Jazz Club was a fantastic place and memories I will always treasure.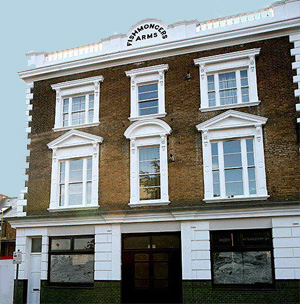 It was located with Fishmongers Arms and Bourne Hall at 287 High Road, Wood Green, London N228HU. Today Bourne Hall is a block of flats.
It was different in those days, the London club scene was more intimate. I realize now, just how fortunate we were at the time, that's just the way it was. Jazz was fading out, and the bands weren't pulling in the crowds that they once did.
Tuesdays attendances were embarrassing low, sometimes in the single figures when they started playing. If you were at the front for the opening numbers, it felt like they were performing just for you. Of course this could not last and jazz was phased out in favour of the Rhythm and Blues bands like "The Mike Cotton Sound". I can also recall seeing "The Graham Bond Organisation" with Jack Bruce and Ginger Baker, (later forming "Cream" with Eric Clapton) but this was really not my thing, too loud, and I prefer my blues acoustic and I drifted away from the club. I don't know when the Jazz-Club ceased to function, but by 1968 the Fishmongers Arms and the Bourne Hall was the venue that presented the likes of Jethro Tull and Fairport Convention with Richard Thomson and Sandy Denny, this is one that I would have liked to have seen perform live, but I moved away from London by then.
Other bands who played there were: Pink Floyd November 8, 1968 – Led Zeppelin - December 20, 1968 – Juicy Lucy – Trader Horne 17th – Freddy King – Peter Green's Fleetwood Mac Blues Band.
The band "Stranger Than Yesterday" supported The Pink Floyd at The Fish Monger's in Wood Green. They also supported "The Pretty Things" at Rush Green Technical College.
Thanks to Ian Maund - enjoy his great website:
September 27th and 28th 1968 – At The Fillmore East, In New York City, New York
September 30th through October 3rd, 1968 – At Steve Paul's Scene Club New York City
October 4th through the 6th 1968 – At The Grande Ballroom Detroit, Michigan – Also on the same concert bill are: The Rationals and Orange Fuzz.
November 7, 1968 – At Freeborn Hall – The University Davis, California – Ten Years After open the show for "Harpers Bizarre" (If you can believe that!!!) (Feeling Groovy – was Harper's big hit of the day).
November 8th and 9th 1968 – "The Bank" – Torrance California
November 14th through the 17th 1968 – At The Fillmore West – San Francisco, California. Also on the same concert bill are: Country Weather and Sun Ra.
November 22nd and 23rd 1968 – At The "Mill" in Sacramento, California
November 29th and 30th 1968 – At "The Shrine Auditorium" Los Angels, California – On the same concert bill are: The Jeff Beck, The Moody Blues and Mint Tattoo.
December 12, 1968 – At The Fillmore East in New York City, New York
1968 - Ten Years After Tour – Leo Lyons Speaks Out
September 27 and 28, 1968
"We arrived in New York City four hours before we were due on stage and with everyone feeling like death, we were worried about our opening at the Fillmore East. When we arrived at the theatre, we were somewhat encouraged by the terrific crowd of people waiting to get in, there was a capacity crowd of 2,500 !!!
Procol Harem were on first and we had the next spot, second billing to Country Joe and the Fish. Even though we didn't feel on top form, the audience was amazing, after we finished they went mad, and I'm told, were shouting for more, for 22 minutes. It was really a tremendous scene. Anyway, Country Joe went on a half hour later than expected, so the show over-ran, and by the time the second house (performance) started, people had been queuing (waiting in line) outside for two hours. The whole thing at the Fillmore East is just too incredible for words, and the audiences are ridiculous" (great).
Monday, we did a free concert in Central Park with Country Joe, Buddy Guy and Jefferson Airplane. About 20,000 people went along (came out) and it was filmed for the news that night. Monday night we opened at (Steve Paul's) "The Scene Club" for four days. This has been great, as we've been doing our own thing (music-set) for the first spot and then jamming for the last one with a variety of guys. During the day we've been going round the radio stations doing interviews and the airplay that we've been getting is tremendous.
All in all, everything so far is really incredible, and we're all knocked out, and I think none of us can really believe it's all really happening".
Note: Ten Years After played at Steve Paul's Scene Club on August 4 – 6. They also played there on September 30th – October 3, 1968. A bootleg cassette tape exist of the August 4th concert. Songs Include: Crossroad Blues – I May Be Wrong, But I Won't Be Wrong Always, Spider In My Web – Shantung Cabbage – Help Me Baby.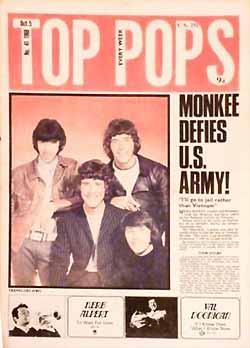 Top Of The Pops - 5 October 1968
Ten Years After... "Undead" and Well, and touring the States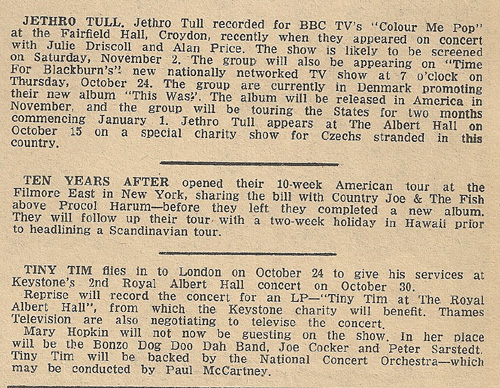 Record Mirror - 12 October, 1968

12 October 1968

12 October, 1968
Album Review of "UNDEAD" inside the magazine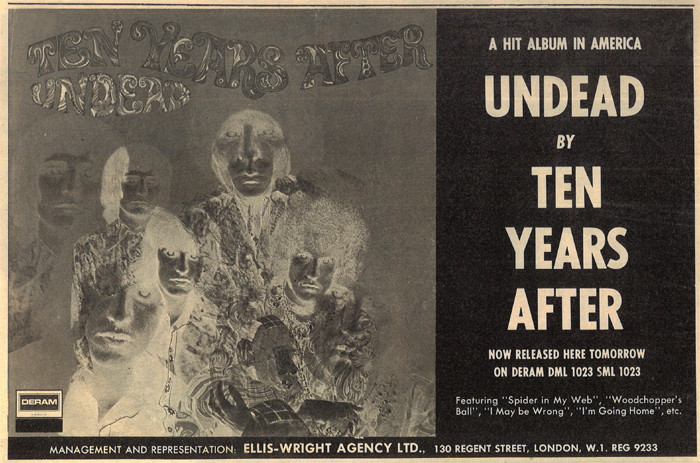 Ten Years After's Second Album
- Recorded Live but called "UNDEAD" Comes To Life!
"After the first album came out, we got the letter from Bill Graham saying he would be glad to book us if we would like to come over. So, we put together the American tour and we didn't have time to do a studio album, so we did the live album."
Leo Lyons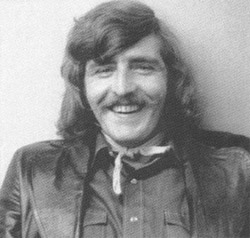 Rolling Stone Magazine -
October 12, 1968
Ten Years After "UNDEAD"
"…A very fine jam band, recorded live doing its thing…Ten Years After just gets in there and
swings…"
Another Review:
"Undead" by Ten Years After, was recorded "Live" in a small club in 1968, this set was Ten Years After's commercial break-through album. There's no estimating how many aspiring guitar heroes heard it and immediately wanted to kill themselves.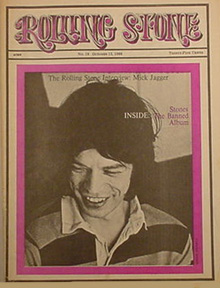 Leader Alvin Lee's fleet-fingered-fret work, although no big deal by jazz standards, sounded pretty revolutionary in a rock context, and started a school of guitar playing in which speed matters above all other musical considerations which continues to this day.
Undead is a good unpretentious set of mostly up-tempo blues-jams (the most famous being Ten Years After's signature "Goin' Home," immortalized in the Woodstock movie).
However, there's no mistaking the period in which it was made…a big clue being a cover of Gershwin's ultra-melodic "Summertime" that's primarily a vehicle for a drum solo.

From Bill Board Magazine October 12, 1968
New York – Linn County, a heavy blues group, gave a powerful second set at Steve Paul's Scene Wednesday (2). Sharing the bill with the Mercury quintet from Chicago via San Francisco was Deram's Ten Years After, whose growing reputation and glowing performances doubtless was a primary reason for the packed house.
But Linn County's long set showed that they too, are big league material. The unit uses volume as an element in it's performance, but there is much more to Linn Country than just volume. Organist Stephen Miller not only is a good musician, he wails in emotional blues style. Larry Easter's performance on amplified tenor and soprano saxophone (he also played flute in the group's first set) was overpowering, More on the jazz side, Easter also showed traces of progressive jazz and even classical elements. Lead guitarist Fred Walk, also gave a strong performance, frequently teaming with Easter. Solid support also was provided by drummer Snake Mc Andrew and bass guitarist Dino Long. Most of the numbers were extended, including "Elevator Woman," which included fine work by Walk as well as by Miller and Easter, "Boogie Chillen," more up-tempo, also was a good extended selection as it included some wild soprano sax work by Easter and varying dynamics. "Tell The Truth" was another upbeat number with wild sax and Miller's strong vocals. "Think" and "Lower Lemons" were top numbers from Linn County's debut album on Mercury: "Proud Flesh Soothseer".
While Linn Country, in its first set, filled the floor with dancers, Ten Years After filled it with seated listeners. And the English quartet gave another excellent performance with all four youths having brilliant sections. Folk singer Hal Waters also had a good initial set.
By Fred Kirby
Cash Box – October 12, 1968
Ten Years After was formed in England earlier this year, just in time to be caught up in the resurgence of the blues sweeping that country and become one of the prime movers in exporting and making the sound popular here.
The quartet's members are lead guitarist Alvin Lee, bass guitarist Leo Lyons, drummer Ric Lee (no relation) organist Chick (with no last name).
The group met in a North Wales Bus Shelter, and shortly afterwards found themselves playing the first of many dates at London's Marquee Club. After gaining attention in England, the group (which records for Deram) was set for an American tour and proceed to enhance both critics and audiences across the country. They were quickly booked for another tour, which kicked off last week, with two days at New York's Fillmore East, and five at Steve Paul's Scene. Their second LP "Undead" (a live performance) is currently number 136 on the album charts.
19 October 1968 - MELODY MAKER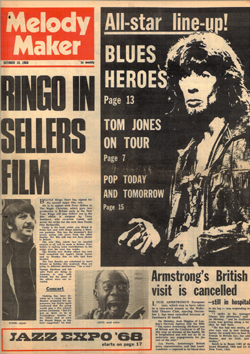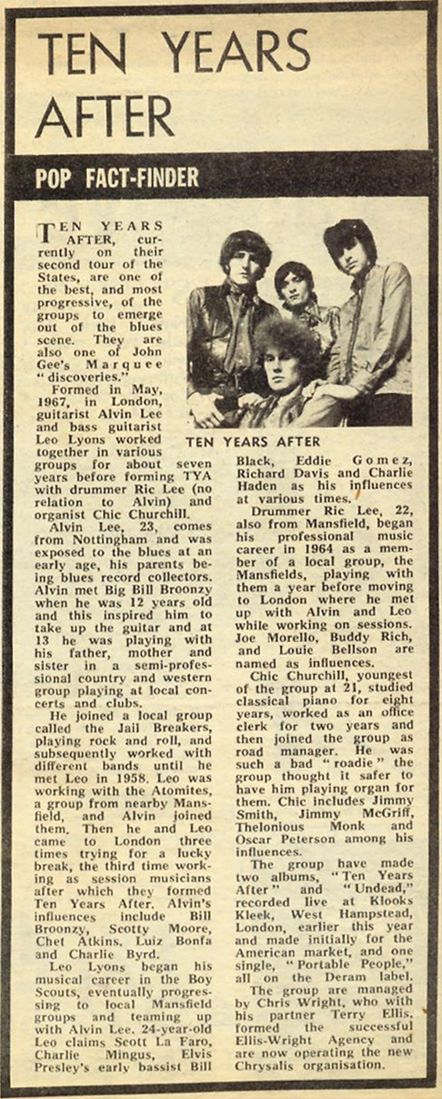 Melody Maker- October 19, 1968
Ten Years After object to being labelled a blues group, but with Alvin Lee's brilliant guitar a major feature, they will have trouble persuading me that everything they do isn't firmly rooted in blues. Currently on a highly successful American tour, the line-up is completed by, Chick Churchill, Leo Lyons, Alvin Lee and Ric Lee. The group was formed early in 1967.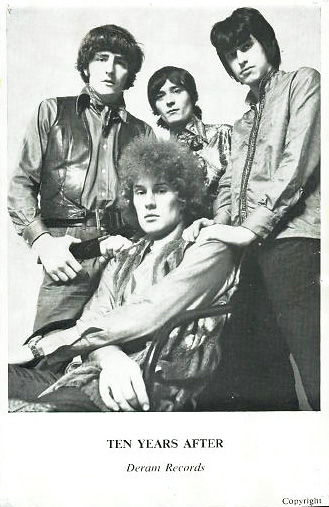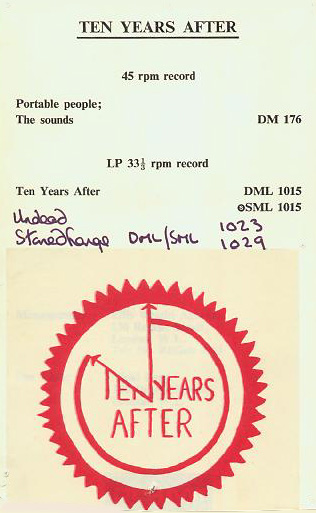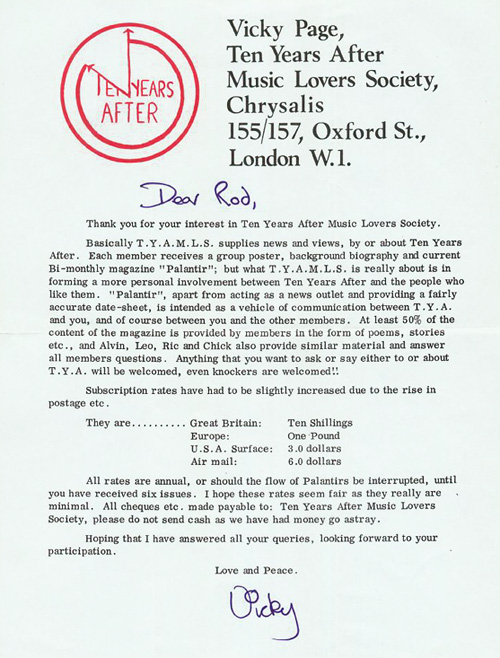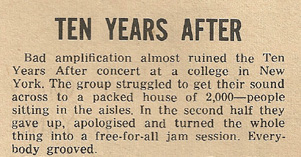 Record Mirror November 16, 1968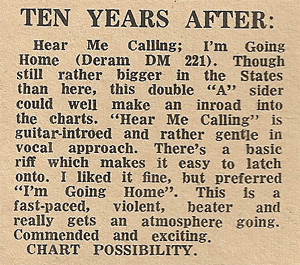 Record Mirror November 30, 1968
Melody Maker – December 21, 1968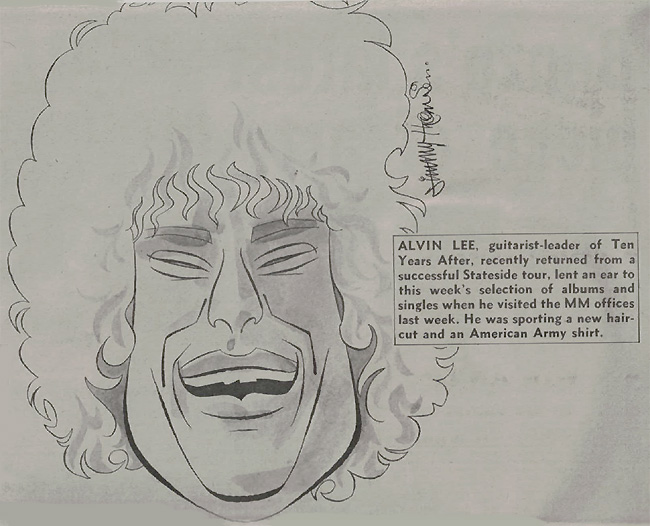 Alvin Lee, Guitarist-Leader of Ten Years After, Recently Returned From A Successful Stateside Tour, Lent An Ear To This Week's Selection of Albums and Singles When He Visited The Melody Maker Offices Last Week. He Was Sporting A New Hair Cut and An American Army Shirt.
SHARKS: "Goodbye Lorene" – RCA VICTOR.
"Can't Really Guess Who It Is. Wynder K. Frog Or Jimmy Smith On An Off Day. It's O.K. But It Doesn't Do Anything To Me. I've Given Up Trying To Work Out What Are Good Singles. The Drums Are Too Far Forward And I Don't Like That Double Tempo Middle Bit. If I Had Recorded It Myself, I Would Have Said O.K.".
Lord Nelson: "Michael" – (Direction).
«
A Joke ! Take It Off – As They Say. At First I Thought It Was A Joke, But When The Drums Came In I Thought I Was Going To Like It. When It All Came Together I Didn't Like It Again. They Were Probably Having A Good Time. I've Got Nothing Against My Soul Brothers".
Barbara Streisand: "Funny Girl" – (CBS).
"I've Always Wanted To Sing Like That, But I'm The Wrong Sex. Barbara Streisand. All Right If That's Your Bag. It's Not A Mood. It's The Kind of Thing You Play Very Loud In Another Room Or You Play It Loud And Then Go Into Your Garden At Night. Seems To Be The Kind of Thing To Do. A Must For People With Big Gardens".
The Poets: "Alone Am I" – (PYE).
"Denny Laine, Or The Moody Blues, Or Roy Orbison, Or Jethro Tull? I Never Say Anything Is Rubbish, But This Gets Near It".
Groundhogs: "You Don't Love Me" – (Liberty).
"Rubbish – I've Just Changed My Mind About Using That Word. Doesn't Quite Make It. It Sounds Out of Tune. The Harp Is Not Playing Right. This Doesn't Sound Right. Who Is It And I'll Apologise. I'd Say, "Keep Trying." I Prefer Father John Mayall".
Jimmy Forest: "What's New" – (From The Delmark LP – "All The Gin Is Gone"). With Grant Green, Harold Mabern And Elvin Jones.
"Great Musicianship. The Only Complaint Is That It Tends To Sound Like Muzak A Bit At Times. I Think A Lot of It Has A Lot To Do With Session Musicians and Groups Formed For Sessions. I Might Be Wrong, But If I Were The Sax Player, I'd Like The Drummer To Come Up More and Loosen The Whole Thing Off. The Solos Are Cool, But It's Not Really Together".
Duster Bennett: "40 Minutes From Town" (From The Blue Horizon Album, "Smiling Like I'm Happy").
"Duster Bennett, The One Man Ensemble. He Has Done Some Good Stuff, But I Don't Like That One. A Blue Horizon Blues Copy Record. I Wouldn't Knock Him. He's Doing His Own Thing, But It's A Novelty Thing. He'll Always Be An Added Attraction".
Arlo Guthrie: "Pause of Mr. Clause" (From The Reprise Album "Arlo").
"Could Be Arlo Guthrie. I Dig His "Motorcycle Song." Great. I Don't Know What To Say Because I Haven't Heard All His Stuff. I Prefer Him To Dylan. Arlo's The Best In That Field. He's Saying Heavy Things, But Not In A Bad Way. I Like To Think We're Into The Same Thing As He Is Doing, Only We're Doing Musically What He Is Doing Verbally".
Beatles: "Back In The U.S.S.R. (From The Apple Album) The Beatles "White Album."
"Might As Well Take It Off. I've Heard This A Thousand Times. There's Bits I Like And Bits I Don't Like, But Any Beatles Album Is Going To Be Interesting. If Only People Have The Maximum Time And Facilities, They Can Do What They Want. I Dig "Revolution 9" On Earphones (Headphones). You Should Listen To It Like That If You've Got Stereo. Since Hearing The Album I've Tried Doing It In The Road. Whether You Like It Or Not, Any Beatles Album Is Good.
Doctor K's Blues Band: "I Can't Lose" (From The Spark Album – "Doctor K's Blues Band").
"White English Blues Band. I Don't Like The Recording Sound. It's Very Difficult To Judge Them. If I Heard Them Live I'd Probably Think Differently. We've Always Had Trouble Getting A Good Recording Sound, The Same As On Stage, And They've Probably Had The Same Trouble. I Like To Think That Recording And Stage Are Two Different Mediums. Good Cover.
The Dubliners: "Instrumental Medley" – (From The Major Minor Budget Album, "The Dubliners").
"I Like It, Strangely Enough. The Banjo Player Has Good Phrasing. Yeah, It's Not The Type of Music I'd Particularly Buy Or Listen To, But As It's Being Played To Me, I Can't Knock It. For The Type of Thing It Is, It's Very Good. Heavy."
Joe Tex: "Keep See How" – (From The Atlantic Album "You Better Get It").
"Take This Off. It's Not My Thing. It's OK. Good Musicians Doing What They've Been Told In The Background While He's Doing His Thing. Just Not My Bag, That's All."
James Taylor: "Don't Talk Now" – (From The Apple Album "James Taylor").
"The Studio Sounds Good. Tight Sound. There Again, Not My Bag But A Very Together Production. Apple? That Accounts For The Good Studio. I'm Waiting For Paul McCartney To Discover Me. Or Twiggy!"
Iron Butterfly: "Flowers And Beads" – (Album From Atlantic Album – "In- A- Gadda-Da-Vida").
"I'm Disappointed. I Thought You Were Going To Save Me A Good One For The End. I Don't Like That. I'll Make A Social Comment Here. There's A Lot of American Bands Considered Underground Over Here, I Like The Doors, Jefferson Airplane, Blue Cheer and Butterfly, That Are Hypes In The States. Like The Beefheart Thing. When We First Went To The States, Beefheart Was Happening Here, Courtesy of You Know Who. When We Got There We Asked About Beefheart And Nobody Had Heard of Him. The Only Guy That We Met Who Had The "Safe As Milk" Album Had Got His From An English Import Store. Tiny Tim Is Another Trip. He Does London Palladium Equivalents There."
December 22, 1968 – At "Mothers" in Erdington Birmingham, England
December 26, 1968 – The Marquee Club in London, England – Ten Years After returns to the place where they got their big break and secured their residency….at the Marquee Club in 1967…..now they return for a show and a special "Christmas Party". To round off a hectic and very productive year.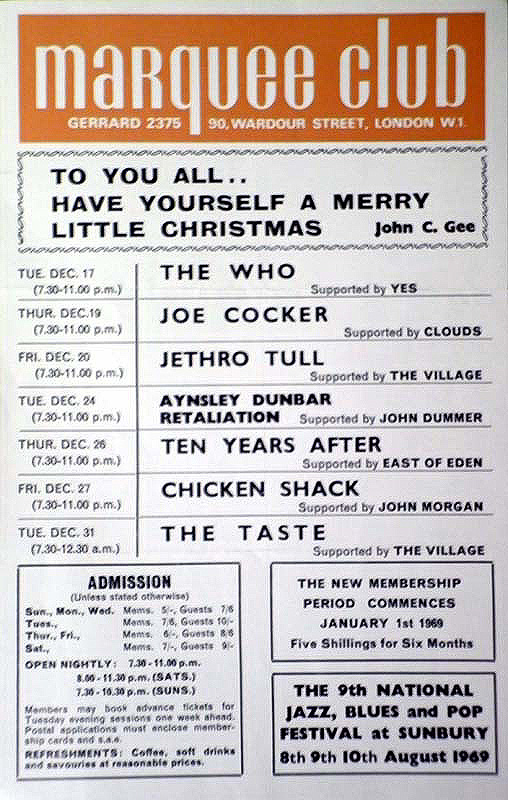 26 December 1968
BLUESVILLE
'68 CLUBS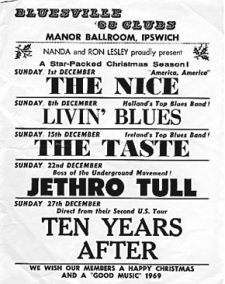 WE WISH OUR MEMBERS A HAPPY CHRISTMAS
AND A "GOOD MUSIC" 1969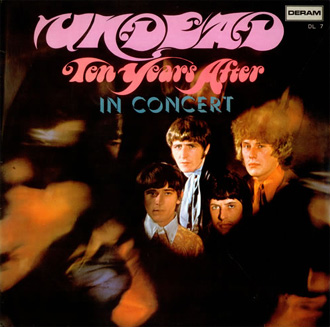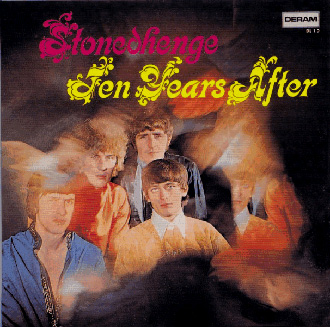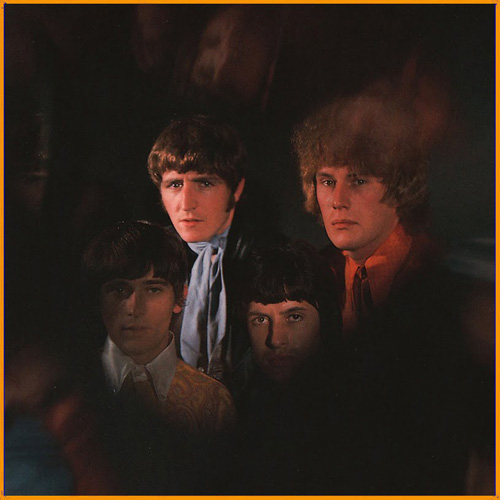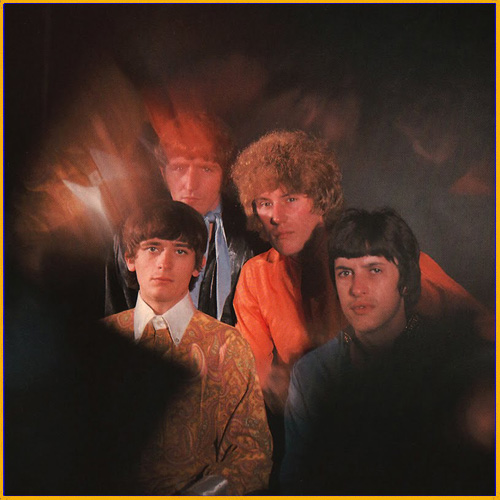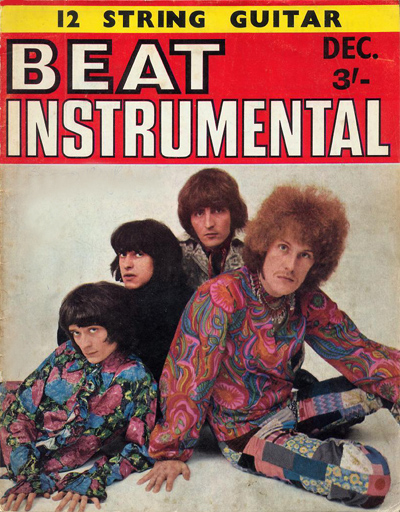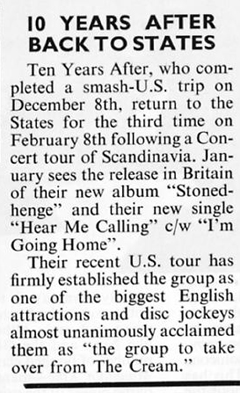 December 1968