Two Special Birthday Presents:
On November 20, 2008 Brigitte and I, along with four of our closest friends went to see Ten Years After play in Bad Salzuflen, Germany. Which also happens to be Brigitte's Birthday. See concert review here - (coming soon...)
On the following evening, we made the long journey to Tilburg, Netherlands to see Alvin Lee in concert as part of my second surprise for Brigitte's Birthday.
The Trip:

It's a three and a half hour drive. Seven plus hours round trip. 645km to travel. Total time from start to finish fifteen hours. In the weather forecast, snow, sleet, freezing rain, clouds, wind, rain and scattered periods of sunshine. You name it and we got it. Throw in the usual Friday afternoon traffic jam, complete with bumper to bumper grid lock and inch by inch slow eternity of moving and you get the picture…..it wasn't boring.

We started out at one in the afternoon and returned home at four in the morning.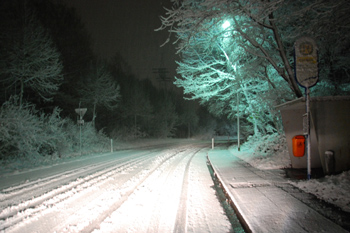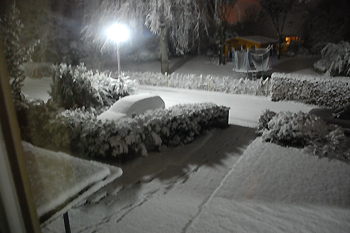 The night driving consisted of white outs from high winds, blowing snow, sleet, freezing rain, black ice……salt trucks out in force. The ironic thing, which I still find it hard to believe, is that we drove straight to the concert without stopping, and came home the same way. We drove straight through.
Getting In - The Venue: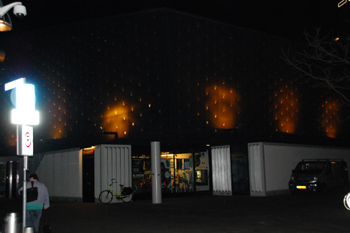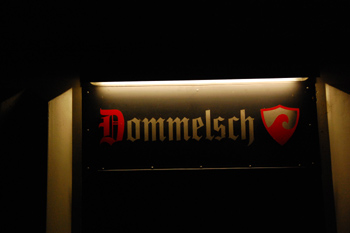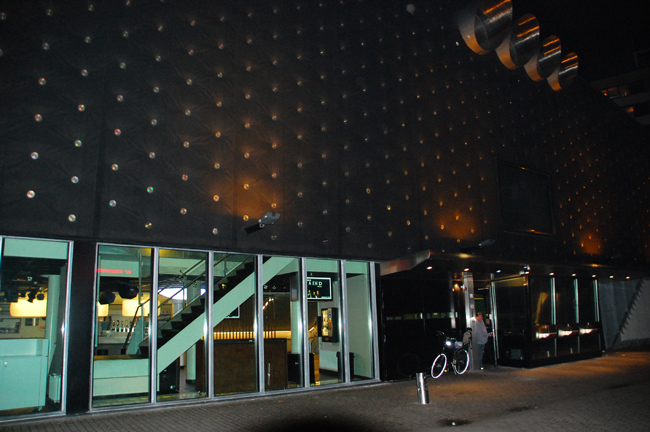 The doors open at 7:30 - we turn in our tickets, claim our press pass, and we're in. Masses of people, leather coats, older people, younger people, freaks and harries, and people from the entire strata of economic classes. The venue is big enough to be comfortable, and wide enough to prevent the obligatory uncontrollable banging into one another. The venue holds roughly 2,500 people, and it was a full house.In reality though about 1,500 to 1,800 people attended tonights show. Although the upper balcony wasn't open, we feel that it should've been, to reduce the over crowded conditions below. The stage was huge, professional looking and everything was already prepared for the show well in advance. People filed into the room at a steady pace, then faster and faster by the minute. Within a half hour they were rushing in at break-neck speed. Like the gates of a dam being opened, and so started the flood of humanity. The good part, is that the opening act came on quickly and relived much of the pressure and anticipation that was already, rapidly building.
Teddy:


You just got to love it, when we're not the first ones at the door waiting, an hour before the doors open. Teddy was there way ahead of us, standing in the cold, nose dripping, hands frozen and he was chilled to the bone. Teddy is a combination between Aqualung and Santa Clause. We never met this man before in our life, we just passed him on the street, and saw that he was very uncomfortable and basically suffering in the damp and cold. I approached him, commented on his long white beard and asked if he spoke English - he say yes, so we invited him to join us for dinner (if he didn't speak English, we still would've invited him). Mexican food it is tonight. We figured a good bowl of soup or coffee would perk up his spirits and take some of the chill off. As the old saying goes "never judge a book by it's cover" and Teddy was a prime example of this. He was a gentleman, funny as hell and smart as a whip. Not to mention a long time fan of Alvin Lee and Ten Years After. The man is a loner, lives alone in a two room house and is a simple man. No cell phone, no computer and loves vinyl records rather than cd's - because cd's we all agree have no depth or soul unto themselves. It was a real pleasure to spend time with him. At the concert I was standing a little distance behind him, while Brigitte was in front of him right in front of the stage. After the show we all met up again, had a little conversation and said our good-bye's. Thank You Teddy from Amsterdam - a true music lover and Alvin Lee / Ten Years After fan! He saw Ten Years After this year, and now Alvin Lee tonight………hope you had a safe train ride back home!
Press Pass and Guest List:

Our thanks to friends inside the venue for providing us with a press pass which allowed Brigitte unrestricted access to use her photography skills, this was effective because we were also placed on Alvin Lee's guest list for this evenings show.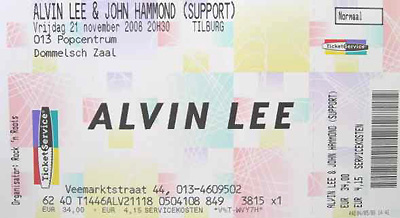 John Hammond:

Now here's a living legend opening up for Alvin Lee. He's looking older these days, but boy can he play the acoustic blues. He changed guitars between songs, but after three tunes the audience was getting more and more impatient, they talked louder and didn't pay much attention anymore as the songs all started to sound the same. But at the end of every song loud applause of appreciation out of respect for his reputation.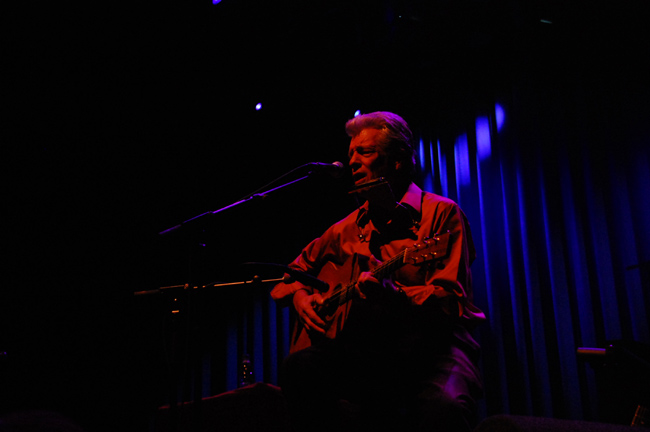 ---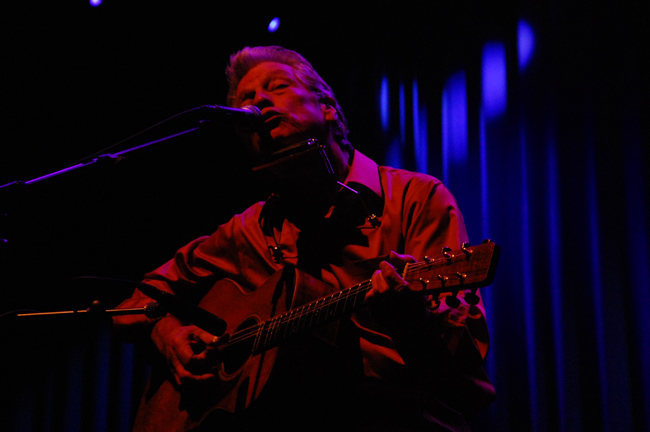 ---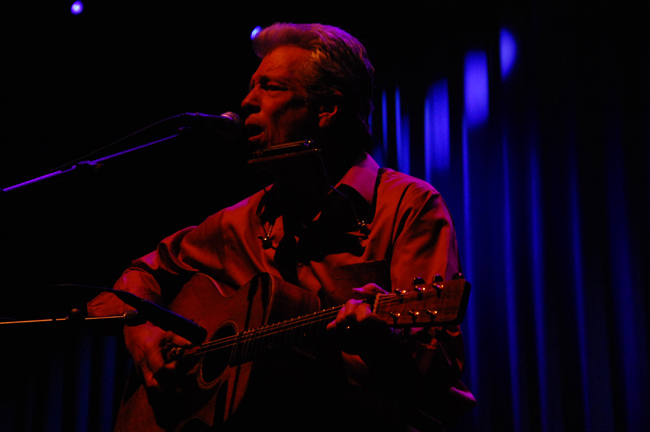 ---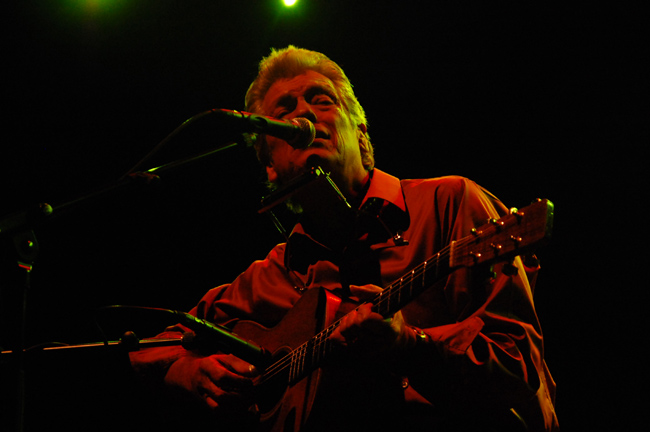 ---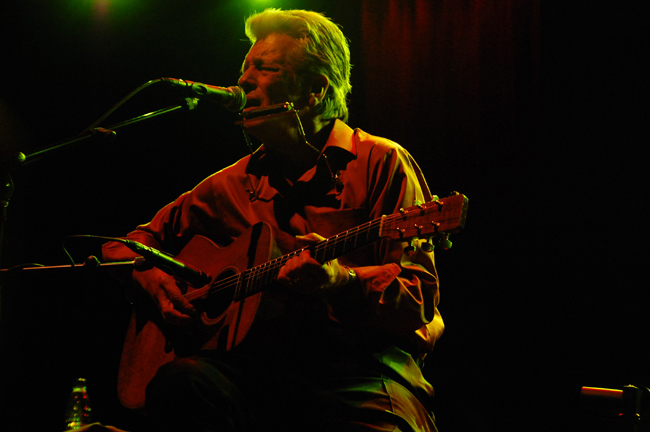 ---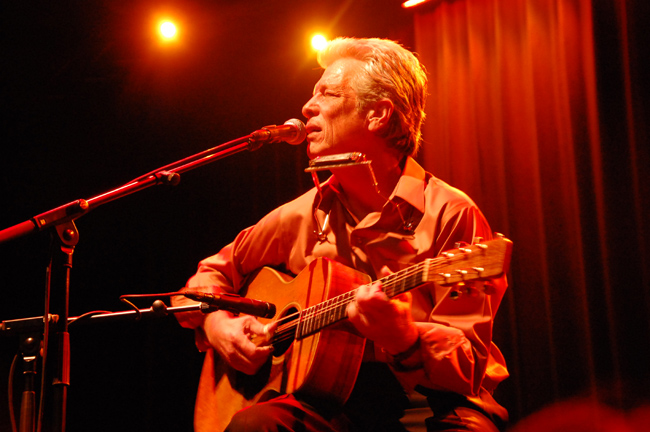 ---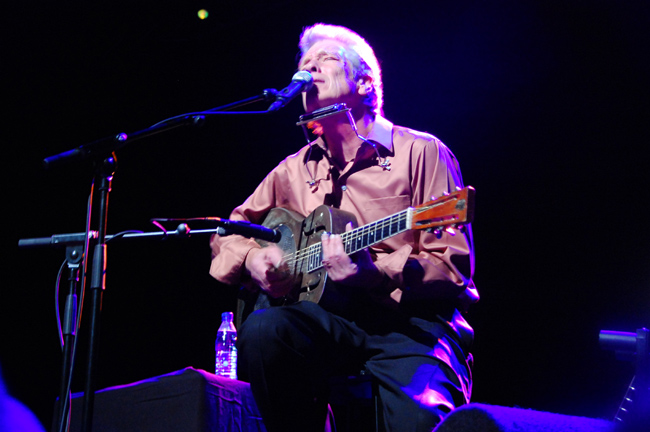 Photos © by Brigitte and Dave
Final Preparations: Out comes the water bottles, the towels, and the mike check guy. Then the big wooden bass shows up, and five or six people are mulling around the stage just killing time by the looks of it….trying to look busy. Another twenty minutes of stalling and putzing around , in order to allow people to visit the bar and load up on beer and assorted drinks.
It's Ten O´Clock and we Want To Rock:
With a little introduction - out comes the band:
Richard Newman - Drums
Pete Pritchard - Electric Bass / Stand Up Bass
Alvin Lee - Guitar - Vocals - Harmonica

Funny, how the other musicians come in, in a normal way to the stage, while Alvin lumbers up to the microphone. His walk is a loping, uneasy, kind of trot, which always strikes me as being a little dorky strut of sorts. Uncoordinated and almost spastic in nature. Someone once said, it's like watching a bull-moose, and I can't disagree with that persons appraisal. Alvin says: "Hello, "Are You Ready For Some Rock "n" Roll? - "Good Rockin´ Tonight" ah the Alvin of old "Good to be witch ya".

Here's the evenings entire set list:

1. Rock and Roll Music To The World
2. Hear Me Callin´
3. Scat Thing - Classical Thing
4. I Can't Keep From Cryin´ Sometimes
5. How Do You Do It
6. My Baby Left Me ( Let's do an Elvis song what the hell, says Alvin)
7. I Don't Give A Damn
8. I'm Writing You A Letter (Drum Solo Included)
9. Slow Blues In C
10. I'm Gonna Make It
11. Scat Thing - Spanish Guitar Picking
12. Love Like A Man - Harmonica playing from Alvin
("Love Like A Man Whenever You Can" says Alvin)
13. I'm Going Home
14. Encore - Choo-Choo-Mama
History On The Players:

Pete Pritchard - Double Bass / Electric Bass
Pete is one of the founding members of Alligator Records. He played with Chuck Berry, Bill Haley, Scotty Moore, D.J. Fontana. He also played on "Alvin Lee In Tennessee" cd. He's the most valued, requested and respected freelance Bass Guitarist around today.
Richard Newman - Drums
Richard is a premiere drummer in the U.K. He's played with this line up of Rory Gallagher: Rory Gallagher - Vocals / Guitar, Richard Levy / Bass, Richard Newman / Drums, Mark Feltham / Harp / Organ, Jim Leverton - Piano
Richard played in Rory Gallagher´s band for the last four years in Rory's life. Until Rory's untimely death on June 14, 1995 Richard was on Rory's "Jinx" album released in 1982. Richard began his professional career playing for Steve Marriott, Richard became one of the most respected drummers in the U.K. He also was on the "Rattlesnake Guitar" album His association with Alvin Lee is nothing new and dates back to Alvin's "Zoom" studio album from 1993 and includes playing many live gigs as well. Richard played on Rory's "Fresh Evidence" (1990) and "Defender" (1987) recordings On June 25, 1993. Richard replaced Alan Young on drums for the Peter Lee Blues Festival in England. He played with Steve Marriott, Sam Brown, Jim Capaldi, Rory Gallagher, Eric Clapton, Ronnie Wood, Billy Swan and Albert Lee. Richard wrote the song " Let Go Move On" which was produced by Pete Brown.
From Sam Brown: "Richard's the drummer and he's got those mad piercing bright blue eyes, very scary if you're in the wrong frame of mind. But he's a very lovely bloke. When he played this song (Let Go Move On) to us, none of us had ever heard him sing before and we said "that's brilliant, we've just got to do it. The lyrics are quite intense". Sam Brown - Vocals / Piano / Hammond, Pete Brown - Guitars / Vocals, Richard Newman - Drums
Richard also played on "The Paul Rose Band" album 2004
Review Continues:

Richard Newman - On this night Richard backed Alvin's performance perfectly. Right from the start Richard made his presence known and set the pace for what was to follow. There's nothing subtle about his playing, it's strong and it's loud make no mistake about it. The only down side is that what he does with his powerhouse drumming, which is very impressive, also lacks the finesse of an older seasoned professional. After awhile his bang bang snap crackle pop pop blam blam grows wearisome. Rat a tat - bang - bang - bang - slam bam - slam bam - bam bam bam.......slam - although with that being said, he was even better during the slow songs like "Slow Blues In C" and the middle of " I Can't Keep From Cryin´ Sometimes" where he added many subtle accents to Alvin's improvisations. His drum solo during "I'm Writing You A Letter" was again powerful, but uninspired. I also can't figure out why a drum solo is taking place right in the middle of a song that's basically a slower rock ballad, it just seems so out of place. Through the rest of the show the drumming became a nondescript footnote and just a shadow, in the wake of Alvin's blistering performance.
Pete Prichard - Pete is a good entertainer, an asset on either bass - electric or upright double bass. He did an excellent job trying to hold his own against Alvin's guitar volume and Richards constant pounding. Pete's place is as bridesmaid but never the bride in this situation. When you could hear his playing, he was excellent….when you couldn't he also became a shadow to Alvin. A Nonexistent commodity, and that's such a pity! Seems to me that Mr. Prichard would be better suited to a quiet quartet doing chamber music on a peaceful Sunday afternoon in a library setting.. He seems miscast here during a loud rock and roll show. The contradiction here is - he does fit in - in his own way - I just haven't figured out why. I think he's there for the chemistry involved and needed!
The Great Alvin Lee: Yep, that's how John Hammond referred to him. Alvin says "hello" to the audience and it's from the heart. It's the kind of gig that he's proud to do and loves doing. An intimate gathering of sweaty people, packed in, and sweat dripping off the walls. Only on this night the sweat and condensation is frozen in place to the walls. "Rock and Roll Music To The World" is the ass-kicking and very familiar rocker from 1973. This is followed by "Hear Me Callin´" a boogie Alvin states. This also went down very well. "I Can't Keep From Cryin´ Sometimes" is where Alvin goes through all the usual tricks of the trade. Harmonica used as a slide, microphone stand used as a slide against the guitar, drum stick that he uses to bang on the guitar strings in place of a guitar pick…..the usual stint and act that's been seen and recorded countless times throughout the many years of his performing. He pulls out all the stops, and leaves no gag, stunt or gimmick untouched. Tried and true - he's unashamed about going through the motions - all calculated / all in the same sequence as years before / but all bringing joy to the novice in the room, and nostalgia to the seasoned veterans among us. Sweat pouring off his brow and face, as he goes from one guitar lick to another, as he rocks his sneakers from one side to another in a continuous downbeat rhythm. From one song to another in a seamless succession of styles, tones and moods.
Alvin Today: He's never looked better, tanned skin, physically in the best condition that we've seen in many-a-year. He looked happy to be here, on stage among friends, and in a great mood!!! When someone called out to him "Goin´ Home" - Alvin responded by saying "Oh don't leave just yet we're not finished".
The main problem this evening was that the cold air kept playing havic with Alvin's guitar strings going out of tune quite often. So Alvin would stop for a few minutes in between songs and joke around with the audience as he corrected the problem, and then jumped right into the next number,
In Conclusion:
It was a magical night, and it was wonderful to see Alvin so happy and in great shape, physically and in his playing. The audience was a fantastic group of music loving people, who rejoiced in unison and in brotherhood throughout the evening. More young folks are now new converts of Alvin Lee and Rock ´n´ Roll in General....General is the key word here....Alvin is the top gun when it comes to playing rapid fire guitar rockets, riffs and mellow jazzy / blues like no one else can!
In no way has he lost his touch, in fact, age and experience has done him and his craft very well.
To have Mr. Lee standing right in front of you playing his heart out is testament alone to his genius and playing!
Rock On Alvin - your music is still filling the air with magic - especially on a cold and damp evening in Tilburg, Holland!
There is only one down side to note: There was no merchandise stand! No shirts for sale, no cd's, no hats, posters, buttons, no nothing! And that's a shame for the fans who were openly voicing their discontent, and very loudly at that!