Alvin Lee ex bandmates stunned by death
Lee passed away in the early hours of Wednesday morning, March 6. He had been admitted to hospital in Spain, where he lived, for a routine surgical procedure for atrial arrhythmia (irregular heartbeat) but died from unforeseen complications. He was 68.
Alvin Lee's former bandmates have expressed their shock at his death:
Ric Lee: "We are all stunned. All of us. I don't think it's even sunk in yet as to the reality of his passing. We are all thinking of his family and friends today, and offer our own condolences."
Leo Lyons: "It came as a complete shock to me. I still haven't taken it in. I feel very sad. He was the closest thing I had to a brother. We had our differences, but we shared so many great experiences together that nothing can take away. I will miss him very much. He was an inspiration for a generation of guitar players. Keep on rockin', Alvin!"
Chick Churchill: "It has taken me a few days to accept that my inspiration has gone. Though I accept it, it does not make it any easier. In the early days he gave me such encouragement with my keyboard playing that he made me a much better player. When I lived in Spain we spent many hours together and Evi cooked some wonderful meals for us. Evi and I have emailed and she is a very brave lady. I send all my hearfelt prayers to Evi, Jasmine and Suzanne. I shall miss a great man."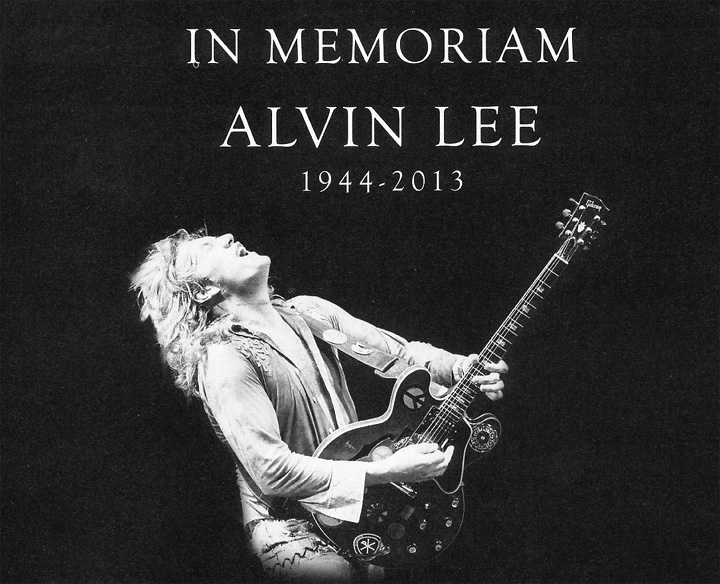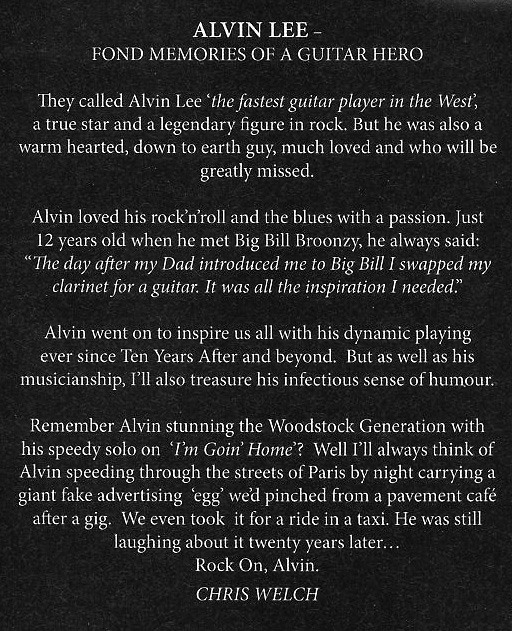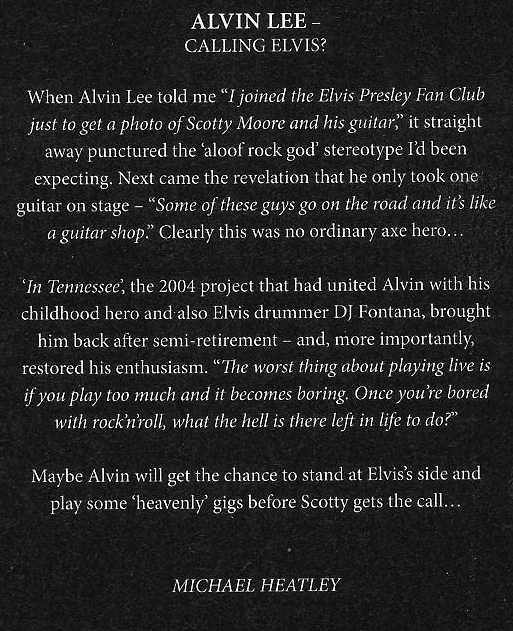 ---
Other musicians' comments:
Pete Pritchard (on his website): I would like to thank the many people who have sent me messages of sympathy at the sudden and tragic passing of Alvin Lee on 6th March.
It was my honour to play bass for him these last ten years. Alvin was a wonderful and unique man. He was totally unaffected by his rock star status and hated all the "star" hype, preferring to be one of the lads in the band.
To say he was an amazing guitarist is an understatement. Often his solos would nearly lift me off the stage.
I never saw him play a bad show. He always walked off to a standing ovation and encores.
He loved his Rock n roll, rockabilly, blues and jazz and I will miss our chats on all things music so much.
We were due to play the Olympia in Paris April 7th. This will now be a very difficult day for me indeed. I can't believe that I will never again be together with Alvin, Evi (Alvin's wife), Richard Newman (drums) and Steve Rispin (sound), laughing backstage, enjoying each other's company and making music. My condolences to Alvin's family at this dreadfully sad time.
With love and respect, PETE
Richard Newman (on his website): "I just wanted to say as a lot of you know Alvin lee died on mon, I have played drums for him for the last 10 years and was due to do a gig with him in April. wasn't sure if it was cool to write this on here but f..ck it.. It's amazing how you take it for granted that you will c people again treat everybody like its the last time your gonna c them because it could be . Alvin to me was great to work with, kind and respectful and had no big ego what so ever he new what the music business was and was haveing none of it . I'll miss him, love to all his family, rip Alvin c ya when I get there . That's that of my chest, love to all. He Was The Real Deal".